What Christopher Mintz-Plasse Has Been Up To Since Superbad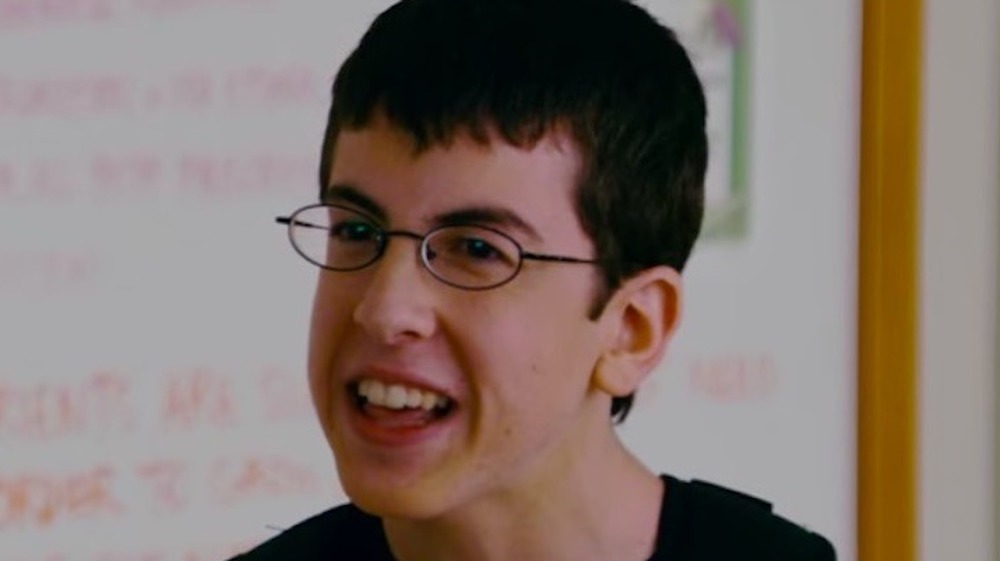 Sony Pictures
It's been 14 years since the generation-defining teen comedy, Superbad, was released in theaters in 2007. Directed by Greg Mottola and produced by Judd Apatow, Superbad follows two teenage best friends, Seth (Jonah Hill) and Evan (Michael Cera), who plan to attend a crazy end-of-the-year party to hopefully lose their virginities before graduating high school. Before they can get to the party, they find themselves tasked with providing the alcohol after Seth brags about getting a fake ID in front of his crush, Jules (Emma Stone).
Seth and Evan then ask their friend Fogell, played by Christopher Mintz-Plasse, who actually does have a fake ID to help them buy some. This leads us to one of the most famous details of the movie: Fogell reveals his fake ID is under the singular name, "McLovin," and has his age listed as 25. Somehow, his fake ID works and he does buy the booze — although his endeavor is interrupted by a robber. Seeing the police show up, Seth and Evan think Fogell is getting arrested and take off, while Fogell ends up getting a ride with the police officers (Bill Hader and Seth Rogen in two hilarious roles).
Superbad was Mintz-Plasse's first role — talk about starting off on the right foot. He's been acting ever since, showing up in various films and television shows. Here's a breakdown of what he's been up to since Superbad.
Mintz-Plasse initially stuck to comedies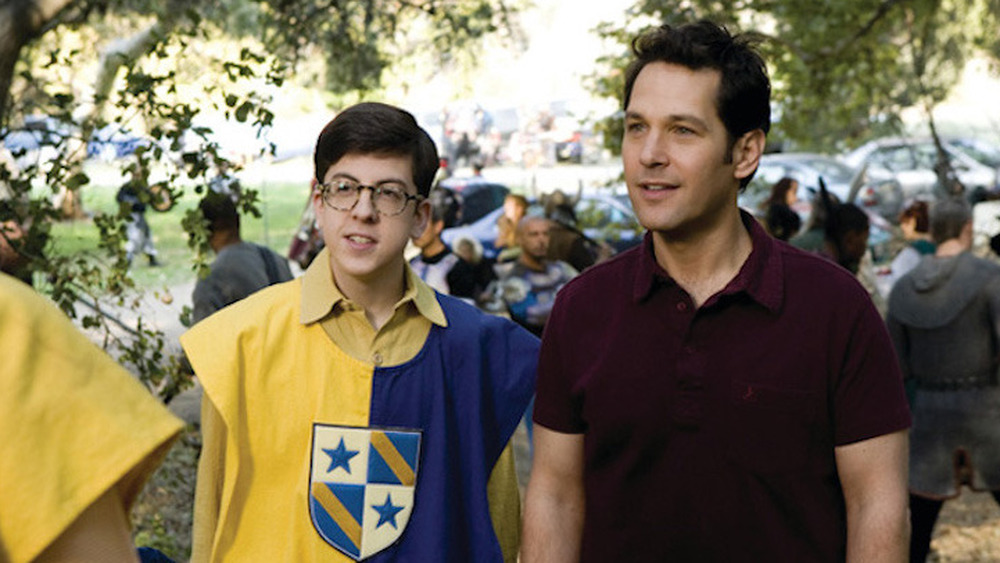 Universal Pictures
Mintz-Plasse's first few notable roles post-Superbad were in other raunchy comedy films. In 2008, he appeared in Role Models, starring opposite Sean William Scott and Paul Rudd, and directed by David Wain. When two salesmen are forced to do community service for various offenses against them, they decide to participate in a mentorship program, which pairs younger kids and teens with role models. Danny (Rudd) is assigned to Augie, played by Mintz-Plasse, a teenager who has an obsession with medieval live-action role-playing games.
The following year, he acted in Year One, which starred Jack Black and Mintz-Plasse's Superbad co-star, Michael Cera. Year One centers on two Neanderthal hunter-gathers, Zed (Black) and Oh (Cera), who are exiled from their tribe after eating forbidden fruit. They end up in the city of Sodom, where they encounter a string of biblical figures. Mintz-Plasse plays Isaac, whom Zed and Oh first encounter when his father Abraham is trying to kill him; they interject, saving Isaac's life.
Later in his career, in 2014, he acted in Neighbors, which starred another Superbad co-star, Seth Rogen as well as Zac Efron. When a fraternity led by Teddy (Efron) moves in next door to a couple, Mac and Kelly (Rogen and Rose Byrne), an all-out war breaks out between the two houses. Mintz-Plasse plays Scoonie, a member of Teddy's fraternity. He also returned for the sequel, Neighbors 2: Sorority Rising — starring his Kick-Ass co-star Chloë Grace Moretz — in 2016.
He played Red Mist in Kick-Ass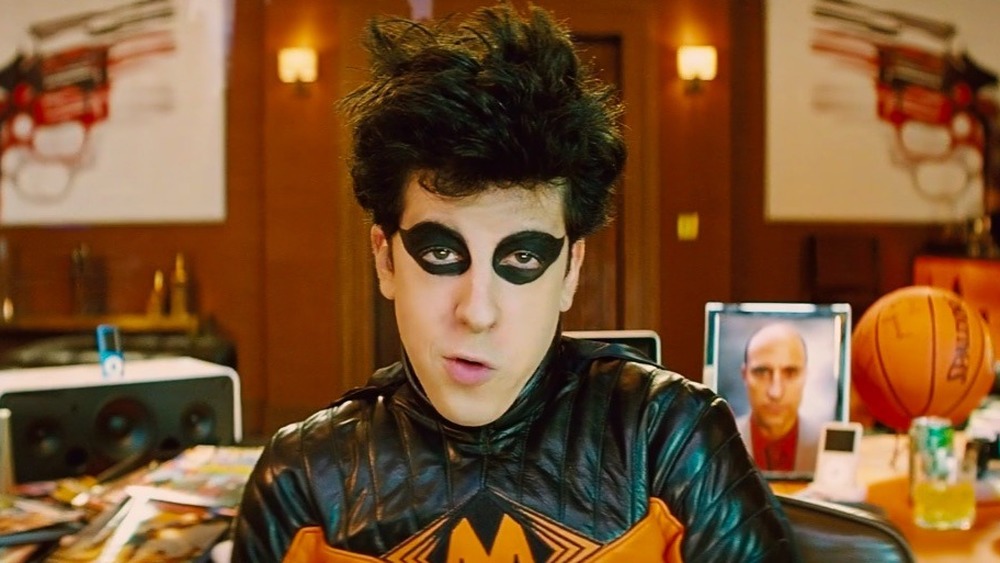 Lionsgate
Also in 2009, Mintz-Plasse made a slight career pivot from straight comedy to black comedy with the superhero film Kick-Ass (which was supposedly getting a reboot, though don't hold your breath). 
Directed by Matthew Vaughn, Kick-Ass follows teenager Dave Lizewski (Aaron Johnson), who decides he wants to be a superhero and starts calling himself "Kick-Ass." During a failed first attempt to fight crime, the situation is saved by two vigilantes, Hit-Girl (Chloë Grace Moretz) and her father Big Daddy (Nicholas Cage); afterwards, the two encourage Dave to continue his superhero aspirations. Mintz-Plasse plays Chris D'Amico a.k.a. "Red Mist," the son of the crime boss Frank D'Amico (Mark Strong). Mintz-Plasse even gets to be the sole focus of the film's final shot.
In 2013, the sequel Kick-Ass 2 came out. Mintz-Plasse's character changes his alter ego's name from "Red Mist" to "The Motherf***er," and decides to lead a group of supervillains to get revenge. He claims the last shot of this film as well, this time in a post-credits scene in which The Motherf***er is revealed to have survived a near-fatal shark attack.
Mintz-Plasse has shown up on TV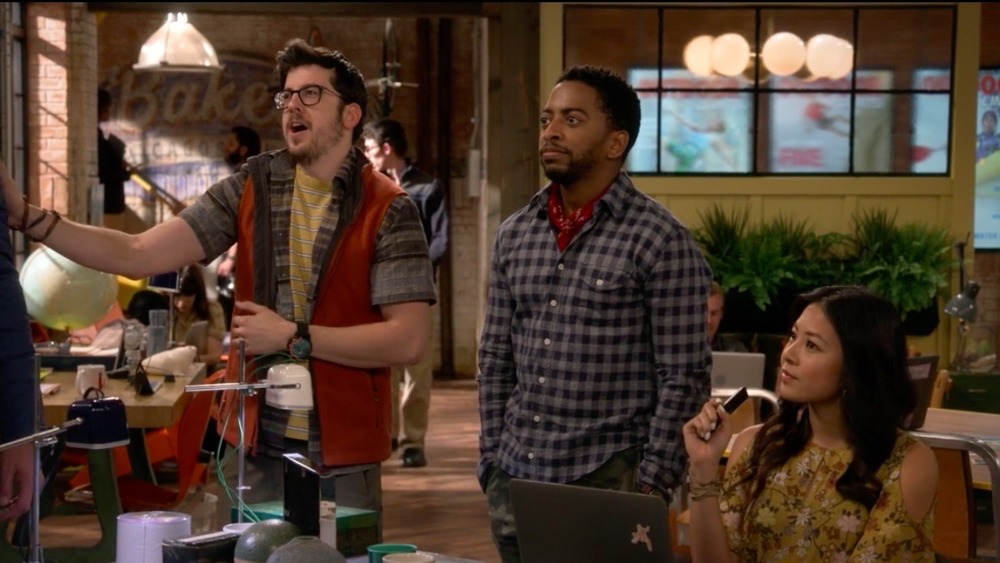 CBS
Most of Mintz-Plasse's television appearances have been in guest roles. These appearances have been on shows such as Party Down or Flaked, with some voice work such as on How to Train Your Dragon: Homecoming.
One of his more prominent TV roles, however, come on The Great Indoors, a 2016 sitcom that aired on CBS. The show follows Jack Gordon (Joel McHale), a successful reporter for an outdoors magazine. Jack's life gets turned upside down when his boss announces the magazine's pivot to digital only, and the decision to relocate Jack to Chicago to supervise the younger writers who make up the online team. Mintz-Plasse plays Clark Roberts, one of the young employees who comes to idolize Jack. Clark, despite being extremely knowledgeable about the outdoors and surviving in the wilderness, has never been out of Chicago. 
The show was, unfortunately, canceled after one season, but Christopher Mintz-Plasse moved on successfully to other things.
He's made cameos in other comedies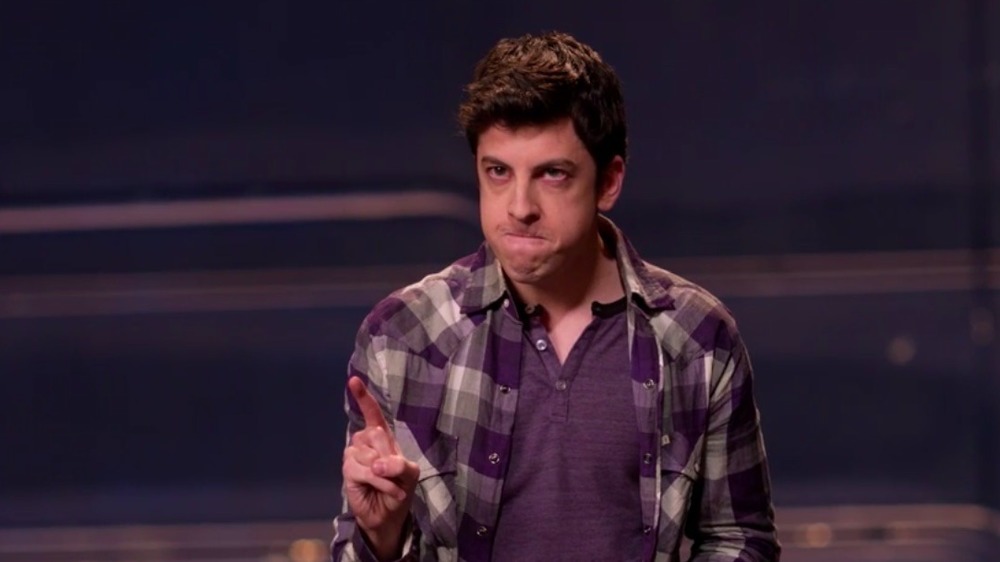 Universal Pictures
In 2012, Mintz-Plasse made a brief appearance in the musical comedy Pitch Perfect. Directed by Jason Moore, Pitch Perfect follows two college acappella groups, the Barden Bellas and the Treblemakers, who compete against each other in various performances throughout the school year. The huge ensemble cast includes Anna Kendrick, Rebel Wilson, Anna Camp, Brittany Snow, Skylar Astin, Ben Platt, Ester Dean, and Adam Devine. Mintz-Plasse plays a Barden student named Tommy, who is in charge of the auditions held for the a cappella groups. He has just two scenes, but they're memorable ones.
He made another comedy movie cameo in 2013's This is the End. Written and directed by Seth Rogen and Evan Goldberg, Rogen also stars alongside James Franco, Jonah Hill, Jay Baruchel, and Danny McBride. They all play fictionalized versions of themselves as they deal with an impending global apocalypse. Mintz-Plasse shows up in a short cameo, in a scene with his fellow Superbad costars, Jonah Hill and Michael Cera. In the scene, Cera blows a handful of cocaine into Mintz-Plasse's face, so that's colorful!
Mintz-Plasse has dramatic chops now, too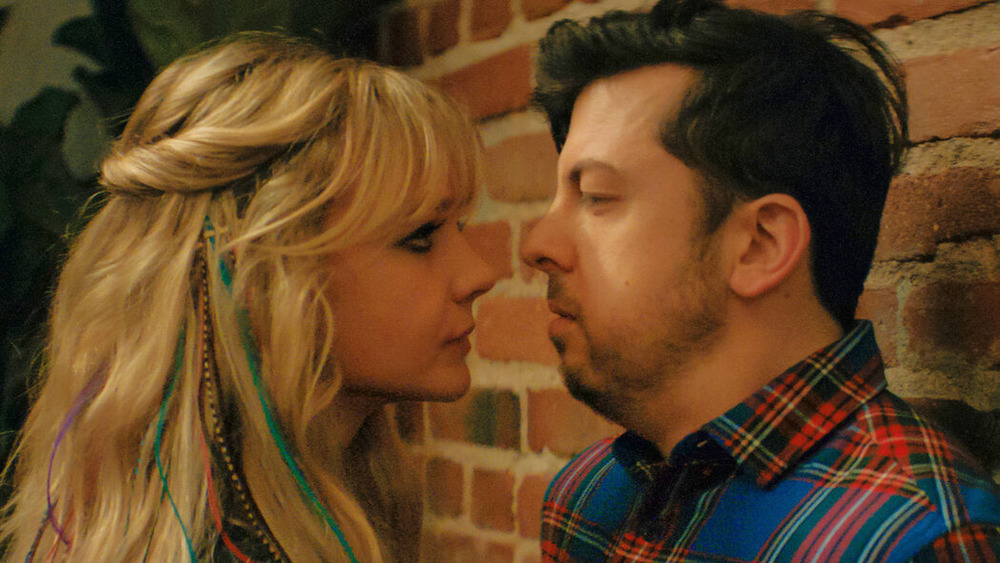 Focus Features
While the bulk of Mintz-Plasse's career has been made up of comedic roles, he has shown up in a few drama films as well. In 2015, he starred in an under-the-radar film called Tag, in which he played a teenager with an AIDS-like virus who lives in a shelter and has made himself the leader of the rest of the teens who live there.
More recently, in 2020, he had a small, supporting role in Promising Young Woman, which was written and directed by Emerald Fennell (a.k.a. Camilla from The Crown). It stars Carey Mulligan as a former med school student looking to get revenge on the man who raped her best friend, as well as all those indirectly involved who did nothing to help. Mintz-Plasse plays Neil, a man she meets at a bar who, thinking she's incredibly drunk, tries to take advantage of her before she reveals her sobriety to teach him a lesson. It's definitely a poignant role and is currently Mintz-Plasse's most recent film credit, though we suspect we'll continue to see a lot of him on both the big and small screens for years to come.