Behind-The-Scenes Snyder Cut Image Shows Jared Leto's Joker In New Light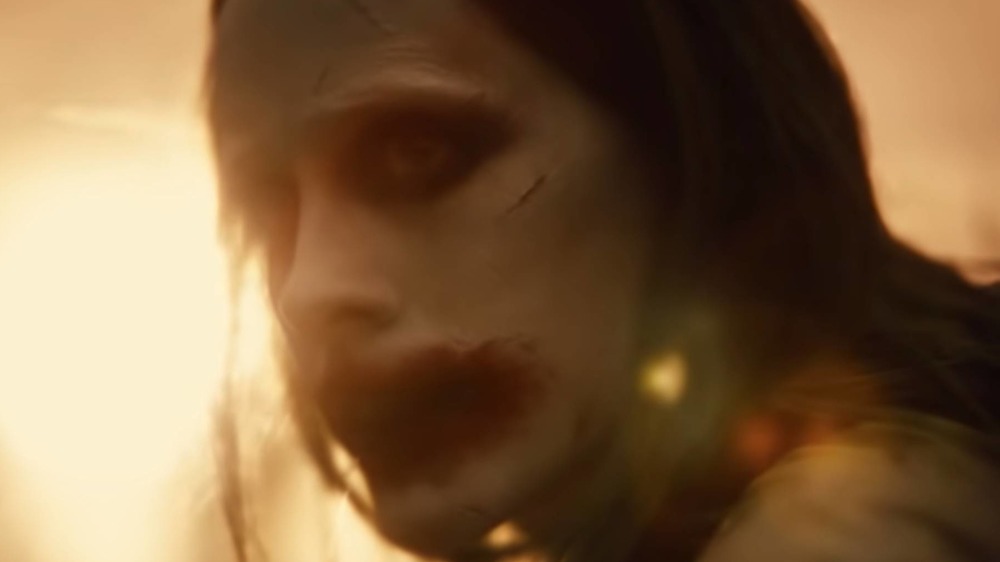 Warner Bros. Pictures/DC Films
If you click a link and buy a product or service from a merchant, we may be paid an affiliate commission.
After years of rumors and promotion online, it's hard to believe we're only a couple of weeks away from finally seeing Zack Snyder's Justice League, which promises to be vastly different from the Joss Whedon-helmed version we saw come in theaters in 2017. In case you didn't have the chance to see the Snyder Cut early when it was accidentally uploaded to HBO Max prematurely, you can check out the four-hour film when it's officially released on March 18, exclusively on the streaming platform. 
While the original version had a lot of jokes and a straightforward story, the Snyder Cut seems to be a grittier, more complicated take on the superheroes, complete with the arrival of Darkseid (Ray Porter) and a greater emphasis on the Knightmare reality that was teased in Batman v Superman: Dawn of Justice. Only this time around, Batman (Ben Affleck) isn't just fighting off Parademons; he's coming face-to-face with his arch-nemesis, Joker (Jared Leto), in new footage that was filmed exclusively for this release. 
The most recent Justice League trailer teases the moment these two comic book titans meet one another, but it doesn't necessarily offer the best vantage point into the villain's full get-up. We can see the Clown Prince of Crime has gotten rid of his notorious face tattoos from Suicide Squad, but everything else is pretty blurry. Now, thanks to a behind-the-scenes photo, we have our best look yet at how Joker will appear in the upcoming director's cut. 
Joker looks ready for war in behind-the-scenes photo of Zack Snyder's Justice League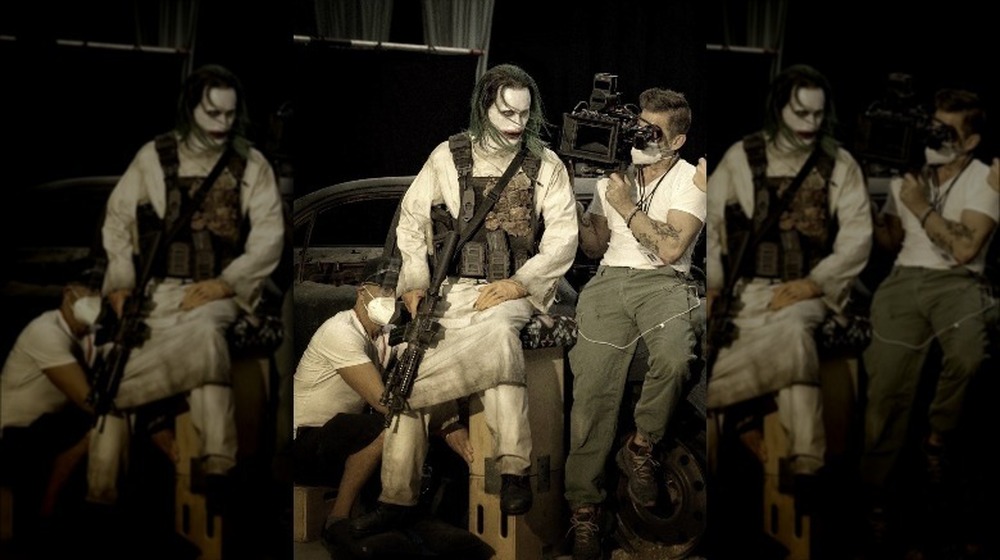 Zack Snyder/Vero
If you're a fan of Zack Snyder, then it's pretty much a necessity at this point to follow the director on Vero. He's used the social media platform to offer a slew of teases over the last year, and he was the first to announce that his version of Justice League would be a four-hour movie, as opposed to a miniseries consisting of four separate episodes. More recently, he uploaded a picture showing what it was like to film Jared Leto in his full Joker regalia for the movie, and it's pretty epic.
The picture shows Joker wearing white robes that are incredibly reminiscent of the Jesus-esque garb he wore for a Vanity Fair photoshoot. Is it possible Joker has become something of a messianic figure in this post-apocalyptic wasteland? He's also had a serious upgrade from wind-up chattering teeth toys, as he's outfitted with a tactical vest jacket and assault rifle, seemingly willing to take down anyone or anything that gets in his way. 
Based on the reactions, it's clear fans are digging the new look, with comments like, "He looks incredible" and "I know you guys have made something really special within this sequence." Regardless of how he looks, it's just awesome to see these versions of Joker and Batman get a chance to interact with one another outside of a chase sequence from Suicide Squad. Will an epic fight between the two ensue? Will they merely wax philosophical about their complex relationship? We'll just have to go to HBO Max on March 18 to find out.