Why Ben From Tom & Jerry Looks So Familiar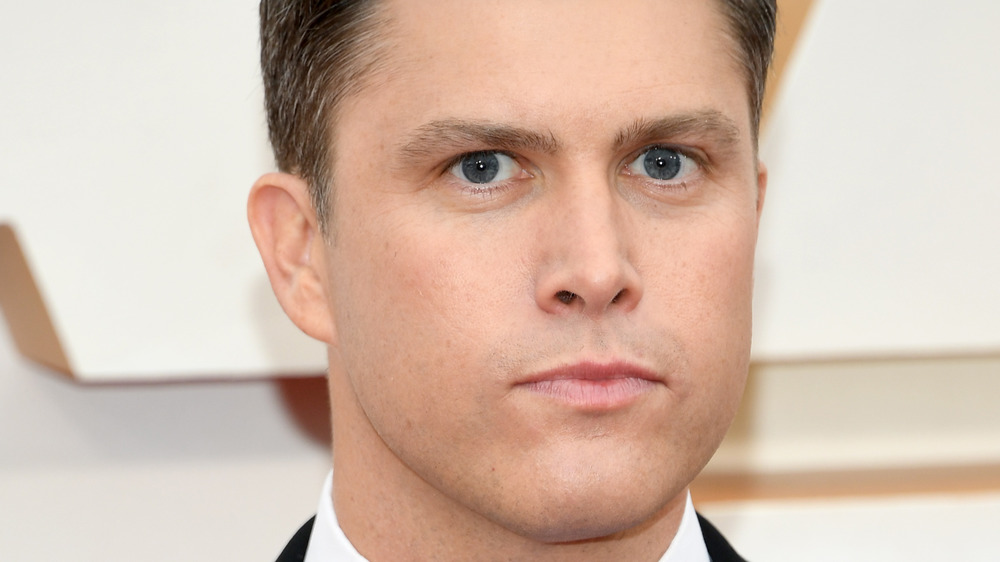 Kevin Mazur/Getty Images
Like it or not, the folks at Warner Bros. Studios released a "live-action" version of Hanna-Barbera's iconic cat and mouse cartoon Tom and Jerry on the masses. Perhaps even more surprising than that fact is the Tom and Jerry movie actually looks pretty funny, with the film boasting a bevy of kooky cartoon antics worthy of the infamous duo's '50s and '60s heyday. Of course, you'll also notice the Tom and Jerry flick isn't entirely of the live-action order as director Tim Story (Shaft) wisely opted to keep the stars of the show animated.
Story and company also surround the titular cat and mouse team with a decidedly human cast of supporting players, some of whom will be very familiar to movie lovers of all ages. While the likes of Chloë Grace Moretz (Kick-Ass, Suspiria), Michael Peña (Ant-Man), and Ken Jeong (The Hangover, Community) will need no introduction, you might have a little more trouble conjuring the name of the actor who portrays Ben in the film, even if his face does look familiar.
For point of reference, Ben is one half of the happy couple whose wedding Tom Cat and Jerry Mouse terrorize in their ongoing, wildly over-the-top feuding, here transported to a luxury hotel in New York City. While you may well have seen the actor who plays Ben escorting Scarlett Johansson down many a red carpet recently, or in a most unexpected Wrestlemania 35 appearance in 2019, there are a few other places you're more likely to have seen him. Here's why Ben from Tom and Jerry looks so familiar.
Colin Jost has owned the anchor chair on Saturday Night Live's Weekend Update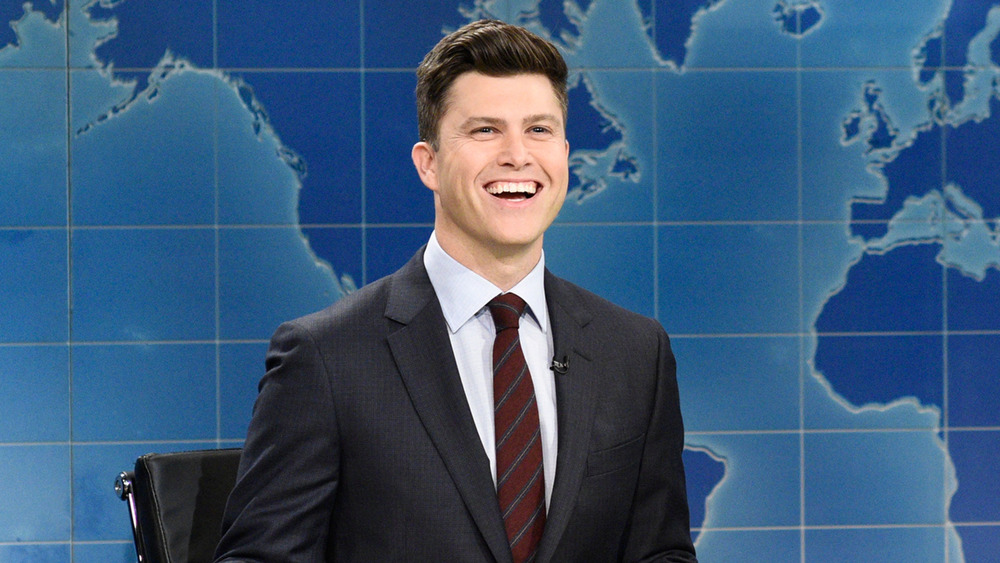 NBC Universal
That actor's name is Colin Jost. And if you do recognize him, it's almost certainly because you're a fan of NBC's long-running sketch-comedy series Saturday Night Live. You may or may not realize it, but Jost has been a member of the SNL family for over 15 years now. The multi-talented Jost first joined the series as a lowly sketch scribe way back in 2005, but by 2012 he'd worked his way up and claimed the coveted title of head writer, though he'd largely kept his talents off camera at that point.
Jost's on-camera profile got a major bump heading into the show's 2014 season as legendary Saturday Night Live producer Lorne Michaels tapped him to take over the anchor's chair on SNL's beloved "Weekend Update" news segment. That coveted seat had just been vacated by SNL standout Seth Meyers, who'd scored his very own late night talk show, and it wasn't a certainty that Jost would be able to fill the void left in Meyers' departure. Those fears were quickly laid to rest when Jost took the reins on "Weekend Update," with the Harvard educated funnyman putting his own whip-smart stamp on the segment while simultaneously invoking the deliciously smarmy stylings of "Weekend Update" icons like Norm Macdonald and Tina Fey.
And yes, it appears Colin Jost's "Weekend Update" seat is as safe today as it was when he claimed it nearly seven years ago. Frankly, it should be for years to come as well.
Colin Jost has been quite picky with movie roles to date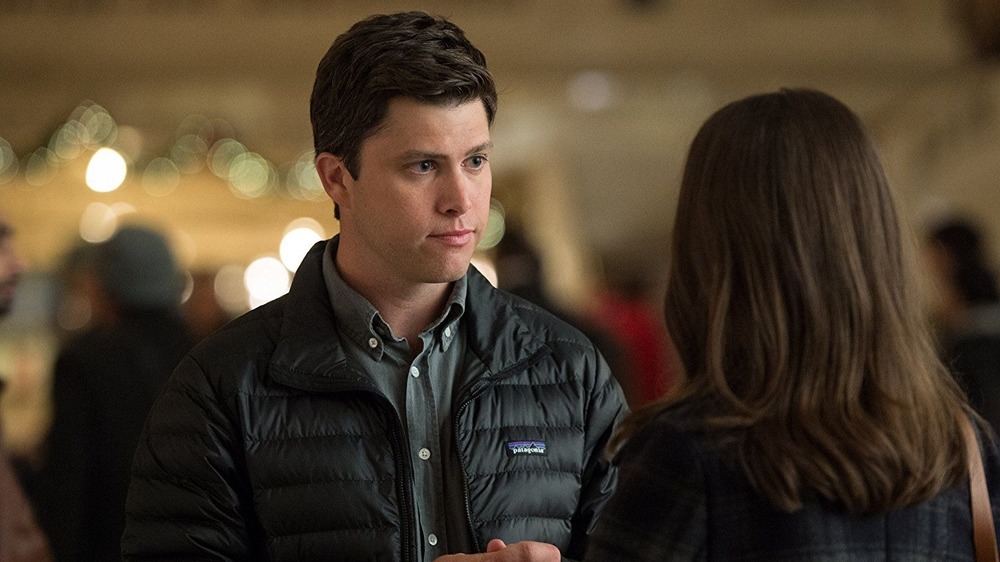 New Line Cinema/MGM Pictures
Clearly, Colin Jost's biggest break to date has come on the small screen with his regular gig on Saturday Night Live. Still, Tom and Jerry is far from his first ride at the big screen rodeo. Though Jost has only a handful of feature film credits to his name, there are a couple of impressive titles among them. As it happens, he earned his first big screen credit in 2015 for an indie comedy called Staten Island Summer, which he also wrote. If you haven't seen the film, it's a legit underrated gem following a group of high school grads looking to make the most of their last summer together before college. Staten Island Summer also features appearances from the likes of Fred Armisen, Gina Gershon, Jim Gaffigan, Kate Walsh, Will Forte, Kate McKinnon, and the late, great Penny Marshall. As for Jost, he claimed a supporting role as Officer Greg for himself, and let's just say he makes the most of his limited screen time.
Jost followed State Island Summer with another comedy in 2016, though How to Be Single was a far more high profile affair given the involvement of stars Rebel Wilson, Dakota Johnson, Alison Brie, and Leslie Mann. It also found Jost stealing scenes as Paul, the skeezy beau of Alison Brie's Lucy who breaks up with her early in the action after admitting he'd been operating under the assumption they were more or less in an open relationship. Again, it's not a major role by any stretch, but those who've seen How to Be Single can tell you Jost absolutely slays in the scene. Here's hoping Tom and Jerry brings more of the same.