Angela Bassett's American Horror Story Characters Ranked Worst To Best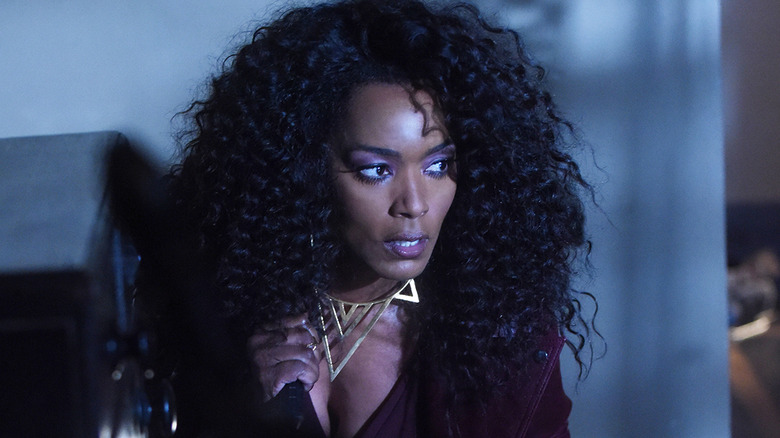 FX
Like other cast members of the anthology series American Horror Story, Angela Bassett's role in Coven wasn't the first big break she had in her acting career. Bassett has proven her talent in What's Love Got To Do With It, The Rosa Parks Story, and more recently in Black Panther. So when Ryan Murphy and Brad Falchuk cast her in Coven, she was bound to be the perfect addition.
When an actor or actress joins the AHS cast, they usually go on to play multiple characters, spread throughout the series. Angela Bassett might not have joined the close-knit AHS cast until season 3, but she made an everlasting impression for her acting chops and her iconic roles in Coven, Freak Show, Hotel, and Roanoke. Bassett didn't appear in Cult or 1984, but that doesn't mean we won't be seeing her face in the future. For now, here's a ranking of Bassett's characters so far in AHS. Cross your fingers that she'll be back for more.
Roanoke: Lee Harris' reenactment was complicated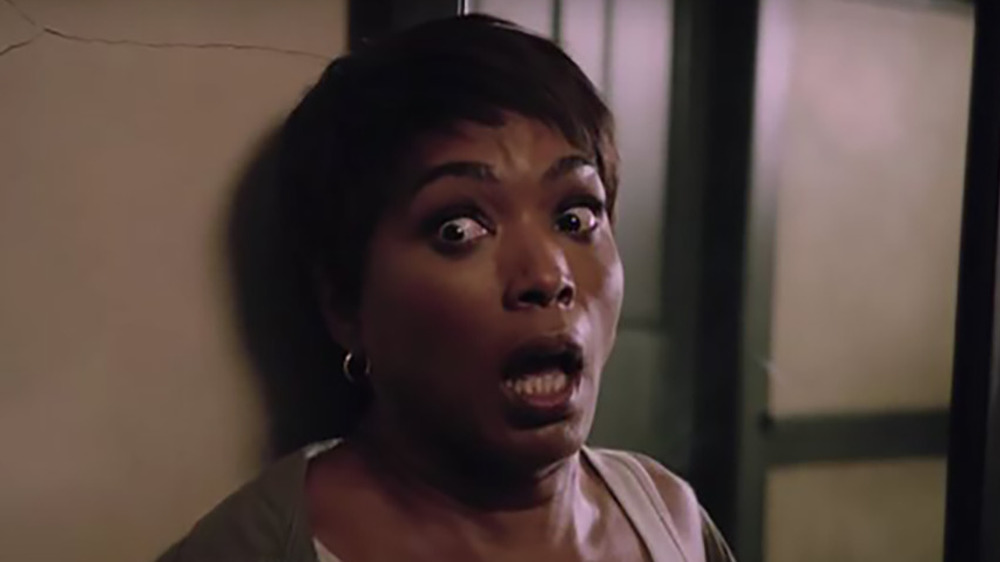 FX
Season 6, also known as Roanoke, was a complex season that utilized its cast for several characters throughout the season. Angela Bassett took the roles of two characters, one of which involved a reenactment of Lee Harris. Initially, Harris was played by Adina Porter and was the sole survivor of the season's reality show, Return to Roanoke. Harris was known for her recent sobriety, and when actress Monet Tumusiime played the role of Harris in My Roanoke Nightmare, she became her, which lead her to alcoholism.
Like other characters in Roanoke who fully immersed themselves in their faux reality show role, Bassett's portrayal of Harris was needed but wasn't her best. Chalk it up to the lines she was given or her so-so rendition of Lee, but this wasn't the role in which Bassett really shined in. Good thing Bassett had a chance to redeem herself with her dual role in Roanoke as Monet.
Roanoke: Monet Tumusiime had darker issues afoot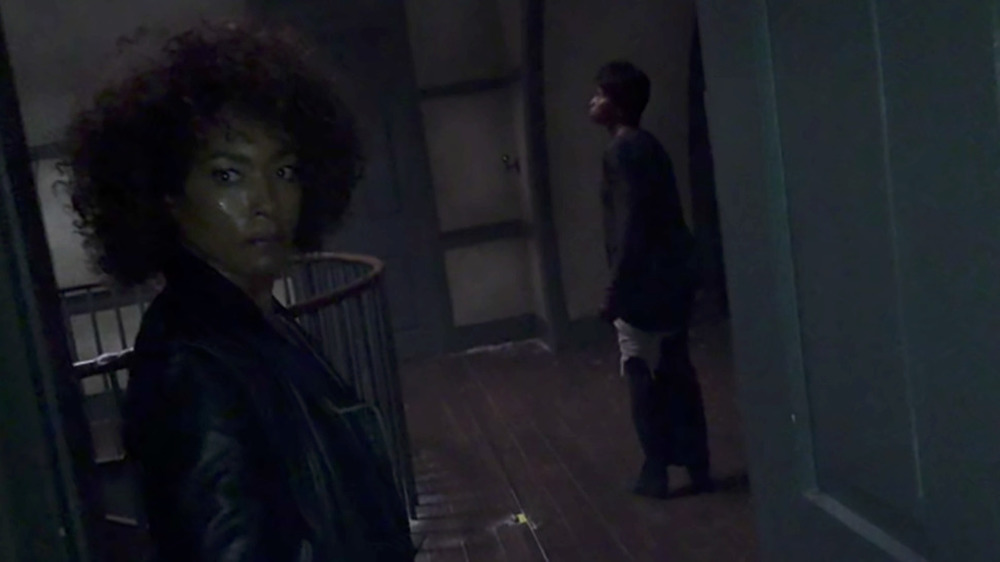 FX
Monet Tumusiime is a no-nonsense, rough-around-the-edges woman who takes on the role of Lee Harris in My Roanoke Nightmare. As mentioned above, she fully immerses herself in the role of Harris, which leads her to her drinking problem. Tumusiime is an angry woman and is a full-on skeptic of the happenings around the Roanoke house, which leads her to let down her guard. When she's eventually captured by the backwoods Polk brothers (Finn Wittrock and Frank Collison), she starts to realize that something is amiss on the set and in the area.
Angela Bassett does a stellar job of being a caring and kind woman who is concerned about those around her but, at the same time, blames the real-life Lee for her character's hatred. Tumusiime ends up dying in the end at the hands of Harris herself, but her role in Roanoke was strong and needed.
Freak Show: Desiree Dupree was the most vital of all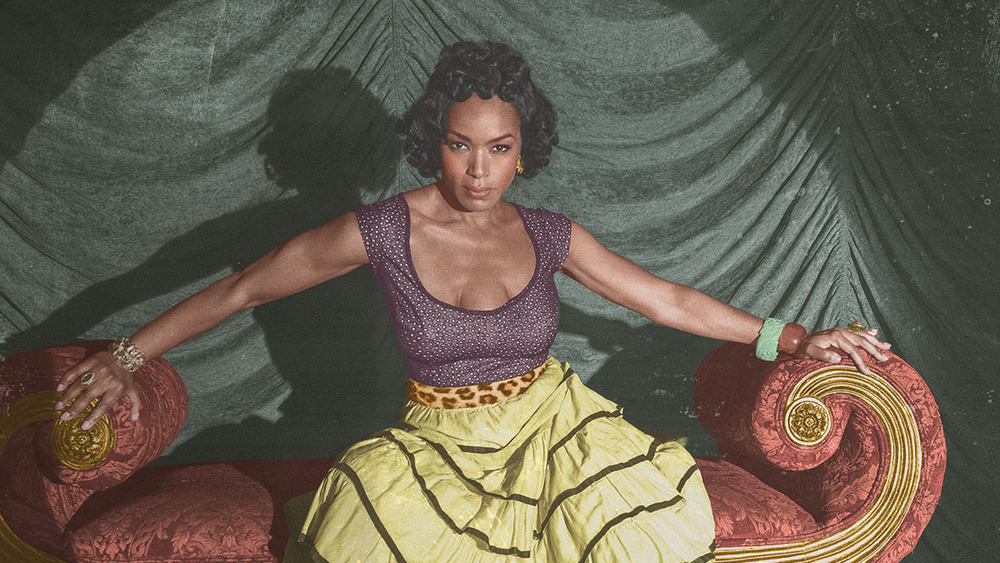 Frank Ockenfels/FX
After Angela Bassett starred in Coven, she continued on with her fabulousness as Desiree Dupree in Freak Show. She lives in the circus with her husband Dell Toledo (Michael Chiklis) after leaving another troupe in Chicago. Dupree is a prideful woman who developed three breasts and was mistaken for a male in her younger years. Now, she just wants a normal life, which is unlikely with Toledo, who is Jimmy Darling's (Evan Peters) father and Ethel Darling's (Kathy Bates) ex-husband.
Throughout the season, Dupree maintains a strong persona and even develops a friendship with her husband's ex-wife, Ethel. There is chaos all around Dupree, and while she has blood on her hands, her murders are usually for a justifiable reason. Bassett's portrayal of Dupree is spot-on, and she shows viewers that her acting chops are versatile. Freak Show has a lot of strong characters, but Bassett's Dupree holds her own ground.
Hotel: Ramona Royale was fabulous and vengeful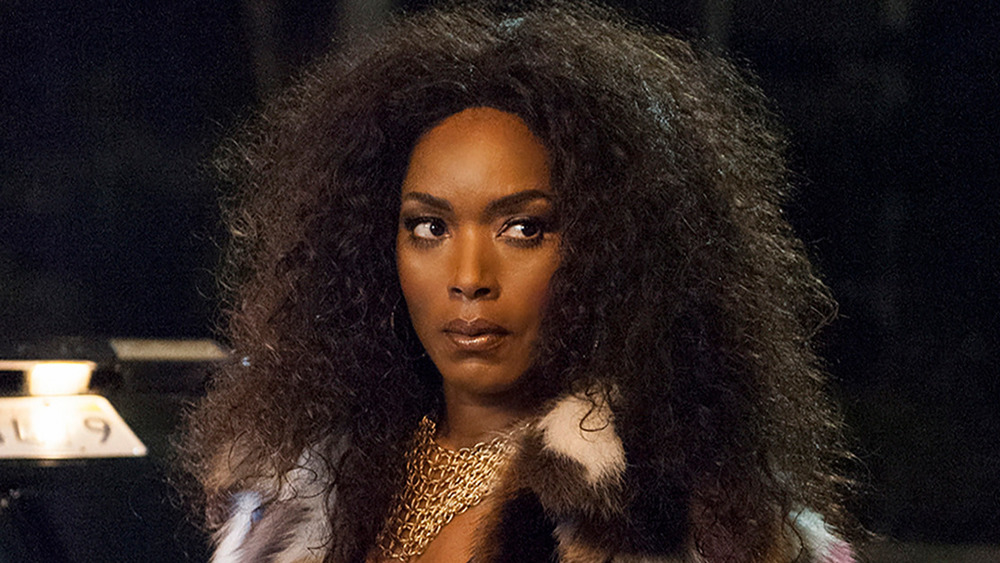 FX
In Hotel, Angela Bassett plays a movie star named Ramona Royale, who is desperate to move beyond her roles as a B-rated actress in Hollywood. Her needs lead her to the front doors of the Hotel Cortez, where she meets the Countess/Elizabeth (Lady Gaga.) The women maintain a decades-long relationship after the Countess turns Royale into one of the afflicted.
Eventually, Royale realizes that there's still life beyond the Countess and her dreadful hotel, which leads her to meet Prophet Moses, played by Jason Scott Jenkins. The Countess becomes upset and murders Moses, and this is where Royale's vengeful hatred toward the Countess starts and maintains throughout the season. Bassett's role as the blood-sucking Royale was such a standout that she earned herself a nomination for the NAACP Image Award for Outstanding Actresses in a Television Movie, Mini-Series or Dramatic Special. Ramona Royale is ambitious, powerful, and will do anything to exact her revenge on the Countess, which Bassett embodied perfectly, so much so that it provided viewers with another reason why Royale is one of the best characters in AHS.
Coven: Marie Laveau is the all-time Voodoo Queen with a penance to pay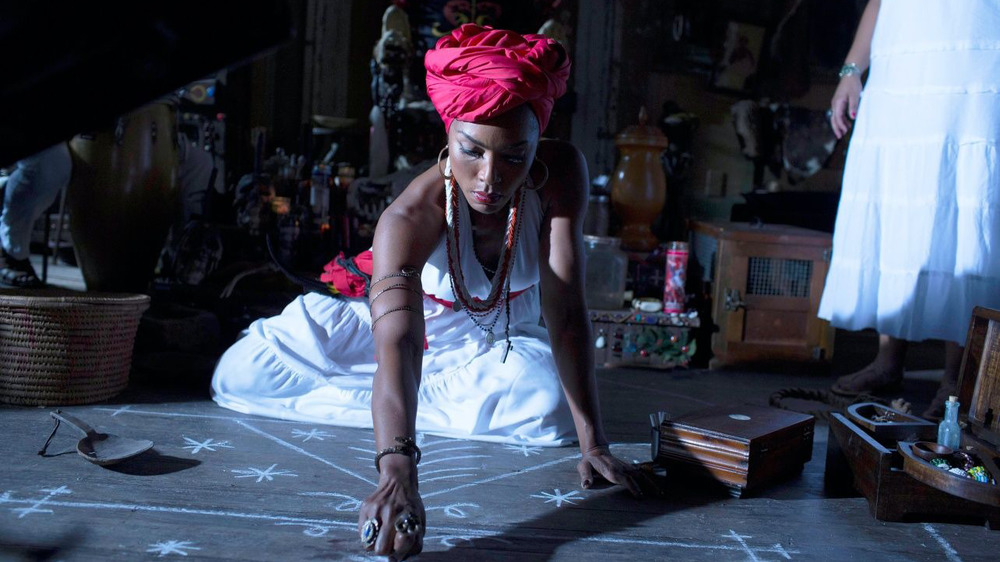 FX
Coven centers around a group of witches who live in a secret private school, located in New Orleans, LA. While Angela Bassett wasn't amongst the witchy bunch, she did have her own agenda as Marie Laveau, an immortal Voodoo Queen who made a deadly deal with Papa Legba (Lance Reddick), a demon from the underworld. Laveau is based on a real woman from the 1880s who healed the sick and oversaw spiritual rites. Laveau's backstory is tragic, and in the show, she's in a constant battle with Delphine LaLaurie (Kathy Bates), who is also based on a real woman from the 19th century.
After Laveau makes a pact with Fiona Goode (Jessica Lange) and the rest of the witchy bunch, they rally together for the greater good and to stay alive. Since Bassett received way more screen time in Coven, viewers were able to see her true talent as the Voodoo Queen and the depth of emotion she can depict on-screen. It's almost as if Bassett was made to play the sassy and spunky Laveau (whom she returned as for an episode of Apocalypse), which probably had a lot to do with Coven receiving 17 various nominations.