The American Horror Story Scene Finn Wittrock Regretted Filming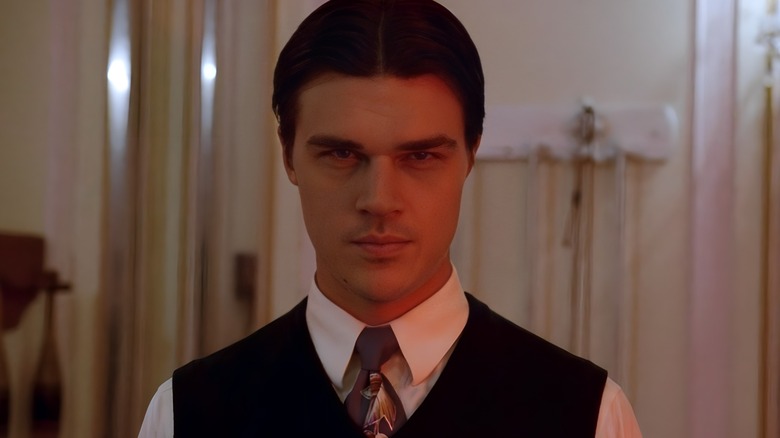 FX
American Horror Story isn't a show for the faint of heart, whether it comes to violence and gore or keeping track of multiple storylines and villains through a long line of seasons. And that doesn't just apply to viewers — it also applies to the actors who regularly play characters in this terrifying and exhilarating series. While they know the carnage and the complications aren't real, it can still affect them on an emotional and tangible level. This show is meant to be scary in a sustained way, and it delivers in spades. 
Finn Wittrock really entered the public consciousness with his performance as Dandy Mott in American Horror Story: Freak Show and has been an important, recurring part of its storyline ever since, as Dandy, Tristan Duffy, Rudolph Valentino, and Jether Polk. At first, the actor was afraid his role as the rich psychopath would be one-dimensional and last only five episodes, but he soon realized, as he told IndieWire, "Oh, OK, we're going on a real adventure here. This is a character we're going to plumb the depths of." He says he plays the villain with "vulnerability first," noting, "You don't have to act demonic when you're cutting off someone's arm." Can't argue with that. 
Nevertheless, as with other actors who've really delved into their characters on this carnival ride of a show, there have been times when Wittrock has had a little trouble with the sheer body count associated with his role.
Dandy Mott's carnival massacre in American Horror Story had Finn Wittrock questioning his choices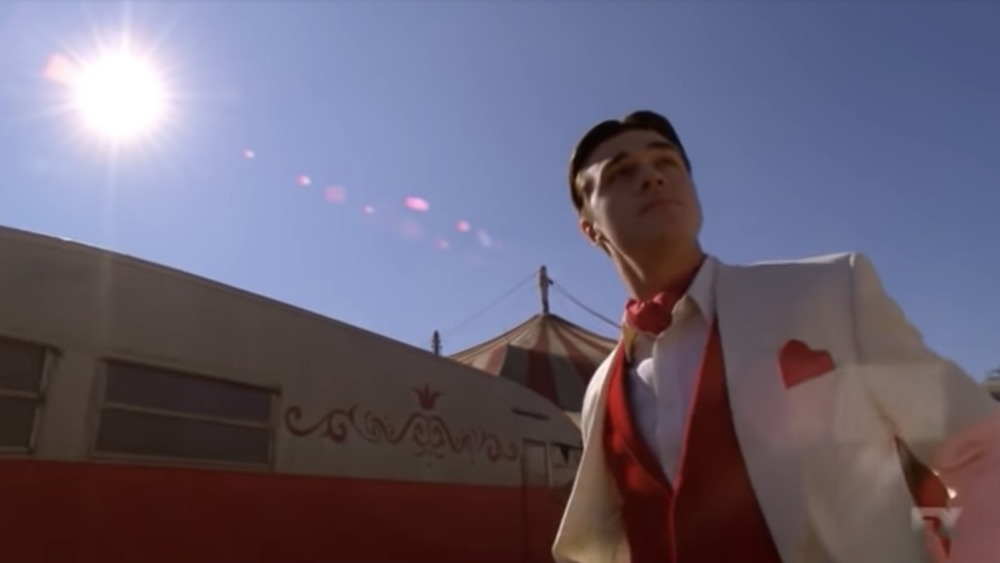 FX
In a scene that cemented Dandy Mott as one of the series' most hardened and frightening villains, Wittrock's character nonchalantly walks through the carnival shooting all the members of Elsa Mars' (Jessica Lange) troupe of sideshow performers while humming a familiar classical tune. It's a difficult part of the show to watch — one of many, of course, in American Horror Story. But, starkly represented as it is, as a daytime event with no supernatural elements involved, the realism made it feel even scarier to viewers. And Wittrock certainly felt it, saying that the scene made him question his choices.
"That was actually the one day that I walked home like, 'Argh I really hate myself and don't wanna do this,'" he told PopSugar. "I felt really despondent."
Wittrock said in an interview with Gold Derby that he believes Mott's naturally sociopathic character is emotionally stunted as a result of being ostracized, and, with the carnival troupe, the character feels like an "outsider among the outsiders." Wittrock said, "In some weird way, his frustrated ambitions to be an actor, a performer, they manifest themselves through murder. [...] It's a show for him, for his imaginary audience." This explains how his spoiled character, obsessed with the conjoined twins played by Sarah Paulson, turns out to be a more menacing villain than the more sinister-seeming Twisty the Clown (John Carroll Lynch) and Edward Mordrake (Wes Bentley).
It's certainly the stuff of nightmares. And speaking of nightmares, it turns out they're par for the course when you're working on a show like American Horror Story. When asked about his, Wittrock referenced cutting Andy's (Matt Bomer) arm off in that same season. But, he added, "It's all in a day's work for me." Now that's scary.