WandaVision Director Matt Shakman Reveals What It's Really Like Working With Kathryn Hahn - Exclusive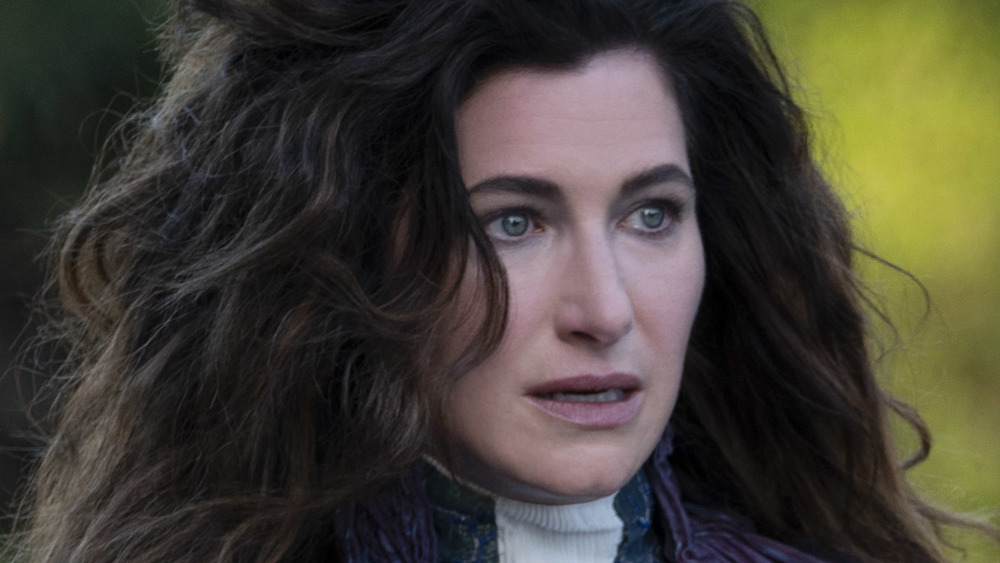 Marvel Studios/Disney+
As the story goes, it was Agatha all along in WandaVision. And as it turns out, Matt Shakman, the hit series' director, loved working with Kathryn Hahn all along, too.
Marvel Studios' debut series on Disney+ kick off Phase 4 of the Marvel Cinematic Universe in a major, memorable way, and presented the acclaimed comedy actor an incredible arc to play with. In a delightfully wicked turn, Hahn went from playing Agnes, Wanda Maxmioff (Elizabeth Olsen) and Vision's (Paul Bettany) nosy neighbor, to embodying Agatha Harkness, the omnipotent, bewitching villain who'd been the true mastermind behind the goings-on in Wanda's Westview creation. She even bounced from Agnes to Agatha and back again, as we find out in episode 9 ("Okey dokey, artichokee!" Agnes says in her memorable sing-songy delivery). 
It was a treat for fans to watch and an even bigger delight for Shakman. He couldn't have been more thrilled to be a part of Hahn's arc as Agnes-slash-Agatha from start to finish as he directed all nine episodes in the series. In an exclusive interview with Looper, Shakman gushed, "Kathryn Hahn is a genius. She's a national treasure — an international treasure."
Move over, Justin Bieber and the Weeknd
Marvel Studios/Disney+
On top of all the high praise he has for her acting skills, Shakman added that Hahn is also "now an iTunes-chart-topper." That distinction came as the unexpected result of the theme song of the mini-episode within episode 7 of WandaVision, wherein Hahn sings the catchy, Munsters-inspired tune "Agatha All Along" after Agnes drops her "nosy neighbor" act to reveal she's really Agatha Harkness.
The surprise for Shakman with "Agatha All Along" — written by WandaVision theme writers and Frozen Oscar-winners Kristen Anderson-Lopez and Robert Lopez — was how the song took on a life of its own with viewers after episode 7 debuted. "It was so much fun to watch 'Agatha All Along' move past Justin Bieber and the Weeknd, and everybody last week," Shakman told Looper, smiling. "It was really fun."
Shakman said he was enamored by Hahn's infectious enthusiasm on set throughout the series, and shared that she's just as magical as Agatha — but in a good way. "She's wonderful. She is the most playful of actors. And I think that ultimately, that's what acting really is: just remembering what it was like to be a kid in the sandbox and making stuff up. There's no one better at that than her," Shakman shared with Looper. "She's so alive. No take is like another take. It's wonderful. It's magic, really."
Regarding Agatha's fate in the series finale of WandaVision, the question of whether we'll see Hahn as Agatha again is yet to be seen. The encouraging thing is that Agatha's now a pivotal character in the MCU, so fans shouldn't be putting away their flowing witch costumes and custom-made Darkholds just yet.
All nine episodes of WandaVision are streaming now on Disney+.