WandaVision's Kathryn Hahn On What Inspired Her On Set - Exclusive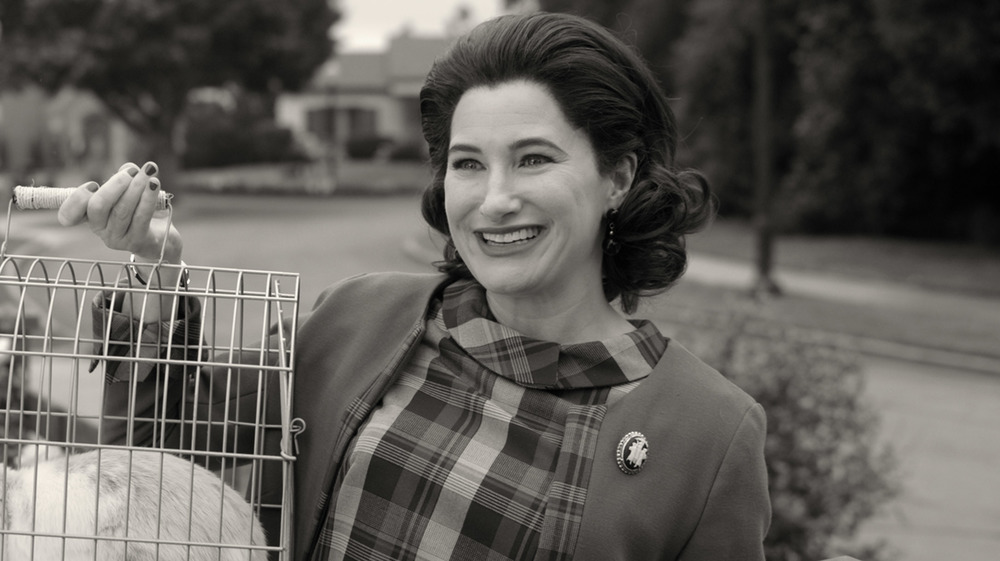 Marvel Studios/Disney+
There were many things that made the new Marvel Studios series WandaVision a transformative experience for Kathryn Hahn — not the least of which was the incredibly rare opportunity to recreate with her fellow cast mates a classic television era, framed within a much larger story set in the Marvel Cinematic Universe timeline after the events of Avengers: Endgame.
The first episode of WandaVision finds Wanda Maximoff, aka Scarlet Witch (Elizabeth Olsen), and Vision (Paul Bettany) somehow transported to an idyllic suburban television landscape inspired by such classics as The Dick Van Dyke Show from the 1950s. Thereafter, the couple and their Westview neighbors evolve into settings and situations that call to mind Bewitched from the '60s and The Brady Bunch from the '70s. Hahn plays Wanda and Vision's nosy neighbor Agnes, the time-honored type of character who always seems to pop into their humble abode unannounced.
In an exclusive interview with Looper, Hahn shared that playing such a character from classic television shows was a great reminder that while comedy styles have changed over the years, those styles are still very funny. As a result, she told Looper, "The idea of going back was so inspiring and very moving to me. To feel that bridge, comedy-wise, was really moving."
Hahn continued, "In the '50s, it's a different kind of a comedy. Not only multi-cam, but just that period — there is a certain rhythm and craft and rigidity, and then there's also an ease that has to be found. They're so relaxed — like [on] The Dick Van Dyke Show, everybody is so relaxed. That only can happen after so much rehearsal of bits and moments [like] jumping over the couch and things. You realize, 'That's some craft.'"
Bringing back the innocence of comedy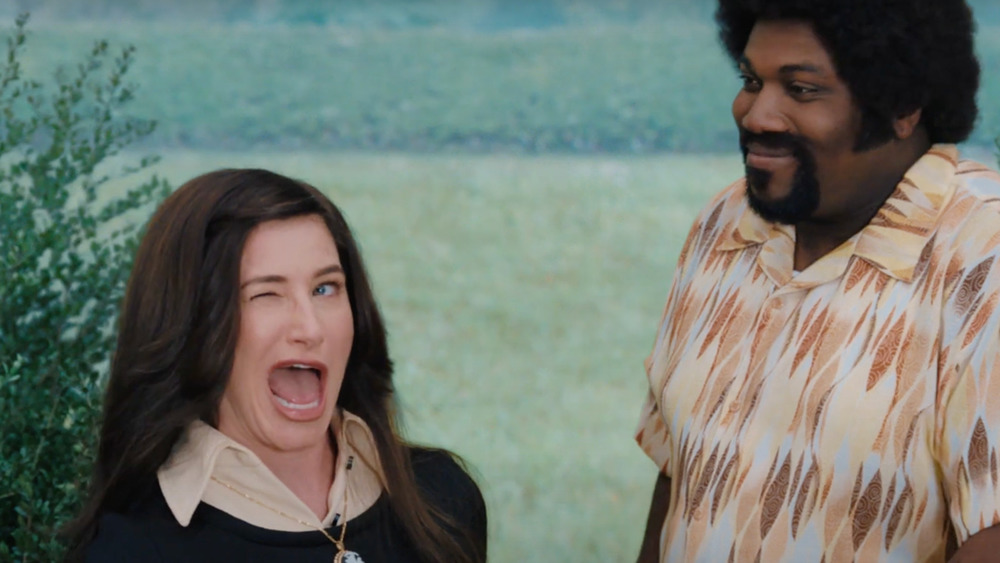 Marvel Studios/Disney+
While Hahn, Olsen, and Bettany no doubt had a blast bringing the craft back, Hahn wants people to know they aren't poking fun of the sitcom classics that inspired them. In fact, they approached the recreations of series like The Dick Van Dyke Show and the innocent charm they had with great reverence.
"It didn't feel like we were parodying it or satirizing it. We were trying to get inside of it, which is a different thing," Hahn told Looper. "We are so cynical right now, and comedy can be so cynical. There was something so pure and innocent about it, knowing that there's [something] roiling underneath, of course, and that we're not just doing it for the sake of mimicking episodes of television. There was something earnest about it that was refreshing for me as a cynic. It was definitely fun."
WandaVision is playing now on Disney+.