Duncanville Season 2 - What We Know So Far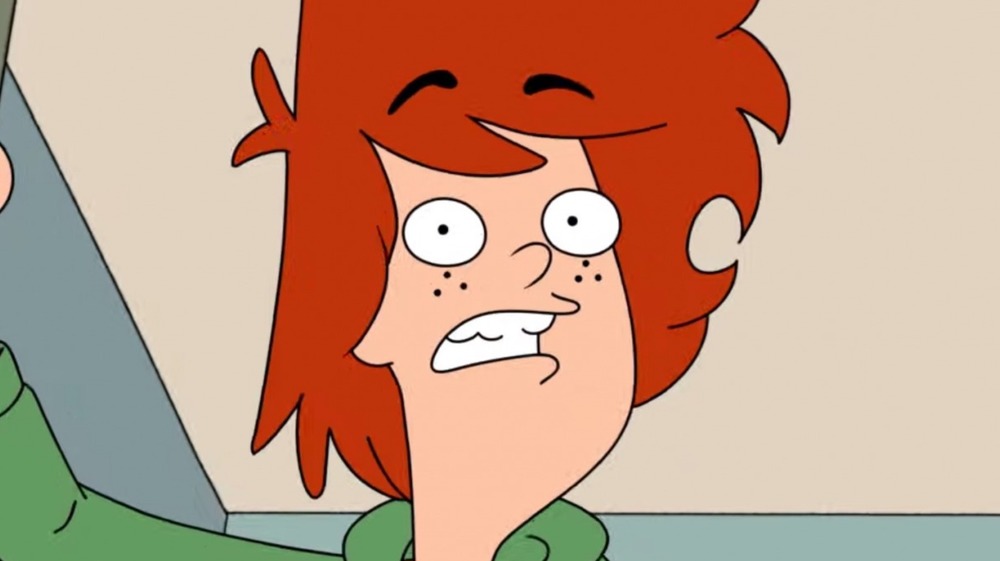 Fox
Fox announced that it was renewing Duncanville – the adult animated comedy created by Amy Poehler, Mike Scully, and Julie Thacker Scully — back in April 2020. Now, fans are finally getting some details about season 2.
Duncanville stars Poehler as Duncan Harris, a 15-year-old boy flailing through young adulthood, as many teenagers do. Episodes tend to revolve around Duncan and his family, as they try to support each other through the insane cartoon hijinks they have created for themselves. In the first season alone, Duncan was locked in his house by his smart fridge, made into a symbolic virgin sacrifice, and mentored by a Mexican cartel. 
The show is a joint venture between Disney's 20th Television, Universal TV, and Fox Entertainment. Duncanville's early renewal in 2020 showed the network's confidence in the product, but since then, fans have been waiting for word on what direction the season will take, when it will come out, and who will be returning. Here's what we know so far. 
When will Duncanville season 2 premiere?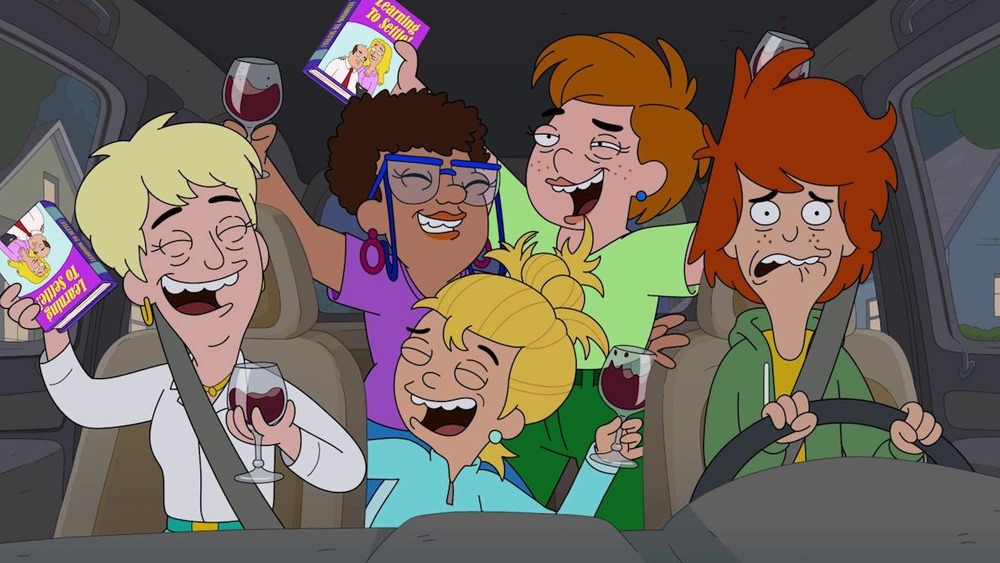 Fox
It's been a long wait for Duncanville fans: the finale for the first season came out all the way back on May 17th, 2020. Though fans could rest easy in knowing that a season 2 had already been confirmed — thanks to averaging 2.3 million viewers, it didn't take too long for Fox to boast that the cartoon had become their "most-streamed new comedy" — it will be over a year from that date before season 2 premieres. At this time of writing, the powers-that-be are aiming for Duncanville season 2 to kick off with two back-to-back episodes on May 23, 2021. The show will run as part of Fox's Animation Domination programming block. 
Animation Domination has long been the home of the long-running sitcom The Simpsons, which both Mike and Julie Thacker Scully were involved with before creating Duncanville: Mike Scully, in fact, was the showrunner of The Simpsons for seasons 9 through 12, while Thacker was the credited writer on three episodes of the show. 
Who is in the cast of Duncanville season 2?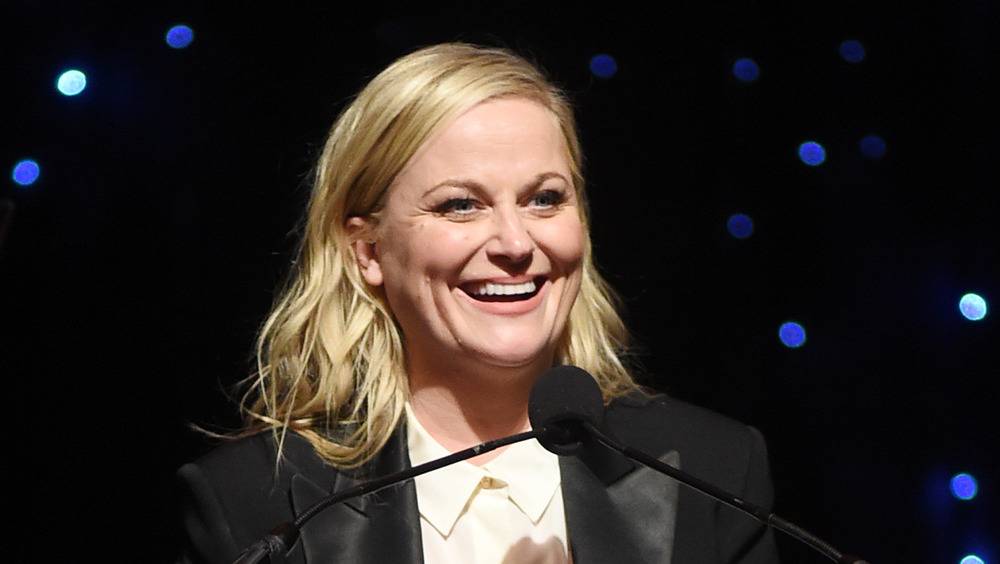 Jamie Mccarthy/Getty Images
We have every reason to believe all the major players of Duncanville season 1 will be reprising their roles for season 2. Besides playing Duncan, Poehler also plays his mother Annie. Duncan's father, Jack, is voiced by Modern Family's Ty Burrell. Duncan's sisters — Kimberly and Jing — are voiced by Riki Lindholme of Garfunkel & Oates and Joy Osmanski, respectively. Duncan's friends are played by Zach Cherry, Yassir Lester, and Betsy Sodaro. Duncan also hangs out with his secret crush, genderfluid student Mia (Rashida Jones).
In addition, creator Mike Scully tweeted that the season 2 premiere will double as a Parks and Recreation mini-reunion, as Nick Offerman, Aubrey Plaza, Adam Scott, and Retta will be joining Parks and Rec alums Poehler and Jones. What roles the Parks and Rec cast will be playing are not yet known, but it seems like Leslie Knope does make a cameo in season 2: at San Diego Comic-Con's Duncanville panel (via Entertainment Weekly), the cast showed a clip where Poehler voiced her former "annoyingly upbeat lady from the Parks Department." 
Stranger Things star Finn Wolfhard will also be voicing a character in the premiere.
Is there a trailer for Duncanville season 2?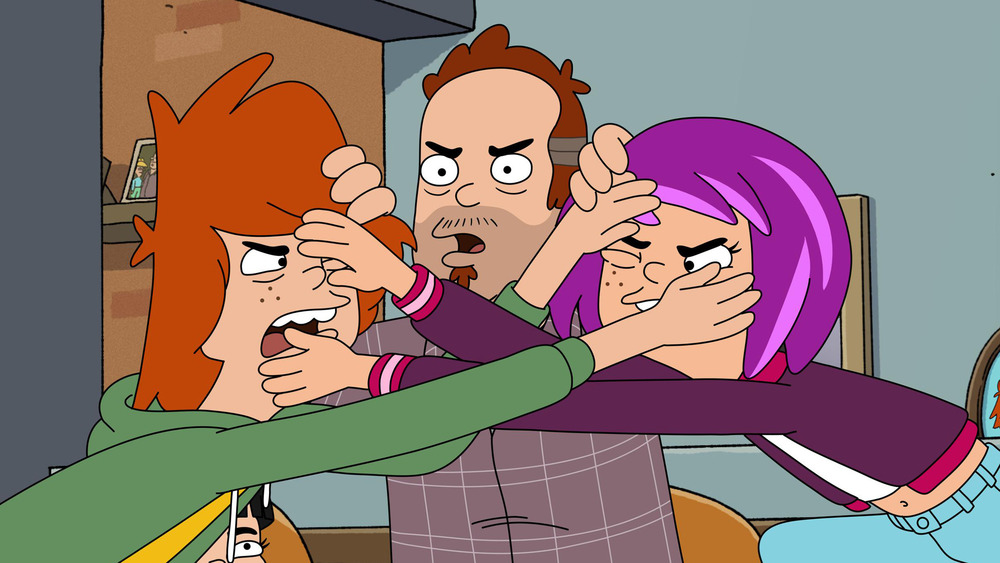 FOX
There isn't yet an official trailer for Duncanville season 2, but we do have the sneak peak that was released at Comic-Con. In the Comic-Con clip, Harris matriarch Annie is finally nominated for a Civil Servant of the Year award. It seems that every year, the town of Oakdale gives out Oakies for people working in the government. And every year until this one, parking enforcement office Annie goes unrecognized. But this year, Mayor Jen (Kathy Najimiy) announces Annie's nomination. The family then goes all out on the campaign trail. Jack even turns a parent-teacher conference with Duncan's teacher (voiced by Wiz Khalifa) into a stump speech for his wife. The clip package also includes a scene where Duncan's family has to move into the abandoned trailer his friends use as a secret hangout.
Other than that, stay tuned for a trailer to arrive, presumably sometime in the near future.
At the SDCC panel, Poehler expressed gratitude that the show could continue production at home during the COVID-19 pandemic. "We had so much of the show done. We had established our characters," she said. "We had done so much recording by the time this pandemic hit." For once, animation's long production time was on the side of creators.