The Real Reason Pepe Le Pew Was Cut Out Of Space Jam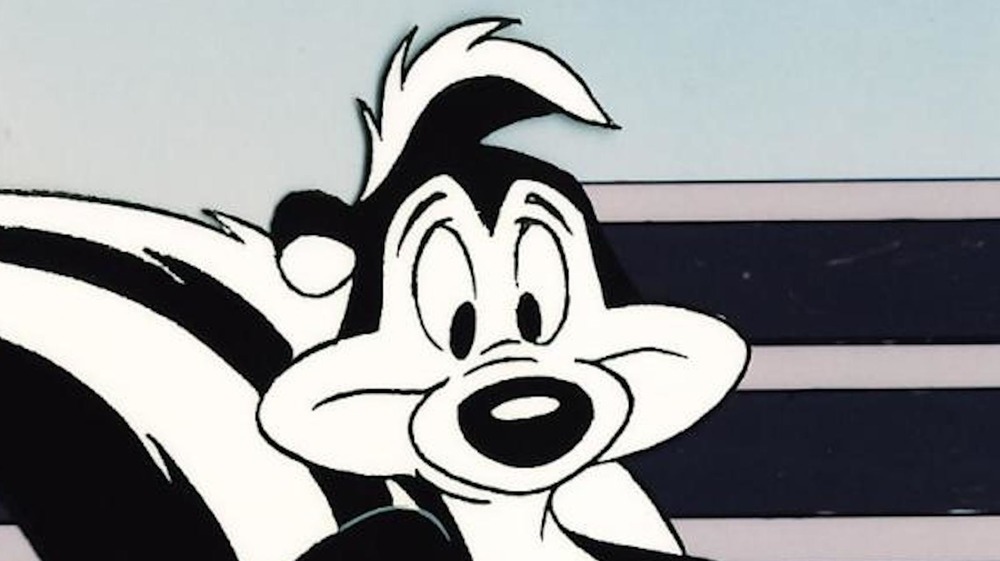 Warner Bros. Pictures
After the first look at Warner Bros.' Space Jam: A New Legacy arrived online recently, it's been revealed that one of the classic Looney Tunes characters has been cut out of the upcoming sequel. Pepe Le Pew, a skunk, appeared in 1996's Space Jam opposite other iconic characters like Bugs Bunny, Daffy Duck, and Taz the Tasmanian Devil, but he will not return for the sequel. The new film sees real-life basketball star LeBron James team up with the Tune Squad to escape a virtual reality run by Don Cheadle's evil algorithm — named Al-G Rhythm, of course. But the creepy skunk has been completely cut from his role in the film, although according to Deadline, it isn't because of the recent controversy surrounding Pepe after New York Times columnist Charles M. Blow criticized the character for contributing to "rape culture."
Audiences familiar with the original Looney Tunes cartoons will remember how Pepe Le Pew constantly forced his affections onto Penelope Pussycat, even locking a door to try to stop her escaping him. Clearly, the character's outdated writing doesn't exactly sit right with many viewers — since he doesn't care about or doesn't understand consent. But a scene in Space Jam: A New Legacy would've used Pepe Le Pew as a teaching opportunity for younger viewers.
Pepe Le Pew's Cut Scene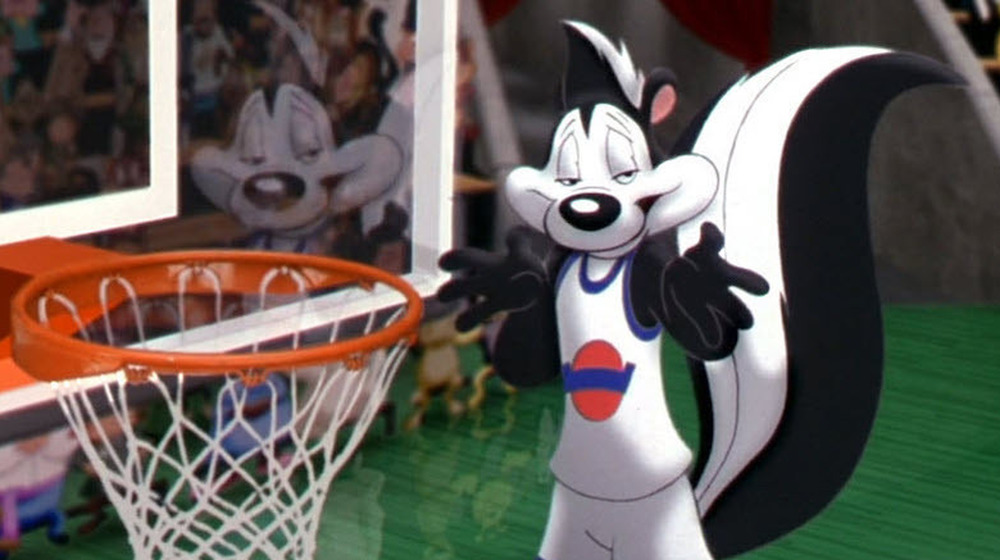 Warner Bros. Pictures
A New Legacy will seemingly see LeBron James travel through a number of different stylized realities, presumably because of the virtual space created by Don Cheadle's villainous A.I. Per Deadline, one such scene took place in a "black-and-white Casablanca-like cafe" with Pepe as a bartender who starts trying to seduce Jane the Virgin star Greice Santo. The actress reacts by pouring her drink on the skunk and slapping him so hard that he spins backward on a stool.
The scene was intended as a quick lesson in consent and how to read signals that someone isn't interested for younger audiences. And for older viewers, it would've been great to see Warner Bros. address Pepe's problematic nature, with the character revealing that Penelope Pussycat filed a restraining order against him. It's disappointing that the scene has been dropped from the Space Jam sequel. A spokesperson for Santo explained why the star felt strongly about appearing in the Casablanca-inspired sequence.
"This was such a big deal for Greice to be in this movie. Even though Pepe is a cartoon character, if anyone was going to slap a sexual harasser like him, Greice wished it would be her. Now the scene is cut, and she doesn't have that power to influence the world through younger generations who'll be watching Space Jam 2, to let younger girls and younger boys know that Pepe's behavior is unacceptable."
The outlet also noted that animation hadn't been completed on the scene, so it sounds like the moment was dropped quite some time ago — perhaps when director Terence Nance left the project and Malcolm D. Lee came aboard.