The Stunning Transformation Of Amber Rachdi From My 600-Lb Life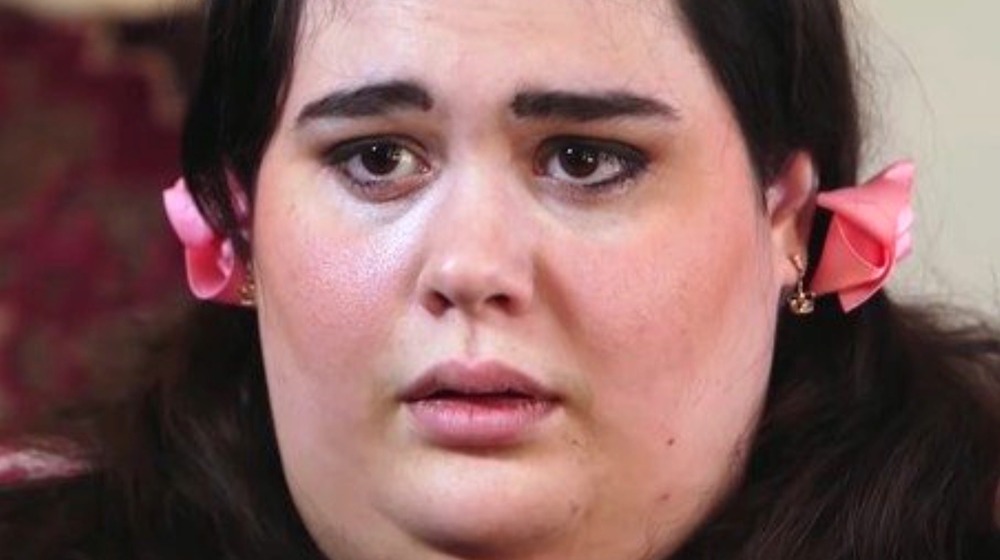 TLC
Viewers of My 600-lb Life know that success stories and dramatic transformations for the folks who appear on the show are rare, even when it comes to some of the more popular stars such as the Assanti brothers and JT. Small victories go a long way for participants as they embark on a journey to lose weight and save their own lives. Everyone on the series faces a myriad of obstacles: Finances, toxic enablers, mental health issues, travel, and self-esteem are just a few of the many deterrents to reprogramming their mindset and bodies to achieve a healthier lifestyle. As a result, levels of success vary over the eight seasons of the show. When 23-year-old Amber Rachdi was featured in season 3, she expressed a fear of failure and had unrelenting anxiety about the changes she would have to make to lose weight. However, years after her episode aired, Amber is now unrecognizable.
Amber's struggle on My 600-lb Life
Back in 2015 when her episode of My 600-lb Life aired, Amber Rachdi was 23 years old and weighed 657 lbs. On the show, she begins by recounting her tale of being overweight since childhood (160 pounds at the age of 5), struggling with severe anxiety, and using food as a coping mechanism. She describes the feeling of anticipation prior to a meal as a "combination of depression and sadness."
She lives with her parents, whom she depends on to survive. Although her boyfriend Rowdy tries to be supportive, he can't help but enable her through their grocery shopping habits. As a result, Amber feels extreme guilt because she perceives herself as failing both her parents and her relationship. In conjunction with her anxiety, her body is growing incapable of supporting her weight. She's unable to stand for more than 30 minutes at a time and is often bound to a wheelchair or motorized scooter in order to get around.
Following a harrowing flight, Amber meets with Dr. Nowzaradan to determine her eligibility for gastric bypass surgery — the first real step in Amber's transformation. She takes Dr. Now's advice seriously and begins changing her eating habits to qualify for the surgery. After Amber loses 17 pounds, Dr. Now approves her for surgery. Following the surgery, Amber moves out of her parent's home and works to regain her health and independence. She is eventually able to walk farther distances and drive herself around, activities she hadn't been able to perform independently for years. She also begins attending therapy, working with her therapist to identify triggers and explore different coping methods for her anxiety.
By the end of the year, Amber has lost 257 lbs and hasn't shown any signs of slowing down.
Where is Amber now?
Amber Rachdi continued losing weight after My 600-lb Life, and she's now a social media influencer (214K followers on Instagram) and plus-size model, serving as an inspiration for many who watch her episode. One Facebook user, Sonya Cobb, commented with well-wishes years after the episode originally aired: "I just watched your episode for the first time and I fell in love with your personality. You seem so sweet and I really wanted to know how you've been doing. ... but looks like you're doing awesome and I'm so happy for you!" Cobb's statement echoes the sentiments of many of Amber's fans.
The former TLC star stays active on Facebook, Instagram, and Twitter, engaging with her fans and giving advice to others going through the same journey. She's a vocal advocate of body positivity and mental health.
While she once hesitated to go out in public for fear of ridicule, Amber now embraces the love of her fans by sharing selfies that feature her slimmed-down frame and diamond-cutting cheekbones, videos of her gym workouts, parties with friends, and the occasional photo of her edible garden, which she says serves to tweak her eating habits.
Amber's much healthier now, but she is candid on social media about the truths of her struggle and the dangers of getting too complacent. In response to a comment on her Facebook, she said, "Dr. Nowzaradan likes to say he has no permanent success stories. I may very well need a revision someday if I am not careful."
Although Amber has confirmed that she will not be featured in any upcoming episodes of the spin-off, My 600-lb Life: Where Are They Now?, she has also said that she cannot reveal the current number on her scale due to contractual obligations. Whatever that means, it's good to know that Amber Rachdi is currently thriving.