The Forgotten Western Drama Series You Can Binge On HBO Max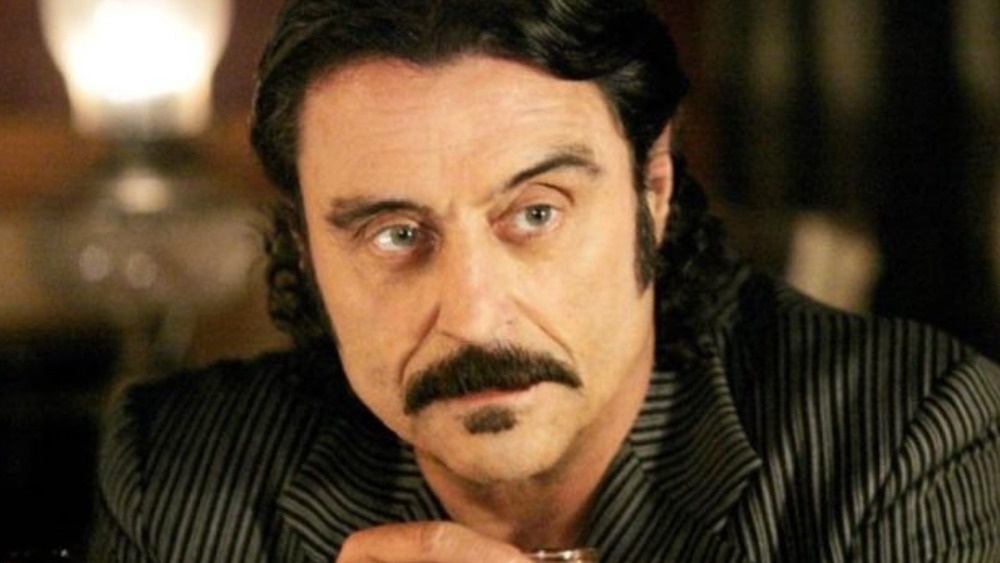 HBO
If you click a link and buy a product or service from a merchant, we may be paid an affiliate commission.
For decades, HBO has been known as a producer of high-quality TV. Back when it was just a premium cable network, it was responsible for many of the most critically acclaimed series of all time, including The Wire and The Sopranos. Although the HBO brand has evolved substantially since then, many of the shows that were huge during the premium cable era still remain available to stream on HBO Max. 
Alongside hall-of-fame shows were a few lesser-known series that were just as beloved. Deadwood was one such show. It had an enormous critical and fan following and ran for just three seasons in the mid-2000s. The show, which is set in the Old West, tells the story of a small town on the frontier and explores the lawlessness that defined the era. It also deserves to be considered one of the greatest TV series of all time. 
Deadwood features plenty of actual historical figures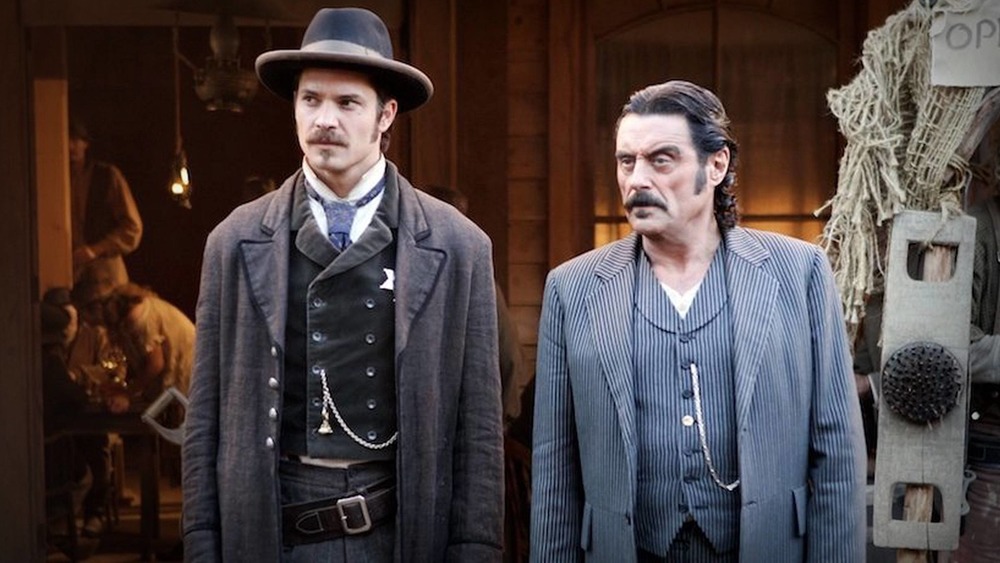 HBO
Deadwood is set in the town of Deadwood, South Dakota, a real city where a number of historical figures intersected at various points. The show's leads are Al Swearengen (Ian McShane) and Seth Bullock (Timothy Olyphant), two public figures in the town who often come into conflict with one another. Swearengen, a smart-talking antihero, runs one of the town's saloons and also has a hand in influencing what happens in the town.
Bullock rides onto the series in the early episodes and is eventually appointed sheriff. A natural lawman, Bullock often disagrees with Swearengen about whether it is appropriate to do things that are ultimately unlawful, even if they're in the town's best interests. Over the course of its three seasons, Deadwood also tangles with a variety of other real-life figures, including Wyatt Earp, Sen. George Hearst, Wild Bill Hickock, and Calamity Jane. The series includes these characters not just as clever references for history buffs, but also to situate us in what it was actually like to live in the Old West. 
Deadwood is interested in complicated moral questions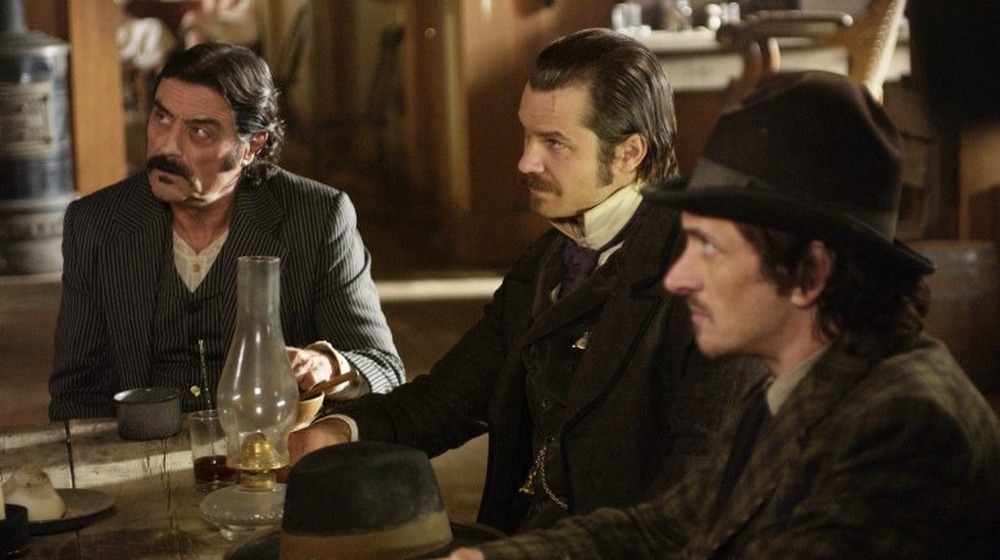 HBO
Although the real-life figures provide a hook for the series, Deadwood doesn't rely on actual history to tell its story. Instead, it attempts to ground these people in relatable circumstances. Calamity Jane may seem like a mythic figure, but as played by Robin Weigert, she's a drunk who can't seem to get over the murder of her dearest friend, Wild Bill. Seth Bullock is a rigid sheriff, but he's also a frustratingly stubborn man who falls in love with a widow even though he's already married. 
Deadwood is a show about living in the past and watching an entire way of life slowly vanish. The Old West was wild, but not in the way we usually think of it. It was a place where people could truly start fresh and escape their pasts. The show is violent, but that violence is a harsh reminder of the way life often was in that era. 
No decision is ever easy on Deadwood, and the show is careful to depict a world that is messy, complicated, and always on the verge of collapse. Thanks to incredible writing from creator David Milch, the series is also deeply poetic, filled with the kind of dialogue that TV shows rarely have, including plenty of beautifully written profanity. 
Deadwood is one of the best series HBO has ever made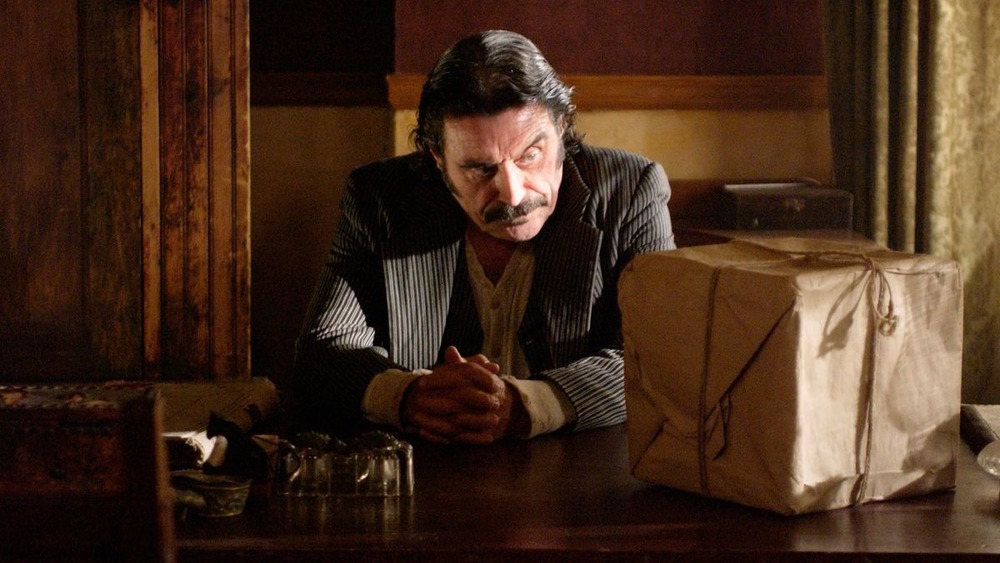 HBO
With rich period details and vivid performances across the board, Deadwood is the kind of series that doesn't come along very often. It's a singular show that takes the Wild West and makes it vivid and real. It creates a world full of true possibility and then reminds us that modernization and its many virtues also bring limitations. When you start getting telephones, you're both connected to the world and more reined in by its laws and customs. 
Although it's a series that starts with heroes and villains, Deadwood evolves into a show about uneasy alliances and a small community. The citizens of Deadwood are all self-interested, but they often find themselves working together for the good of the town that they all share. It's a brilliant show and you'll recognize a lot of Deadwood's cast from other projects. There was also a movie in 2019 that wrapped up many of its stories after the series was abruptly canceled following its third season. 
If you're now eager to know how to watch Deadwood, all three seasons and the movie are available on HBO Max. They're well worth the watch for any diehard TV fan.