Here's How You Can Watch Every Season Of Deadwood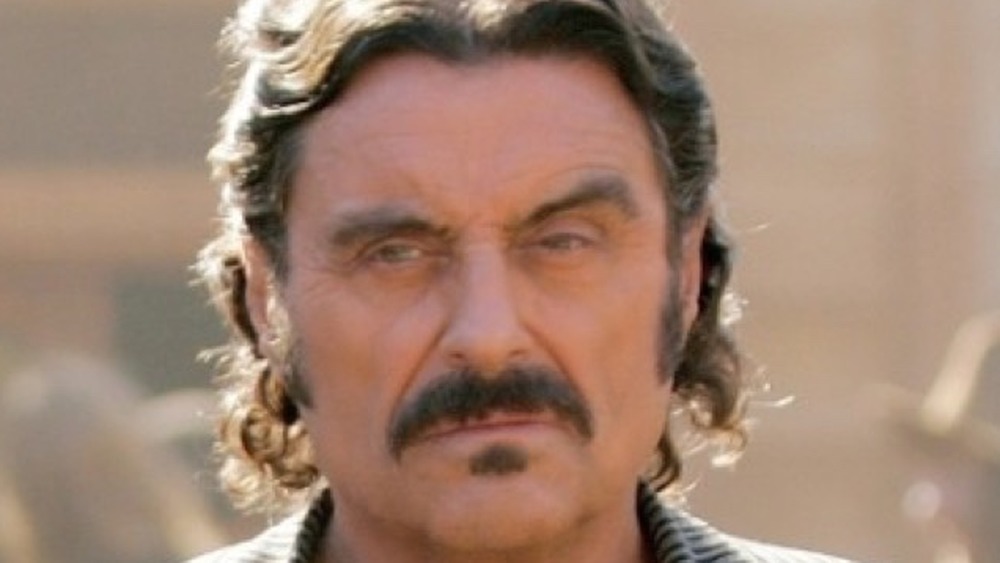 HBO
Any serious TV watcher knows that Deadwood, HBO's Western series about the settling of the titular South Dakota town, is one of the best shows ever made. It's not as popular as its top-tier peers like The Sopranos, The Wire, and Breaking Bad, but it has to be in the conversation alongside those classics when discussing the all-time greatest TV dramas. Deadwood's extraordinary dialogue, acting, and production value make it a must-watch for anyone interested in television as an art form. There's never been another show like it.
Deadwood is set in the gold-mining frontier town in the 1870s. It's a lawless, brutal place where people come to seek their fortunes free from any of the strictures of civilized society. But there are people like Sheriff Seth Bullock (Timothy Olyphant) and saloon owner Al Swearengen (Ian McShane), the wealthiest person in town, who are trying to impose some kind of order on the town, whether it be law or a form of capitalism that favors those who have already won. It's a brutally violent drama with a totally unique style of dialogue invented by creator David Milch: characters speak in Shakespearean rhythm with extremely graphic profanity.
Deadwood ran for three seasons on HBO between 2004 and 2006 before being unexpectedly canceled. It did, however, get a proper send-off more than a decade later in the form of a Deadwood movie that aired on HBO in 2019. All three seasons and the movie are available to stream on HBO Max.
Is Deadwood the TV GOAT?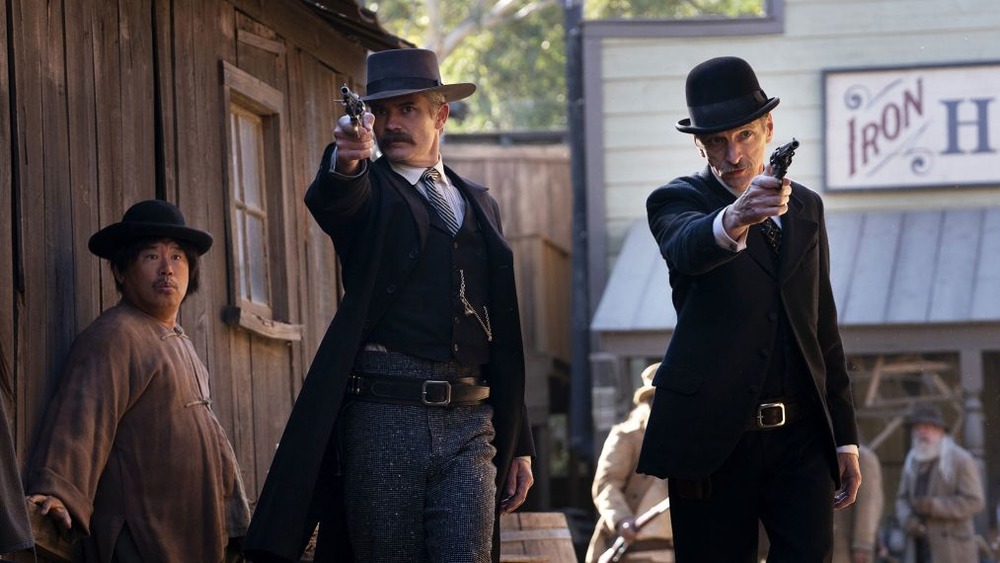 HBO
The cast of Deadwood lacks superstars, but it has one of the best collections of character actors ever assembled. In addition to McShane and Olyphant as real-life historical figures Swearengen and Bullock, the cast includes John Hawkes as Bullock's business partner Sol Starr; Paula Malcolmson as Trixie, a tough-minded sex worker who will do whatever she needs to do to better her lot in life; the incredible Robin Weigert as sad, drunken frontierswoman Calamity Jane; Brad Dourif as the ever-present sawbones Doc Cochran; Molly Parker as the widow Alma Garret; and Anna Gunn as Bullock's wife, Martha. Garret Dillahunt plays three different roles; in season 1, he's Jack McCall, the man who killed Wild Bill Hickock (Keith Carradine); in season 2, he's psychopathic geologist Francis Wolcott; and in the movie, he has a cameo as a local drunk.
The show won eight Emmys, mostly in technical categories, and has a 92 percent "Fresh" rating on Rotten Tomatoes, which actually feels a little low. The movie has 98 percent "Fresh" rating, which is more reflective of its critical esteem. In an essay arguing that the show is the greatest ever made, Vox's Emily VanDerWerff describes it as an extraordinarily sophisticated story "about why society is necessary, why we keep coming together and building communities and villages and whole civilizations," while also exploring how civilization gets built on top of deception and exploitation and violence. "Deadwood doesn't try to defend or pillory this fact of human nature," VanDerWerff writes. "It just describes its existence."
If you haven't seen Deadwood, you need to fix that as soon as possible. You can stream it on HBO Max, or buy it on Amazon, iTunes, Vudu, or Fandango.