The Truth About That Musical Number In Coming 2 America - Exclusive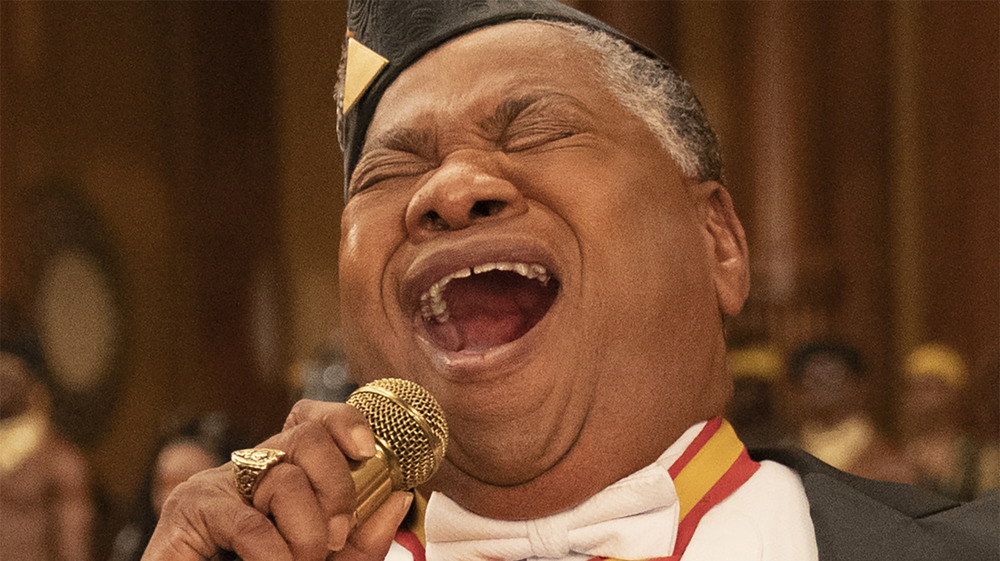 Amazon Studios
1988's Coming to America is a comedy first and foremost, but it borrows plenty of elements from a musical. It's directed by John Landis, the man behind The Blues Brothers and Michael Jackson's iconic videos for "Thriller" and "Black and White." It features an elaborate dance choreographed by none other than Paula Abdul (Imani Izzi's show-stopping entrance) and numerous musical numbers, including the unforgettable performance by Randy Watson (Eddie Murphy, who also leads the film as Prince Akeem Joffer) and his band Sexual Chocolate.
Naturally, Coming 2 America director Craig Brewer took advantage of every opportunity he had to keep the tradition going in the sequel movie. As he told Looper in a recent exclusive interview, "We always knew that we wanted to have a lot of nods to the kind of movement that Paula Abdul created in the first Coming to America." You can see the results in Coming 2 America's grandiose send-off to one of Zamunda's most popular rulers, and in the dance sequences that introduce the various members of Nextdooria's royal family.
And yet, while Coming 2 America is packed with references to the first movie, one big musical Easter egg was missing from the film when Brewer first came on board. "When I was first brought on to the project and I went into Paramount and they said, 'Well, is there anything you'd like to change in the script, or is there anything you'd like to add?' I [said], 'Well, the first thing I want to do is Oha needs a number,'" Brewer explained.
Yes, that's right: In the original script, the Zamundan royal family's loyal servant, played by Paul Bates, didn't get to sing. If you're familiar with Coming to America, you realize why that's a huge oversight: Oha's falsetto rendition of "She's Your Queen-to-Be," which introduces Murphy's Prince Akeem to his betrothed, is one of the most memorable moments of the first movie.
Thankfully, the omission didn't last long. Brewer had the perfect solution in mind. After all, Prince can solve almost any problem.
Why Prince's Gett Off was the perfect song for Coming 2 America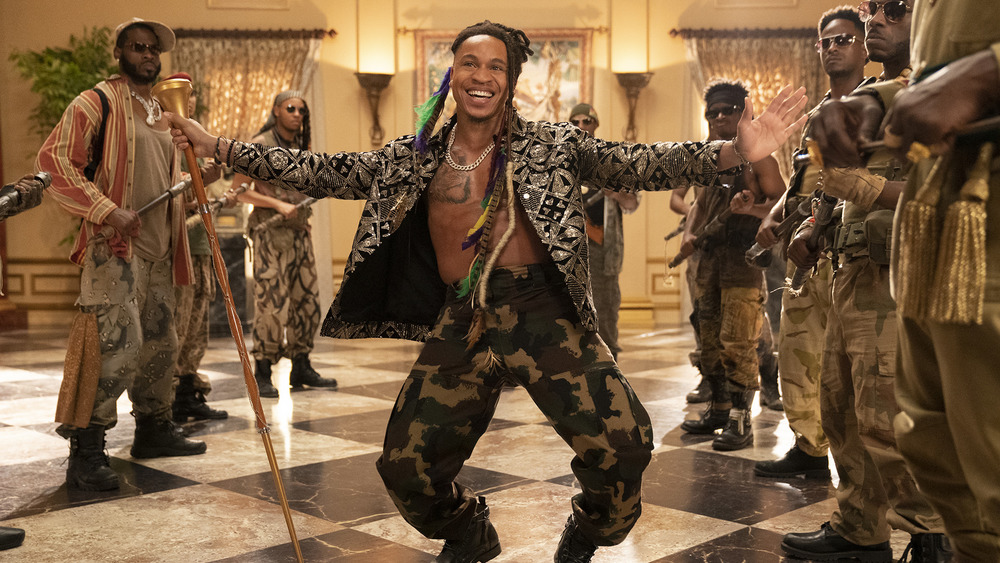 Amazon Studios
Fan service can be a lot of fun, but throwing in a nod to Coming to America just for the sake of making a reference wasn't going to cut it. If Oha was going to get another musical number, it also had to serve the plot.
Brewer knew exactly where to put it. In Coming to America, Oha's solo comes when Prince Akeem meets Imani Izzi (Vanessa Bell Calloway) for the first time. So, in Coming 2 America, Brewer put Oha's big moment in a similar scene featuring Akeem's son. Like his father before him, Lavelle (Jermaine Fowler) becomes engaged to a Nextdoorian princess by way of an arranged marriage, and once again, Oha is there to commemorate the new couple's meeting with a song.
The director just had to get the studio executives on board, first. "They [asked], 'Oha? Oh, you mean the guy that announces everybody?'" Brewer remembered, chuckling. Still, Brewer made a pretty good pitch: "I had a boombox with me and I played Prince's 'Gett Off.' And then they got really excited."
Bates' cover of Prince's hit single earned a few rave reviews during filming, too. On the day that scene was filmed, actress Shari Headley — who joins Coming 2 America's returning cast members as Akeem's wife, Lisa — brought her son to set. "He [said], 'Man, I love this song,' and he didn't know that it existed before because he's young," Brewer told Looper. "Then I played him the original Prince song. He said, 'I think I like ours better.'" Brewer added with a laugh, "I bet that's a compliment, but no — Prince is always going to be better."
Coming 2 America is available to stream via Amazon Prime Video now.