The Bad Trip Prank That Almost Got Eric Andre Shot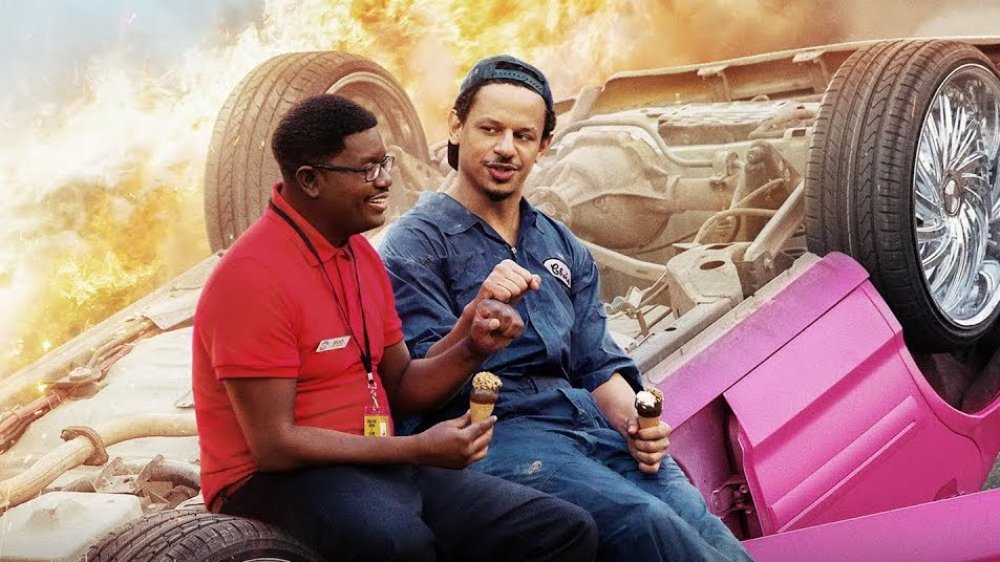 Orion Pictures/BRON Studios
Since debuting his now-infamous Adult Swim series almost a decade ago, comedian Eric Andre has made quite the name for himself by essentially being, well, Eric Andre — host extraordinaire of The Eric Andre Show. If you've never caught an episode of Andre's series, it finds him, along with funnyman Hannibal Burress, posing as host of a late-night talk show a la Stephen Colbert or Jimmy Kimmel. The difference is, Andre's version of the form is more of a public access television-level production that finds him mixing bizarro "man on the streets" prank shenanigans with in-studio celebrity interviews that devolve into something not unlike a comedically psychedelic hellscape in which literally anything can happen, and usually does.
Perhaps not satisfied with being the unrivaled prank king of the late-night set, Andre finally decided to take his evil genius talent for comedic shockers to the narrative realm via the cinematic pranking vehicle Bad Trip, which finds him working alongside the likes of Tiffany Haddish, Lil Rel Howery, and Michaela Conlin. We'd break down the plot of Bad Trip but, to be honest, it's not all that important, and essentially serves as a vessel for the actor and his friends to rain chaos on scores of unsuspecting prank victims. 
If you know anything about Eric Andre's fierce dedication to a good prank, you know he's often a victim of his own devious works, as well. Per Andre's recent interview with Esquire, one particular Bad Trip prank almost saw him and Howery catch a bullet for their troubles.
"We went to this barbershop in the hood with our d***s connected in the Chinese finger trap, and we ran into this barber shop and we're like, 'Does anybody got a scissors? Our d***s are stuck in this thing!' This guy reached for his gun, couldn't find it, grabbed his knife, chased us out. We're in this crazy d*** rig contraption. Rel falls and rolls down the street. I'm running for my life. It's f***ing intense, and we're evading the police."    
Eric Andre is frequently flirting with disaster for his art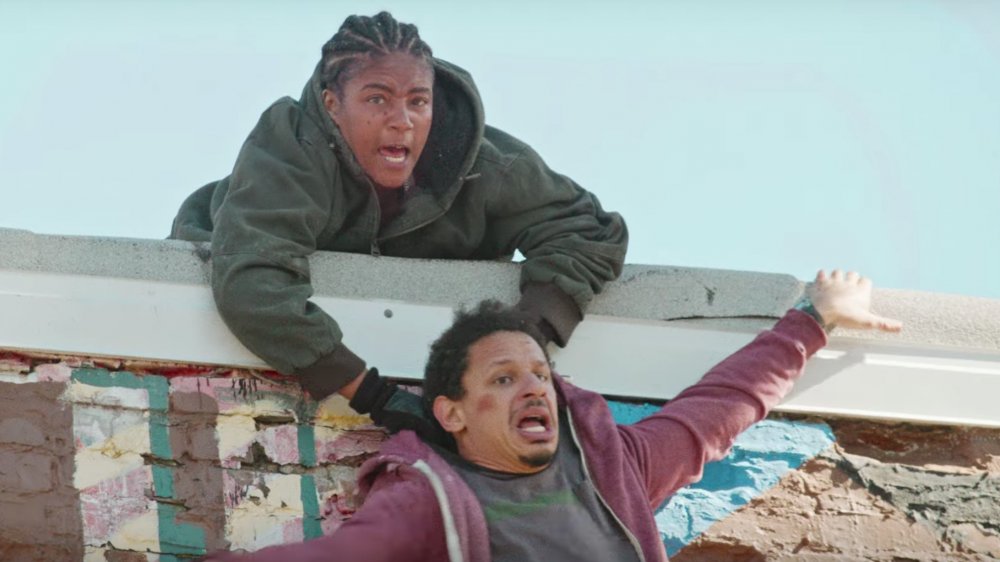 Orion Pictures/BRON Studios
That not-quite-near-death experience for Bad Trip is hardly the first time Eric Andre has suffered for his art. In that same Esquire chat, Andre detailed a few more frightful moments. "There was another [Bad Trip prank] where I was being hung off of a roof top, which was really stressful. I had to go to the hospital [for The Eric Andre Show]. I put my hand through a window in season 4 and had to get stitches. I got arrested twice."
Andre further offered that there's some genuine chaos coming on The Eric Andre Show when the fifth season airs later this year.
"I mean like some of the stuff we've shot for [The Eric Andre Show season 5] already looks like riot footage. I got kicked in the stomach so hard," the comedian said. "I do this bit where I played this like douchey Eric Trump-esque character called Mike Penis. 'I'm Mike Penis, named after my dad's penis!' I barge into velvet rope clubs and like, try to barge past the bouncers. I was trying to barge past this one bouncer and he, like, boom, he Pelé-soccer-kicked me in the stomach so hard. He was going for my nuts so I was kind of relieved that he didn't hit my nuts. But my organs were out of whack for the rest of the night." 
In spite of the pain and peril, Andre admits the juice is worth the squeeze in his pranking ventures, saying, "Yeah, it's a rush. It really forces you to be in the moment. And it forces you to be a better actor."
If you want to see just how far Eric Andre will go for a laugh, The Eric Andre Show is currently available to stream on Hulu, and Bad Trip, recently acquired by streaming giant Netflix, is slated to arrive later this year.