The Ending Of Moxie Explained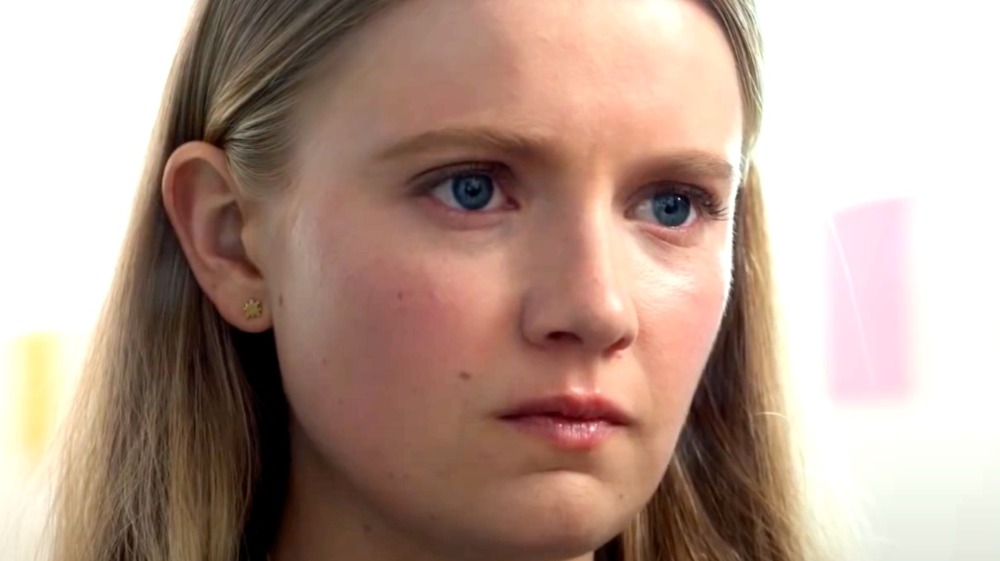 Neflix
Feminism gets a new name in Moxie. The film is directed by Amy Poehler from a script by Tamara Chestna, adapting Jennifer Mathieu's novel of the same name, and introduces us to a new generation of young women fighting for their rights. The revolution begins when 16-year-old Vivian (Hadley Robinson) becomes sickened by the toxic culture of her high school, as it tolerates — and even outright enables — some harmful behavior by certain members of the student population, including an annual "ranking" that the male jocks release to cruelly categorize the girls in school.
For years, Vivian and her best friend Claudia (Lauren Tsai) have managed to survive this poisonous environment by staying under the radar, but when new student Lucy (Alycia Pascual-Peña) refuses to put up with the advances and eventual insults of the most popular chauvinist in school, Mitchell Wilson (Patrick Schwarzenegger), Vivian decides to finally act. After learning that her mother Lisa (Poehler) was a proud protester of the patriarchy throughout her youth, Vivian creates an anonymous magazine called Moxie to air out all her grievances and hopefully ignite the passions of others, too. By the end of the movie, Moxie has become a club that's about more than just Vivian's zines; it's a full-on movement.
Here's a deeper look at the ending of Moxie.
The kids are all right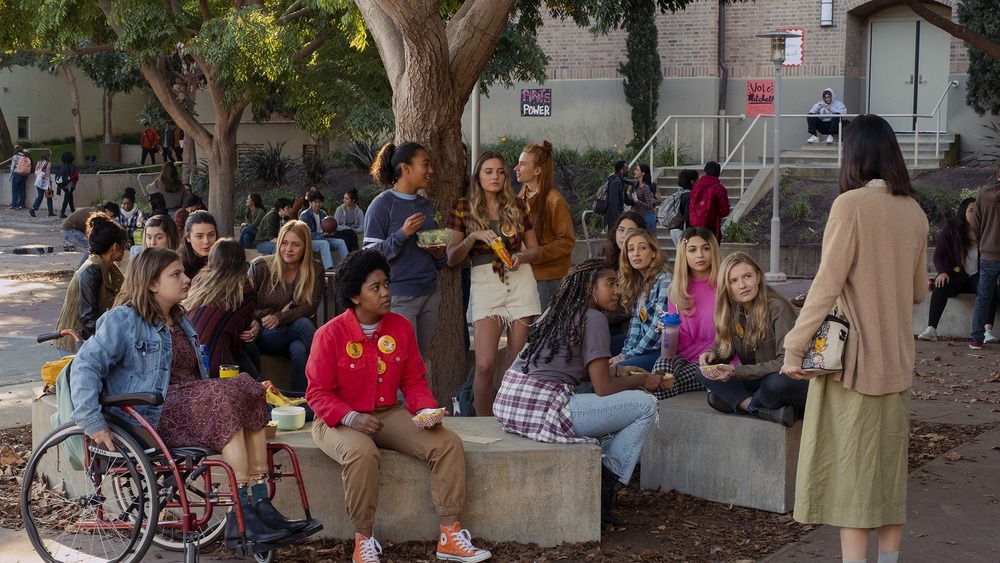 Colleen Hayes/Netflix
From the very beginning, Vivian's zine is not about her. Though she is the one who creates and distributes the publication, she fully intends for her printing to inspire a sense of solidarity among those who are also fed up with the status quo. In the very first issue, she encourages readers to draw hearts and stars on their hands as a secret nod to one another — no doubt a tribute to some of the symbols of the Riot grrrl punk movement that her mother was part of — and finds some immediate support from fellow students like Amaya (Anjelika Washington), Kiera (Sydney Park), and, of course, Lucy.
Over time, the zine becomes the name of a club, whose membership grows immensely. Even the shy Claudia pitches in to help make it official with certain organizational privileges at the school. As more and more voices and perspectives are shared within the group, it gains strength in its intersectional purpose, giving voice to the concerns of minorities and disabled students alongside those who've been harassed and demeaned at East Rockport High. Moxie is meant to be a big tent, and by the end, it doesn't matter any more that Vivian was the one who started it.
The club steps up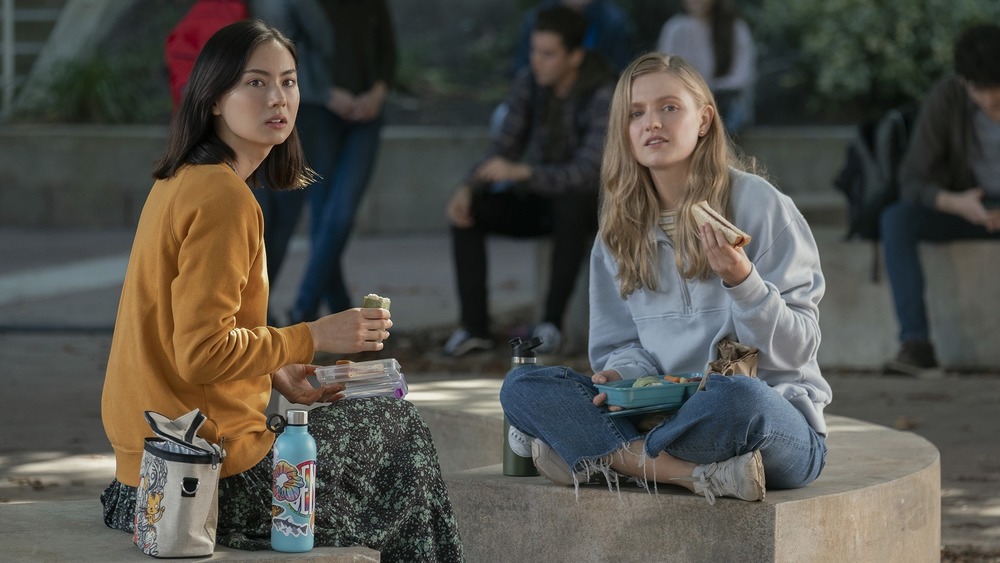 Colleen Hayes/Netflix
Vivian does decide to reveal her own identity as the writer of the Moxie zine in order to protect the other club members and supporters from the promised consequences of participating in the big walkout at the end of the film. She had been very reluctant to take responsibility for the zine in the past — in part because she doesn't want it to be about her — but when Claudia is poised to take the fall for it all because of her name being on the club's school registry, Vivian steps up to prevent others from getting into trouble for her work.
However, the other members of Moxie won't let her twist in the wind by herself. After Vivian declares that she should be the one who gets expelled, if anyone, for writing the zine, Lucy proudly points out that she's the one who started the club's social media feed and deserves whatever punishment is coming, too. Also joining the chorus of confessions is Kaitlynn (Sabrina Haskett), whose unfair subjugation to the school's "dress code" has been another major point of contention for the club. In other words, whatever retribution is on the horizon from the school is not going to be for Vivian alone. However, it may very well be that none of them face penalties because the school's administration will have to deal with a much bigger problem first.
A difficult revelation finally makes the difference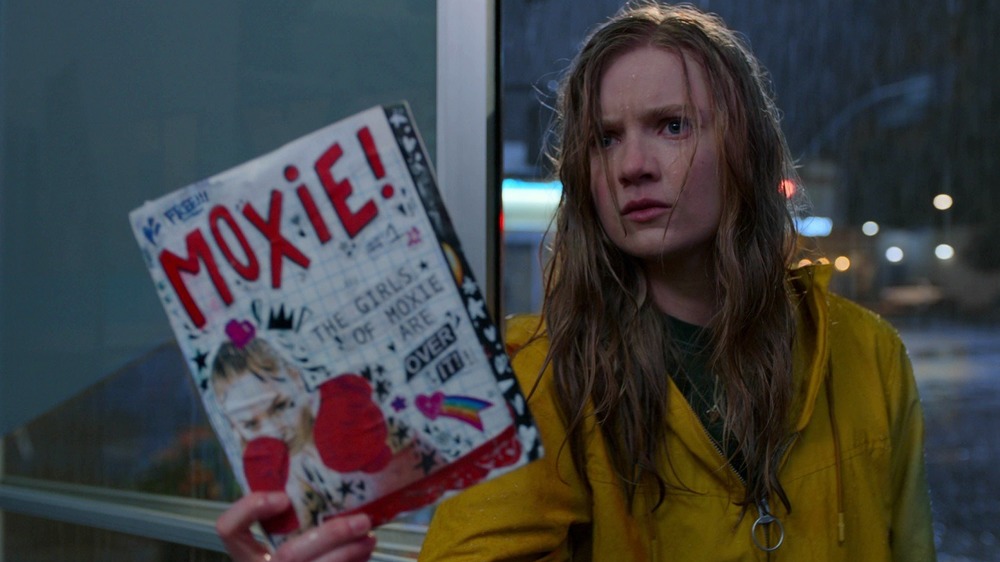 Netflix
It's not just Vivian who decides to drop her anonymity during the big walkout; Emma Johnson (Josephine Langford) also comes forward to share her horrifying account of being sexually assaulted by Mitchell after the previous year's prom. Emma reveals to the crowd that she was the one who wrote a note to the then-unnamed Moxie writer asking for help, which inspired the walkout, and then describes her experience in excruciating detail.
Not only does she receive an outpouring of support from the group, but there's an important person in the audience for her story as well. Principal Shelly (Marcia Gay Harden) overhears Emma's speech and finally moves to confront Mitchell about the allegation. Shelly has been a major part of the problem throughout the story — she altogether dismissed Lucy's earlier complaint about Mitchell's predatory behavior and actively aided in his campaign to win a prestigious athletic scholarship — so perhaps her change of heart will mark a turning point for the school's handling of improper behavior. And maybe Mr. Davies (Ike Barinholtz), who sports some stars and hearts on his hands as a showing of support for the Moxie walkout, will help usher in a new faculty culture at the school, too.
Everyone makes up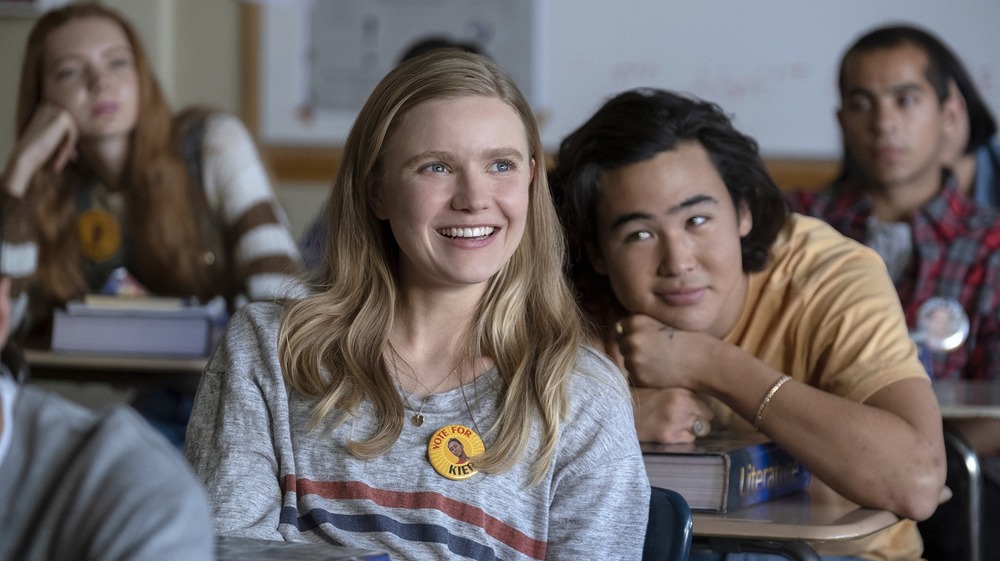 Colleen Hayes/Netflix
While we don't yet know what's going to happen to Vivian after self-identifying as the Moxie zine's creator — she still could be on the hook for vandalizing the sidewalk and leading the walkout — we do know that her personal relationships have been restored. Claudia is no longer mad at Vivian for dragging her into the Moxie club and getting into trouble; Vivian's mom shows up during the walkout to make amends after Vivian gave her and her boyfriend a hard time during dinner. And Vivian's own boyfriend Seth (Nico Hiraga) also appears to be willing to make amends after their big fight, too.
Seth had been disappointed with Vivian for taking out her frustrations on him, her mother, and her mother's beau. After the club was unsuccessful in helping Kiera win the athletic scholarship over Mitchell, Vivian became belligerent with the people she cared for most. Seth declared that since he'd always been fully supportive of her efforts, he didn't deserve to be treated that way. He was even concerned that he'd misjudged her character. However, after the walkout, Seth makes a gesture that indicates all is well between them again: He reveals that he has written Vivian's name on his arm as a wink to something she'd said during their prior argument.
Things still aren't perfect for anyone involved in Moxie, of course, but the movie's final moments do indicate that change could be coming for the kids at East Rockport High School.