Read This Before You See Moxie
This content was paid for by Netflix and created by Looper.
Get ready for the revolution to begin when Moxie premieres on Netflix in March. The movie takes audiences into the halls of East Rockport High School, where misogyny runs rampant among the teen student population, and it's completely common for young women to be belittled, interrupted, harassed, and held to very different standards than their male counterparts.
Sixteen-year-old Vivian (Hadley Robinson) does her best to stay under the radar and avoid unwanted attention, but when a new student (Alycia Pascual-Peña) points out just how unacceptable the culture of the school really is, Vivian rethinks her own complicity in maintaining the status quo. She also learns that her mother (Amy Poehler) spent most of her youth protesting the patriarchy with the feminist punk movement Riot Grrrl, which inspires Vivian to create an anonymous zine in which she airs her grievances about all the bad behaviors and invites others to show their support for making a change.
Moxie is a story about resilience, self-empowerment, and the need to recognize and root out toxic behaviors — all wrapped up in the trappings of a great high school comedy. Here's what else you should know about this movie before it hits Netflix on March 3.
Amy Poehler brings a beloved book to life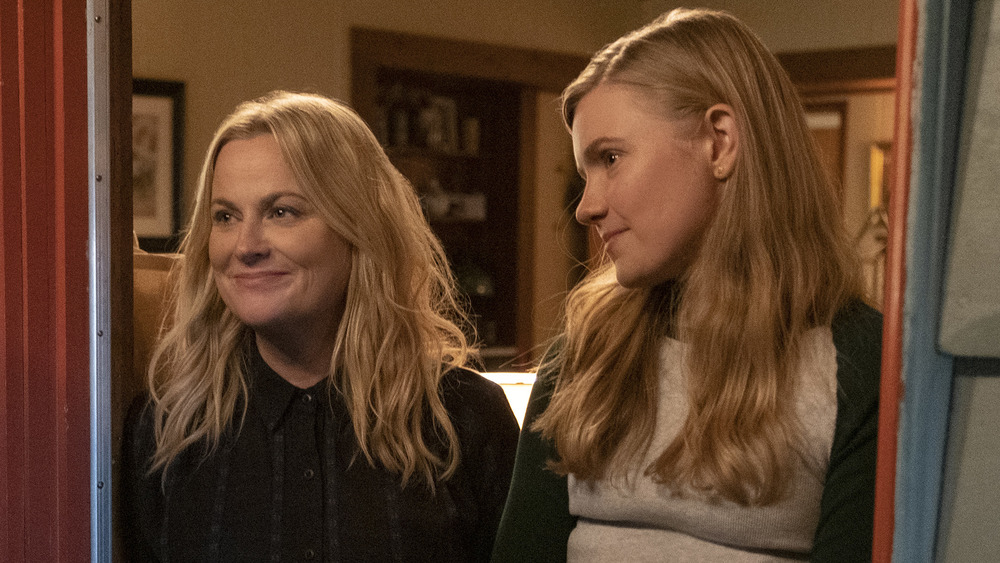 Colleen Hayes/NETFLIX
The script for Moxie is written by Tamara Chestna and adapts the 2017 book of the same name by Jennifer Mathieu. Amy Poehler directs and stars in the film, and the project is very personal to her. She loved the book so much that she even wrote the cover blurb for it, saying, "Moxie is sweet, funny, and fierce. Read this and then join the fight."
Poehler's production company Paper Kite nabbed the rights to adapt the novel several years ago, and according to Mathieu, Poehler personally promised to make the movie a priority. "I trusted her completely, she totally got the material," Mathieu told her local publication Byline Houston. "Everything I know about her as a person told me she'd be the right person for this project because her politics, the art that she's created has always been pro-woman. She was my dream person to make it a movie."
Moxie reunites Poehler with several behind-the-scenes talents she worked with on her directorial debut, 2019's Wine Country, including producers Morgan Sackett and David Hyman, cinematographer Tom Magil, film editor Julie Monroe, and casting director Allison Jones.
The author drew from personal inspiration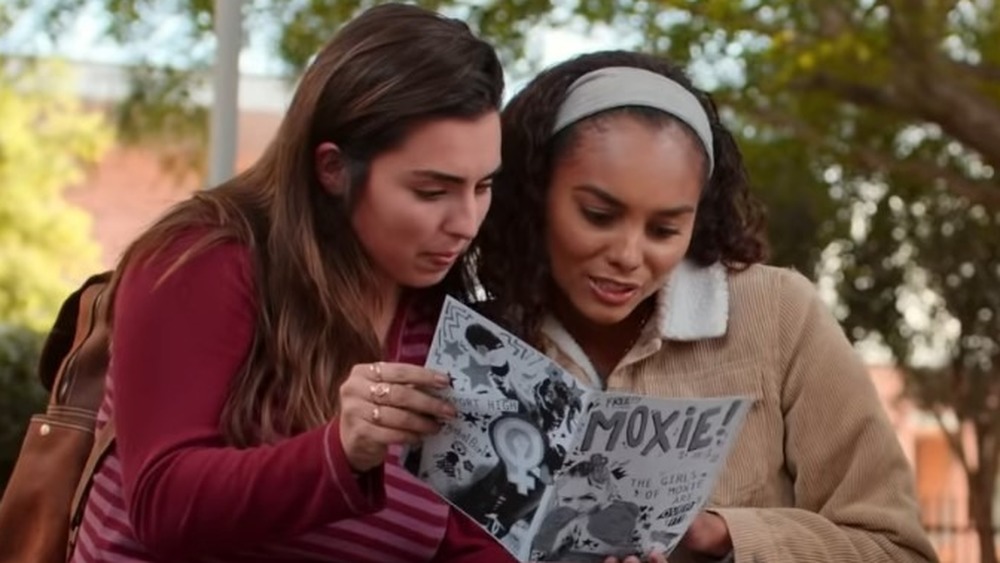 Jennifer Mathieu relied on some real-life experiences and inspirations while writing her novel. As noted by The Buzz Magazines, the author's dedication in Moxie reveals that when she was in high school, she was called a "feminazi" by a teacher. But she found that even though she was insulted, she was also energized by that word. "You also sparked my interest in feminism," she wrote to the teacher. "So really, the joke is on you." Mathieu herself is also a teacher and revealed that being around so many teens has influenced her writing because she sees that her students "have huge hearts, and they're beginning to see the hypocrisy of the adult world."
The incorporation of zines — a popular newsletter style in the '90s — in the story of Moxie stemmed from Mathieu's own love of the medium. She told Houston Byline, "I really loved making zines and I did have some Riot Grrrl zines. I have some that were passed out at a Sleater-Kinney show in Chicago, where I went to college, that I kept all these years." Poehler has also revealed a deep love of zines, and she has regularly promoted them on her Smart Girls blog.
The cast is full of young favorites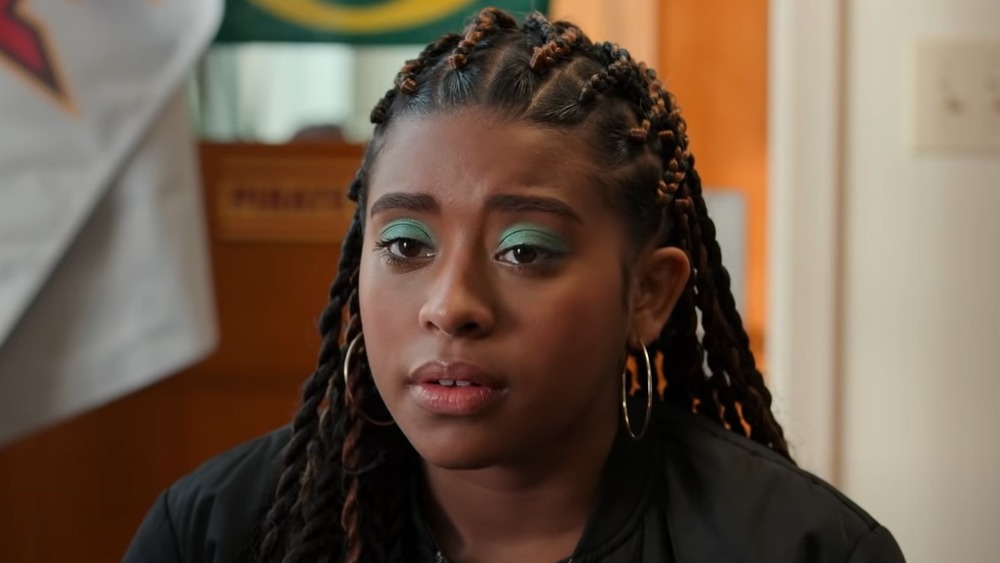 You might recognize Moxie's lead actress Hadley Robinson from another Netflix Original — she previously appeared as Laurey, who was one of the girls working at Tulsey Town, in Charlie Kaufman's I'm Thinking of Ending Things. She also recently starred as Charlotte and Lily in the streaming series Utopia, and appeared as Sallie Gardiner Moffat in Greta Gerwig's 2019 adaptation of Louisa May Alcott's Little Women. Meanwhile, Moxie co-stars Alycia Pascual-Peña and Josie Totah both currently star in the new Saved By the Bell streaming series, and fans may remember Lauren Tsai from her role as Switch in FX's Legion.
Meanwhile, Patrick Schwarzenegger appears as the smarmy Mitchell Wilson in the movie. In addition to being the son of eternal A-listers Arnold Schwarzenegger and Maria Shriver, he's also known for his work in the TV miniseries The Long Road Home and films like Scouts Guide to the Zombie Apocalypse, Midnight Sun, and Daniel Isn't Real.
Actress Josephine Langford also stars in Moxie as the popular cheerleader Emma, and fans might recognize her from her work as Tessa Young in the film version of Anna Todd's After books, the first adaptation of which was also co-written by Moxie screenwriter Tamara Chestna in her screenwriting debut. And The Walking Dead fans will no doubt recognize Sydney Park, who stars as Cyndie in the apocalyptic series and is also known for her work in Santa Clarita Diet and Pretty Little Liars: The Perfectionists.
A cast full of Hollywood veterans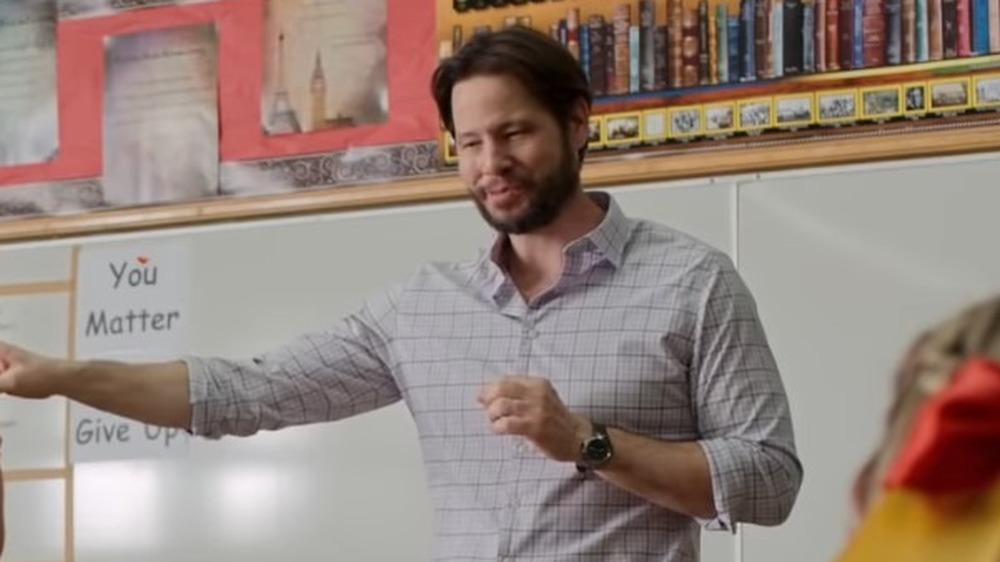 Amy Poehler's credentials only get more impressive with every move she makes. Poehler has been quite celebrated For her acting work, including winning a Primetime Emmy for her time on Saturday Night Live and a Golden Globe for her portrayal of the iconic Leslie Knope on Parks and Recreation. Recently, she's been expanding her Hollywood career to include some important behind-the-scenes work as well, including producing series like The UCB Show, Difficult People, Broad City, and Making It. Most recently, her company Paper Kite produced the hit series Russian Doll as well as her directorial debut Wine Country.
Poehler told The Hollywood Reporter that she's relishing the opportunity to be in the driver's seat, saying, "To be in control and start and finish a project from beginning to end, that's what turns me on right now."
Moxie also features other heavy-hitters in the adult cast. Ike Barinholtz got his start as a writer and star in the sketch comedy series MADtv and also made a splash with his role as Ivan Dochenko in the HBO comedy series Eastbound & Down. He's also known for his work as Morgan Tookers in The Mindy Project and enjoyed memorable roles in films like Neighbors and Suicide Squad.
Meanwhile, Marvel fans will know Clark Gregg for his role as Agent Phil Coulson in the MCU films and the Agents of S.H.I.E.L.D. TV series. Not only that, Gregg is also known for his role as Richard Campbell in the TV series The New Adventures of Old Christine and for films like Choke, which he wrote and directed as an adaptation of the Chuck Palahniuk book of the same name.
Oscar winner Marcia Gay Harden also appears in a pivotal role in Moxie and has a reputation for excellence that precedes her. She won her Academy Award for her turn as Lee Krasner in the biopic drama Pollock, and she has also been celebrated for her standout work in films like Mystic River, Into the Wild, and The Mist. So even though the kid stars will be at the center of the action in Moxie, they'll have some incredible backup from the adults on the call sheet.