Why Did Ruby Rose's Batwoman Get Cut From This Crisis On Infinite Earths Scene?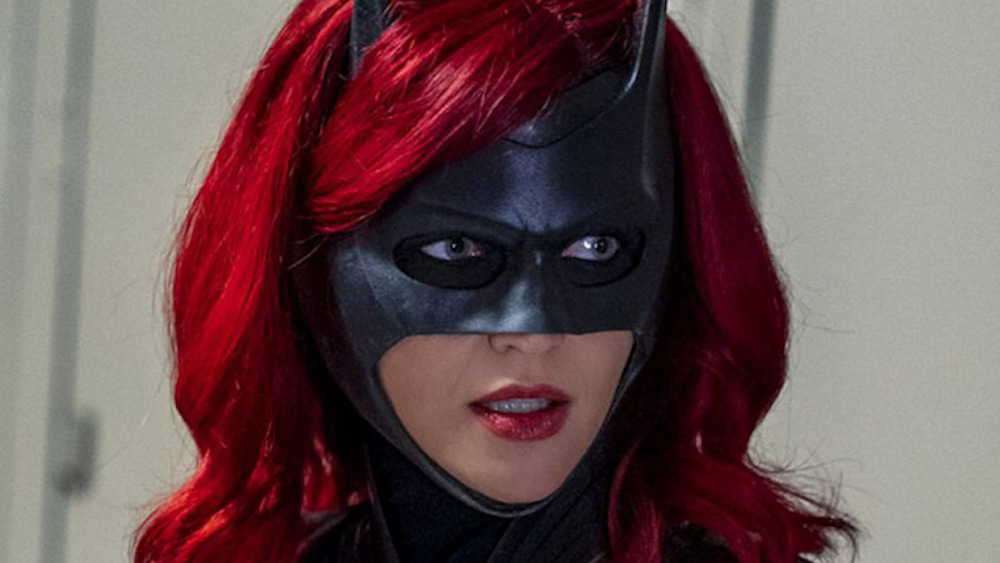 The CW
Audiences might have fallen head over heels for Ryan Wilder, Javicia Leslie's new Caped Crusader in Batwoman, but it's definitely been strange watching Ruby Rose unceremoniously leave the cowl behind after just one season of the CW show. Originally, Rose was introduced in one of the Arrowverse's annual crossovers, Elseworlds, as Gotham City's new Dark Knight. Kate Kane, who just so happens to be Bruce Wayne's cousin, picked up the role of defending Gotham from organized crime and supervillains — and then teamed up with the rest of the heroes in a sprawling event ripped straight from some of DC's most famous comics: Crisis on Infinite Earths.
The CW was clearly positioning Ruby Rose's Batwoman to be a key part of the Arrowverse going forward. After an excellent first season that set up an intriguing plotline involving Batman villain Hush, who now had the face of Bruce Wayne, Batwoman season 2 seemed like it was going to show Kate's life getting even more complicated following the arrival of Safiyah Sohail, a vicious warlord who's the Queen of Coryana. But before season 2 could even start production, Ruby Rose left Batwoman due to the long hours needed as the star of the series (alongside sustaining a back injury for which she had to undergo surgery).
Recently, a 30-minute special aired after Superman & Lois' premiere episode; the special looked at the development of the series as well as noting its place in the Arrowverse with appearances from a number of actors, writers, and producers. One montages featured a number of moments from various Arrowverse series, including the Crisis On Infinite Earths crossover. Fans will notice that Ruby Rose's Batwoman had been edited out of a very specific scene. 
It's not a subtle removal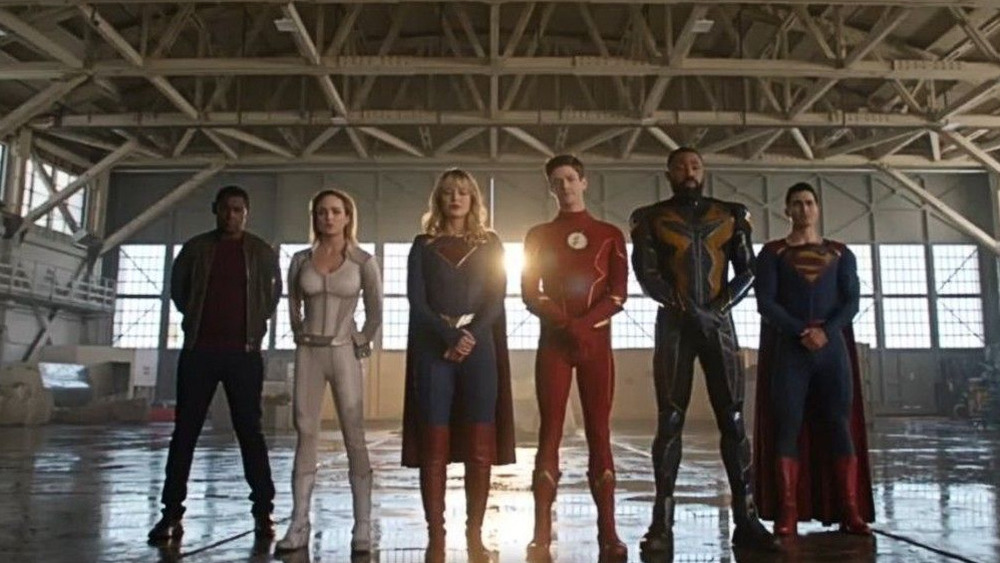 The CW
The original scene from Crisis on Infinite Earths featured seven heroes unite in an old S.T.A.R. Labs warehouse — which looks an awful lot like the Justice League headquarters in the comics — to form a new alliance in the aftermath of the multiversal threat. In the sequence, Superman (Tyler Hoechlin), Black Lightning (Cress Williams), the Flash (Grant Gustin), Supergirl (Melissa Benoist), White Canary (Caity Lotz), Batwoman (Ruby Rose), and Martian Manhunter (David Harewood) were all seen joining forces. But in the new clip from the Superman & Lois post-premiere special, Rose is nowhere to be seen — and David Harewood's Martian Manhunter has been moved up in her place.
Just because Rose is no longer leading Batwoman doesn't mean that Kate Kane's role in the Arrowverse should be completely dismissed. It's likely that because Javicia Leslie is now the face of Batwoman season 2, the CW wants to keep the focus on her and the Ryan Wilder character. It's also possible the CW didn't want to confuse casual audiences into thinking Rose would be seen in future crossovers or even other shows (although Javicia Leslie's hero was also briefly spotted in the special) and thus chose to edit her out of the Crisis on Infinite Earths scene.
Seemingly, it would've been easier to use a completely different clip from Crisis on Infinite Earths rather than spending time and money to edit Rose out of the footage. Some fans have expressed their disappointment with the move, while others have said that it makes sense considering Rose is no longer a part of Batwoman. In any case, hopefully the Arrowverse doesn't completely forget Rose's stint as a multiverse-saving hero and will eventually give us more answers regarding Kate Kane's absence.