The Cobra Kai Character We Could See Star In Their Own Future Spin-Off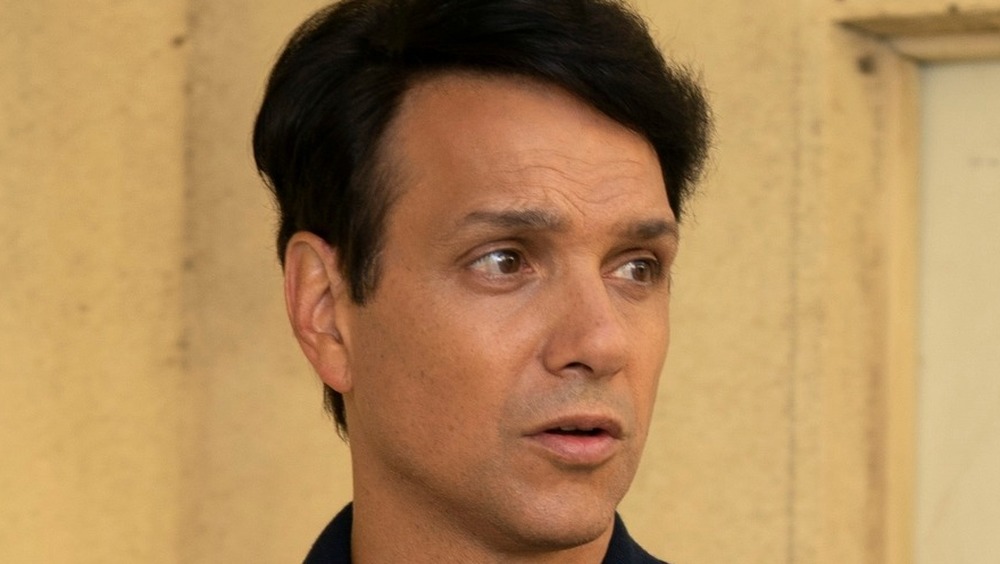 Netflix
Contains minor spoilers for Cobra Kai season 3.
The smash hit Netflix series Cobra Kai has — for three seasons and counting — given us all kinds of reasons to love it. The Karate Kid spin-off has proven to be an improbable amount of fun, letting us catch up with Johnny Lawrence (William Zabka) and his rival, two-time Under 18 All-Valley karate champ Daniel LaRusso (Ralph Macchio) after more than three decades. It's also taken its time developing an impressive stable of young supporting players, as Johnny's revival of the infamous Cobra Kai dojo prompted Daniel to start up his own dojo based on the teachings of his beloved mentor, Mr. Miyagi — and the pair's respective students have broken and mended friendships, come into violent conflict, and even, occasionally, switched sides.
Among those supporting players, though, none has been quite so important to the series' narrative as Johnny's onetime sensei John Kreese (Martin Kove), who returned at the conclusion of season 1. Since then, he's been an agent of pure chaos, completely taking over Cobra Kai and encouraging the students who subscribe to his "Strike First, Strike Hard, No Mercy" credo to engage in some jaw-dropping acts of vandalism and violence against Daniel and his students. Kove's performance as Kreese has been every bit as steely and threatening as it was in the original Karate Kid film series — and in a series of flashbacks near the end of Cobra Kai's third season, we got some insight as just how Kreese came by that credo, by way of a series of flashbacks depicting events before and during his deployment to Vietnam.
Cobra Kai's creators, Jon Hurwitz and Josh Heald, have spoken in the past about the possibility of the series producing spin-offs of its own in the future (via Esquire) — and recently, executive producer Hayden Schlossberg has echoed their statements, while also hinting at one such possibility specifically.
Young John Kreese would make an intriguing Cobra Kai spin-off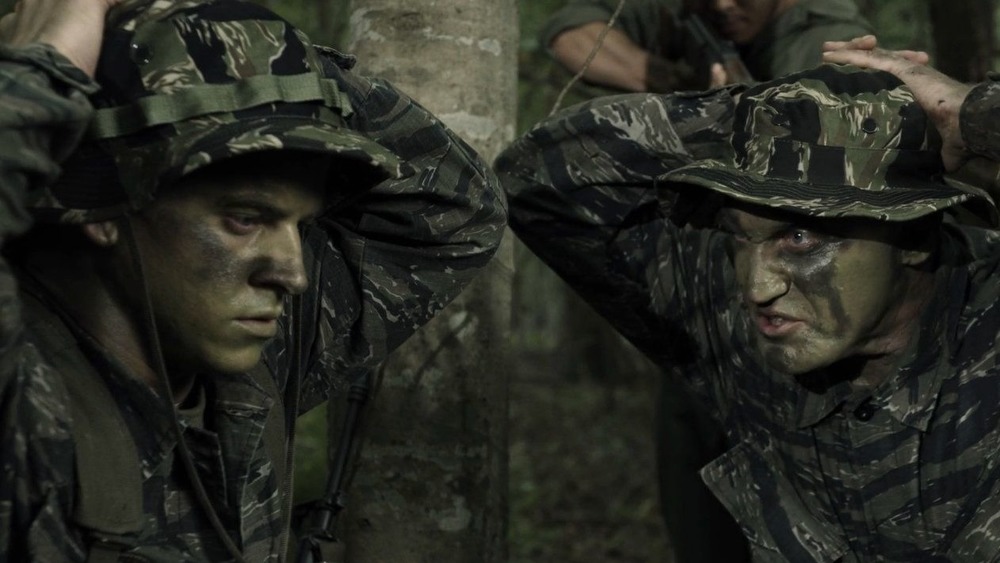 Netflix
In a conversation with TVLine in January 2021, Schlossberg shared his thoughts about spin-offs in general while referencing one iconic property that has successfully expanded its universe — and that, perhaps surprisingly, has been quite the influence on Cobra Kai's creative minds in their approach to the series. "Our hope is that we can really expand this whole Karate Kid universe and reinvigorate the fanbase, so that it's a story we can continue telling," Schlossberg said. "We do have an endgame for Cobra Kai, but we always compare it to our other favorite show, Breaking Bad; they're able to keep the story going with Better Call Saul and El Camino."
Schlossberg specifically seemed to have an affinity for those Kreese-centric flashback sequences, in which the future Cobra Kai dojo mastermind was portrayed by Barrett Carnahan, who has previously popped up in small roles in series like Sleepy Hollow and Bones, and also appeared in multi-episode arcs in the Nickelodeon superhero comedy The Thundermans and the Netflix original series Alexa & Katie. "We spend time with Kreese's backstory, but we could've spent more time with Kreese's backstory," the producer said. "We have so many things to tell in these half-hour episodes, it ends up not being enough."
It's tough to disagree. Carnahan was absolutely perfect in the role of the younger version of Kreese; not only is his physical resemblance to Kove uncanny, but it's obvious that he spent plenty of time studying Kreese's mannerisms and characterization in preparation for the part. The flashback sequences are absolute highlights of their respective episodes — and as excited as we'd be to see Young John Kreese, Carnahan has made it clear that he'd be even more excited to lead such a series.
The actor who plays young Kreese is down to continue in the role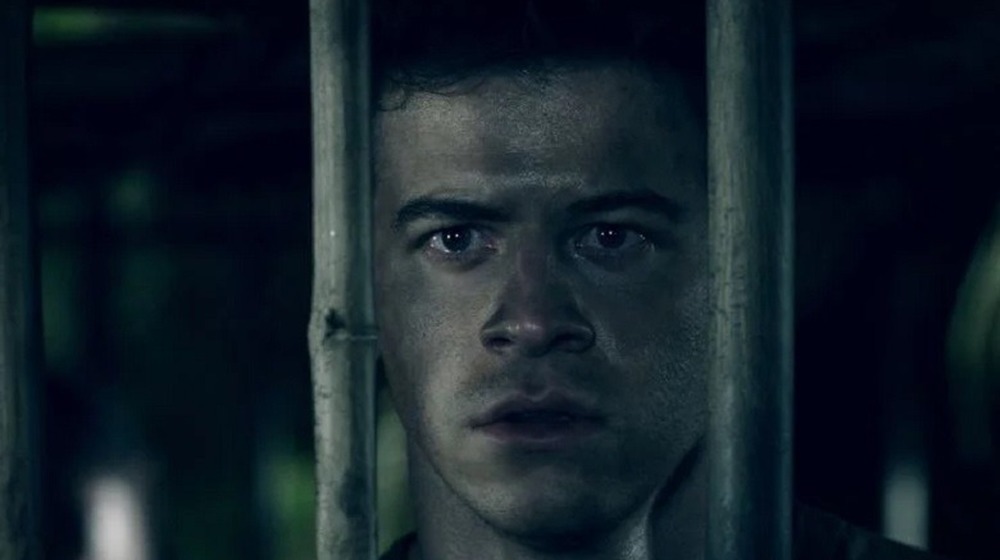 Netflix
The actor recently spoke with Comic Book Resources about the possibility of producers asking him to reprise his Cobra Kai role in the future, and it's safe to say that he's at the ready. "I have no idea what they plan to do, all I can say is I'm just so lucky they decided to pick me for Season 3," Carnahan said. "I hope there's more to the story but we'll just have to wait and see." When the subject of a possible spin-off was broached, Carnahan became even more enthusiastic. "A spinoff? Yeah, that'd be incredible," he said. "That'd be so badass to learn more about Kreese. I think that the fans would love that. There's been a lot of fans saying that they want that online and on social media, and that just warms my heart."
Carnahan admitted that he hasn't always had this level of confidence about his appearance on Cobra Kai. "This was kind of a scary thing and I know how passionate this fanbase is," he explained. "When I got the job, I was terrified because all I could think was, 'What if they don't like me? What if they don't believe me as Kreese?'" Fortunately, the actor was able to immediately endear himself to that passionate fanbase by completely nailing his role. "Ever since the show has dropped, I've seen nothing but positivity and love for the young Kreese portrayal, and I just want to thank the fans for accepting me into the Miyagi-Verse with open arms," he said. "It's been such a pleasure, and I hope there's more."
So do we, Barrett. We'll be keeping our eyes peeled for any official Cobra Kai spin-off announcements, and we'll keep you informed.