Why Fans Of The Queen's Gambit Are Celebrating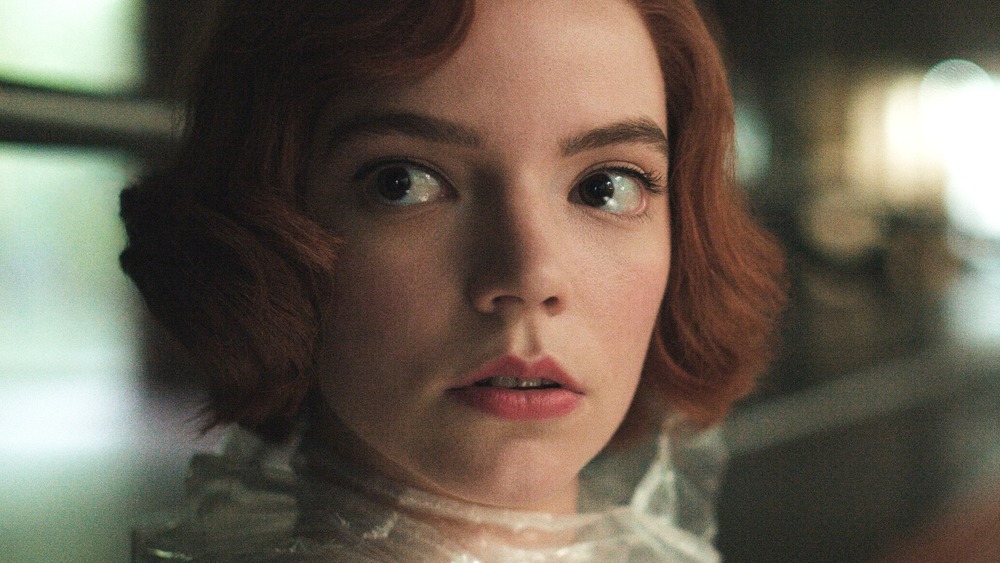 Netflix
Fans of The Queen's Gambit are (responsibly) raising their glasses to their favorite series.
At the 2021 Golden Globes — hosted bicoastally by Amy Poehler in Los Angeles and Tina Fey in New York — the hit Netflix series took home two huge awards, scoring a statue for Best Miniseries or Television Film as well as an award for its leading lady, Anya Taylor-Joy, who won for Best Actress in a Miniseries or Television Film.
The Queen's Gambit tells the story of Beth Harmon (Taylor-Joy), an orphaned chess prodigy who becomes one of the most celebrated players in the world — all while she battles a crippling dependence on alcohol and prescription medication that threatens to topple her at every turn. After the series became one of the most popular shows in the history of Netflix itself, The Queen's Gambit was ready to take home as many prizes as Beth Harmon does on the show itself. Ultimately, it won two back-to-back prizes at the Golden Globes — here's why fans of The Queen's Gambit are celebrating after the series won big at the Golden Globes.
Fans of The Queen's Gambit are excited about the show's big wins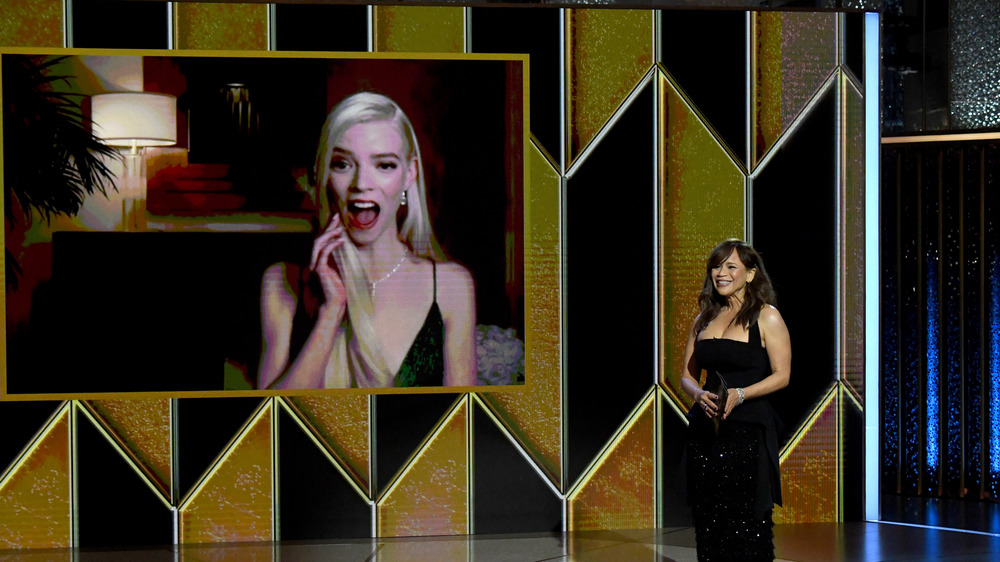 Kevin Mazur/Getty Images
Fans and critics alike took to Twitter to express their excitement about The Queen's Gambit's multiple wins, including huge publications like The New York Times. As @nytimesarts wrote, "The Queen's Gambit wins best limited series at the #GoldenGlobes. The show, about a chess prodigy, is a smart, smooth and snappy package throughout, like finely tailored goods."
Fans had plenty to say as well; Twitter user @ozsupremacy echoed that sentiment, simply saying, "the queen's gambit world domination!!!" User @kitwqlker was even more excited, writing in caps lock, "THE QUEEN'S GAMBIT SWEEP I KNOW THAT'S RIGHT."
Writer @Nancy_Daly wholeheartedly supported the win, writing, "Checkmate: Queen's Gambit a huge winner, deservedly," while also recommending Unorthodox and The Undoing. Meanwhile, Awards show expert @BensOscarMath pointed out an important statistic, Tweeting, "Anya Taylor-Joy (The Queen's Gambit) wins Best Actress in a TV Movie/Miniseries. At age 24, she is the youngest actress to win this category since Angelina Jolie won it at age 23 for Gia (1998)."
Unsurprisingly, Pulitzer Prize-winning critic and New Yorker writer Emily Nussbaum offered up the sharpest observation; while Queen's Gambit showrunner Scott Frank gave his acceptance speech, Nussbaum Tweeted, "I like that The Queen's Gambit is on the bookcase behind him," referring to the source novel by Walter Tevis.
The Queen's Gambit is available to stream on Netflix now.