What Happened To The Cast Of Backdraft?
We like to make movies about the people who save our lives. There are plenty of films romanticizing the work of police officers, soldiers, and even doctors. But few movies honor the sacrifice and heroism of firefighters. One of those rare films is the 1991 action thriller Backdraft. 
Directed by Ron Howard, it tells the story of a group of firefighters hunting a serial arsonist while battling political corruption, and it also focuses on two feuding brothers struggling to find redemption with each other. Receiving three Oscar nominations for visual and audio effects and remaining one of the only critically and commercially successful movies about firefighting, Backdraft is a classic, and talking about firefighters in movies without mentioning it would make you sound silly. 
One reason the movie works so well is thanks to its ensemble cast of top-tier Hollywood talent. Most of the first-billed actors among Backdraft's cast are still celebrated movie stars today. Some have seen their star fall, some have kept working in the business but with mostly smaller roles, and some are sadly no longer with us, but they all helped make this film a beloved '90s gem. To learn about all those actors and more, keep reading to discover what happened to the cast of Backdraft.
(Warning — there are spoilers below.)
William Baldwin has been keeping busy since Backdraft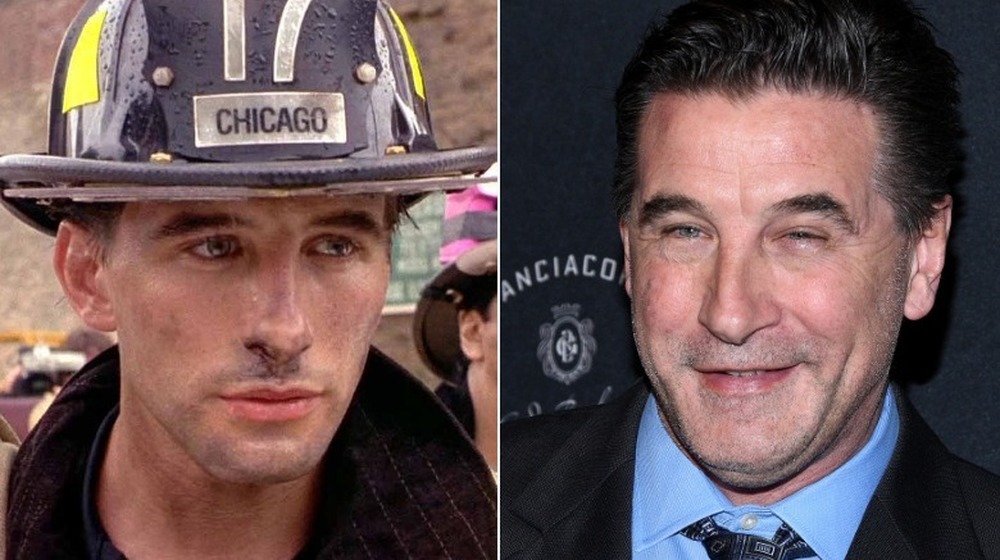 Michael Tullberg/Getty Images
While he certainly isn't the biggest star to appear in Backdraft, William Baldwin plays Brian McCaffrey, the film's main character. Traumatized as a child upon witnessing the fire that kills his father, Brian is desperate to prove himself in the family trade and wriggle free from the control of his protective older brother. Initially not up to the task of fighting fires — but still a media darling because of his penchant for being in the right place for the right photographer — Brian takes a job with the fire investigation team, which allows him to uncover a side of the recurring fires that his hard-nosed brother can't see. 
William Baldwin enjoyed a number of high-profile roles in the early and mid-'90s. Along with Backdraft, he starred in the psychological horror film Flatliners the year before, opposite Sharon Stone in 1993's sexy thriller Sliver, and co-starred with Cindy Crawford at the height of her fame in the 1995 action thriller Fair Game. 
But Baldwin's days as a leading man didn't last very long — well, at least not as far as the big screen goes. In more recent years, Baldwin has made a successful run on television. Along with his supporting role as Elwood Davis on CBS' MacGyver remake, Baldwin starred as search and rescue commander John West on the successful Canadian drama Northern Rescue. But among his more regrettable film work, Baldwin starred in the 2019 sequel no one seemed to want ... Backdraft 2.  
Kurt Russell is delivering presents and fighting superheroes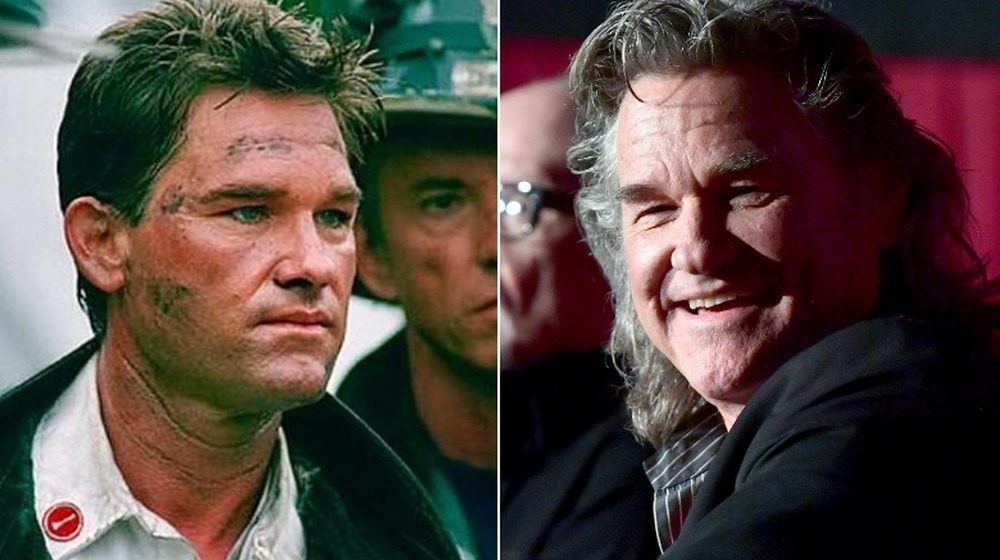 Emma McIntyre/Getty Images
While most of the story may be told through Brian McCaffrey's eyes, it's not unfair to say the true star of Backdraft is Kurt Russell, who plays both Brian's older brother, Stephen, and — in the film's opening scene — their father, Dennis. At turns, you love and hate Stephen. He's fiercely dedicated to his job, infectiously courageous in the face of danger, and would gladly lay down his life for his men. But while his overprotectiveness toward his brother mostly comes from a place of love and a sense of responsibility, he is at times just a little too cruel and enjoys lording it over Brian just a little bit too much. 
Russell has never truly left the spotlight but rather just wandered in and out of it at his leisure. In more recent years, he's become one of director Quentin Tarantino's regulars, playing the killer Stuntman Mike in Deathproof, bounty hunter John Ruth in 2015's The Hateful Eight, and both a stunt coordinator in 2019's Once Upon a Time in... Hollywood and the film's narrator. He has a recurring role as the enigmatic Mr. Nobody in the Fast and Furious films, and he officially became both a Marvel supervillain and Star-Lord's deadbeat dad in 2017's Guardians of the Galaxy Vol. 2. He's also the official Santa Claus of Netflix, appearing as the Christmas icon in the Netflix original Christmas Chronicles film series.
After Backdraft, Robert De Niro is still going strong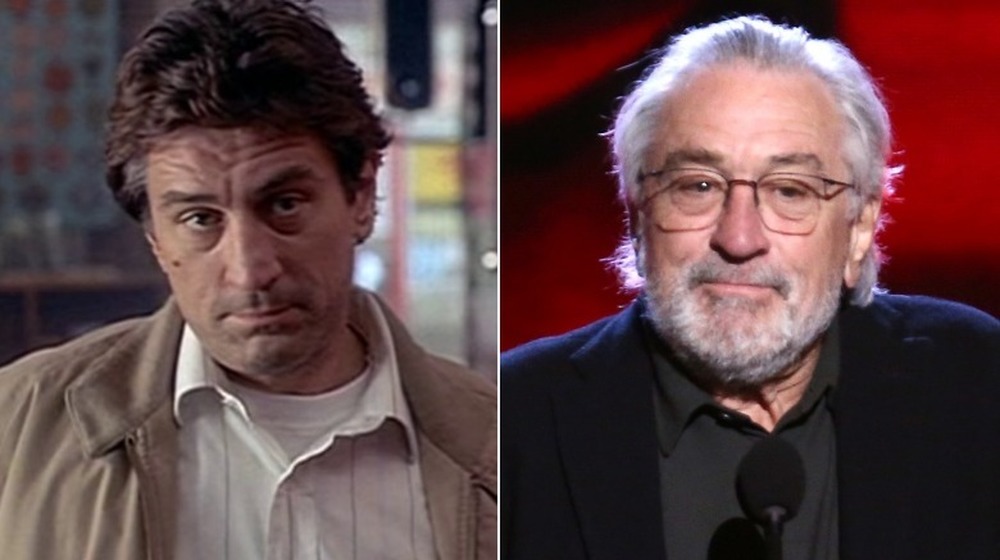 Tommaso Boddix/Getty Images
While we see Robert De Niro's Captain "Shadow" Rimgale before Brian McCaffrey is reassigned to his command, once the change happens, we get to know him a little better. A veteran firefighter who now serves as a fire investigator, Rimgale is Backdraft's answer to the fictional criminal profilers we see so much in police procedurals and murder mysteries. Just as he's a forensic expert when it comes to fire, it's clear he has keen insight into the minds of arsonists like Donald Sutherland's Ronald Bartel — something he proves early in the movie when his questioning of the serial firebug succeeds in sinking Bartel's parole.
It should come as a surprise to no one that De Niro has been a force to be reckoned with in Hollywood for decades, and that doesn't seem to be changing any time soon. In recent years, he's played real-life figures like convicted fraudster Bernie Madoff in 2017's Wizard of Lies, and he had a recurring role as lawyer Robert Mueller on Saturday Night Live. He led Martin Scorsese's 2019 streaming original debut The Irishman and appeared as talk show host Murray Franklin that same year in Joker. Among his upcoming projects is a role in Ad Astra director James Gray's film Armageddon Time, described as a "coming-of-age story about growing up in Queens in the 1980s." Along with other stars, De Niro is reunited in the film with Backdraft co-star Donald Sutherland.
Jennifer Jason Leigh is atypical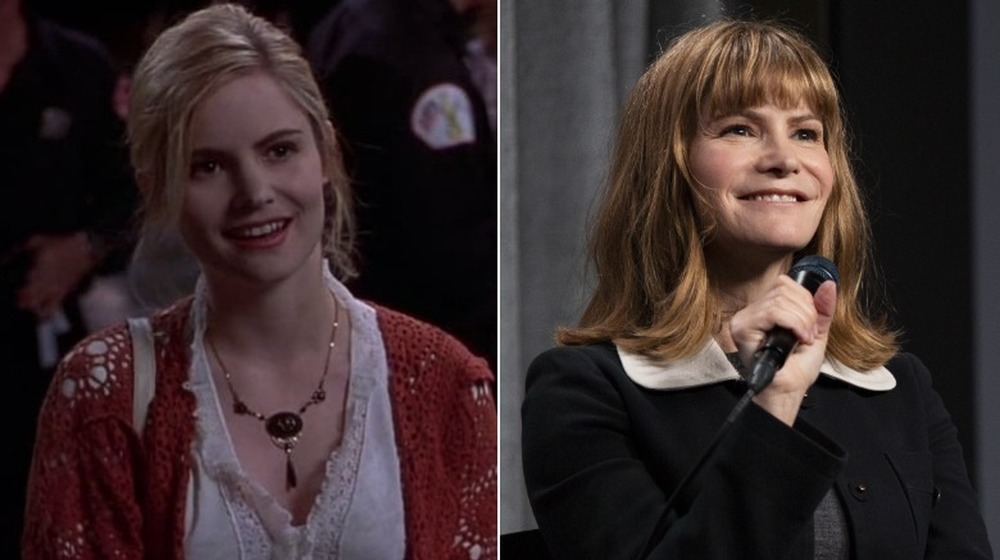 Vincent Sandoval/Getty Images
Playing Brian McCaffrey's ex-girlfriend in Backdraft is Jennifer Jason Leigh, a star anyone watching movies in the '80s and the early '90s was destined to come across. As Backdraft's Jennifer Vaitkus, she rekindles her romance with Brian, but her loyalties are torn because of her job. While she wants to be with Brian, she works as an assistant to J.T. Walsh's crooked Alderman Swayzak, who's persona non grata to just about any firefighter in Chicago.
Leigh's part in 1991's Backdraft was one of a number of high-profile roles that she enjoyed around that time. She made big splashes in the years preceding the film with the 1989 drama Last Exit to Brooklyn and the 1990 black comedy Miami Blues. The year after Backdraft, she starred in one of her most disturbing roles as the obsessed roommate Hedy in Single White Female. 
While her place in the Hollywood hierarchy seemed to dip after the early '90s, she never stopped working, and she's enjoyed a wonderful bump in exposure and critical acclaim since the mid-2010s. She played Backdraft co-star Kurt Russell's captive in Quentin Tarantino's 2015 Western The Hateful Eight, and that same year, she was the voice of Lisa in Charlie Kaufman's stop-motion drama Anomalisa. She also played the government psychologist Dr. Ventress in the 2018 sci-fi horror film Annihilation. She's found more recent success in television, appearing in the 2017 revival of Twin Peaks and starring as an overprotective mother in Netflix's dramedy series Atypical.
Donald Sutherland is the ruler of Young Adult dystopia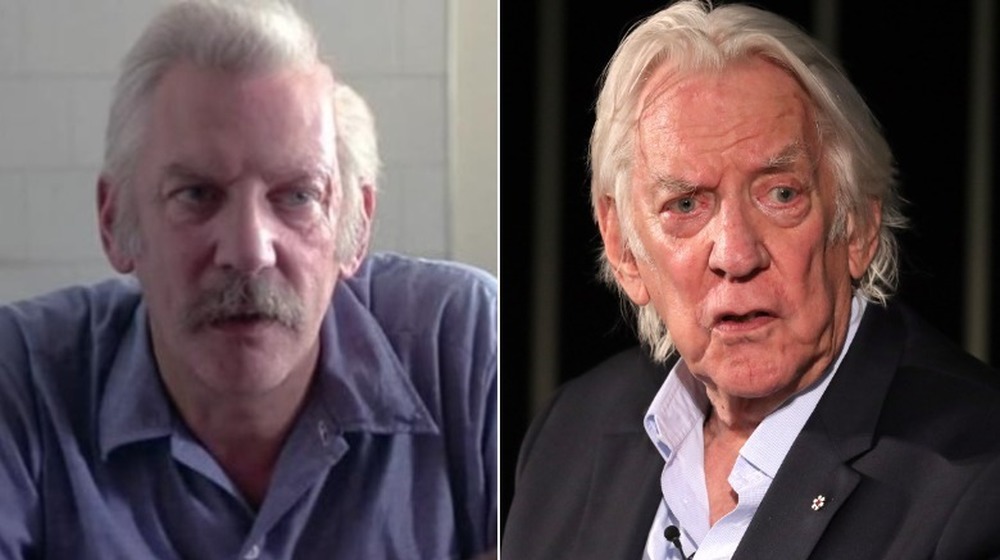 Andreas Rentz/Getty Images
The easiest comparison to make is that Donald Sutherland's Ronald Bartel is to Backdraft what Hannibal Lecter is to The Silence of the Lambs. Like Lecter, he's imprisoned and uses his criminal insight to help the heroes solve the mystery, though he does it for selfish reasons. The comparison isn't completely apt since Bartel is much less of a focus in Backdraft than Lecter is in his own film, but it's close enough. While Bartel isn't behind the death and destruction in Backdraft, his palpable hunger for fire makes him arguably the single most chilling role Sutherland has ever inhabited. And since Sutherland's been working in TV and film since the early '60s, that's saying a lot.
Like many of Backdraft's more well-known actors, Sutherland has continued working in the industry over the years. In the 21st century, the role he's become best known for is as the sadistic President Snow, the big bad of the Hunger Games films. In 2005, he made a splash as the exasperated father Mr. Bennet in the Keira Knightley-led adaptation of Pride & Prejudice. He also plays a family friend who joins Brad Pitt for part of his epic space journey in 2019's Ad Astra. More recently, he's found a home on the HBO Max whodunnit The Undoing as wealthy widower Franklin Reinhardt, father to Nicole Kidman's Grace Fraser.
Scott Glenn has been making great television since Backdraft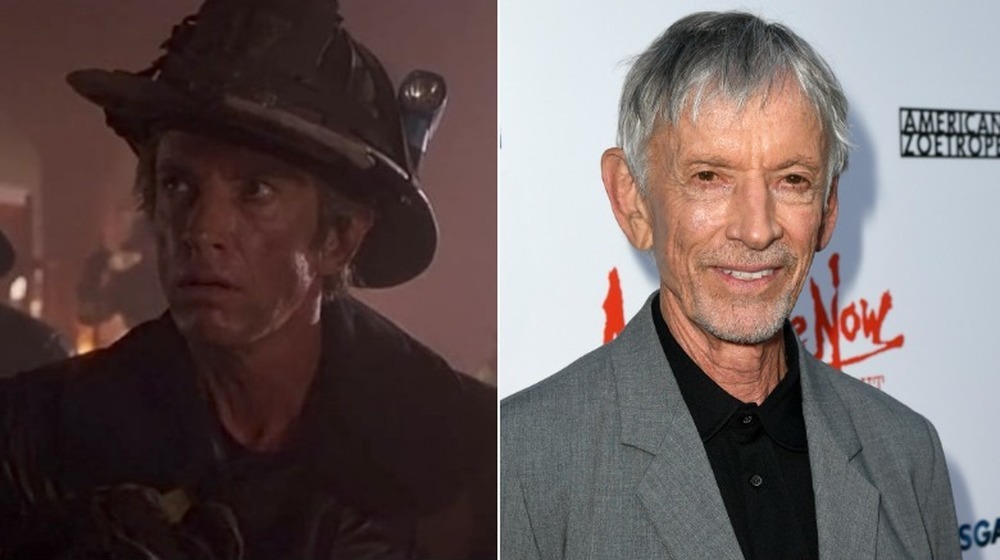 Kevin Winter/Getty Images
Scott Glenn was at the peak of his career when he played veteran firefighter John "Axe" Adcox in Backdraft. We eventually learn it's the vengeful Axe who's been setting the fires, specifically to target the associates of Alderman Swayzak. In spite of Axe's guilt, Stephen McCaffrey tries and fails to save the older firefighter during a blaze, and he's mortally wounded in the attempt. 
Backdraft was released around the same time as many of Glenn's most memorable film roles. The year before, he played Bart Mancuso in The Hunt for Red October, the skipper of the American sub shadowing Sean Connery's rogue Soviet counterpart. The same year as Backdraft, audiences saw Glenn portray Jack Crawford — the agent in charge of the FBI's Behavioral Science Unit who sends Jodie Foster's Clarice Starling on her fateful interview with Hannibal Lecter — in The Silence of the Lambs. 
In more recent years, Glenn's done a lot of great work on television. He plays father to Justin Theroux's Kevin Garvey on the supernatural drama The Leftovers and retired sheriff Alan Pangborn in the psychological horror series Castle Rock. He's also made sure Marvel fans will forever remember him as Stick, the unforgiving mentor to Charlie Cox's blind vigilante Matt Murdock on Netflix's Daredevil and The Defenders. Nor has he left behind the big screen completely. Along with other film appearances over the years, he played father to Morena Baccarin's Allison in the 2020 disaster film Greenland.
Rebecca De Mornay rocked the cradle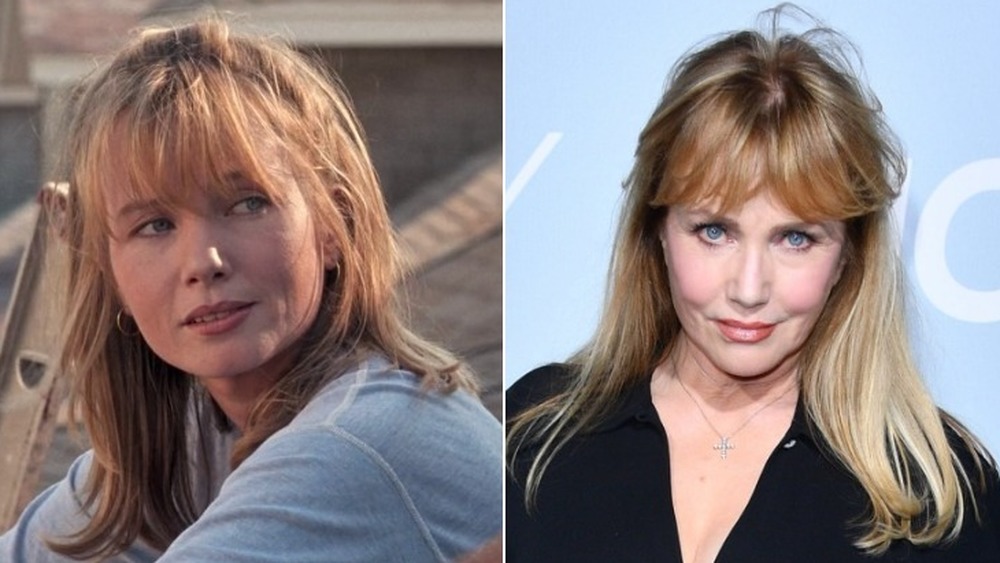 George Pimentel/Getty Images
Rebecca De Mornay's breakout role was in the same film that alerted audiences Tom Cruise was a leading man on the rise. She plays the sex worker Lana who Cruise's character, Joel, hires for a night of passion in the 1983 comedy Risky Business. A decade later, she got the role of Stephen McCaffrey's estranged wife, Helen. When we first meet her, it turns out Brian is so out of touch with his brother that he doesn't even know they're separated or that his brother is living on his boat. 
The year after Backdraft, De Mornay starred in one of her most memorable and chilling roles — as the homicidal nanny Mrs. Mott in the psychological thriller The Hand that Rocks the Cradle. She's continued to be a force in Hollywood ever since. She played the mysterious Milady de Winter in 1993's The Three Musketeers, she stepped into Shelley Duvall's shoes in the 1997 The Shining mini-series (known for being more accurate to the source material), and half of the couple in the middle of divorce mediation in 2005's Wedding Crashers. She's also enjoyed memorable recurring TV roles on series like ER, The Practice, and Lucifer. One of her biggest TV roles of recent memory is as the overbearing mother of Trish Walker in the Marvel Netflix series Jessica Jones.
Sadly, J.T. Walsh is no longer with us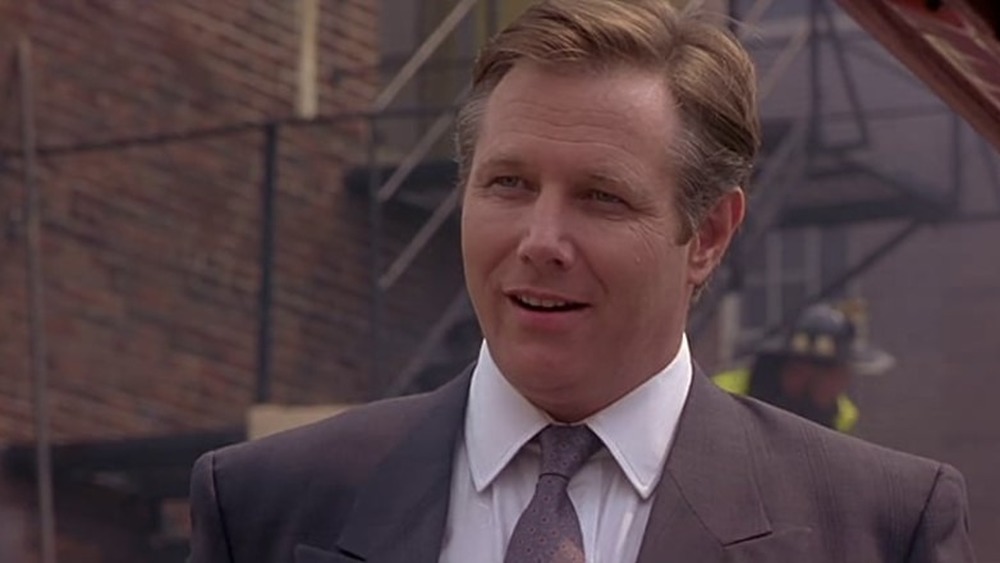 While he doesn't set any of the fires, J.T. Walsh's Alderman Swayzak has a lot to answer for by the end of Backdraft. Among other things, it's discovered that Swayzak paid for a fake study on manpower that justified budget cuts, eventually leading to the deaths of a number of firefighters, including some of the film's most visible characters. Towards the end of the movie, Shadow and Brian crash Swayzak's press conference to deliver the evidence to journalists and end the alderman's hopes for mayoral office.
Unfortunately, J.T. Walsh passed away seven years after he starred in Backdraft. He died of a heart attack on February 27, 1998 in La Mesa, California. He was 54 years old. 
Before his passing, Walsh was one of the most recognizable character actors working in film and TV in the '80s and '90s. His role as Alderman Swayzak in Backdraft was characteristic of what he was often cast as — an unlikable politician or bureaucrat and often a villain. He plays a district attorney in the 1994 legal thriller The Client, a domineering presidential chief of staff in 1995's Outbreak, and a senator in 1996's Executive Decision. In spite of the kinds of characters he usually played, one of his most memorable roles was a lot more sympathetic. He plays Lt. Col. Matthew Andrew Markinson — the sole voice of conscience in Gitmo's Marine leadership — in the 1992 legal drama A Few Good Men.
Jason Gedrick moved from the big screen to TV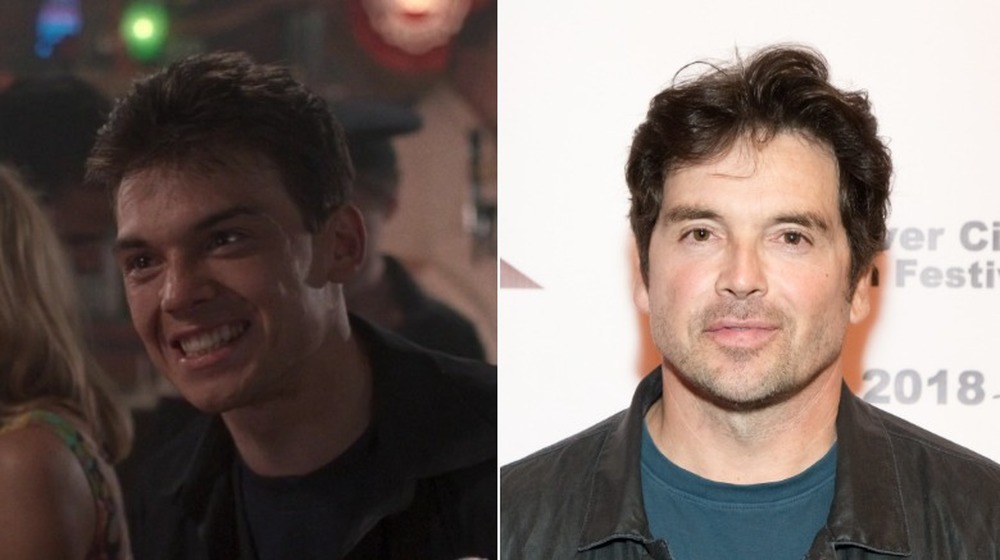 Greg Doherty/Getty Images
Every movie that falls anywhere near the action category needs at least one sidekick who gets sacrificed, right? Well, Jason Gedrick's Tim Krizminski survives Backdraft, but the probationary firefighter probably isn't going to be running into any burning buildings any time soon. Tim is Brian McCaffrey's best friend in the beginning of the film and a lot more eager than his buddy to start on his road to becoming a full-fledged fireman. Unfortunately, he's badly burned when he takes the full force of a backdraft and barely survives. 
Gedrick's biggest claim to fame is as the young, angry pilot who breaks all the rules to save his father in the 1986 action film Iron Eagle. While his time as a movie leading man didn't last, Gedrick would later find high-profile roles in some great television series. In the first season of ABC's acclaimed legal drama Murder One, Gedrick plays Neil Avedon, a popular Hollywood actor accused of murder. From 2002-03, he appeared as LAPD's Tom Turcotte on the critically praised but sadly short-lived NBC action drama Boomtown. Among many other one-offs and recurring roles, Gedrick played a strip club manager in season 7 of Dexter, a serial killer on the premiere season of the Amazon Prime original police procedural Bosch, and one of the eponymous beasts on the CW's Beauty & the Beast.
Cedric Young is still working in smaller roles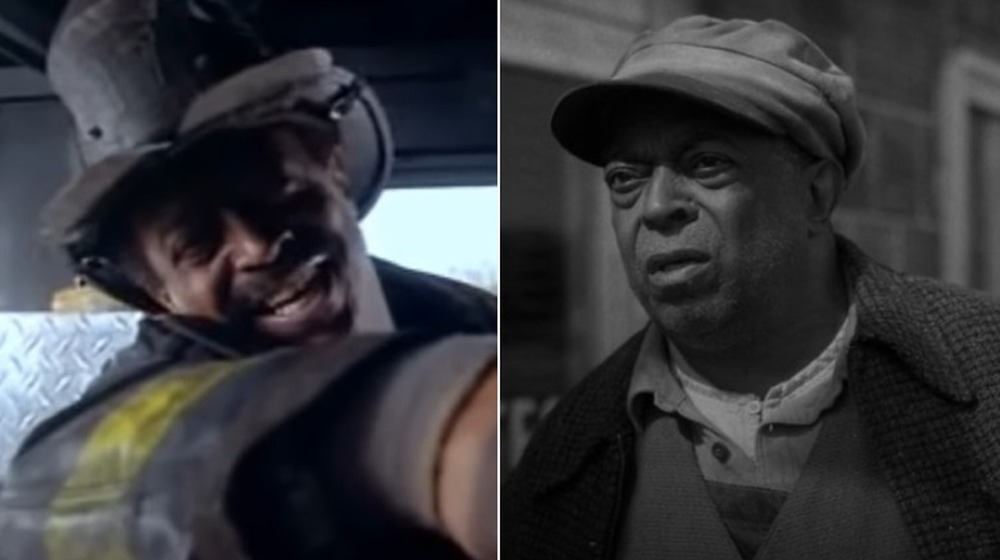 In Backdraft, Cedric Young's firefighter, Grindle, doesn't have a lot of lines, but he has some of the best. On his first day on the job, Brian McCaffrey offers his hand to Grindle and says, "I'm Brian." Smiling, Grindle takes McCaffrey's hand and answers with the simple but effective burn, "I'm sorry." As one of the biggest firefighters on the crew, he's also one of the most visible even when he isn't saying anything.
Backdraft was one of Young's first appearances in a movie, and he's worked steadily over the years, mostly in smaller roles in film and TV. For example, he plays a cop in Central Park in 1992's Home Alone 2: Lost in New York and a liquor store owner in 2005's Batman Begins. He has a long list of recurring roles and one-offs including series like Prison Break, Leverage, Empire, and Sense8.
Most recently, he scored the recurring role of Sonny — boss of one of the main characters — on Showtime's The Chi. He also plays the gas station attendant Willy in "East/West" — the black and white episode of Fargo's fourth season.
Ryan Todd left acting behind not long after Backdraft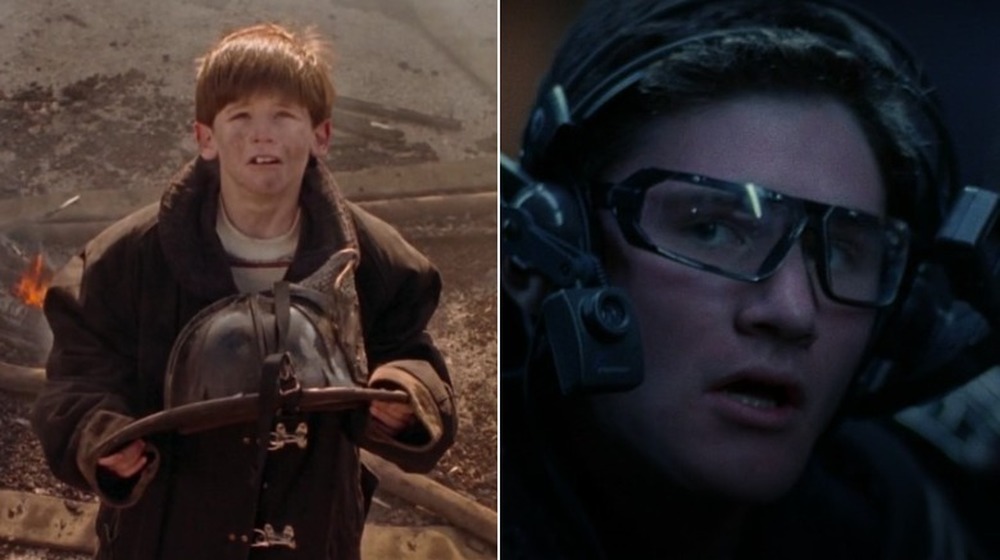 Backdraft opens with the young Brian McCaffrey witnessing the death of his father. He's holding his father's helmet as he watches the blast that kills him, and a photographer is nearby to make the moment iconic. The image of Brian crying winds up on the cover of Life, and the boy's experience becomes a subject of sick fascination for serial arsonist Ronald Bartel. While William Baldwin plays Brian all grown up, his younger self is played by Ryan Todd.
As far as film acting is concerned, Todd didn't manage to climb very high up the ladder. After Backdraft, some of his more memorable roles include playing the murdered son of Arnold Schwarzenegger's Jack Slater in 1993's Last Action Hero and the younger version of Richard Gere's Lancelot in 1995's First Knight. His last acting credit was in 2008, though before that, he got to play the gamer Moxie in the season 7 episode of The X-Files, "First Person Shooter."
But while he may not be acting, Todd's built up credits on the other side of the camera. For example, he worked as motion capture reference on 2014's Dawn of the Planet of the Apes and the following year's Avengers: Age of Ultron. He's also worked in various roles as crew on movies like Frost/Nixon and Ready Player One, as well as TV series Will & Grace and Heroes, among others.