Why Stick From Daredevil Looks So Familiar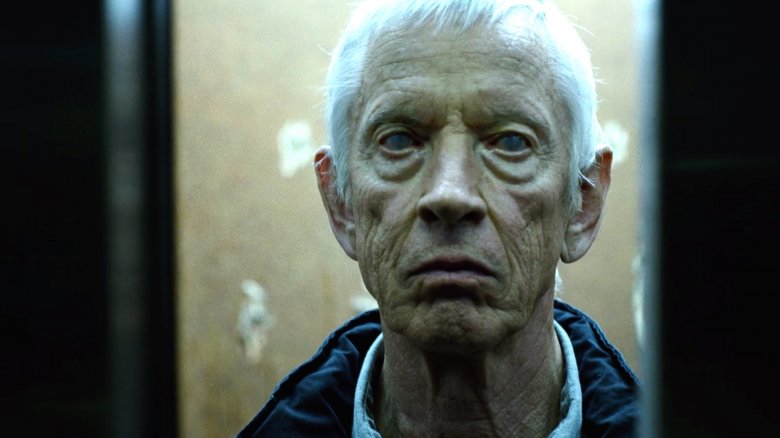 He's a mysterious warrior, a gray-haired grandmaster, a senior citizen you don't want to mess with. We could be describing Stick from Daredevil, the blind ninja who trained both Matt Murdock and Elektra, but we could just as easily be talking about Scott Glenn, the actor who brought Stick to life in the hit Netflix show. Before joining the Marvel Cinematic Universe, Glenn had a long and storied career playing soldiers, gunslingers, and mentors, and if you think you might've seen this guy somewhere before, then keeping on reading to find out why Stick from Daredevil looks so familiar.
Nashville (1975)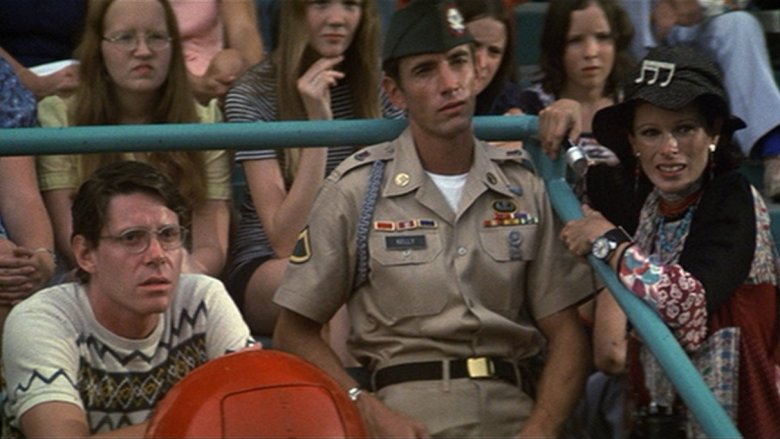 Considered one of the greatest movies of the 1970s, Nashville is a brilliant mashup of comedy, drama, and musical. Set in the midst of Watergate and Vietnam, the film takes a satirical look at American politics and show business through the experiences of a wide array of colorful characters. There's Jeff Goldblum as a motorcycle-riding magician, Shelley Duvall as a wig-wearing groupie, and Lily Tomlin as a Gospel singer caught between her sleazy, good ol' boy husband (Ned Beatty) and a womanizing rock star (Keith Carradine).
Eventually, all the characters converge at a climactic political rally, a concert that showcases the very worst and very best about America itself. And out of all the people who make their way into the final scene, there's none quite so mysterious as Scott Glenn's Pfc. Glenn Kelly, a soldier who's absolutely star-struck by legendary country singer Barbara Jean (Ronee Blakley). Kelly claims his mother once saved Barbara Jean from a fire, and he's come to Nashville just to watch her perform. And when the musician winds up in the hospital, the soldier loyally waits outside in the halls, going so far as to sneak into her room and sit by her bed as she sleeps.
So is Kelly an overly protective fan or a stalker? Things get even more complicated when a nerdy hitchhiker (David Hayward) also starts watching Barbara Jean from a distance. Eventually, the two men cross paths at a Barbara Jean concert, both staring at the singer from the front row. "Is there a threat there?" asked Roger Ebert in his "Great Movie" review. "Which one?" Well, if you want to find out, you'll just have to check out this Robert Altman classic, a film that's one of the star-spangled highlights of Scott Glenn's career.
Urban Cowboy (1980)
After a brief appearance in Francis Ford Coppola's Apocalypse Now, Glenn traded the jungles of Vietnam for the nightclubs of Texas, starring alongside John Travolta in Urban Cowboy, a movie best remembered for its country music soundtrack and a sexy scene in which Debra Winger rides a mechanical bull. As for the plot, the film follows a country boy named Bud (Travolta) who moves to Houston, gets a job at a chemical plant, and spends all his free time hanging out at Gilley's, the biggest honky-tonk on the planet. With his blank Stetson and Wrangler jeans, Bud is a fake cowboy who quickly catches the eye of the independent Sissy (Winger), and while the two don't necessarily agree on gender issues, they quickly end up hitched after a whirlwind romance.
Even though he's our protagonist, Bud is a pretty despicable guy, a hot-headed misogynist prone to fits of anger and spousal abuse. So naturally, when parolee Wes Hightower (Glenn) shows up at Gilley's—totally rocking that mesh shirt—Sissy finds herself drawn to the bull-riding bank robber. Unfortunately, despite all his cowboy cool, Wes turns out to be a woman-beating sleazebag, and when his plans to defeat Bud at a mechanical bull-riding contest don't pan out, he decides to return to a life of crime.
Urban Cowboy was a major hit when it came out in 1980, kicking off a country music revival, but while the role of Wes Hightower was a boost to his career, the movie wasn't a completely positive experience for the actor. Speaking with GQ, Glenn explained that while he was doing a rodeo scene with an actual bull, the angry animal tried to jump out of its chute while he was still on its back, giving Glenn a concussion and a cracked collarbone. Still, it takes a lot more than a few broken bones to slow down Scott Glenn, and when Urban Cowboy hit theaters, the actor completely stole the Lone Star spotlight.
The Right Stuff (1983)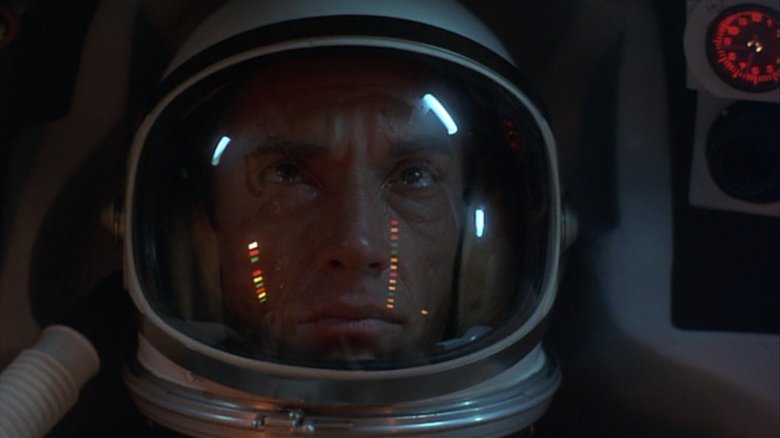 Based on the best-selling book by Tom Wolfe, The Right Stuff tells the story of test pilot Chuck Yeager and the Mercury Seven, a group of astronauts who put their lives on the line to boldly go where no man had gone before. Okay, yeah, Yuri Gagarin did get to space first, but Philip Kaufman's Oscar-nominated movie pays homage to the American explorers who made the future—the guys who broke the sound barrier, orbited the Earth, and paved the way for Neil Armstrong and Buzz Aldrin.
In addition to Yeager (Sam Shepard), The Right Stuff introduces us to heroes like Gordon Cooper (Dennis Quaid), Gus Grissom (Fred Ward), and of course, Alan Shepard (Scott Glenn), the first American in space. A wisecracking Navy pilot, Shepard is a guy who laughs in the face of danger (when he's not laughing at The Ed Sullivan Show, anyway). But while he's generally pretty laid back, Shepard is often butting heads with clean-cut Marine John Glenn (Ed Harris), until the two are forced to band together when NASA threatens to send chimps into space instead of astronauts.
In a movie populated with actors like Jeff Goldblum, Barbara Hershey, and Lance Henriksen, Glenn manages to stand out by tapping into his impeccable comedic skills. For example, while sitting in a space capsule, waiting to blast into orbit, Shepard suddenly needs to relieve himself, and as he fights to hold it in, Glenn's facial reactions are just fantastic. His R-rated prayer might be the best line in the movie, and the scene where Shepard is struggling with his dead arm is also laugh-out-loud funny. But for all his "high school humor," Glenn also plays America's first star voyager with "a lean, quiet self-confidence," proving the actor definitely had the right stuff for the role.
Silverado (1985)
Directed and co-written by Lawrence Kasdan (the same guy behind The Empire Strikes Back and Raiders of the Lost Ark), Silverado is a big-hearted Western that mixes modern-day comedy with old-timey saddles and six-shooters. And if you're a Scott Glenn fan, it's the perfect movie for you, as the film opens on the leather-faced actor pumping bad guys full of lead.
In this 1985 horse opera, Glenn plays Emmett, a guy that Roger Ebert described as "a taciturn loner who gets restless when he's not a long way from civilization." An ex-con who's just finished serving time for a crime he didn't commit, Emmett has plans to meet up with his brother Jake (an unbelievably hyper Kevin Costner) and then head out to California. During their journey, Emmett and Jake run across a deadpan gambler (Kevin Kline) and sharpshooting butcher (Danny Glover), and together, the four heroes band together to save the town of Silverado from a gang of cutthroat cowboys (including, yet again, Jeff Goldblum as a two-timing card player).
Blending his tough guy persona with his low-key sense of humor, Glenn is on top of his game here, playing Emmett as the kind of guy you want watching your back when the shooting starts. A loyal friend who loves his family, this gunslinger isn't afraid to stand down a posse or plan a prison break if it means helping someone he cares about. He'll even go out of his way to defend total strangers, sticking up for drifters and homesteaders alike. He's the quintessential Western hero—both cool and kind—and when he straps on his gun belt, you'd better stay out of Emmett's way.
The Hunt for Red October (1990)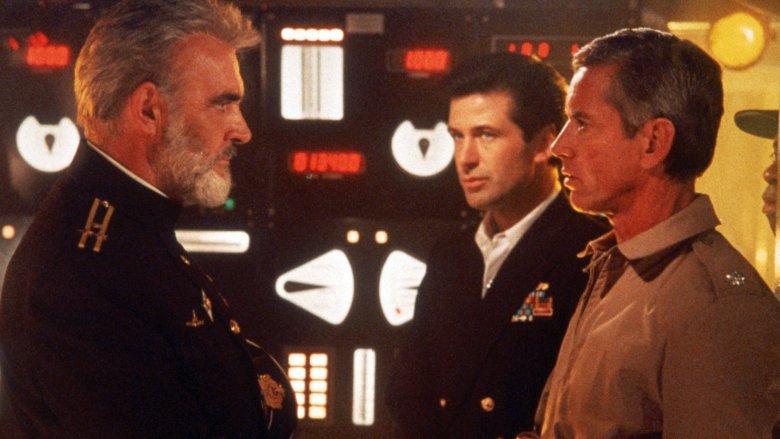 When most people think about The Hunt for Red October, they probably remember Captain Marko Ramius, the Soviet sub commander who sounds kind of Scottish, but hey, it's Sean Connery, so he's awesome. But in addition to 007 himself, this John McTiernan movie features an all-star cast, including the likes of Alec Baldwin, James Earl Jones, Tim Curry, and Courtney B. Vance. And in the middle of all the NSA meetings and naval battles, there's Scott Glenn as Bart Mancuso, commander of the USS Dallas.
The plot kicks off when Ramius goes rogue in the titular submarine, a nuclear-powered vessel that's able to avoid sonar. Most American officials believe the Soviet plans to wipe out the U.S. by launching an unauthorized missile strike, but CIA analyst Jack Ryan (Baldwin) thinks Ramius actually wants to defect. Caught in the middle is Captain Mancuso. Working with Petty Officer Ronald "Jonsey" Jones (Vance), who's figured out how to track the Red October, Mancuso is the man tasked with chasing after the Soviet sub. Skeptical of Ramius' intentions, Mancuso is at least willing to hear Ryan's claims, and together, the two Americans try to make contact with the Soviet commander before his own navy blows him out of the water.
To prepare for the role of Mancuso, Glenn (a former Marine) trained aboard the USS Salt Lake City and USS Houston. And believe or not, while on the Houston, Glenn was actually given command of the nuclear-powered ship. True, he was wearing an earpiece the whole time, allowing the real commander to coach him along, but for a few moments, Glenn was really in charge of the sub, giving actual orders to actual crewman. Talk about preparing for a role.
The Silence of the Lambs (1991)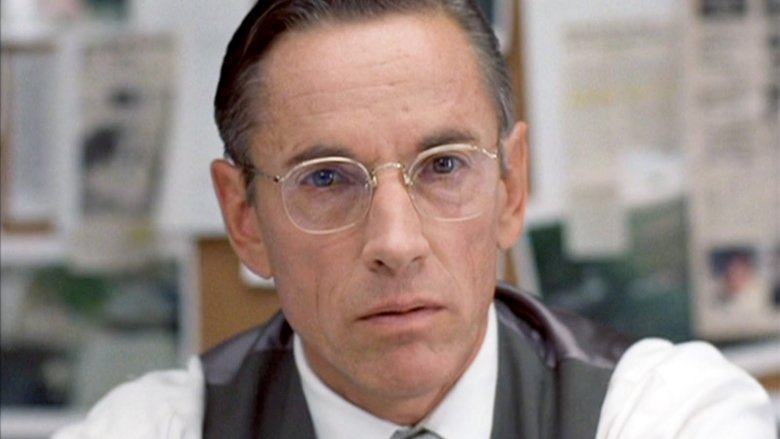 Before Laurence Fishburne chased after Hannibal the Cannibal, there was Scott Glenn. True, Dennis Farina originated the role of Jack Crawford in Manhunter, but Glenn made the part his own in one of the most successful horror movies of all time. In a twist of fate, the actor almost turned down the role as he'd already committed to a previous film, but when he wasn't paid on time, Glenn was able to legally walk away and sign up for Jonathan Demme's The Silence of the Lambs.
In preparation for the part, Glenn met up with John Douglas, head of the FBI's National Center for Analysis of Violent Crime. The real-life Jack Crawford, Douglas literally wrote the book on criminal profiling (Mindhunter) and has interviewed pretty much every murderer you can think of, from Ted Bundy to Charles Manson. As a result, Douglas was able to help Crawford get into the right frame of mind to play the head of the Behavioral Science department, going so far as to play recordings for Glenn of serial killers torturing their victims. As you might expect, Glenn said this was "kind of emotionally scarring," and Douglas claimed the actor left FBI headquarters "ready to start a vigilante group."
Pre-production might've been a bit intense, but it ultimately paid off, as Glenn is great in the part. Sure, his character kind of exists just to move the story along, but Glenn brings a calm, commanding presence to the part of Jack Crawford. As Clarice Starling's (Jodie Foster) boss and father figure, he uses the rookie to manipulate Hannibal Lecter (Anthony Hopkins) to reveal the identity of Buffalo Bill (Ted Levine). But while he treats her as a pawn in his psychological chess game, Crawford really does respect and admire Clarice, bringing her into the case and mentoring her along as they chase after the infamous woman skinner. And by the end of the hunt, Crawford is pretty proud of the young agent.
Training Day (2001)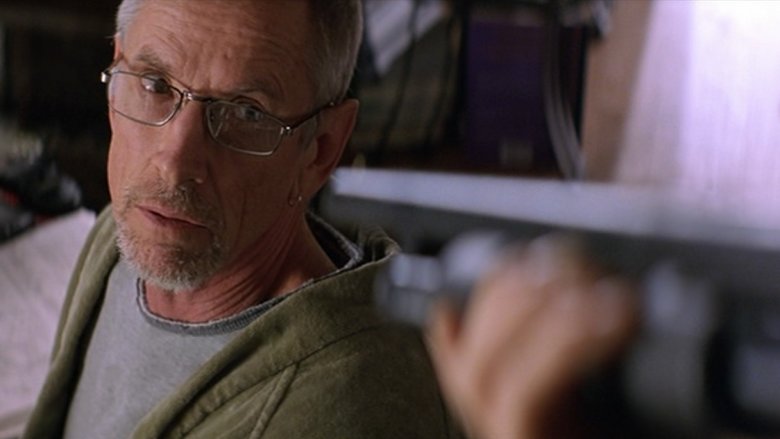 After The Silence of the Lambs, Scott Glenn kept pretty busy throughout the '90s, appearing in movies like Backdraft, Tall Tale, Courage Under Fire, and The Virgin Suicides. Then in 2001, he popped up in Antoine Fuqua's Training Day as Roger, a sleazy cop turned drug dealer. Described by Elvis Mitchell of The New York Times as "rotting-from-the-inside-out," Roger is a friend of Alonzo Harris (Denzel Washington), one of the scariest cops in cinematic history. But there's no honor among thieves, even if they're wearing badges, and when Alonzo needs some cash to pay off the Russian mob, he decides to borrow a few bucks from his old buddy.
Of course, that involves breaking into Roger's house with an armed gang, holding him at gunpoint, and cutting through his floor with a chainsaw to find his hidden loot. From there, well, things don't turn out particularly well for old Roger, as you can't leave too many loose ends when you're a corrupt cop like Alonzo. While Glenn is only on-screen for a handful of minutes, he definitely holds his own against the larger-than-life Washington by constantly sporting a bathrobe, regaling Ethan Hawke's rookie detective with a bizarre joke about snails, and trying his best to keep things cool...right up until Alonzo pulls the trigger on that shotgun.
The Bourne Ultimatum (2007) and The Bourne Legacy (2012)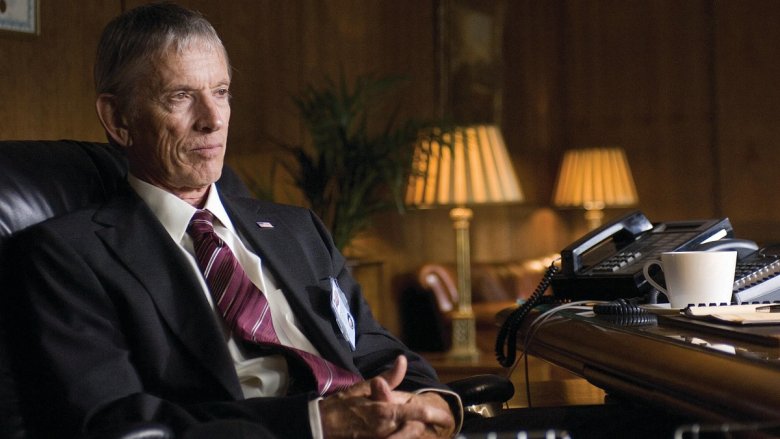 Nearly two decades after joining the FBI in The Silence of the Lambs, Scott Glenn decided to get a new job with a different intelligence agency, signing up with the CIA in the Bourne franchise. Playing CIA director Ezra Miller, Glenn first appeared in The Bourne Ultimatum, the final installment of the original trilogy starring Matt Damon. At first, it seems like Director Miller is your typical authority figure, skeptical of Jason Bourne (Damon) but willing to consider Deputy Director Pamela Landy's (Joan Allen) opinion that there's more to this rogue agent than meets the eye.
Of course, this is a spy thriller, which means you can't trust anyone, even Scott Glenn. As Bourne and Landy dig deeper into the mystery of Treadstone and Blackbriar, we discover that Miller has sanctioned a program dedicated to carrying out assassinations. Plus, he plans for Landy to take the fall if anything goes wrong. But Damon isn't going to put up with these CIA shenanigans, and when we last see Miller in Ultimatum, he's under criminal investigation.
While this little stunt probably marked the end of Miller's career, the man pops back up in The Bourne Legacy, the fourth film of the franchise starring Jeremy Renner as an operative named Aaron Cross. Miller appears pretty early on, in a scene meant to coincide with the timeline of Ultimatum. He's only on for a few seconds, but his brief appearance sets the plot in motion, leading to the death of both Paddy Considine and Oscar Isaac. And speaking of Oscar Isaac, this wouldn't be the last time he'd share the screen with Glenn...
Sucker Punch (2011)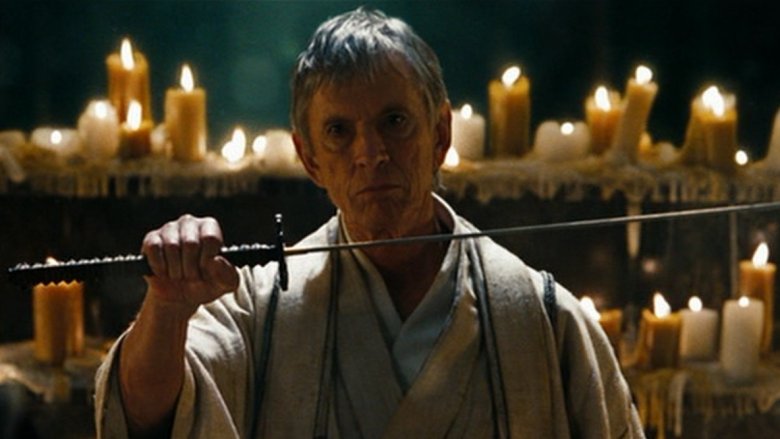 Everyone has an angel watching over them, and sometimes, that angel looks a lot like Scott Glenn. In Zack Snyder's controversial (and critically derided) Sucker Punch, he plays the Wise Man, an aging mentor who coaches Babydoll (Emily Browning) in her mission to defeat clockwork zombies, fire-breathing dragons, and kaiju-sized samurai. Sounds pretty crazy, eh? Well, that's rather fitting, as Sucker Punch takes place inside a mental hospital.
It all starts when Babydoll is locked up in an asylum by her abusive stepfather. As she awaits a lobotomy, the young girl escapes into a fantasy world where she's imprisoned in a brothel run by a pimp named Blue Jones (Oscar Isaac). Banding together with four other girls, Babydoll hatches a plot to escape from the bordello, one that involves stealing a laundry list of items. But to get their hands on the goods, Babydoll has to distract her captors by performing what's evidently the most erotic dance in cabaret history.
However, every time Babydoll begins to sway, we're transported even deeper into her mind, where the young girl takes part in a series of missions that involve storming castles, deactivating bombs, and destroying a whole host of monsters. Before setting out on each quest, she receives a briefing from the Wise Man. Posing as a British general and a silver-haired samurai, he's fond of handing out old-timey advice ("Remember, ladies, if you don't stand for something, you'll fall for anything"), but he's also the one encouraging Babydoll and her friends to work together, to defend themselves, and fight back. Basically, the Wise Man is a prototype of Daredevil's Stick, albeit a lot friendlier.
The Leftovers (2014 – 2017)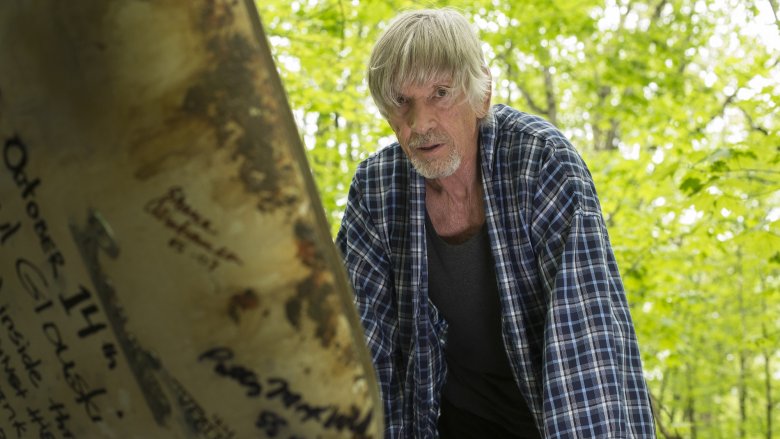 When it comes to TV, Scott Glenn is probably best known for Daredevil, but that isn't the only series featuring the veteran actor. He's also graced the small screen via The Leftovers, the HBO show based on the novel by Tom Perrotta. Co-created by Perrotta and Damon Lindelof, The Leftovers takes place three years after two percent of the population has mysteriously disappeared. Since the inexplicable rapture, dogs have gone feral, cults are coming out of the theological woodworks, and Police Chief Kevin Garvey Sr. (Glenn) has seemingly lost his mind.
After a violent incident, Garvey now spends his days in a mental hospital, watching Perfect Strangers and spewing profanity at people no one else can see. His sudden break from reality is definitely taking a toll on his son (Justin Theroux)—the new police chief who's possibly suffering a mental breakdown after his wife has joined a chain-smoking religious group—and dad doesn't make things any easier when he decides to escape from the hospital. When he's finally finished breaking into libraries and beating up cops, he confronts his son with a mysterious copy of National Geographic, telling him to accept the magazine...and his new purpose in a world going mad.
If you think that sounds weird, well, that's just season one, and it only gets crazier from there. As always, Glenn is brilliant, bringing just the right amount of humor, menace, and creepiness to the part of a granddad who seems insane...but just might be the sanest one of all.