The Hilarious Scene From Silk Road That You Didn't Get To See - Exclusive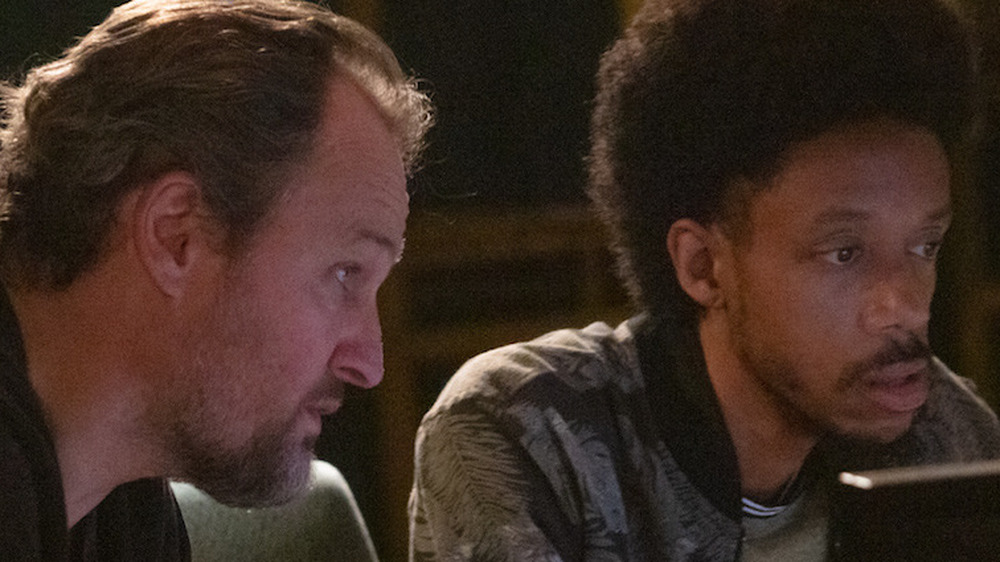 Lionsgate
Silk Road, written and directed by Tiller Russell, recently hit theaters on February 19, and everyone's been buzzing about it since. A true-crime drama-thriller about online drug dealing, Silk Road takes viewers on a tour through Ross Ulbricht's creation of the Silk Road website — on the dark web — to his ultimate arrest after amassing multiple millions of dollars illegally. 
In the movie, Love, Simon star Nick Robinson portrays Ulbricht, while Barry and Three Billboards Outside Ebbing, Missouri standout Darrell Britt-Gibson plays Rayford, a sharp character whose knowledge of street life finds him occasionally serving as an informant to Rick Bowden, the officer responsible for bringing Ulbricht down. Jason Clarke of Zero Dark Thirty and Pet Sematary fame embodies Rick Bowden, not-so-affectionately known as "the Jurassic Narc," for Silk Road.
During a recent exclusive interview with Looper, Britt-Gibson shared with Looper how great a connection he had with Clarke, sharing, "I enjoyed all of my moments with Jason."
The comfort the actors felt with one another gave them the room to work with ease and confidence, and they used that space to create the layered and complex relationship expected from two very diverse people — a streetwise young man and a law enforcement officer — coming together to achieve a specific goal. There's a sense of shared concern and loyalty between Rayford and Rick in Silk Road amidst the overall gritty circumstances that is undeniable to viewers. Though it's an intense, rollercoaster ride of a story, Britt-Gibson had a blast — and attributes that fun to his co-star: "I thoroughly enjoyed going to set every day. I keep going back to that being due to working with Jason, because it was just so fun." 
The pair even managed to crack up the Silk Road crew with one incident in particular, while filming a scene that viewers don't get to see in the theatrical cut of the movie.
How talking about bitcoin caused an on-set laugh riot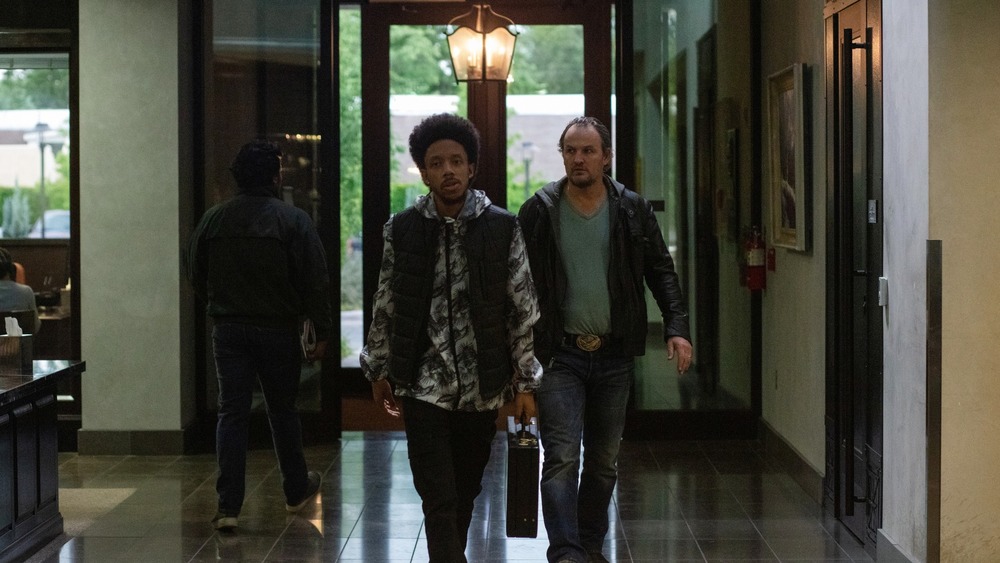 Lionsgate
On Ulbricht's website Silk Road, bitcoin was the currency buyers used to procure their drugs of choice. One of the scenes shot for Silk Road involved that form of virtual money, and remembering what happened that day on set makes Britt-Gibson laugh just thinking about it. 
"[My character and Jason's character] go into a bank and we're trying to make this bitcoin money real. It was this very funny exchange with [our characters], a bank teller, and the bank manager. It was so funny — the rest of the crew working on the movie set were breaking from their roles," Britt-Gibson shared with Looper. "They were [saying], 'Yo, we can't hold in our laughter right now,' due to what was being said."
Unfortunately, the scene didn't make it into the final cut of Silk Road, but Britt-Gibson isn't giving up hope that it will get in front of audiences eventually: "I'm going to make Tiller [Russell] release the director's cut at some point."
Though you can't see that specific scene, you can catch Silk Road in theaters now.