Molly Hagan Talks Walker And More - Exclusive Interview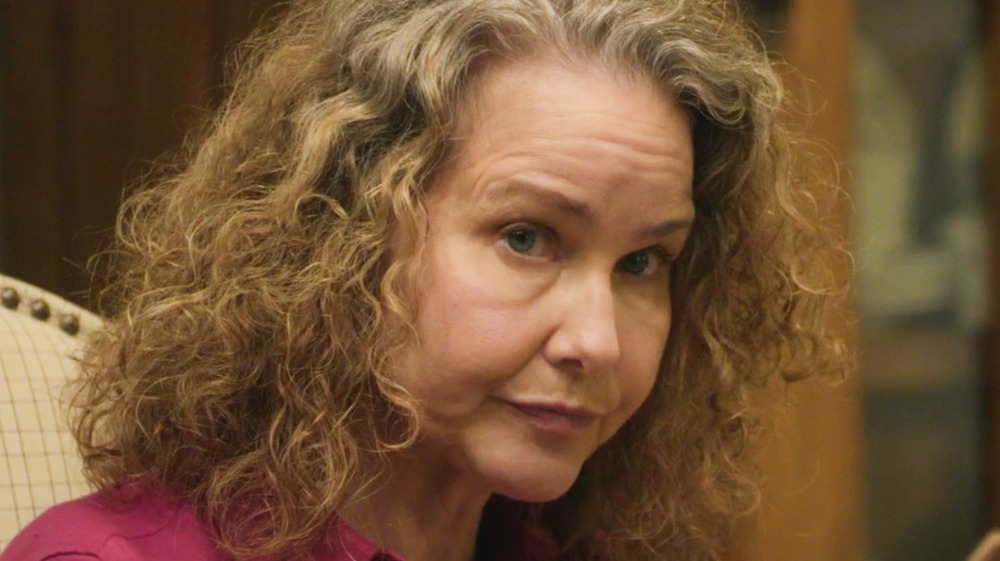 Molly Hagan is a longtime staple on TV and in film — and once again, she's proving why fans love her with her performance on the CW's Walker. Hagan plays Abeline Walker on the Jared Padalecki-led show — a modern reimagining of Chuck Norris' '90s series Walker, Texas Ranger. 
The show is far from her first stint with the CW, though, having previously been seen in roles on Jane the Virgin and iZombie. It's isn't her first time filming in Texas, either — one of Hagan's earliest roles found her playing Ellie in Dallas: The Early Years. From there, she nabbed parts on ALF, Seinfeld, Herman's Head, and multiple procedural series like NYPD Blue, Numb3rs, NCIS, and Bones. Not one to box herself in, fans can also find Hagan in many movies like Matthew Broderick and Reese Witherspoon's 1999 film Election and the acclaimed Tom Hanks-led drama Sully. More recently, she starred alongside Harry Shum Jr. and Jessica Rothe in All My Life. 
Looper spoke to Hagan in an exclusive interview during which she dished on all things Walker, what it's like filming with Texas native Jared Padalecki, and the on- and off-set vibe while working with Glee and Shadowhunters alum Harry Shum Jr. 
The Padaleckis: A full-time family on and off the screen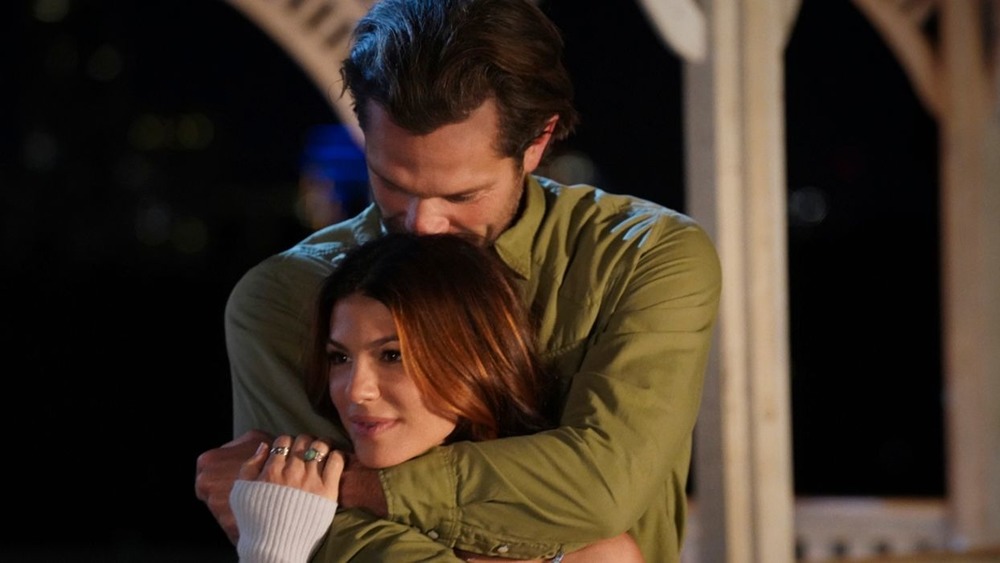 What do you think original Walker, Texas Ranger fans will love about the reimagined Walker — and what will draw in new fans who haven't seen the Chuck Norris series?
So I guess I can't really speak to that. I can say what draws me in. Let's do that. Even though there's a lot of stuff going on, there's something about this show that, especially in this climate, I really need right now that is more calming. I mean, there is stuff going on, but it's more people-oriented, and because I can't see people, I need people. And so the relationships between the people are just, I think, rich already. And I think you'll see them become even richer and somehow seeing that connection, even a hug, it's like, I don't know, I feel very cathartic right now.
Definitely. So what was it like to play Jared Padalecki's onscreen mom and work with him and real-life wife Genevieve together?
Well, first of all, he's very funny. So it's fun. And he and Gen have such a strong bond. They instantly make you family. They are very open, loving people, so any nerves that one might have go away. He started this text chain that was just instantly giving everyone crap so that you already felt loved because I think teasing is loving. So it instantly bonded us as a whole cast. There are no barriers. And even though he's a leader and he really is a great leader, there's not a hierarchy. You don't feel like there's this, "You don't say anything, you should shut up." There's none of that.
Walker Texas Prankster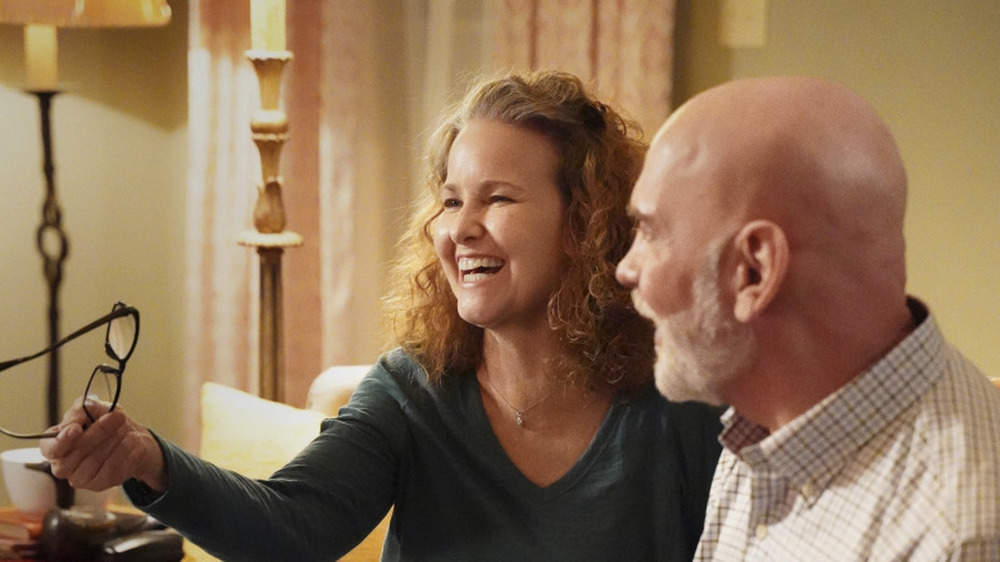 What about Mitch Pileggi?
I just had a friend who watched the pilot, and he said, "Wow. Mitch is kind of just a grumpier, rancher version of you, Richard." And Richard's my husband. And I was like, "Oh my God. He is!"
That's so funny.
I had instantly had an affinity for Mitch.
Oh, that's awesome.
The thing about this cast is that everyone is really funny. So it's a really great time, and Mitch is hilarious in real life. And he's funny onscreen too, but I mean, working with him is like water off a duck. It is super easy. Super easy.
It seems like we're going to get some great Mama Walker moments this season. And she's honestly the real force to be reckoned with on the show. Is there anything that you can tease about your character arc or the show in general?
Well, she's surprisingly flawed. I will just say that.
Jared Padalecki is known for his on-set pranking. What, if anything, was he up to on the Walker set — and can you tease anything that might end up in the gag reel?
Oh, I didn't know that. If he is, then maybe he's pranking Keegan. Or maybe he's waiting until we're all super comfortable because if he were to prank me now, that would unravel me for many months.
Oh no!
I'm like, "aghghg!" So if he has pranked somebody, I don't know yet. I do know there's a lot of teasing, which is lovely, but I haven't seen any pranking yet. Maybe I'll open a drawer and something will be there or something. I don't know.
Back in the saddle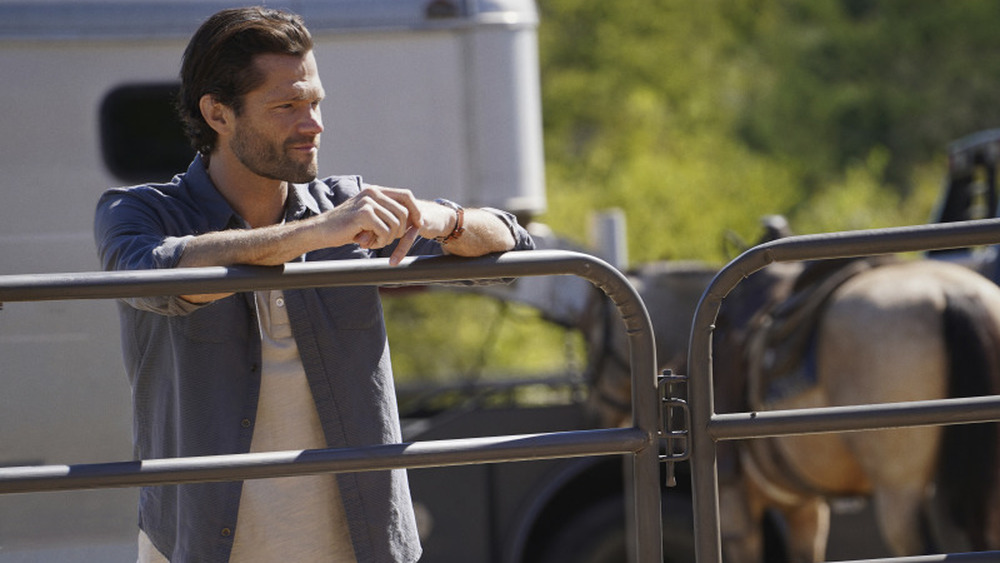 There are quite a few horses in the pilot, but so far, no one has taken them out for a spin. Will we get any horseback riding scenes later on from Jared, Mitch, or yourself?
Oh, you'll definitely get it from Jared. In fact, in episode two.
Ooh, that's exciting.
Yeah. Jared can ride. Actually, there are a lot of people who can ride. Well, I don't know if it's a lot, but I mean, Jared rides... God. I hope they don't kill me for saying this because it's terrible to set them up. But Matt Barr rides, who plays Hoyt. I mean, I don't know if he rides in the show, but he definitely rides horses. Gen does, Jared does, Mitch does, but I don't know if he does in the show.
Are you a rider?
I have had many interesting experiences with horses.
Oh no.
We're working on it.
There's no whinnying in showbiz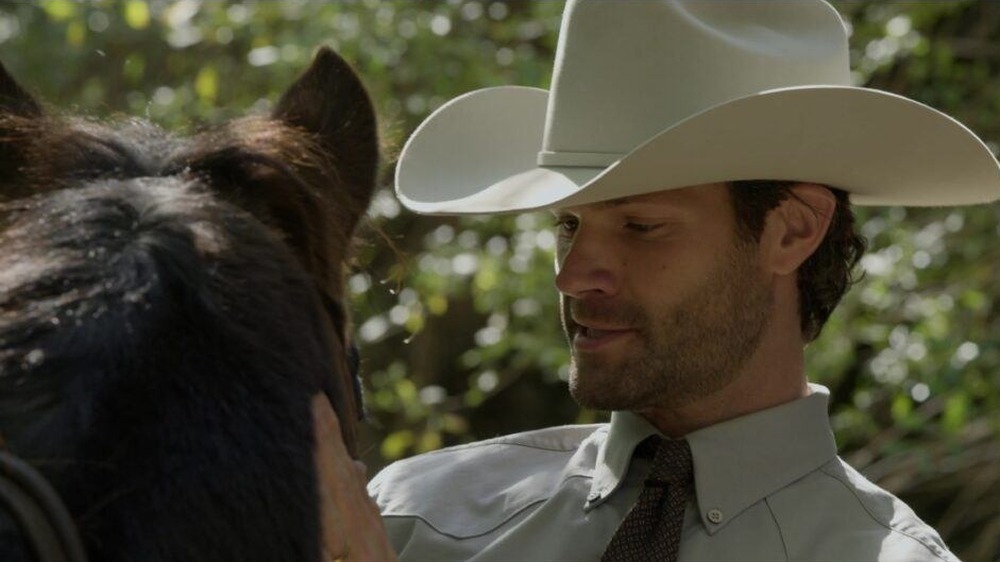 Any one in particular you want to share?
Well, just the first time I ever rode a horse was for Dallas: The Early Years. And so I trained a little bit beforehand, but the wranglers, who were so awesome, fit me with this beautiful Palomino... And so, you know, I learned to ride Buster, and I thought I knew how to ride a horse. I was like, "I rode one in a..."
But the horse was truly angry. And the first time I got on a real horse, not a TV horse, I was with a girlfriend who really rode, and we got on these horses, and the horse went straight for a branch. Because the horse knew I didn't know how to ride, and the horse tried to knock me off. And I was like... I don't know what happened. I just remember the branch coming, and he was going to knock me off. I think I pulled him up hard enough to stop it. But after that, I was like, "He knows. The horse knows."
And another time, I was on a dude ranch, and I was like, "I don't really know how to ride horses." They were, "Okay. We'll give you this guy. He's really gentle." And the horse literally got down on its knees first and then its hind end and sat on the ground. And he basically was saying, "Get off me. Get off me now." And I went, "What do I do?" And they said, "Get off. Get off the horse." And so I'm like, "It's clear that they know I don't know."
Ridin' solo in Texas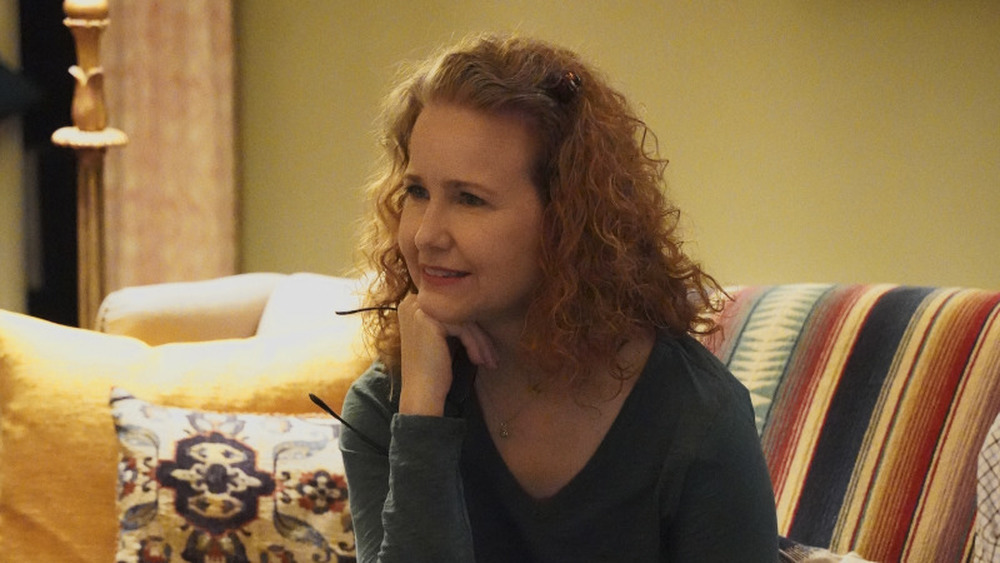 Being that this is a reimagining of Walker, Texas Ranger, How much of the original Chuck Norris series did you watch to get a feel for the original show?
[Long pause]
You can say none. That's a perfectly fine answer.
None. None. 
Do you know if Chuck Norris had a hand in the production at all?
I'm pretty sure he did not.
Are there any Texas traditions you've been able to experience on or off set?
I mean, if COVID wasn't a thing, I think I'd have experienced a lot, but no. It's pretty much like L.A. in my apartment — I haven't really done anything in order to stay COVID-free. So tradition is... I don't know if it's tradition, but I had Lucy's barbecue chicken, that was unbelievable. So I mean, I've had some eating traditions. That's been pretty good.
Is Jared giving any good quarantine-friendly suggestions to do in the area?
Not yet, because I haven't asked. And also... I don't know. I sew.
Aw, that's cool!
I mean, I do things in my apartment. I volunteer for the Hollywood Food Coalition, which is in Los Angeles. I do a lot of work for them. So there's a lot of stuff I do to stay sane. But yeah. I'm looking forward to exploring.
Hugging a Padalecki in the Wild West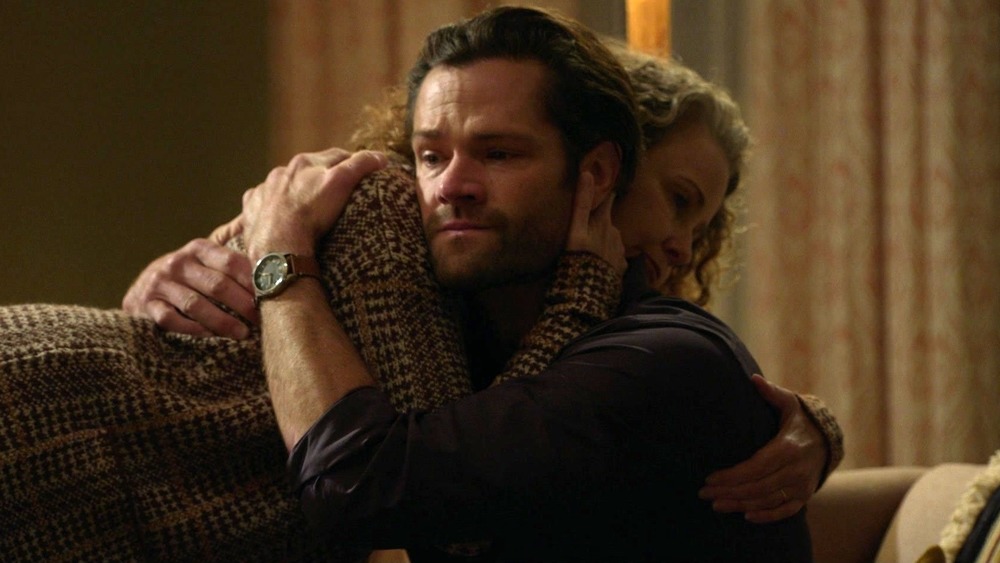 Walker has already generated huge interest with the highest viewership for a CW seasonal debut since 2017. What are you most proud of accomplishing so far with this series?
Being on a show with Jared. [Laughs] That's all, Jared. We bow down daily like, "Oh my God. We love you so much." What we're so proud of? I think even in the short time, what are we on? Episode six? How we've really created this unit so fast in a time where we really can't even see each other. I think I'm really proud of that. I mean, I'm proud of it. I think everyone is. We've really, really bonded. Even the people that we don't have scenes with yet, I'm sure that we'll get to see everybody, but I think we're a real unit.
How has that been going with the filming scenes during quarantine? Is there anything different or weird about how that's structured now?
Well, we do a lot of testing. Now we're testing every day. They were writing out touching things, like touching people. And if you were going to touch someone, you had a discussion. I remember I hadn't really touched anyone but my husband in what? Ten months or whatever. And the scene I have with Jared, the hug, at rehearsal I was like, jokingly, "I'm infected. You're infected." It was really weird. But then it was like, "Oh my God. I haven't touched on another person other than my husband." I gave him a death grip. I mean, I literally had to ask him, "Are you okay? Because that was a little hard." Because I was like, "Agahggh! I got to touch somebody." But I asked him because I mean, he's built, but he's thin. And I was like, "Did I hurt you?" And he was like, "No."
I feel like he would lie if you did.
Yeah. I think he would lie. [Laughs]
The CW family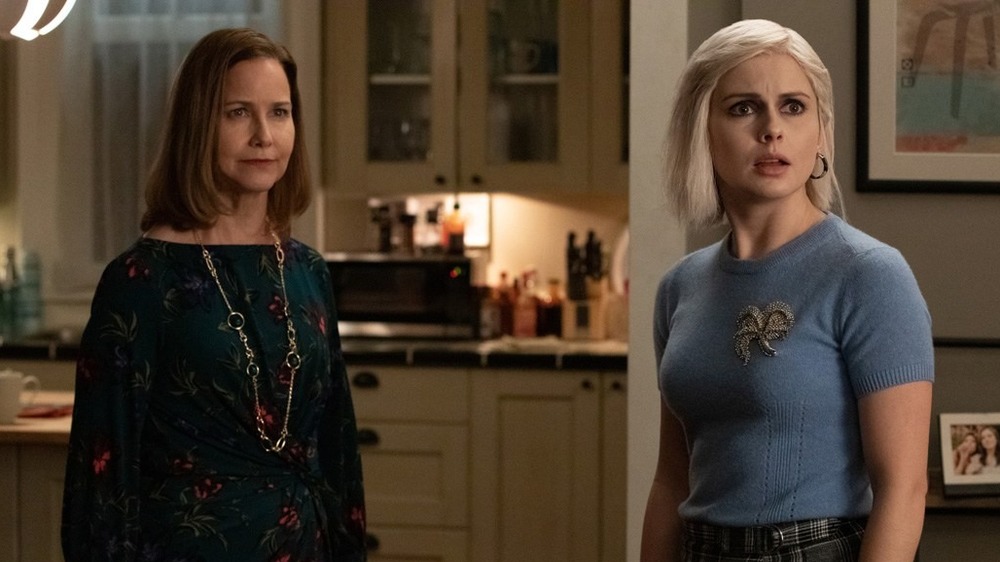 You're somewhat of a CW staple. How has the experience working on Walker compared to CW shows like iZombie and Jane the Virgin?
Well, God. I mean, I think the thing about the CW that's so cool is their shows are unique. iZombie is nothing like Jane. Jane's nothing like iZombie. Jane's nothing like Walker. I do think that all three shows drew such amazingly... well, talented actors, but also personable, loving actors.
Each set was so delicious to be on. And also, there's the sense that everyone is so happy to have a job — even pre-COVID. I mean, the Jane set was famously known for never taking anything for granted, but iZombie, too. I don't know. I really lucked out to get to do those shows, because I think what's on this show is that they already knew me and so I was really lucky. But there's something special about CW. There's a camaraderie or a love that maybe they only hire nice people. I don't know.
Walker for a new generation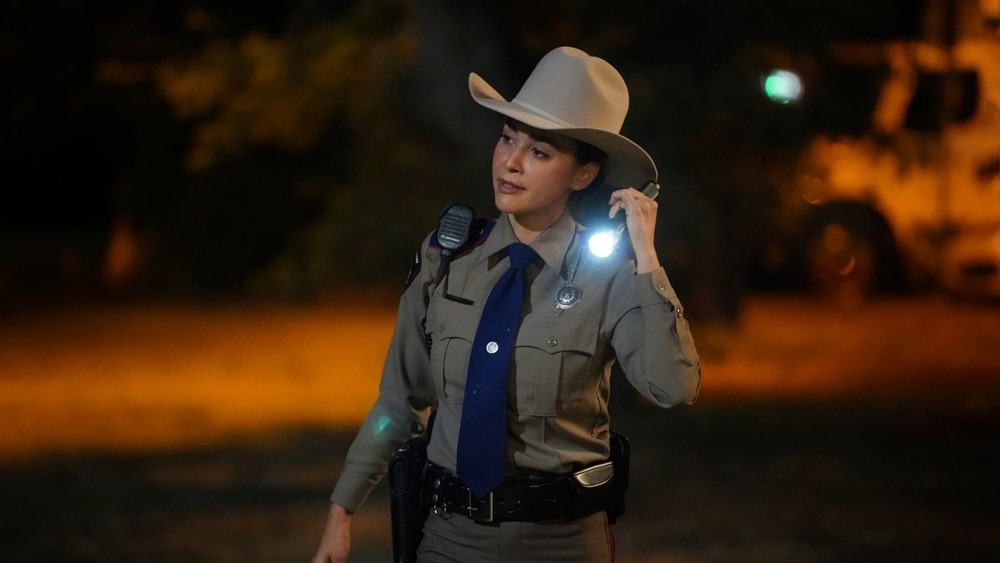 It looks like the show is trying to tackle a lot of social issues. Is there one in particular that you are proud of for addressing in the show that you can share?
Well, I haven't done any scenes. I'm not oblivious. I mean, my character is not oblivious, but I mean, it doesn't touch her very greatly. But I did some research on the Texas Rangers, and I did some research on Texas in general.
And I was kind of blown away about the relationship between Texas and Mexico and the relationship with Mexican-Americans. And I would say that's really a deep thing that we scratched the surface of a little bit, and I think that's really important. I don't know. I'm proud that they're beginning to talk about it. And Lindsey Morgan's so... I mean, I don't know. I think it's really important because you can't gloss over history.
The humblest co-star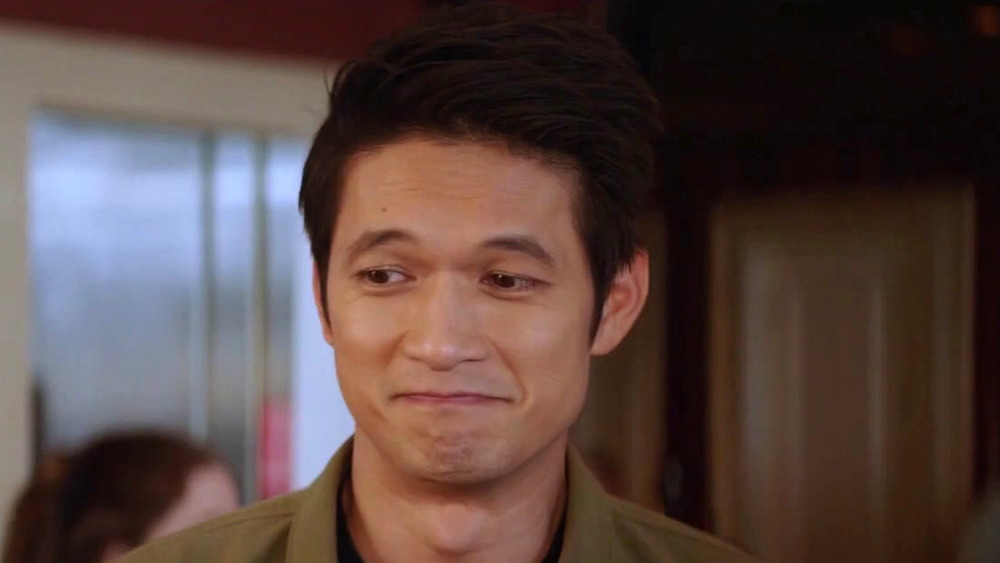 Definitely, that's something that the original was criticized for. So it's cool that you guys are going in a different direction on that front. What was it like working with Harry Shum Jr. in All My Life?
I've been so lucky to work with the coolest people... Both Jess and Harry are extraordinarily welcoming people. I know I sound disingenuous because I'm saying the same thing all the time, but it's true. They really created a family, and they created it really quickly.
And we were all in New Orleans... And I'm significantly older than all the other people in the cast. And they kept inviting me to everything. So we would go out and just have a blast in New Orleans. And Harry is also, a really good leader and is very kind and very unassuming and extraordinarily talented. But he's so honest. If you saw him walking down the street... I mean, you're not going to go, "Oh, he's an actor." I mean, he's a human being. You know what I mean? I don't know.
I interviewed Harry for All My Life, and he had us do a self-hug at the end of the interview. It was probably the purest thing that's ever happened in an interview. I was like, "Aww, that's so nice."
Yeah. See? He's really genuine. He's extraordinarily... Yeah. He's lovely.
Making the best of tragic circumstances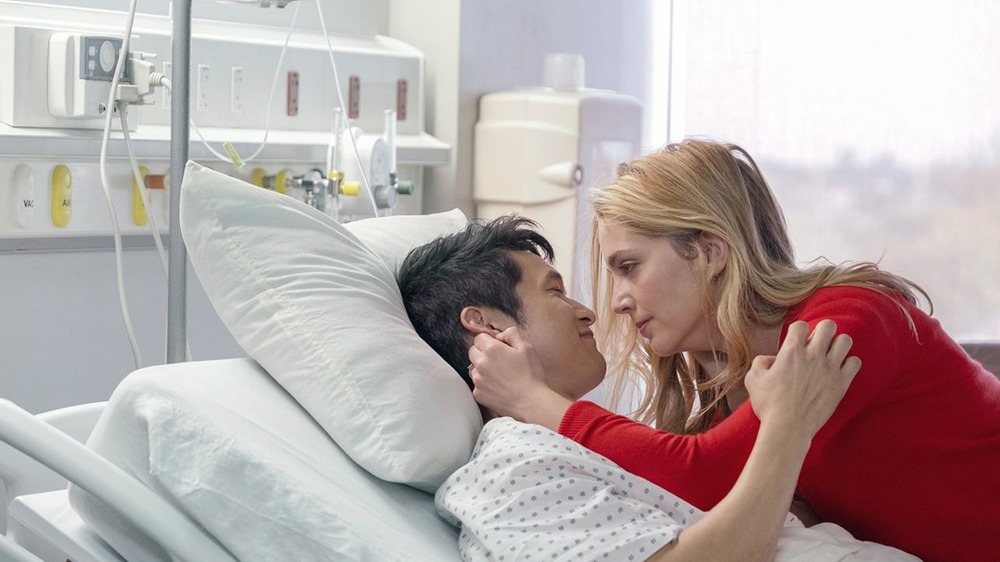 That's another movie that I think we all really needed during the pandemic.
Yeah. That was tough.
But needed.
It was a tough watch.
It really was, but you didn't... Like you were sad while you're watching it, but you were also happy about it? If that makes any sense. It was just a sweet, sweet film, for sure.
Yeah. Jenn coming to terms at the end and being in the ocean and sort of the cleanse and the whatever. Oops. Spoiler alert. She's in the ocean. [Laughs] It's extraordinarily affirming. I mean, it really is affirming, and it really is "People, you better enjoy now because it doesn't get any better than this."
Definitely. Harry said something to me in the interview, "Make the small stuff big stuff." I want that on a t-shirt, that's such a good philosophy for life and during the pandemic, I think, for sure.
Depends on how you view that.
That's true.
"I should b**** more about the small stuff and make it big." [Laughs]
[Laughs] I was thinking of it more in a positive way.
I know. I know. I know. [Laughs]
The universal relation to teenage angst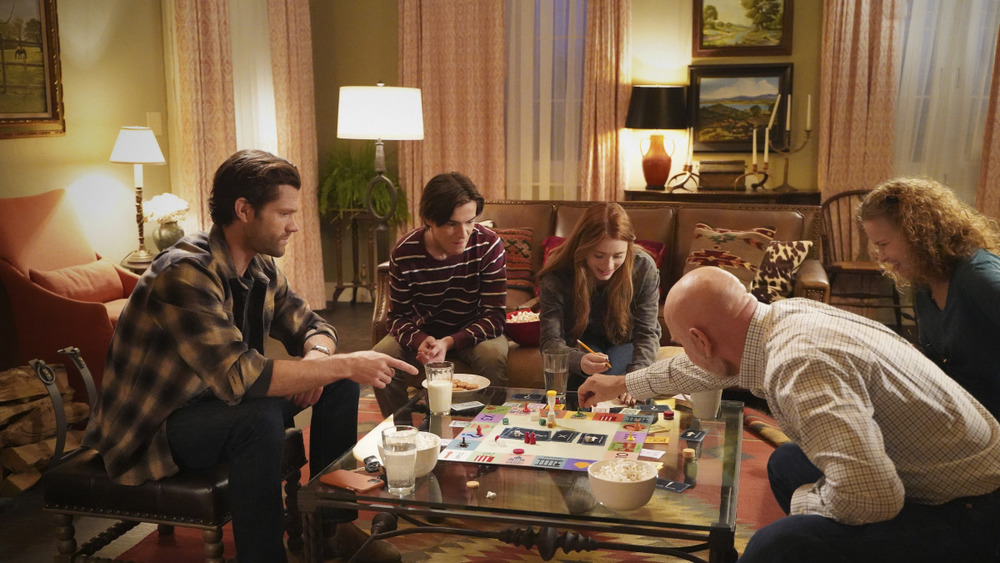 Is there anything else that you wanted to chat about with regards to Walker?
Just that I think it's really important to watch right now. It makes me so happy to watch this. It would be a go-to thing for me to watch.
For sure. Do you have a favorite scene so far?
I really relate to Violet Brinson. I really relate to Stella. So I really enjoy the Stella scenes. When she turns to Walker, and he goes, "I have work to do," or whatever. And she goes, "Do you? Do you just really?" Or whatever. And I was just like, "Oh my God." I'm really into her scenes.
Fans of Hagan, Padalecki, and all things Texas can tune into the CW on Thursday nights to watch everyone's favorite cowboy suit and saddle up — all under the watchful eye of Hagan's Momma Walker. Additionally, fans can tune into All My Life on VOD, with a Blu-ray and DVD release set for March 2.