Why The Actor Who Plays Afa Anoa'i In Young Rock Looks So Familiar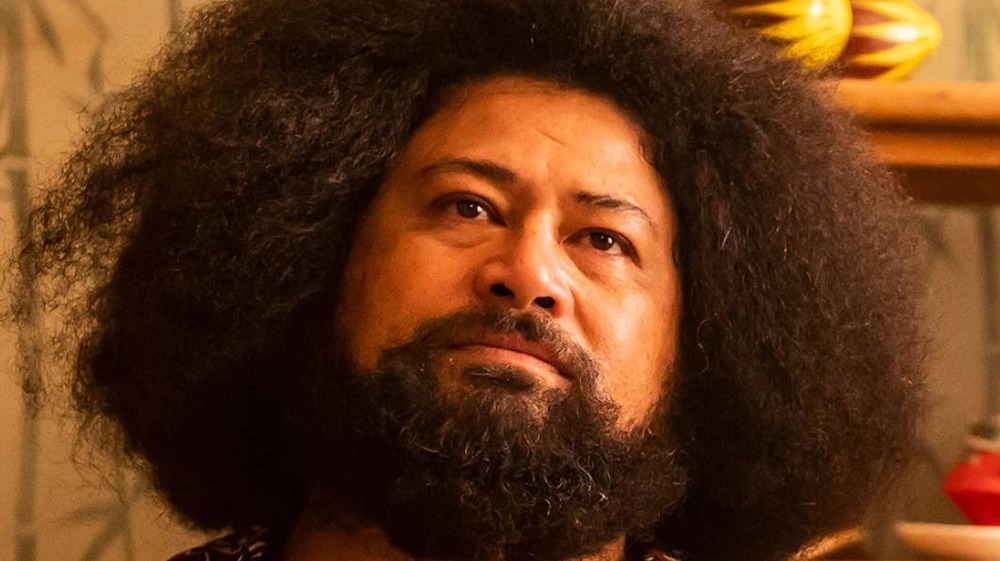 NBC
Young Rock is a show that both looks toward and future and explores the past. The framing device for the series is that Dwayne "The Rock" Johnson is running for president in 2032 (something that may not be outside the realm of possibility in real life), and in an interview, he details what it was like growing up with famous wrestler, Rocky Johnson, as a father. 
Young Rock has a lot of fun with Johnson's larger-than-life personality, but it also serves as a nice walk down memory lane as wrestlers from days of old enter the picture to guide Johnson along his journey. There's "Macho Man" Randy Savage, who's always good for an, "Ohhh yeah!" and Andre the Giant, whose size always impresses everyone in the room. But the wrestlers who likely hold a special place in Johnson's heart are Sika and Afa Anoa'i, otherwise known as The Wild Samoans, played by Fasitua Amosa and John Tui, respectively.
Afa Anoa'i received training from none other than Rocky Johnson, and then passed on what he knew to his brother (via WWE). The pair were eventually inducted into the WWE Hall of Fame, and now they've been introduced to a new generation of wrestling fans thanks to Young Rock. There's no one better to play the Wild Samoan than John Tui, who has plenty of action experience on his résumé. 
John Tui has appeared on three separate Power Rangers series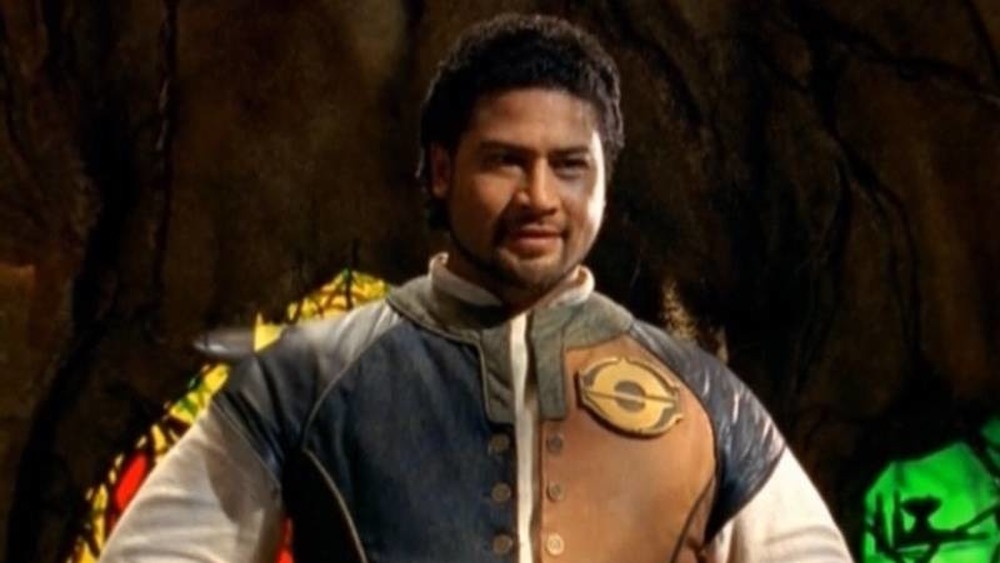 ABC Family/Toon Disney
Fighting bad guys is in John Tui's blood, making him a perfect fit to join the Power Rangers. He plays Anubis "Doggie" Cruger a.k.a. the Shadow Ranger on several of the long-running series' iterations. If you stopped watching Power Rangers recently, they've expanded far beyond rudimentary colors. In fact, Anubis isn't even from Earth; he's an alien with characteristics of both humans and jackals. Trust us, it makes sense in the context of the show. 
He appears in all 38 episodes of S.P.D., but it looks like those behind the scenes weren't ready to say goodbye to him after that series made its final bow. In the next season, Power Rangers Mystic Force, he returns to play Daggeron a.k.a. the Solaris Knight, who serves as a mentor to the new crop of rangers. Think of him as Mystic Force's Zoltar.
Years later, he returned to his bread and butter for just a single episode of Power Rangers Samurai. You can't see his face in this one, so you probably wouldn't recognize him from it, but he provides the voice of the antagonist Pestilox in the episode entitled "A Crack in the World." 
Guess it's true what they say; you either die a hero, or live long enough to see yourself become the villain. 
John Tui has a blink-and-you'll-miss-it part in Solo: A Star Wars Story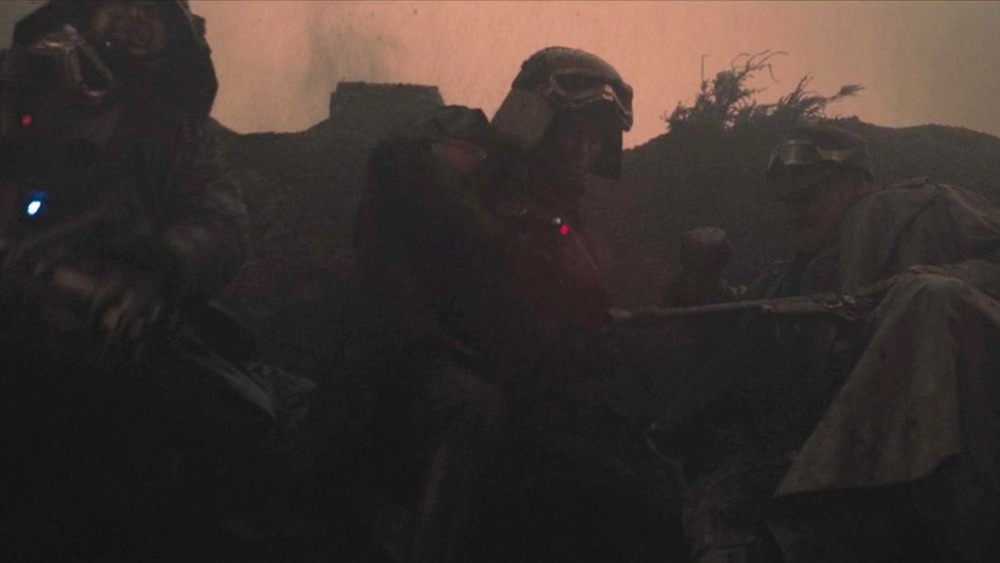 Lucasfilm/Disney
John Tui successfully made the leap from TV to big-budget blockbuster films with appearances in Battleship and The Hobbit: The Battle of the Five Armies as the Orc leader, Bolg. He was set to break out in an even bigger way upon landing the part of Korso in Solo: A Star Wars Story. If you don't recognize him, that's because he only appears in a blink-and-you'll-miss-it frame during the battle of Mimban early on in the film, when Tobias Beckett (Woody Harrelson) leads the infantryman into enemy fire. 
Clearer images of him in costume show up in some of the movie's promotional materials, and when asked over Twitter who he was, screenwriter Jon Kasdan responded, "Korso was in every draft of the script (including an early version where he was Lando's big brother) and every cut of the movie 'til just before lock, when he was removed to simplify." 
It would've made for a pretty juicy role to have Korso Calrissian introduced in the mix. With a Lando Disney+ series on the horizon, perhaps John Tui will be asked back to reprise his role.
John Tui has worked with Dwayne Johnson before in Hobbs & Shaw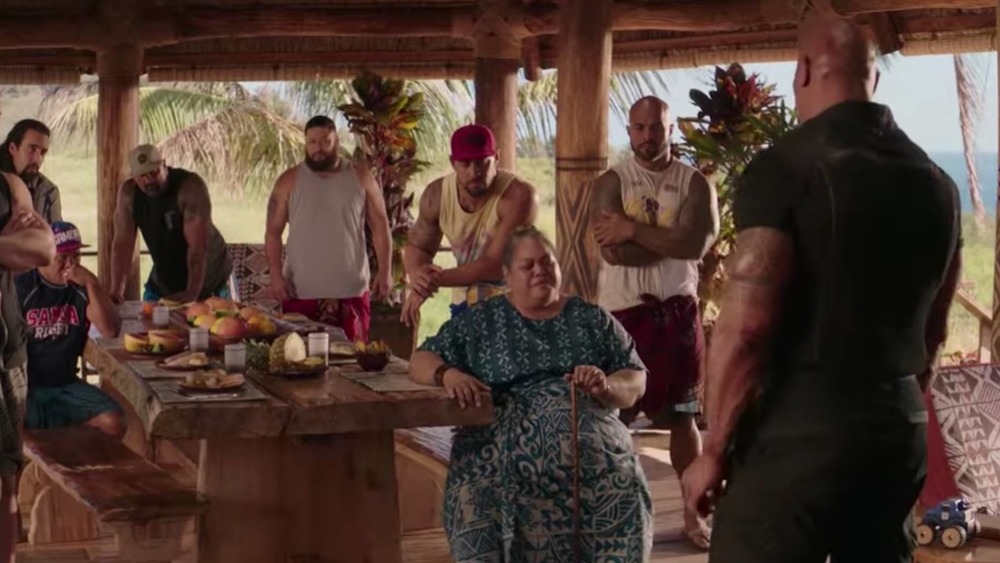 Universal Pictures
Before working with mini-Rock over on NBC, John Tui got to be in the same room as the real McCoy in Fast & Furious Presents: Hobbs & Shaw. While on the run from Brixton (Idris Elba), Luke Hobbs (Johnson) takes his team back to his home in Samoa, where he doesn't exactly receive the warmest of welcomes. However, the device they need to save the world requires repairs, and his brother, Jonah (Cliff Curtis), is an expert mechanic. Luke has a fairly sizable family that also includes the likes of Mateo (Joe "Roman Reigns" Anoa'i) and Kal (John Tui).
Kal, along with the rest of the family, help Luke prepare for the oncoming onslaught from Brixton and his men by using traditional Samoan battle techniques for the film's climax. Interestingly enough, Roman Reigns is the son of one of the original Wild Samoans, Sika, and John Tui went on to play Roman Reigns' uncle Afa on Young Rock. 
Apparently when it comes to wrestling, it's a small world.