The Muppet Show's Greatest Guest Stars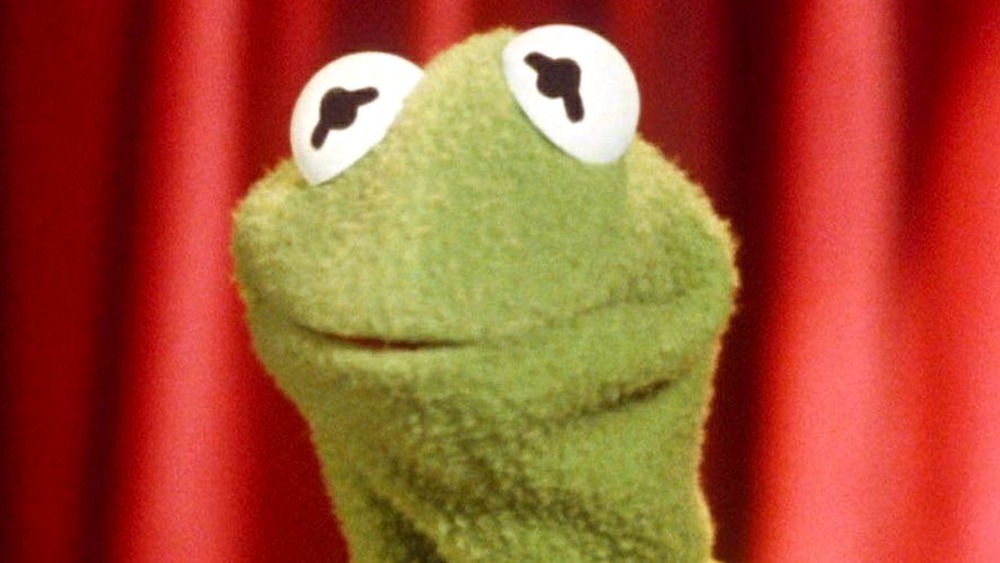 In their heyday, Jim Henson's Muppets were some of the biggest stars in Hollywood. True, they're fictional characters, but that hasn't stopped them from making public appearances, endorsing products, or being interviewed on top-rated talk shows. And they've hobnobbed with their most famous peers — Robert De Niro and Katy Perry on Sesame Street, Orson Welles and Steve Martin in The Muppet Movie, and RuPaul on Muppets Now.
But no Muppet project was quite as loaded with star power as The Muppet Show. The 1976 series combined puppetry with the classic variety show format, meaning that every week brought a new guest star to Kermit's Muppet Theater. Many of them have been forgotten in the decades since, but The Muppet Show also attracted the biggest names of the era along with the entertainment industry's most legendary veterans. It can be surreal to see such big names letting go of their ego (and maybe a little of their dignity) to play second banana to a cast made of cloth. But the best of them treated it as an honor to work alongside Kermit and company, and they fit right in with their furry and feathery costars. Here's just a few of the most memorable guest performances.
Rita Moreno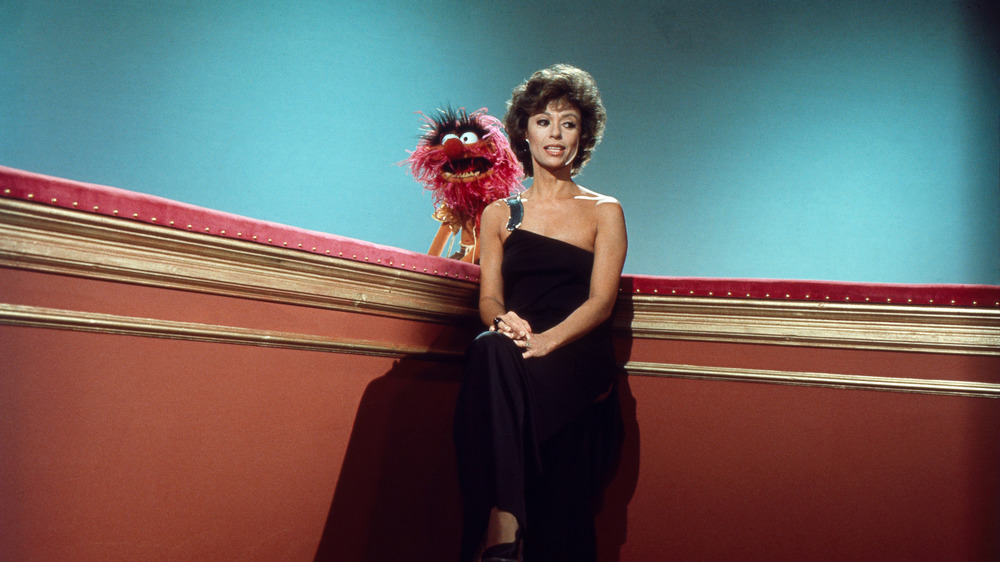 United Archives/Getty Images
When The Muppet Show premiered, Jim Henson was enjoying enormous success from Sesame Street, but it still wasn't enough for him. He didn't want to spend the rest of his life entertaining tiny children, and he believed puppetry could do much more. But not everyone recognized the possibilities, and, as you might imagine, a primetime puppet show didn't seem like a winning bet for most of The Muppet Show's first year. As recorded in Of Muppets and Men, Henson and his producers had to depend on their own personal connections to keep the show booked.
But if the first season was lacking in big names, it wasn't lacking in talent. Long before she ever met a Muppet, Rita Moreno racked up credits in the greatest classics of the movie musical, including The Sound of Music, The King and I, and a stunning performance in West Side Story. And she's kept busy well into her eighties — you may recognize her from HBO's Oz, as the original voice of Carmen Sandiego, or as Elena of Avalor's mother.
And her Emmy-winning performance showed Moreno was one of the few guest stars who could keep up with the manic energy of the Muppets. She comes out hot right out of the gate for a violent slapstick tango with a life-sized Muppet. But the highlight is her cover of "Fever" with the Electric Mayhem, and when Animal keeps coming in too soon, we see that she's more than a match even for him.
George Burns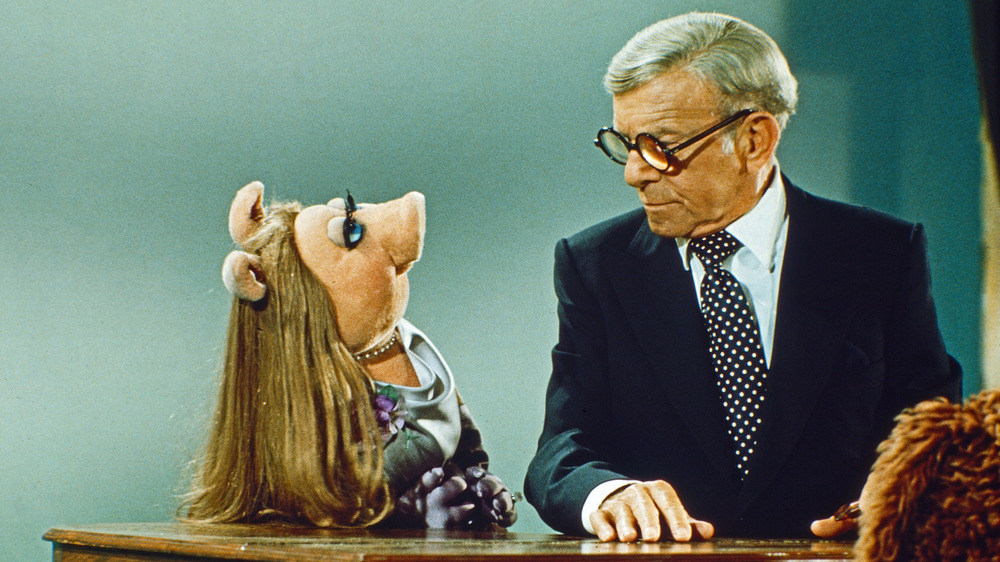 United Archives/Getty Images
There have been many attempts to update The Muppet Show for the modern TV landscape, but none of them have caught on. Maybe that's because the Muppets never really cared much about being up to date to begin with. From the love of cheesy puns and silly slapstick to the song choices to the architecture of the Muppet Theater itself, The Muppet Show is a throwback to the golden age of vaudeville theater.
That would explain why showbiz veterans meshed so well with the Muppet cast, and none were more veteran than George Burns, who got his start in vaudeville before graduating to radio and then TV with his wife Gracie Allen on The Burns and Allen Show. He only became more popular after Allen's retirement by playing up the incongruity of a little old man with an even older-fashioned idea of showmanship for all it was worth.
This made him a perfect fit for The Muppet Show. He takes all the chaos in stride, making his unchanging facial expression and slow drag on his big cigar as funny as whatever he's reacting to. And he sets up one of the greatest running gags in Muppet history — "Gonzo fiddles while George Burns." As writer Jerry Juhl says, "A joke that isn't good enough to use once may be bad enough to use several times."
Rudolph Nureyev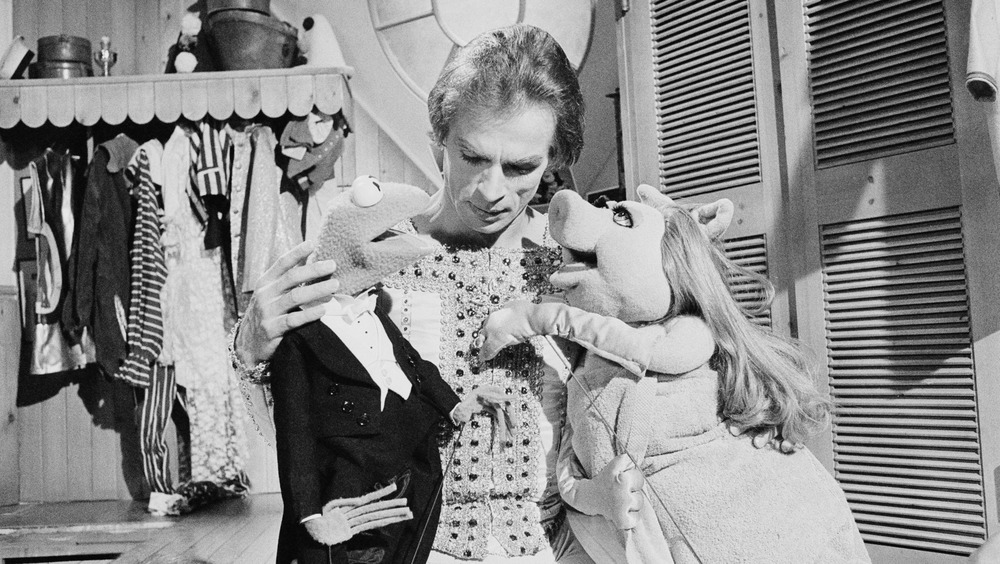 Evening Standard/Getty Images
The Muppet Show's booking woes came to an end when the superstar ex-Soviet dancer Rudolf Nureyev announced he'd be appearing. As Muppet Central explains, the surreal combination of the "high" art of ballet and the "low" art of puppetry became the hottest story in the entertainment media, and soon The Muppet Show had enough hype to power it through four more seasons, and maybe more if Henson hadn't decided to go out on top. After all, if an artiste like Nureyev wasn't too good for the Muppets, who was?
The plot of the show has a lot of fun with the real-world drama right from the beginning when Scooter checks on Nureyev's dressing room to find it's empty and says, "I knew he'd be too smart to go on this show!" Resident snob Sam the Eagle scrambles to make the theater presentable for the visiting artist, even if he thinks Nureyev's an opera singer and throws him out when he shows up in his street clothes. And Nureyev himself shows surprising comedy chops. Or maybe we should say "pork chops," since he dances with an enormous ballerina pig in "Swine Lake" and sings "Baby It's Cold Outside" with Miss Piggy.
Elton John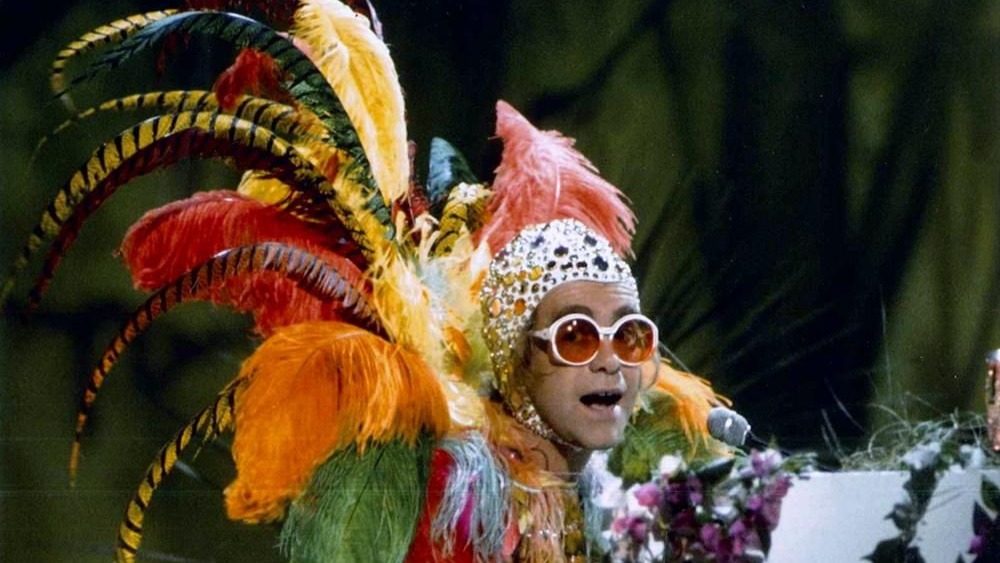 United Archives/Getty Images
Every once in a while, The Muppet Show hooked a true rock star. Paul Simon, Johnny Cash, and Blondie's Debbie Harry all guested on the show, but none of them had quite as Muppety a sense of showmanship as Elton John. The singer behind immortal hits like "Your Song," "Bennie and the Jets," and the Lion King soundtrack later saw his life turned into a blockbuster movie with Rocketman.
As much as his music, he's famous for his flamboyant performances and costumes. But playing against a candy-colored cast of zoo animals and who-even-knows-whats, he needed a little something extra to stand out. And John more than delivers for his performance of "Crocodile Rock" (backed up by Muppet crocodiles, of course), augmenting his usual giant sunglasses and sequined bathing cap with dozens of huge feathers, some of them bigger than his head.
The Muppets also have a little fun with John's image — Sam is horrified to see him "dressed like a stolen car," and when the rest of the cast — even Statler and Waldorf — comes out for the curtain call dressed like John, he turns up in his everyday clothes. "Boy, Elton, you look weird!" says Scooter. John shoots back, "Well you guys are all dressed like stolen cars!"
Peter Sellers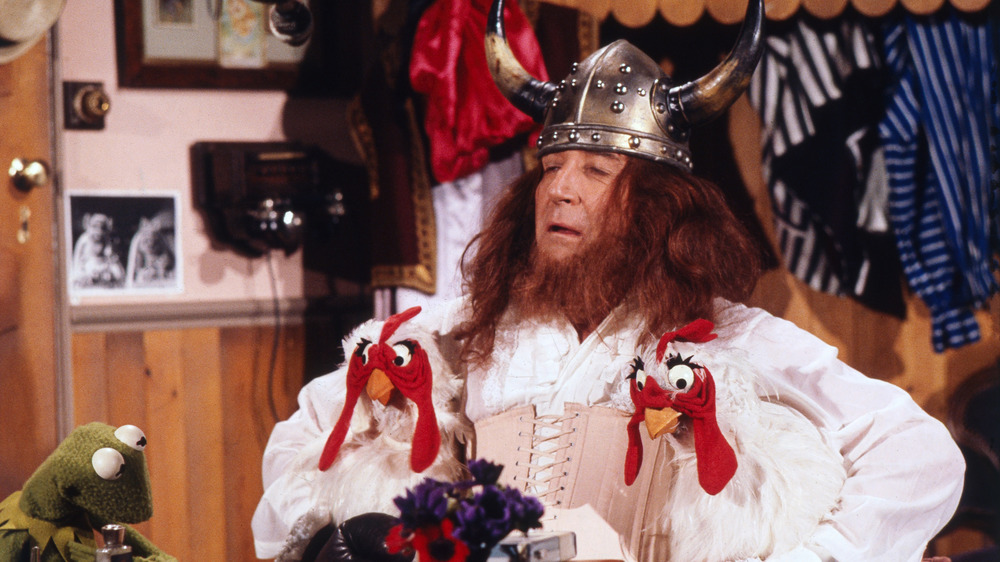 United Archives/Getty Images
Peter Sellers was a true character actor, playing everyone from the bumbling, thick-accented Inspector Clouseau in the Pink Panther series to the innocent savant Chance the Gardener in Being There to the ex-Nazi scientist Dr. Strangelove to the mild-mannered American president Merkin Muffley to the British Captain Lionel Mandrake — those last three all in the same movie.
He's just as versatile on The Muppet Show. He's introduced in character as Clouseau and also plays a Romani fiddler, a German masseuse named Doctor Merkwürdigliebe (in English, "Strange love"), a hillbilly preacher, and Queen Victoria — but since he's forgotten what she looks like, that involves a long beard, a Viking helmet, a corset, and a chicken under each arm.
But there's one character he doesn't play. When Kermit tells Sellers he can be himself, the star responds, "There is no me, I do not exist. There used to be a me, but I had it surgically removed." He's not just being whimsical: Jim Henson's son Brian says Sellers actually told his father something similar on the set. This exchange sums up Sellers so well it's become one of his most popular quotes — and it originated, of all places, with the Muppets!
John Cleese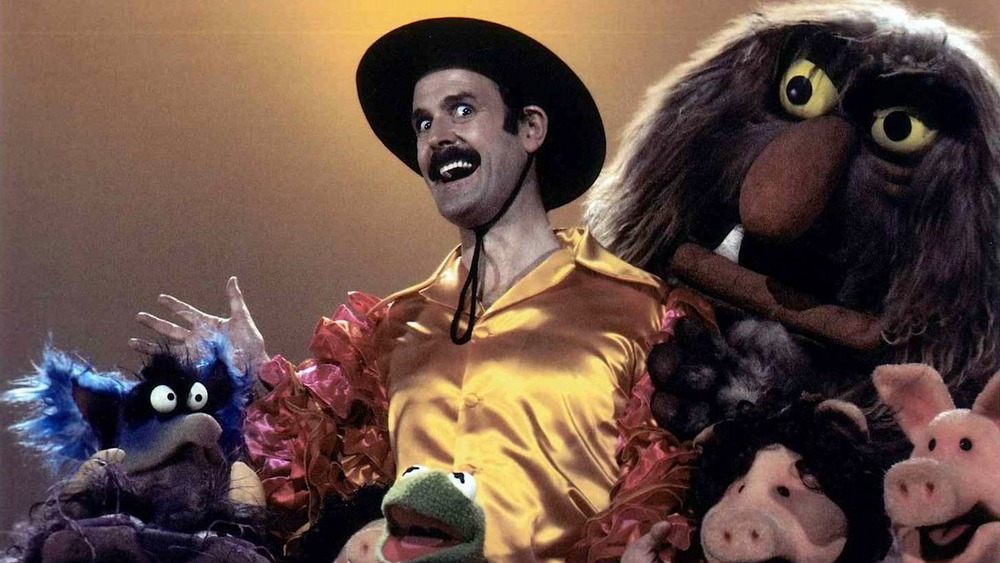 The closest precursor to the Muppets' surreal style of humor is Monty Python's Flying Circus and its big-screen spinoffs, most famously Monty Python and the Holy Grail. The series' breakout star was John Cleese, who parlayed his success into starring roles in movies like A Fish Called Wanda and TV shows like Fawlty Towers.
Cleese helped write his own script for The Muppet Show, and while his more cynical sense of humor makes it easy to pick out his contributions from the regular staff's, it still meshes beautifully. One sketch shows Monty Python's classic multilayered comedy, with John Cleese as a pirate attacking Pigs in Space's USS Swinetrek. The main focus is on Cleese's arguments with Captain Link Hogthrob, but at the same time he's having an even funnier old-married-couple spat with his own parrot, and, perhaps inevitably, Cleese references one of his classic Python sketches by asking the bird if it wants to be "an ex-parrot." Cleese's put-upon persona gets an even better workout in the grand finale, where Kermit announces, against Cleese's will, that Cleese will be singing "The Impossible Dream." And every time he complains, the curtains fall and Cleese is roped into an even more uncomfortable situation.
Alice Cooper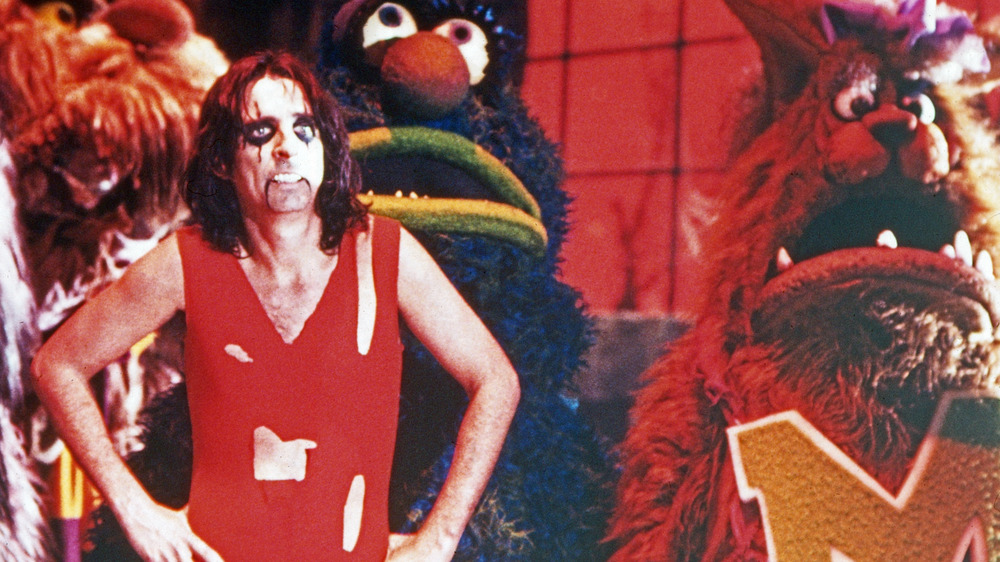 United Archives/Getty Images
At the height of his fame, Alice Cooper was a notorious provocateur who performed hits like "School's Out" and "Poison" in shows filled with over-the-top horror imagery. Contemporary audiences took it deadly seriously, even trying to ban him from performing, but no less an authority than Groucho Marx called it vaudeville — in other words, right in the Muppets' wheelhouse.
Cooper is right at home in the Muppet Theater, performing "Welcome to My Nightmare" with psychedelic Muppet demons created just for this episode. ("Those monsters aren't ours," Scooter warns him. "I know, says Cooper, "They're mine.") And maybe "School's Out" was always meant to be performed with giant Muppet monsters dressed as cheerleaders, ending with Cooper's giant green face superimposed over the screen like the Wizard of Oz. Cooper has some fun backstage, playing up his dangerous image by trying to talk the cast into selling him their souls and chatting with his "boss" on an old-timey two-way radio.
Harry Belafonte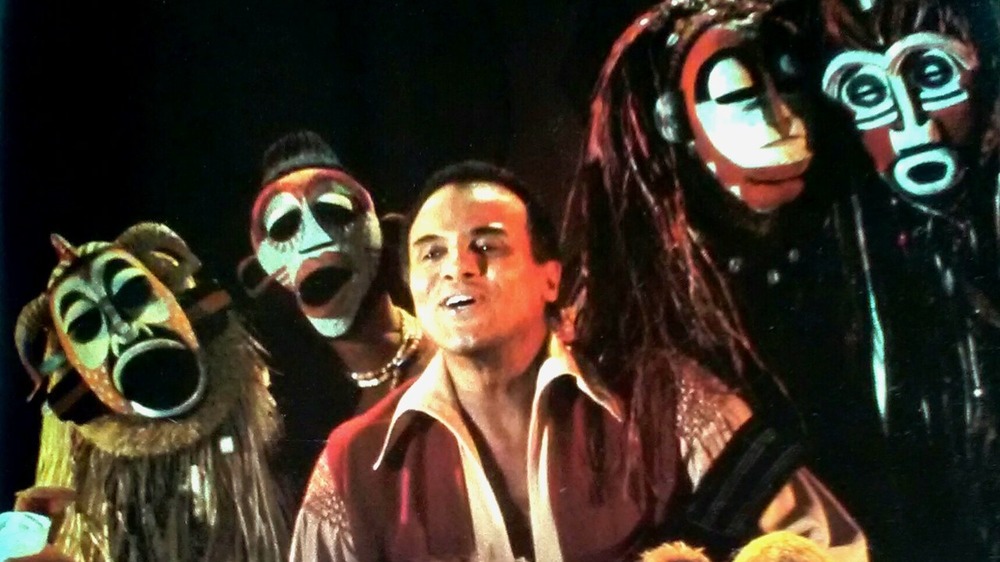 It's easy to imagine many Muppet Show guest stars saw playing with puppets as slumming, but not Harry Belafonte. The singer and activist who almost single-handedly made calypso trendy in the States is quoted in Of Muppets and Men saying, "I seldom do television appearances, but I have always had the highest regard for Jim Henson's taste and artistry, so when I was invited to be a guest on The Muppet Show, I saw that this might be an opportunity to do something very worthwhile."
And he did. His performance of "Turn the World Around" with Muppet recreations of authentic African ceremonial masks was so personal to both him and Henson that Belafonte performed it again at the puppeteer's funeral. Belafonte even sings his biggest hit, "Day-O (The Banana Boat Song)" on TV for the first time in his career. When Fozzie Bear learns about this milestone event, he pulls out all the stops — which predictably, hilariously, all goes wrong.
Spike Milligan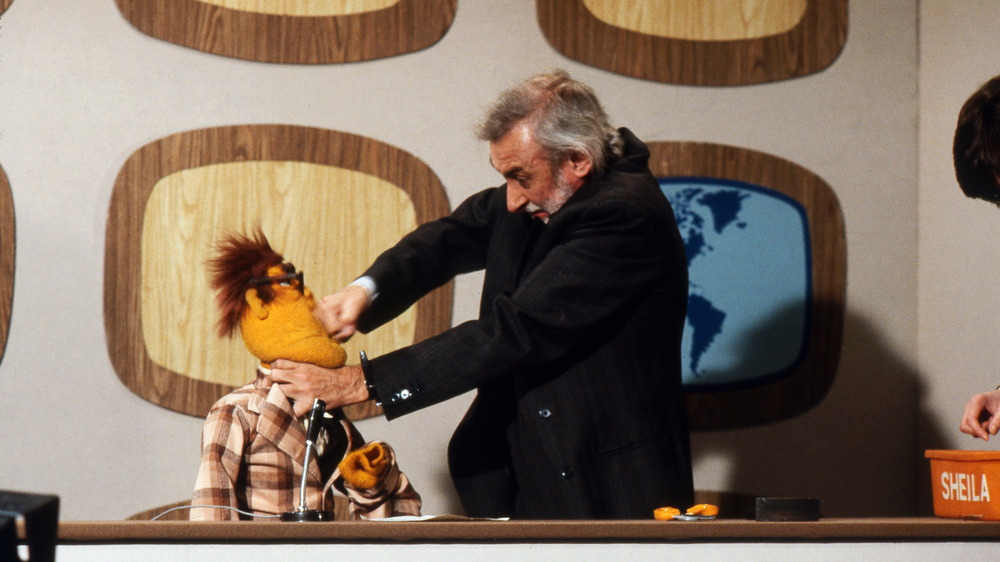 United Archives/Getty Images
If Monty Python is The Muppet Show's blueprint, The Goon Show is the two series' common ancestor. Spike Milligan, Peter Sellers, and Harry Secombe's radio series brought a daily dose of anarchy, often featuring made-up or mish-mashed words, to British listeners throughout the '50s.
Sellers recommended his costar as a natural fit for The Muppet Show's sensibility when he stopped by the studio, and he was absolutely right. In fact, Milligan is the rare guest star so chaotic he can turn the Muppets into his straight men, even Lew Zealand the boomerang fish thrower. Milligan contributed his personal brand of nonsense to the dialogue, including a conversation with Sam the Eagle, who hopes to meet a proper British gentleman but instead gets a rapid-fire stream of Cockney gibberish with no intelligible words but "Queen Elizabeth II." And that's just a warm-up for Milligan's indescribable monologue, "The Intergalactic Brotherhood of Man Including Things," which even Statler and Waldorf can't resist.
Liza Minnelli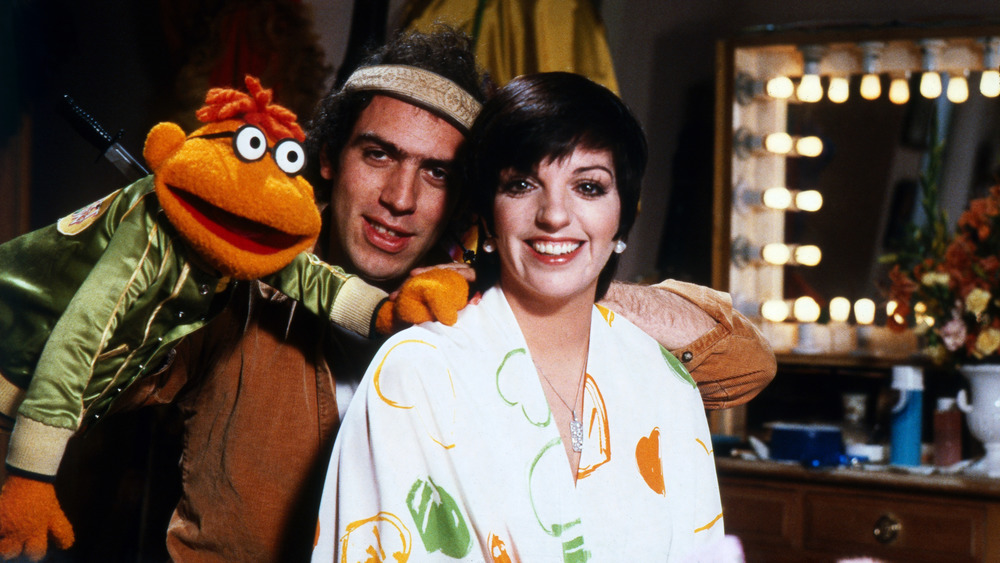 United Archives/Getty Images
By the time The Muppet Show premiered in the late '70s, most of the stars of the movie musical's Golden Age weren't spry enough to keep up with Kermit and crew (with the notable exception of honorable mention Gene Kelly, who appeared in the final season), but they got the next best thing with Liza Minnelli. Minnelli's not just a bona fide Broadway diva in her own right, with an Oscar-winning film role in Cabaret, she's also Hollywood royalty, and she channels her parents, Wizard of Oz star Judy Garland and master musical director Vincente Minnelli on her Muppet Show appearance.
This episode takes the form of an old-school murder mystery, with Minnelli as the "dame" who contracts Detective Kermit to solve the backstage murders at the Muppet theater. Minnelli's old-school starlet charm is on full display, and she throws herself into her musical performances on this life-sized puppet theater with just as much gusto as she would for the most venerable venues on Broadway.
Mark Hamill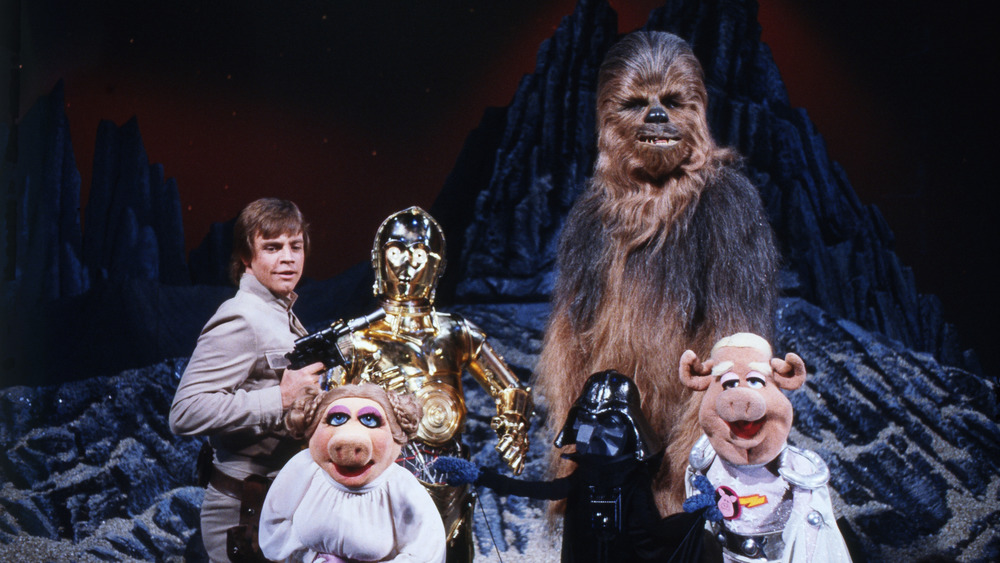 United Archives/Getty Images
Mark Hamill's appearance on The Muppet Show is a remnant of a different time, when Star Wars wasn't yet a sacred object for millions of fans but was wide open to weirdness like turning its stars into song-and-dance men. Imagine the infamous Holiday Special, but good. R2-D2 and C-3PO even get dance solos! (Artoo mostly just spins around in a circle.) It's not the Muppets' first Star Wars connection either — the same year this episode aired, you could see Muppeteer Frank Oz playing Yoda in The Empire Strikes Back.
In another way, it's also a glimpse into Mark Hamill's future. Before he moved into the voiceover side of acting, playing roles like the Joker across decades of Batman cartoons and video games, it must have been surreal for contemporary stars to see what a goofball the blank pretty boy from Star Wars could be, especially when he gargles Gershwin with Angus McGonagle the argyle gargoyle.
And Hamill also shows off his versatility as both himself and his "cousin" Luke Skywalker thanks to a running gag where one keeps running offscreen to fetch the other — with the punchline at the end that they really are two different people!
Diana Ross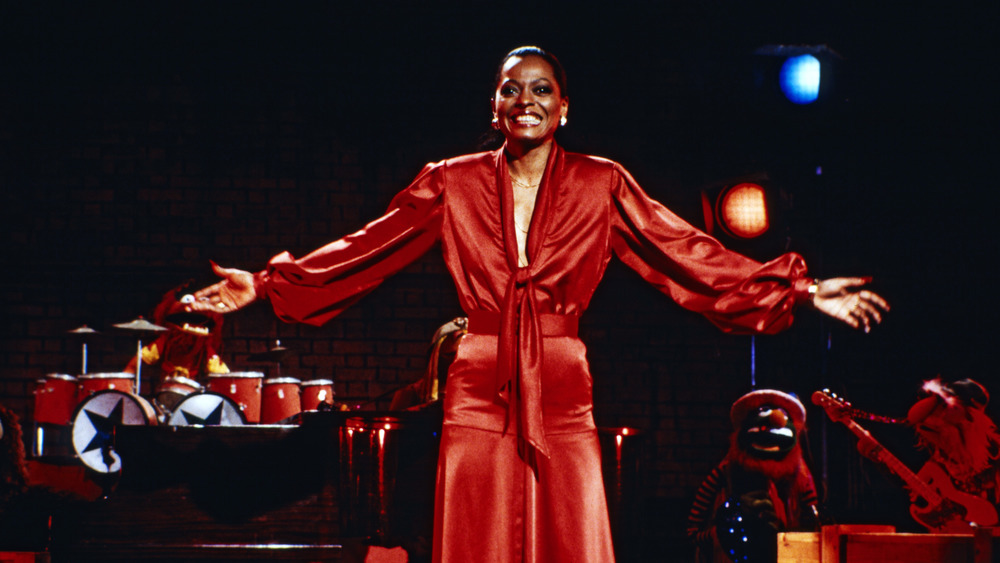 United Archives/Getty Images
Diana Ross is a true musical icon, scoring radio hits a mile long both on her own and with the Supremes, with a career that stretches from the early days of Motown soul through disco mania. The Muppets have a lot of fun with her reputation, with a plot running through the episode of the hostile crowd booing any act that doesn't feature Ross off the stage (one trio of singing fish gets literally eaten alive). But even though she's one of the biggest stars alive, Ross never acts like The Muppet Show is beneath her (except for one moment backstage when she asks, "What am I doing on this crummy show?"). She talks to the Muppets like real people and pours her soul into performing her hits, "Last Time I Saw Him," "Reach Out and Touch," and "Love Hangover."
That last one is an especially impressive blending of Ross and Henson's artistry, placing Ross on a Valentine-colored set with huge tropical birds and even huger feathered creatures that show off some of the Muppets' most complex engineering. 
Linda Ronstadt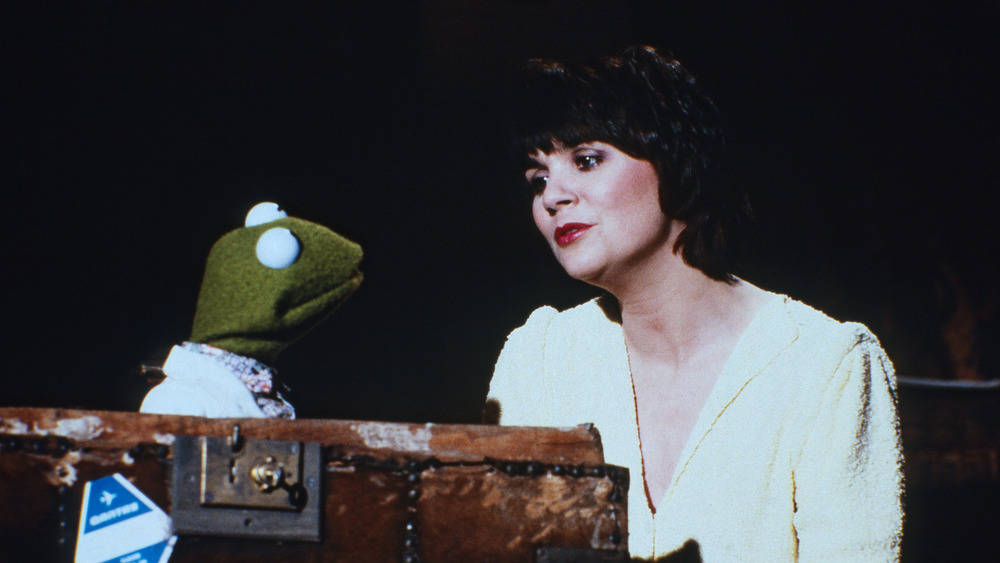 United Archives/Getty Images
The Muppet Show was especially kind to country stars, and none of them fit in at the Muppet Theater better than Linda Ronstadt. But maybe that label's too small for the genre-bending vocalist, who's equally comfortable with folksy singer-songwriter material and Latin jazz, collaborating with Frank Sinatra's legendary arranger Nelson Riddle or with Emmylou Harris and Dolly Parton on Trio — or with the Muppets.
Unlike most guest stars, she's heavily involved with the backstage plotline of this episode, as she and Miss Piggy fight for Kermit's affections and Piggy tries to hide him from her in Gonzo's fungus collection. And Ronstadt does at least as well with the onstage performances, including a rendition of her hit "Blue Bayou" on one of the most elaborate sets the show ever did, a lifelike and seemingly life-sized recreation of the title setting, backed up by the Electric Mayhem and dozens of frog puppets who providing backing vocals, or at least backing "ribbits."