Who Plays Hershel Rhee In The Walking Dead Season 10C?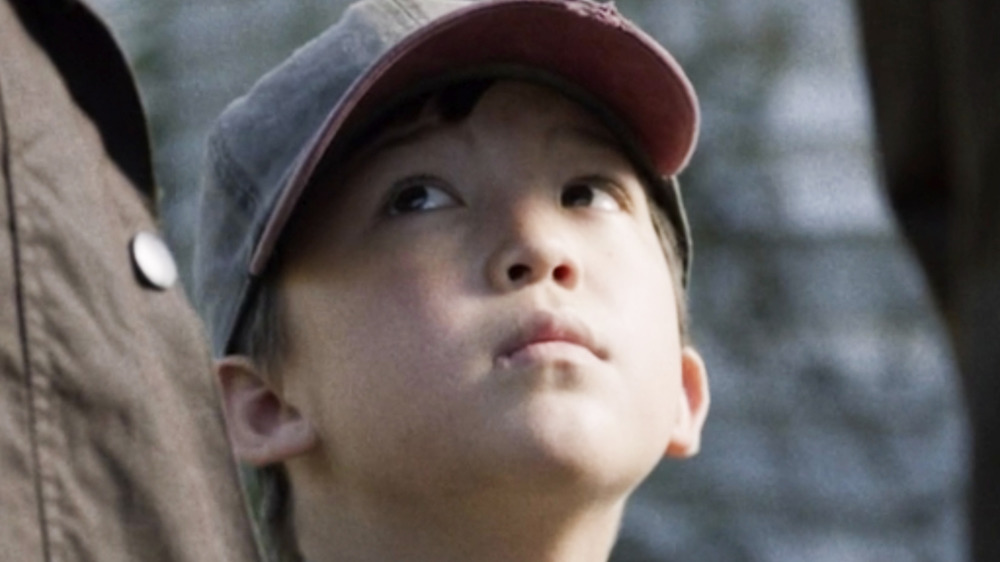 AMC
Contains spoilers for The Walking Dead season 10, episode 17 — "Home Sweet Home"
When The Walking Dead returned for the third part of its tenth season, Maggie Rhee (Lauren Cohan) had someone special with her: Her son Hershel Rhee, who's named after his grandfather (Scott Wilson) and is the spitting image of his late father Glenn (Steven Yeun). The last time we saw Hershel, back in season 9, he was just a baby. But now that the show has jumped into the future, Hershel is eight years old and full of personality.
Hershel makes his non-baby debut in episode 17 of season 10, "Home Sweet Home" — now streaming on AMC+ — which serves as Maggie's introduction to the post-Whisperers world the survivors from Alexandria, the Kingdom, Oceanside, and her former, fallen home of Hilltop now inhabit. In the episode, the Reapers attack some of Maggie's group while she and others are out — and Maggie and Daryl must venture into the woods to find out if Hershel is okay. Luckily, he's safe and hiding in a tree, displaying some of his mother's resourcefulness. 
The now-older Hershel is played by Kien Michael Spiller, a child actor making his television debut. "Little Hershel is freaking adorable. The young actor, he's great," showrunner Angela Kang said of Spiller during the Walking Dead Extended Season 10 Preview Special (via ComicBook.com). "I think he's really this wonderful mix of the characters Maggie and Glenn. I feel like his vibe [is] a very Maggie-like vibe, where still waters run deep and there's [...] a zen seriousness to him. And yet, there is this rascally side too that I think is very reminiscent of Glenn. I think in that way, it's really lovely to have young Hershel finally be really part of our cast and able to interact with his mother in a different way."
Hershel really is a chip off the ol' block from his father. When we meet him, he's wearing a baseball cap that's very similar to the one his dad used to wear.
Hershel may connect with Negan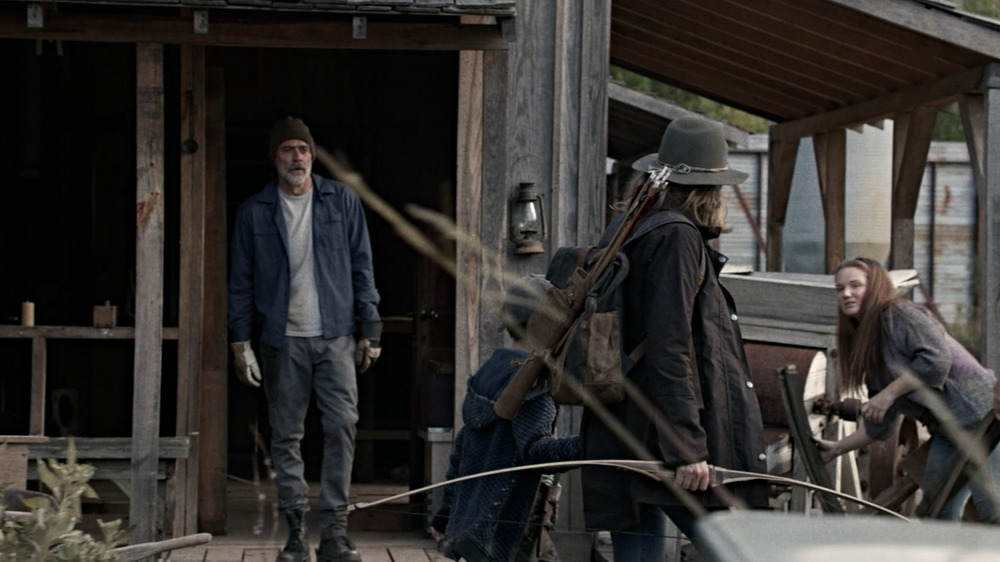 AMC
Maggie is the central focus of "Home Sweet Home," and throughout its run, we find out what she's been up to since she left Hilltop in season 9, why she came back, and how she currently feels about Negan (Jeffrey Dean Morgan), the man who killed her husband. It's no spoiler to say Maggie still hates him, and is having a hard time coming to terms with the fact that he's become a contributing member of Alexandria society. The episode also formally introduces Maggie's traveling companions Elijah (Okea Eme-Akwari) – aka "the man in the iron mask" — and Cole (James Devoti), as well as the Reapers, a new enemy group that's been a thorn in the side for Maggie and her friends for a while now.
The end of the episode is tense, with Maggie, Hershel, and company walking into Alexandria. According to Negan actor Jeffrey Dean Morgan, Hershel may end up being the key to Maggie seeing how Negan has changed, if Negan is able to connect with Hershel and apologize for depriving him of a father. 
"Negan definitely has a soft spot for the younger generation, and we've seen that numerous times," Morgan said during The Walking Dead's virtual Comic-Con panel in summer 2020 (via ComicBook.com). "I think he has a relationship with young kids that is very honest, and I don't think that he would shy away from letting this kid know who he is, and try to work through it."
The next episode of The Walking Dead 10C will premiere on AMC+ on Thursday, March 4, followed by its cable television premiere on Sunday, March 7. "Home Sweet Home" is available to stream on AMC+ now, and will air on AMC this Sunday, February 28.