Are The Characters In Nomadland Really Nomads?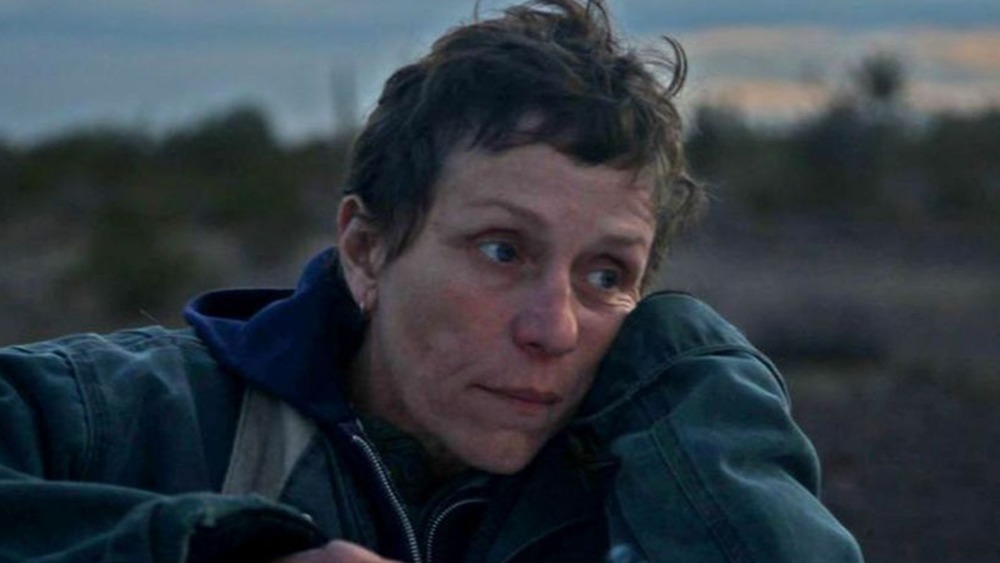 Searchlight Pictures
With the 2021 Golden Globe ceremony on the horizon, a handful of features have risen in the ranks as favorites to take home one (or more) of the prestigious award — one of which is Eternals director Chloé Zhao's neo-Western, Nomadland, starring the likes of Transformers' Frances McDormand and David Strathaim. Based on the 2017 novel Nomadland: Surviving America in the Twenty-First Century by Jessica Bruder, the story follows Fern (McDormand), a widow who has become disillusioned with conventional society. In response to her frustrations, she leaves her old life behind to become a nomad — touring the Western United States at her leisure.
Boasting a strong 95% certified fresh score on Rotten Tomatoes, Nomadland is a breathtaking analysis into what it's like to live simply, away from the stressors of the urbanized world. To maintain such a genuine presentation, Zhao, McDormand, her designated "babysitter," and the rest of the crew drastically altered their lifestyle for months. They lived out of vans, learned on-the-road survival techniques, and more, all just to ensure Nomadland was an authentic representation of this niche way of living. 
What's more, the film also includes a handful of real-life nomads who educate Fern where they can, and have intriguing stories of their own.
Many of Nomadland's nomads are the real deal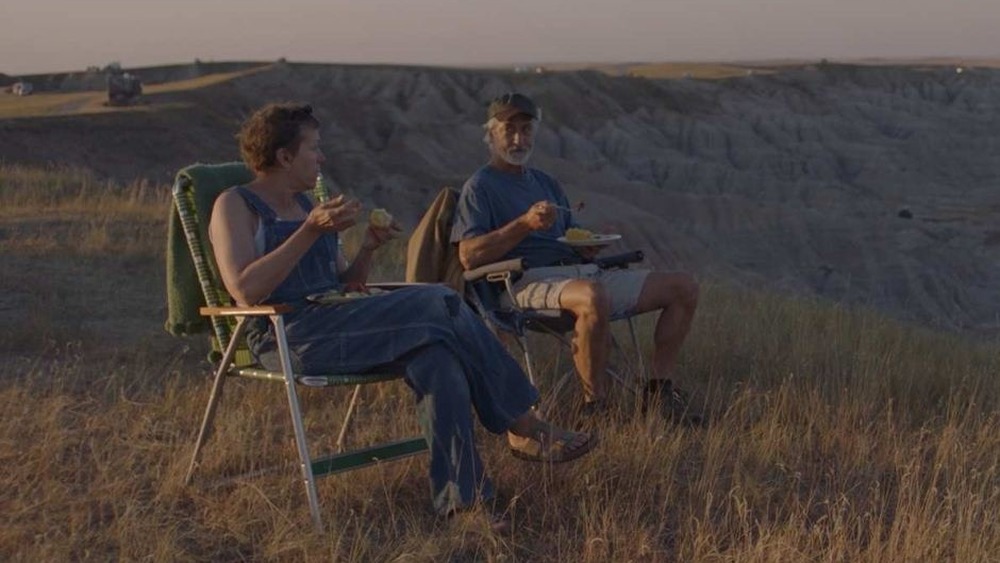 Searchlight Pictures
Over the course of Fern's journey in Nomadland, audiences come to meet a handful of experienced wanderers. The most well-recognized of the bunch is Bob Wells, a YouTube star who doesn't allow the monetary pressures of society to weigh him down. Despite a rocky start, he eventually became a poster child for the nomadic lifestyle, hence his inclusion in Jessica Bruder's novel. When the opportunity arose for him to appear in the big screen adaptation, he was more than happy to sign on, telling GQ "I watched Chloé's work and was very, very impressed with her, so it was very easy to say, 'Yeah, I'd love to be a part of this.'"
Wells isn't the only name from the Nomadland book to appear in its cinematic rendition, as fellow nomad, Linda May, also plays a big hand in Fern's story. A grandmother with a love for environmentally-conscious Earthship homes, and the protagonist of Bruder's original work, May is a kind, inviting presence, no matter the medium. The author spoke about her to Esquire, praising her as "remarkably unselfconscious" and  "a quote machine." Bruder also notes that, after flying solo for so long, being pampered by the Nomadland crew came as surprise to May. "Linda is so used to doing stuff on her own that I think being attended to in that way was hilarious at first, and then enjoyable."
Additionally, there's Swankie, who supplies Fern with necessary nomad tips and tricks amidst her fictional bout with brain cancer. In reality, she has called her van home for over a decade and continues to live her golden years on the open road. Much like Wells and May, Swankie also pops up in the 2017 writing, and expressed her heartfelt gratitude for the chance to do the same with Zhao's cinematic project. "I felt more love from Fran and Chloé and the film crew than I felt from my own biological family," she told Variety through tears. "I can never really show my gratitude for that."
Bob Wells, Linda May, and Swankie may not be trained actors, but, without their presence, Nomadland wouldn't have become the awards season sensation it turned out to be.