The Dark Crime Comedy That's Killing It On Netflix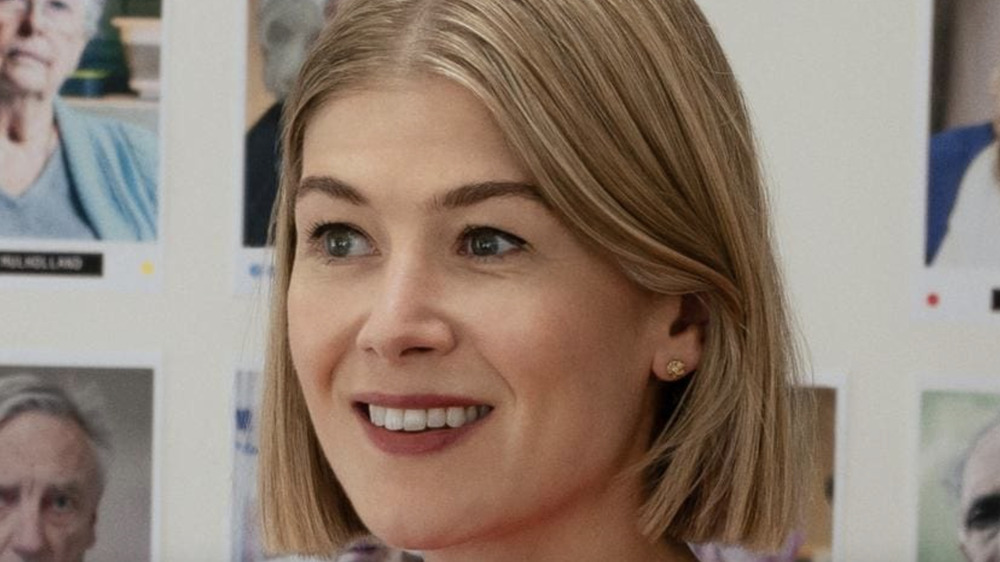 Netflix
Netflix's latest original film, I Care a Lot, is catching the attention of the streaming service's millions of subscribers.
Written and directed by British filmmaker J Blakeson, I Care a Lot follows a ruthless woman who exploits the legal system on a mass scale to become the legal "guardian" of single elderly people she argues can't take care of themselves, only to then commit them to assisted living facilities and pocket money for herself by selling off all their assets. The film boasts a star-studded cast of recognizable actors, including Rosamund Pike, Peter Dinklage, Eiza González, Chris Messina, Isiah Whitlock Jr., and Dianne Wiest.
A biting dark comedy, I Care a Lot has been making waves online this past weekend. It is currently No. 1 on the Netflix top 10 in the U.S., and even more impressively, has held that spot for several days now. But given its dark premise, what about I Care a Lot has made it such a popular title among Netflix subscribers?
Netflix's I Care a Lot is a controversial dark comedy
Netflix
I Care a Lot is proving to be a bit of a divisive title for Netflix. The film was mostly well-received by critics, scoring an 81 percent rating on Rotten Tomatoes, with many praising the film's willingness to tackle such an insidious topic in an unexpected way. However, I Care a Lot's audience rating is noticeably lower than its critic score, and currently sits at just 34 percent.
It's not hard to see why I Care a Lot is garnering such diverse reactions from viewers. The film shines a spotlight on what many agree to be a weakness of the legal system, but by taking the point of view of the person doing the exploiting, I Care a Lot adopts an undeniably dark, acidic tone to accommodate the personality of its so-called protagonist. Many argue that the film's comic attitude doesn't treat its subject matter with the appropriate level of respect and sensitivity, while others have argued that the film's tone only further highlights the dark absurdity of its protagonist's cold, exploitative methods.
However, the film's popularity on Netflix is proof that the heated debate surrounding it hasn't hurt it by any means. If anything, the film's divisiveness appears to be one of the key reasons I Care a Lot has gotten so much attention in the first place. Although, it certainly doesn't hurt that the film boasts another memorably villainous turn from star Rosamund Pike, who gives a performance very similar to her iconic turn as Amy Dunne in 2014's Gone Girl.