What Is The Song At The End Of I Care A Lot?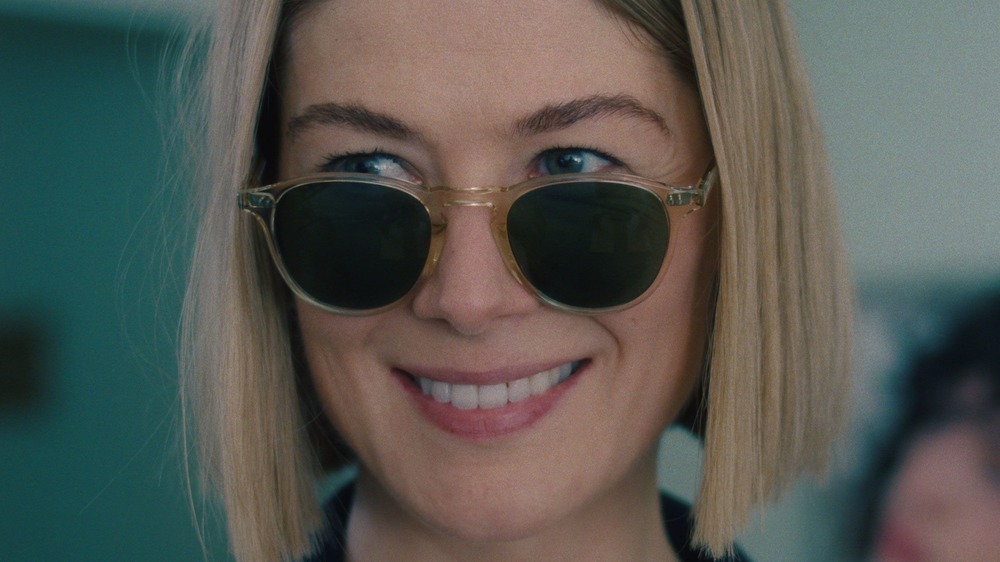 Netflix
Contains major spoilers for I Care a Lot
The Netflix black comedy thriller I Care a Lot is one of the most ferociously original films of 2021, and a stellar effort from English writer-director J Blakeson (The Disappearance of Alice Creed). The flick stars Gone Girl's Rosamund Pike as Marla Grayson, a sharp-tongued con woman with an appalling racket. With the help of a complicit doctor (Alicia Witt) and a clueless judge (Isiah Whitlock Jr.), Marla targets vulnerable senior citizens, having herself appointed as their legal guardians. Then, with assistance from the shady manager of a nursing home (Damian Young), she locks them down, separates them from concerned relatives, and proceeds to liquidate their assets for her own benefit.
Trouble rears its head when Marla's latest mark, a docile elderly woman named Jennifer Peterson (Dianne Wiest), turns out to have a big secret. Jennifer has actually been living under an assumed name, and she's the mother of ruthless Russian mobster Roman Lunyov (Peter Dinklage), who's just a bit concerned about dear old Mom's situation. A bizarre game of cat and mouse ensues – one in which it's not exactly clear who's the cat and who's the mouse, as Marla turns out to be a great deal more fearless, resourceful, and capable than Lunyov could have reasonably expected.
Marla's story is bookended by two appearances of a man named Feldstrom (Macon Blair), whose mother was one of Marla's victims. Early on in I Care a Lot, Feldstrom approaches Marla, all bluster and threats, after a court hearing — only to have Marla utterly deflate him with an icy takedown (and a vulgar threat of her own). Then, in the film's final scene, Feldstrom appears again just as Marla appears to be riding high. He shoots her in the heart, revealing that his mother died alone in a nursing home. As Marla bleeds out, an eerie, pulsating track with a ghostly vocal and calamitous drums infiltrates the soundtrack.
So, what's the song at the end of I Care a Lot? We've got the answer.
"Blood on the Motorway" is a thematically appropriate choice for I Care a Lot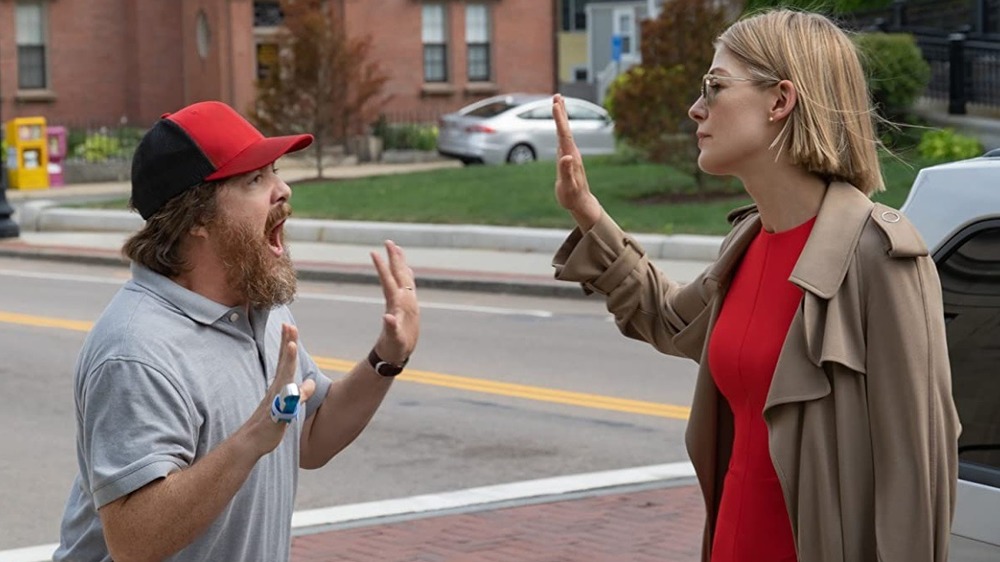 Netflix
The song that plays at the end of I Care a Lot is "Blood on the Motorway" by hip-hop legend DJ Shadow. The full, nine-minute-plus version of the track appears on the acclaimed 2002 album The Private Press.
There is perhaps no artist more adept than DJ Shadow at blending samples to create astonishingly original works, and "Blood on the Motorway" is a perfect illustration of that skill. According to Who Sampled, it mashes up samples from seven different tunes across a wide variety of genres spanning three different decades. The riotous drums are lifted from the 1968 tune "Louisiana Fog" by bluesman Charlie Musselwhite; musical elements are borrowed from 1981's "Gli Uccelli" by Italian singer-songwriter Franco Battiato and 1970's "Distant" by Canadian rockers Illustration. The song's haunting vocal track? It's from a 1983 acapella tune called "It's Easy" by German musician and producer Marc Z, also known as Marc Mozart. You could say that in selecting his samples, DJ Shadow tends toward the obscure.
In relation to I Care a Lot, "Blood on the Motorway" lends some thematic weight to Marla's death scene. One shot in the final scene focuses on a stream of Marla's blood trickling down the pavement, which makes the title of the song that accompanies her demise quite on-the-nose. Additionally, its lyrics are absolutely haunting, and obviously connected to untimely death. "And now eternity / Be still now / I am with you," it begins. There are references to the ease of letting go and to a life left unfinished before the tune concludes where it began: "Let the changes in / Come on, come on, relax / Time is done / The sun has gone / It's too late / Eternity has come."
Pretty heavy stuff, but it's tough to imagine a more appropriate tune to play over I Care a Lot's shockingly grim ending. If this is the first you're hearing of DJ Shadow, allow us to unreservedly recommend his entire body of work; just like I Care a Lot, it's eclectic, often wonderfully dark, and always full of surprises.