Monster Hunter 2 - Will It Ever Happen?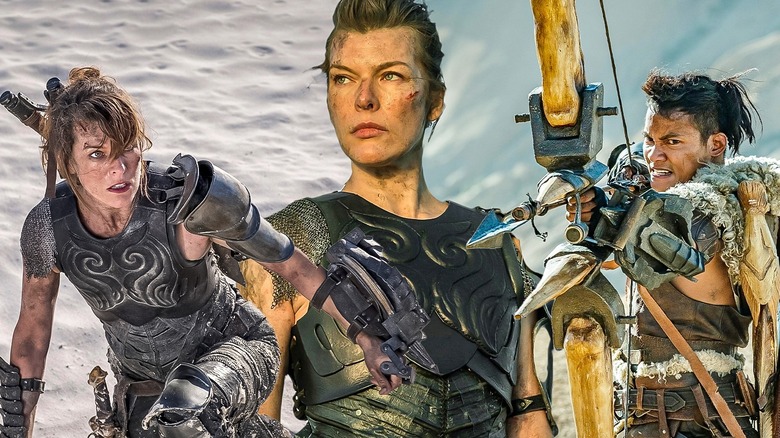 Static Media
"Monster Hunter" is a popular action role-playing video game series set in a fantasy world where monsters roam freely, and you play as the eponymous pursuer who must take the monsters down to protect your home and the world's ecosystem. First released in 2004, the series is still going strong with 2021's "Monster Hunter: Rise" being one of the top-selling entries in the franchise's history.
This success led to a big-budget feature film adaptation of "Monster Hunter" in 2020, written and directed by the director of the original "Mortal Kombat" and "Resident Evil" films, Paul W.S. Anderson. Once again, he cast his wife Milla Jovovich — who played Alice in the "Resident Evil" films — to play the film's protagonist, US Army Ranger Natalie Artemis. In a deviation from the game storyline, the film follows Artemis as she and her platoon travel from our Earth to the fantastical "Monster Hunter" universe. After her team is killed off one by one by various monsters, she eventually meets up with Tony Jaa, who gets credited in the film solely as "Hunter."
Unfortunately, the film was a financial and critical failure — both with mainstream critics and fans. However, with the success of video game adaptations lately — such as the animated "Super Mario Bros." film grossing over a billion dollars and "The Last of Us" becoming a critical darling – could studios give "Monster Hunter" another chance?
Why isn't a sequel happening yet?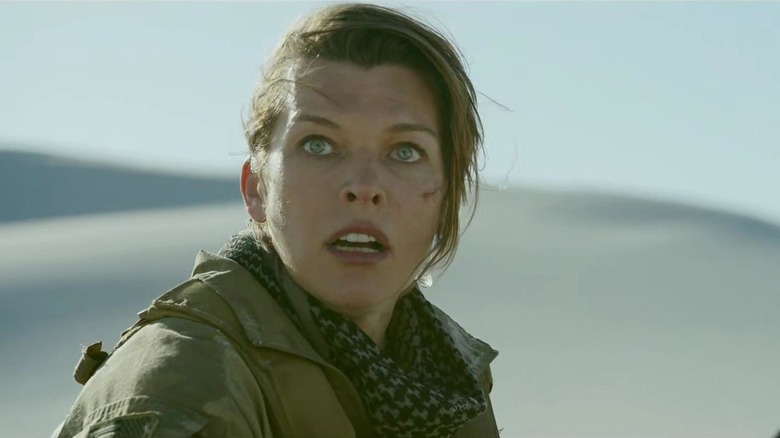 Screen Gems
Despite Sony heavily promoting "Monster Hunter," the adaptation was unfortunately a box-office bomb of, well, monstrous proportions. It only made a paltry $40 million dollars on a $60 million dollar budget — and that's not even accounting for the aforementioned expensive marketing push.
The movie didn't fare much better with critics, dismissed for its formulaic and nonsensical plot, its generic action scenes, and sub-par CGI creatures. Not only that but fans of the original "Monster Hunter" video games weren't fond of Paul W.S. Anderson's feature film adaptation either, due to inconsistencies with the game's lore. There was also controversy with the film being pulled from China, due to a perceived racist joke (per Variety).
Originally set for release early in 2020, the impact of the COVID-19 pandemic meant that "Monster Hunter" was pushed back multiple times — something that could've also affected its performance at the box office. However, another big video game movie released in the same year, "Sonic the Hedgehog," was able to eke out enough of a profit to successfully warrant sequels, but the overall lukewarm reception to "Monster Hunter" makes it seem unlikely at this point.
What Milla Jovovich has said about a sequel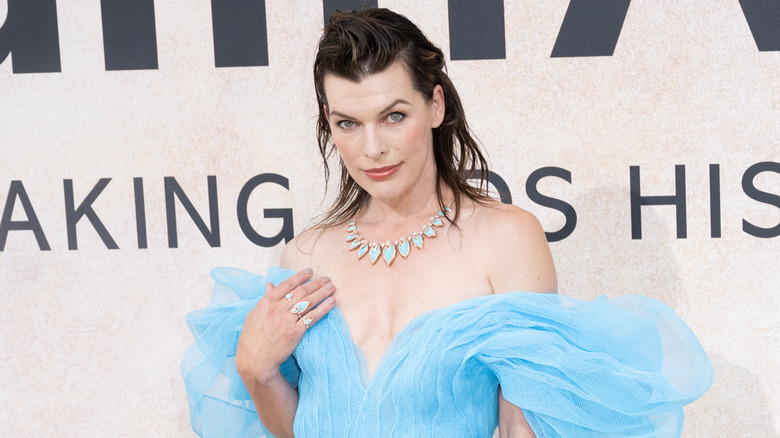 Samir Hussein/Getty Images
Model-turned-action superstar Milla Jovovich is frequently the highlight of any project she appears in — regardless of the actual merits of the films themselves. Furthermore, beyond Jovovich's natural charisma and athleticism, she's also a genuinely great actress as well, able to easily fuse her fierce action-hero intensity alongside real pathos and vulnerability.
Even in the vastly underwritten role of Natalie Artemis in "Monster Hunter," Jovovich excels. She completely nails the determination and strength that the — admittedly one-dimensional character — demands of her, and adds layers to her performance that aren't there on the page. While perhaps not the most challenging character, the world of "Monster Hunter" is still an interesting one, and one that is worth exploring in more detail. Speaking to The Verge, Jovovich said, "When you're dealing with a 90-minute version of something, you're always going to have to make certain sacrifices," and that a continuation through a sequel or possible TV show, "would have a lot more time to spend on little details."
So, regardless of the film's mixed reception, it is evident that there is much more to the immense and diverse world of "Monster Hunter," perhaps beyond the big screen and beyond what the first film was able to show us.
Writer-director Paul W.S. Anderson has written a script for Monster Hunter 2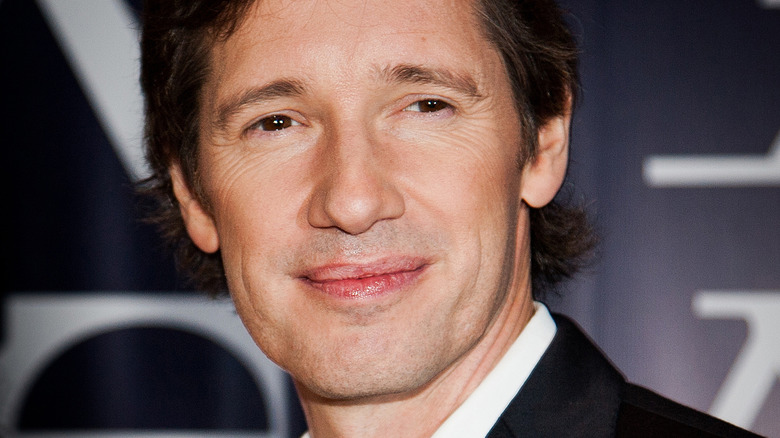 magicinfoto/Shutterstock
For a while — especially towards the beginning of Hollywood's obsession with adapting video games into films — Paul W.S. Anderson was a fan-favorite filmmaker, known as the one who made the only genuinely good video game movie adaptations. Responsible for 1995's "Mortal Kombat", and the fun — if flawed — "Resident Evil" from 2001, which spawned six sequels that performed particularly well overseas. Of source, since then there have been several well-regarded video game adaptations that have greatly elevated the genre. 
Anderson's reputation isn't helped by the failure of the "Monster Hunter" feature film adaptation, but thanks to his previous successes it makes sense that he would've expected and prepared for the possibility of a sequel to the 2020 film. In fact, in an interview with Polygon, he stated, "It's definitely a world that I would love to continue exploring but we always take it one movie at a time." Milla Jovovich also confirmed he was writing a script for it, telling Total Film, "I know Paul would love to make a sequel. I mean, he's already writing something..."
Since then, nothing further has been announced about a sequel but based on this it shouldn't be ruled out completely. 
What could be explored in a sequel?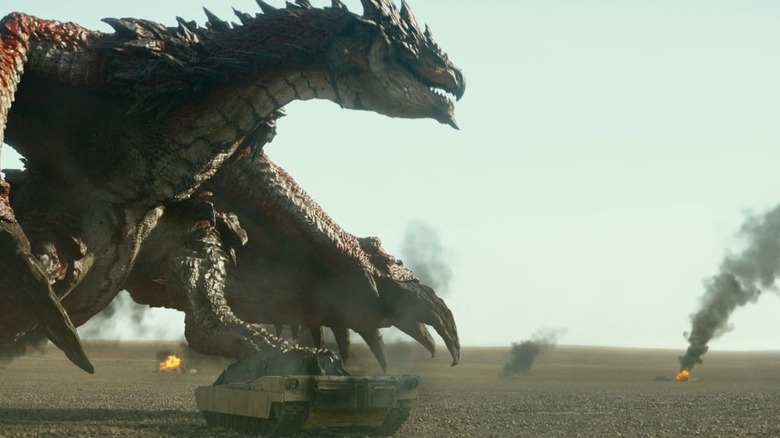 Screen Gems
If a "Monster Hunter" sequel were to be produced — like Paul W.S. Anderson and Milla Jovovich had hoped for — there are plenty of things that a theoretical second film could explore. Perhaps a way to reignite enthusiasm from the fanbase would be to add fan-favorite monsters such as Devilijo and Valstrax. Anderson has stated how he was disappointed that he could only have six monsters in the first film and that the game offers hundreds of monsters to choose from for various sequels. In an interview with Total Film, Anderson said, "It's a big, fun world that I think we've only just started to scratch the surface of." He also said that further films "could lead to many inventive fight scenes that would exploit the various monsters' unique and diverse physiologies."
Like so many other blockbusters, the first "Monster Hunter" left it wide open for a follow-up with a mid-credits stinger. The tease showed a shadowy and hooded figure — rumored to be The Seeker — who almost certainly would be part of the sequel's story if it ever happens. 
A sequel could expand on the monsters, their role in that world, and what Earth might do knowing the existence of this other world as well. The first film explicitly states that Earth is now in danger due to the opening of the portals, which could be explored in more detail in a second movie.
How a sequel could improve the first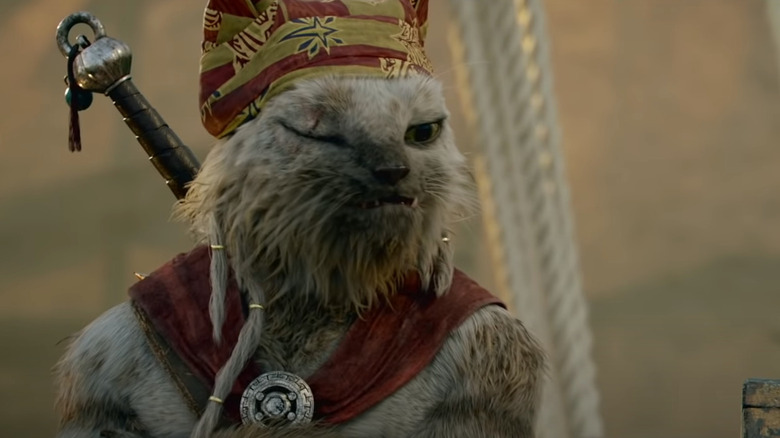 Screen Gems
As the first film underperformed, perhaps a second "Monster Hunter" movie would need to try and right some of the wrongs, including distancing itself from the two-worlds concept, and bringing the story closer to the games by focusing the plot on a single fantasy realm. While potentially difficult — based on how the first film ended — it wouldn't be impossible. Natalie Artemis and Hunter could close the Sky Tower early in the film — possibly as a James Bond-esque opening teaser — and close the portal between the realms immediately. This would lead to Artemis — and, in essence, the film itself — choosing to remain in the "Monster Hunter" world permanently. This action would also most likely bring about the ire of the aforementioned hooded figure from the mid-credits sequence to the forefront, turning them into the antagonist for the rest of the story.
This would also minimize some of the uncomfortable American jingoism embedded in the first film's premise, where the aesthetically similar desert-like setting of the "Monster Hunter" world was reminiscent of the landscapes in Afghanistan and Iraq. The first film also had some uncomfortable white savior narrative tropes — particularly around how quickly Artemis matches Hunter with little to no training — and while this could've been easily avoided if they had both existed from the same world to begin with, it is something that a sequel could retroactively salvage. 
Also, more Palico (Aaron Beelner), please. Because you can never have too much of a cute, grizzled humanoid cat chef.
Who would star in a sequel?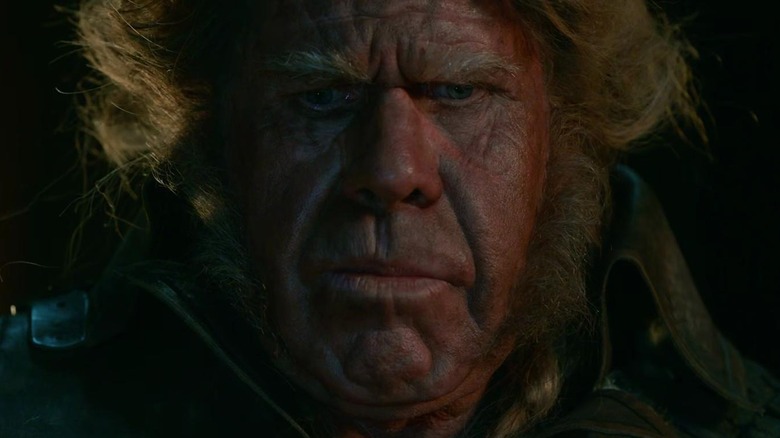 Screen Gems
Milla Jovovich has already expressed an interest in returning to the franchise, and it seems like it would be a lock if Paul W.S. Anderson was going to direct it again. Like Jovovich — who returned for six "Resident Evil" sequels across 15 years — Tony Jaa is no stranger to a franchise, having appeared in "The Protector" and "Ong-Bak" series of films. Furthermore, he had very nice things to say about the production of the "Monster Hunter" film itself, saying in an interview with Starburst Magazine, "I liked the idea of going into a fantasy world. It's fun and anything is possible."
Similarly, Ron Perlman — who plays The Admiral in "Monster Hunter" — had nothing but positive things to say about his experience of making the film. Speaking to Entertainment Weekly, Perlman praised the film's writer-director saying, "I was really taken with how nuanced, what great storytelling it was. It was a real page-turner for me ... This is a tribute to the adaptation from Paul W.S. Anderson."
While none of the cast members have made a firm commitment to return for a theoretical sequel, based on the positive experiences they had making the first film it seems highly likely that they would sign up for a second "Monster Hunter" movie.
It might be better as a reboot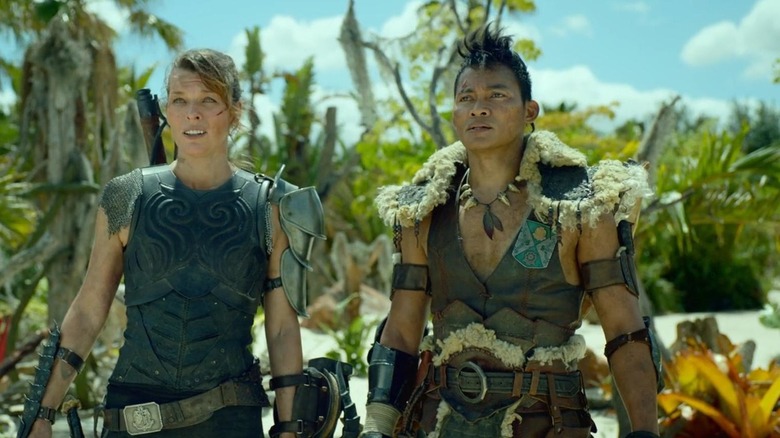 Screen Gems
While the 2020 "Monster Hunter" film isn't the worst video game movie ever, it failed to capture audiences enough for a sequel to be greenlit so far. However, the "Monster Hunter" video games from Capcom are still very popular, and for good reason. Even though a sequel might be unlikely, there's nothing to say that a reboot couldn't be off the table.
Many video game reboots have been released to varying degrees of success. From 2023's animated "Super Mario Bros." reboot to 2021's middling "Mortal Kombat" and "Resident Evil: Welcome to Raccoon City" live-action reboots, it seems like many video game properties are being given an extra life, despite past failures. And there's no reason the vast "Monster Hunter" franchise couldn't receive the same treatment as well. "Super Mario Bros." took three decades to overcome the bad reception of the 1993 live-action film, and "Mortal Kombat" took over 15 years to get a reboot after 1997's "Mortal Kombat: Annihilation." However, the "Resident Evil: Welcome to Raccoon City" reboot from 2021 was only five years removed from the original "Resident Evil" film series, which ended in 2016. 
Not only that but "Tomb Raider" has a quick turnaround reboot coming as well, with an Amazon streaming series in the works just a few years after the 2018 Alicia Vikander-led film. So, even though "Monster Hunter" was only released in 2020, you can't rule out a reboot at some point.