Shadow And Bone - What We Know So Far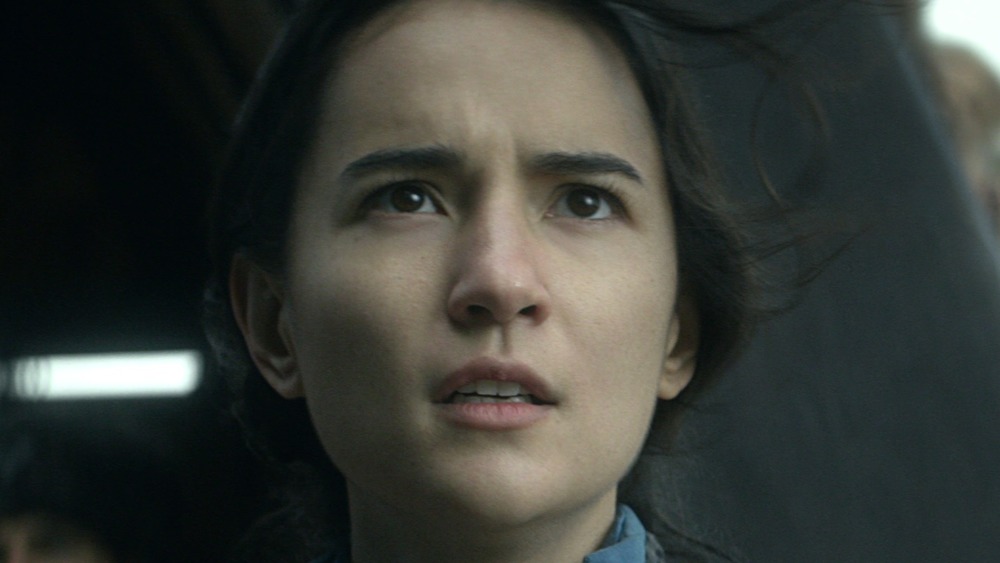 Netflix
In 2019, Netflix greenlit an eight-episode television adaptation of Leigh Bardugo's Shadow and Bone novels, set in the fantasy Grishaverse (via Deadline). Since then, fans have gotten additional detail about what the series will look like, and — if Netflix can repeat the success it's had in adapting other favorite book series, as with Bridgerton — this could be a big deal. 
Bardugo, who is acting as an executive producer on the show, told Entertainment Weekly that the fantasy world she's created is more based on Imperial Russia than medieval England, from which many other Western fantasy epics draw their inspiration. As a result, it will contain repeating rifles instead of swords, along with the usual battles and magic. 
Showrunner Eric Heisserer (Arrival, Bird Box) said, "We worked tirelessly to craft a lived-in feel for fictional lands like Ketterdam and Ravka, with invented languages, uniforms, currency, and artistic choices from set design to costuming. You're immersed in the Grishaverse when you read, and it's our hope that both new and existing fans have that same feeling when they watch the show."
It sounds like the world-building has been on point, which bodes well. According to KFTV, The series was shot in Budapest, Hungary, for that eastern European feel, and is being produced by 21 Laps Entertainment, which is the company responsible for another Netflix hit, Stranger Things. Here's what else we know about this coming production.
What is the release date for Shadow and Bone?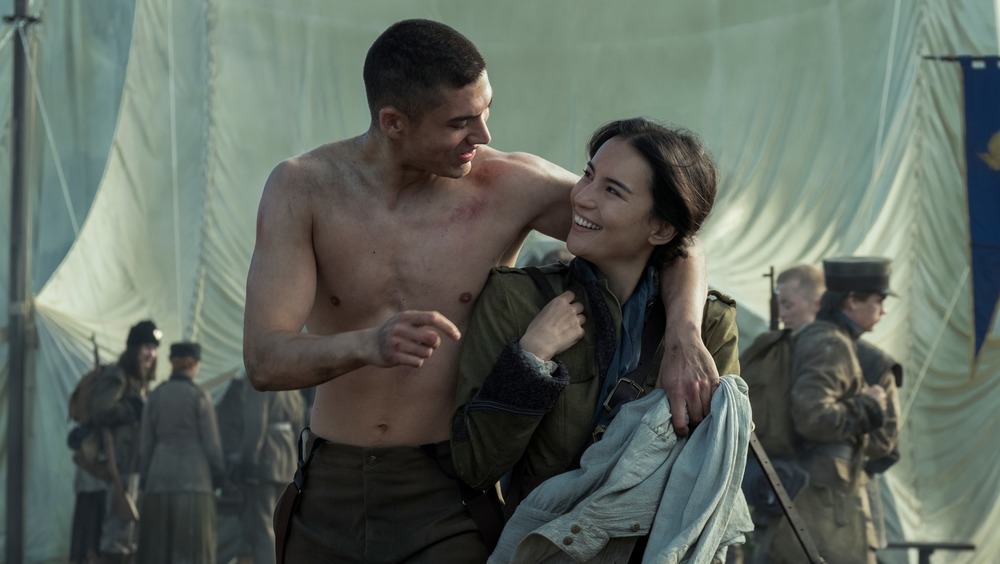 Netflix
Netflix announced in late January that Shadow and Bone will debut on April 23, 2021. It's part of a totally packed year for the streaming service, which includes a new movie every week. 
Along with the date, Netflix revealed a series of first-look images, which definitely give off some cold-weather climate and military vibes you might expect from a war-torn environment like the one depicted in the books. The Grishaverse looks moodily atmospheric, with its dimly lit rooms and interesting hats. 
The release date isn't very far away, which is good news for fans who've been waiting a couple of years to see whether or not the series will be worth watching. What remains unknown, however, is whether or not the series will continue after the first season releases. The first season is said to include elements of both the first book, Shadow and Bone, and a separate story in the same universe entitled Six of Crows (via Den of Geek). That means that the other two books in the Shadow and Bone trilogy, Siege and Storm and Ruin and Rising — as well as the second book of the Six of Crows duology, called Crooked Kingdom, remain ripe for adaptation if season 1 does well.
Who's in the cast of Shadow and Bone?
Netflix
The cast of Shadow and Bone, according to Variety, includes Jessie Mei Li, a relative newcomer who's also appearing in 2021's Last Night in Soho, as biracial main character Alina Starkov. Archie Renaux, another newcomer who was in the miniseries Gold Digger, plays Alina's childhood pal Malyen Oretsev. Ben Barnes (The Chronicles of Narnia series) plays General Kirigan, leader of the Grisha, who is otherwise known as the Darkling. The fact that he's hiding that name may turn out to be significant.
Freddy Carter (Pennyworth) will play the Dregs' gang leader Kaz Brekker, Amita Suman (Doctor Who) plays sneaky Dregs member Inej Ghafa, and Kit Young (Endeavor) steps in as sharpshooting Dregs member Jesper Fahey. The gang is one of the elements that originates from Six of Crows (via Polygon). 
Recurring characters will be portrayed by Sujaya Dasgupta, Danielle Galligan, Daisy Head, and Simon Sears. The show features an ensemble cast, so you can expect the regulars to get a good amount of airtime.
What is the plot of Shadow and Bone?
Netflix
According to Netflix's description, Shadow and Bone features orphan Alina Starkov unleashing an "extraordinary power that could be the key to setting her country free." She's training to be part of an elite army of magic-wielding soldiers called the Grisha, who are fighting a threat called the Shadow Fold. She tries to hone her power in a world where nothing seems certain and dangerous forces include a "crew of charismatic criminals." 
That's probably the Dregs, right there — and it'll be interesting to discover how showrunner Heisserer intends to incorporate the heist adventures of that gang, which take place in a different location in the same world, into the overarching storyline that focuses on Alina's struggle to control and amplify her powers while dealing with the relationships that are connected with — and complicate — her inner conflict. 
Additionally, the book Shadow and Bone doesn't complete Alina and Mal's story, so if the TV series stays true to the author's timeline, 2021's Shadow and Bone release will definitely leave fans wanting more.