Coming To America Sequel Gets A Director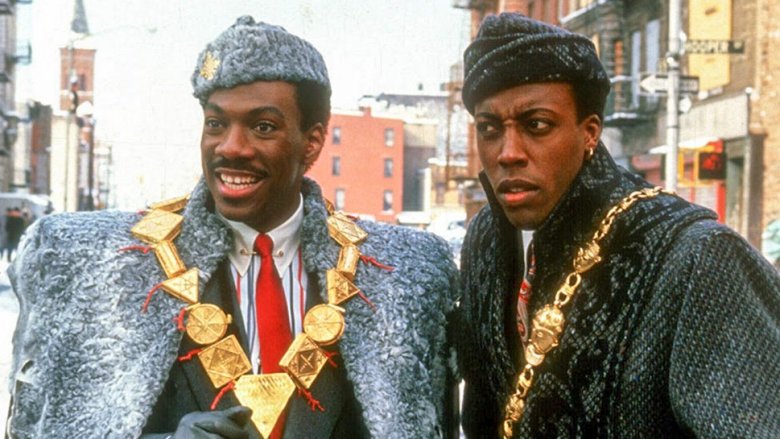 Prince Akeem is officially coming (back) to America.
Paramount has tapped Craig Brewer (Hustle & Flow) to direct the long-gestating sequel to the 1988 comedy classic, with Eddie Murphy lined up to reprise his role, according to Deadline.
The original tells the story of Akeem, first in line to the throne of the fictional African nation of Zamunda, who rejects his country's tradition of arranged marriage. Setting off to find a bride "fit for a King" (in Queens, of course), he takes up a position as a lowly janitor at McDowell's, a thinly-disguised ripoff of a certain popular fast food establishment. Hiding his royal lineage, he resolves to win the hand of the daughter of his employer, eventually convincing his parents, the King and Queen (portrayed by James Earl Jones and Madge Sinclair) that true love should win out over tradition.
The sequel is said to focus on the revelation that Akeem has a long-lost American son, a development which prompts him to return to the States to seek out his royal heir. Brewer (who recently directed Murphy in the forthcoming Dolemite is My Name) will be working from a script which was rewritten by Kenya Barris (the Black-ish creator who recently scored a huge development deal with Netflix) from a draft by Barry Blaustein and David Sheffield, the writers of the 1988 film. Although there has been no official word on further casting, the producers hope to bring back much of the original cast, including Arsenio Hall as the Prince's loyal assistant Semmi and John Amos as Mr. McDowell, as well as Jones; Sinclair, sadly, passed away in 1995.
Murphy apparently had a fantastic time working with Brewer on Dolemite, gushing over the producer in a statement regarding the sequel's announcement. "After many years of anticipation, I'm thrilled that Coming to America 2 is officially moving forward," he said. "We've assembled a great team that will be led by Craig Brewer, who just did an amazing job on Dolemite, and I'm looking forward to bringing all these classic and beloved characters back to the big screen."
Barris also expressed his high opinion of the helmer. "Craig's ability to create a distinct cinematic world with each of his films is not only impressive, but also what made him exactly the voice and vision we needed to bring this story to life," said the scribe. "From Hustle & Flow to his work with Eddie on Dolemite Is My Name, he never fails to blow me away. He is a true auteur and we couldn't be more thrilled to have him on board."
Although Murphy was a comedy superstar and proven box office draw long before Coming to America, the flick also showcased his ability to hold his own as a romantic lead, which he further showed off in the 1992 hit Boomerang. His star may have dimmed somewhat in recent years, due largely to a string of ill-advised projects such as Norbit, Meet Dave, and A Thousand Words — but the intensely charismatic comedian seems to be mounting a late-career comeback. In addition to Dolemite is My Name (in which he stars as the legendary Blaxploitation actor/producer Rudy Ray Moore), he's also slated to appear in upcoming projects such as Triplets (the sequel to the comedy classic Twins) alongside Arnold Schwarzenegger and Danny DeVito, and the long-awaited Beverly Hills Cop 4, which will see him return to perhaps his most famous role (that of loudmouthed Detroit police detective Axel Foley).
Coming to America 2 (probably not the official title) does not yet have a release date, but is expected to begin production sometime this year. We'll have more details as they become available.