The Unique Way Millie Bobby Brown Prepared For Her Enola Holmes Stunts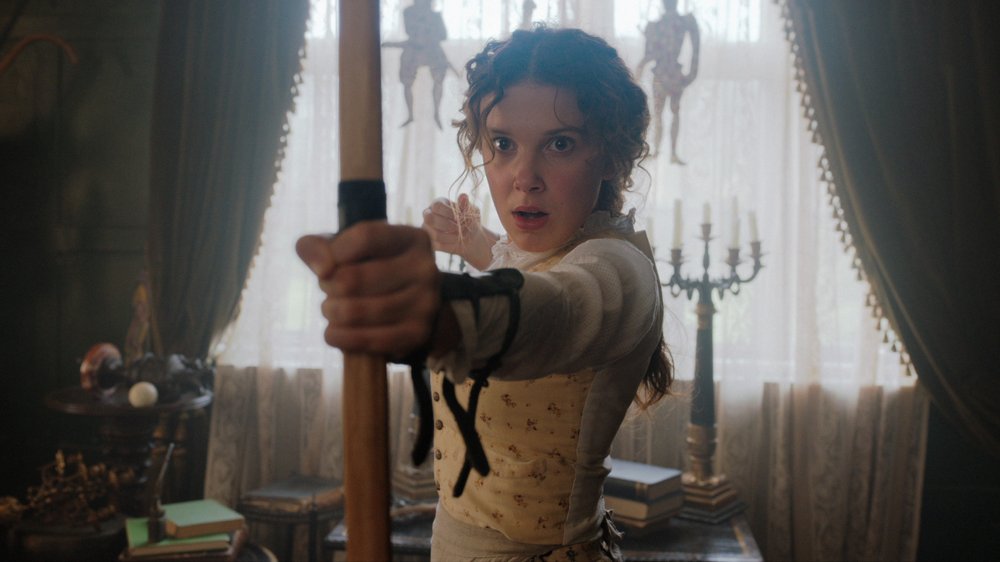 Netflix
With the debut of the mystery-adventure Enola Holmes, the Sherlock Holmes universe is expanding, right along with the résumé of its producer and star Millie Bobby Brown. 
In the spirit of one of literature and Hollywood's most famous detectives, Enola — the younger sister of Sherlock Holmes — faces a litany of tricky adversaries in the film that require her to dip, dodge, and dash her way back to her mother. That meant training for several chases and fight sequences over the course of two months. 
In an interview with Entertainment Weekly, Brown spoke about how the effort required a bit more preparation than what she has had to do as her Stranger Things' character Eleven. That's because the Enola Holmes actress had to perform said stunts in and out of an unwieldy period costume.
"I [had to] prepare my body to breathe and to move in the corset," Brown said. "It's hard navigating the choreography that you've learnt so well in your trainers and your leggings and then switching up and putting an underskirt on, a skirt over that, a corset — then you have your petticoat, then you have your long socks, then you have your heels."
Brown said she had to put those skills to use during fight sequences in England alleyways and at a London teahouse. For those who don't know, the film, which hit Netflix on September 23, follows Enola through the grand adventure that awaits her across England after her mother, Eudoria (Helena Bonham Carter), mysteriously disappears. In her childhood home's safety and seclusion, Enola lives outside the boundaries of society and female expectations. But when she wakes up one morning and her mother is nowhere to be found, Enola's famous brothers Sherlock (Henry Cavill) and Mycroft (Sam Claflin) step in and attempt to put the young girl on the right track to ladyhood. Less concerned with entering proper society and more concerned about her mother's whereabouts, Enola steals away and embarks on an adventure to find the Holmes matriarch. 
Stunt training wasn't the only thing that Enola Holmes star Milly Bobby Brown had to practice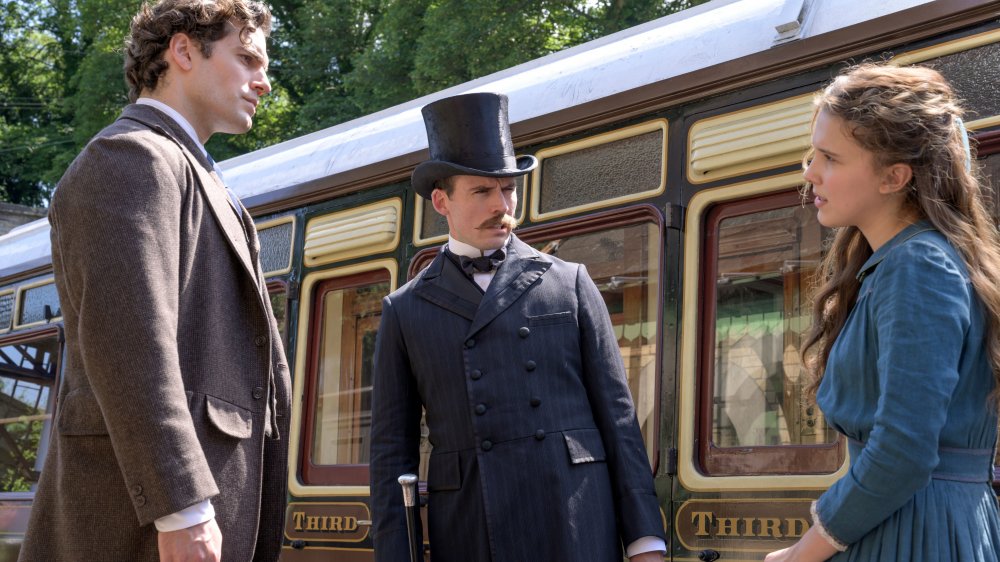 Netflix
According to Brown, the dual effort of learning how to deliver her fight choreography while performing in a physically demanding wardrobe wasn't the only challenge in taking on the part of Sherlock Holmes' little sister. 
The role, which is based on the character in Nancy Springer's novel series The Enola Holmes Mysteries, is a return to Brown's British roots after the young actress launched her screen career playing orphan pre-teen Eleven in the Matt and Josh Duffer sci-fi horror series Stranger Things. While Brown has spent years tasked with making her telepathic and psychokinetic abilities seem real to the Netflix series' audience, it's also required her to put on a realistic American accent. 
In an interview with Express, Brown revealed that after four years of doing that accent, going back to her own proved to be more difficult than she anticipated.
"For the last five years, I've been playing an American character in Stranger Things, and I found it really challenging being British in this, even though I am a Brit," she told the UK outlet. "I had to learn how to speak again because I'm so used to speaking in an American accent!"
Fans of Millie Bobby Brown and Sherlock Holmes can see how well the actress pulls off her stunts and accent in Enola Holmes, streaming on Netflix now.