Adam Sandler's New Video Proves We Need Happy Gilmore 2 In Our Lives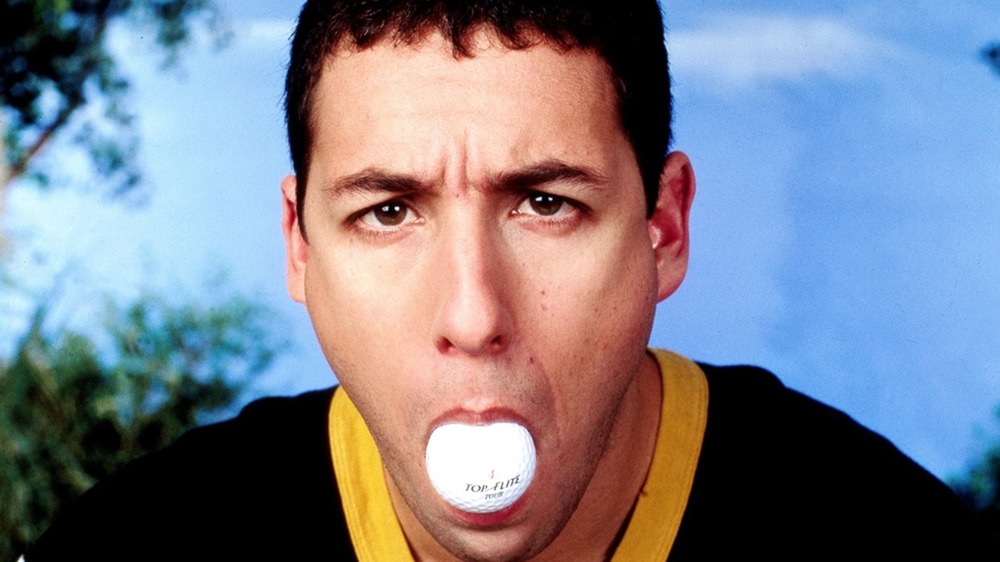 Universal Pictures
When it comes to who deserves the label of "all-time comedy great," a few people likely spring to mind. Bill Murray, John Candy, Kevin James, and countless others have etched their names into the annals of history, all because of their expert ability to bring smiles to people's faces. It's indisputable that among these legends belongs the mastermind behind some of the most recognizable comedies ever to hit the big screen: Adam Sandler. After making a name for himself on Saturday Night Live and then taking his talents to the cinema in 1995 for one of his breakout movies, Billy Madison, Sandler unveiled Happy Gilmore to the world in 1996. Suffice to say, he was a made man after that.
Starring Sandler as the titular character, Happy Gilmore follows the young man's attempt to transfer his skills as a hockey player to the golf course. Happy's grandmother (Frances Bay) is about to lose her home, and so he enters the Pro Golf Tour in hopes of winning the funds to pay back the bank. In typical Adam Sandler fashion, hijinks and mayhem ensue throughout, leading to endless laughs, heartbreaking moments, and scenes that'll have you jumping for joy. Simply put, Happy Gilmore is a classic and withstands as many viewers' comfort movie — which is why Adam Sandler's most recent social media post has everyone yearning for a sequel.
Adam Sandler still makes the Happy Gilmore golf swing look easy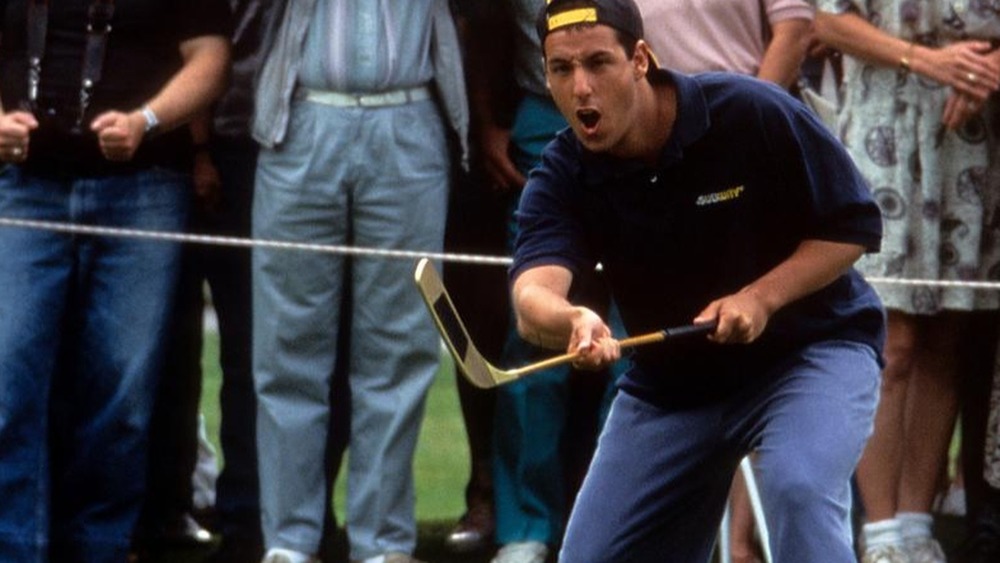 Universal Pictures
February 16, 2021 marked 25 years since Happy Gilmore premiered, and just for the occasion, Sandler had a treat in store for fans new and old alike. He took to Twitter to share a video of himself on a golf course, testing out the unorthodox, slapshot-esque drive he used in the movie — using a golf club instead of a hockey stick. Despite not using the technique for some time, Sandler clearly still has the same pep in his step that he did a quarter of a century ago. He captioned the post, "Happy loves you all! Thanks for everything!" If that doesn't make you want a Happy Gilmore 2, who knows what will?
Happy loves you all! Thanks for everything! pic.twitter.com/p1aY9JcFWh

— Adam Sandler (@AdamSandler) February 16, 2021
Of course, not to be outdone, Christopher McDonald, who played Gilmore's golf rival Shooter McGavin in the 1996 comedy, posted a Twitter video of his own. In true 2021 fashion, McDonald stayed indoors, showcasing a perfect put into a cup from the comfort of his own living room. He then thanked the fans, Adam Sandler, and recited some of his alter-ego's famous lines from the movie to conjure up all kinds of nostalgia. 
My response @AdamSandler pic.twitter.com/Wa4Y8lh6rJ

— Shooter McGavin (@ShooterMcGavin_) February 16, 2021
If a Happy Gilmore continuation does come to fruition, will Shooter McGavin walk away victorious? Or will Gilmore once again take an upset victory? We'll just have to wait and see.