The Underrated Animated Comedy That Keeps Hitting Netflix's Top 10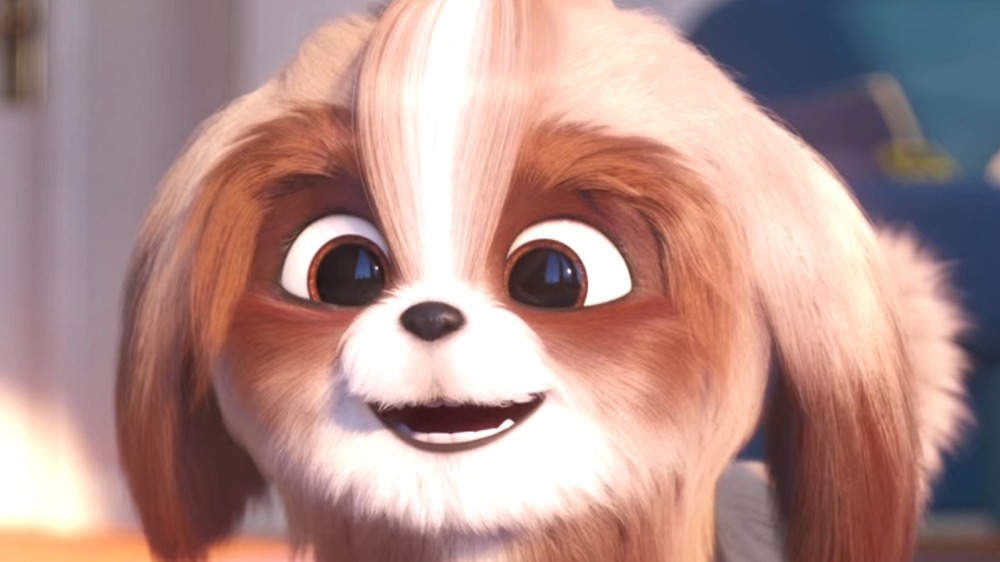 Universal
Ever since that well-known documentary Toy Story revealed what our toys were doing when we weren't around, animated movies about the lives led by our closest non-human friends have been a source of fascination and sweet, sweet box office revenue.
In 2016, The Secret Life of Pets introduced us to a gang of pets living in a remarkably animal-tolerant apartment building in New York. It was a hit at the box office, making over $104.3 million in its opening weekend — the best opening of all time for a non-franchise film, according to Deadline, and nearly 1.4 times its budget. It eventually made over $885.3 million worldwide from theaters and is still in the top 10 highest domestic box offices for a digital animation.
So naturally three years later there was a sequel, The Secret Life of Pets 2, which couldn't match the first movie's success: It made just under half of its predecessor's worldwide box office takings. However, as Deadline points out, those who did see it still enjoyed it, and that's still more than $434.4 million — on an $80 million budget.
Despite not living up to the first movie at the theater, The Secret Life of Pets 2 is making the most of its nine lives. The movie came to Netflix in May 2020 and found the audience that missed it the first time. This is the underrated animated comedy that keeps hitting Netflix's top 10, and if it's worth your time.
The Secret Life of Pets 2 reunites us with lovable furry friends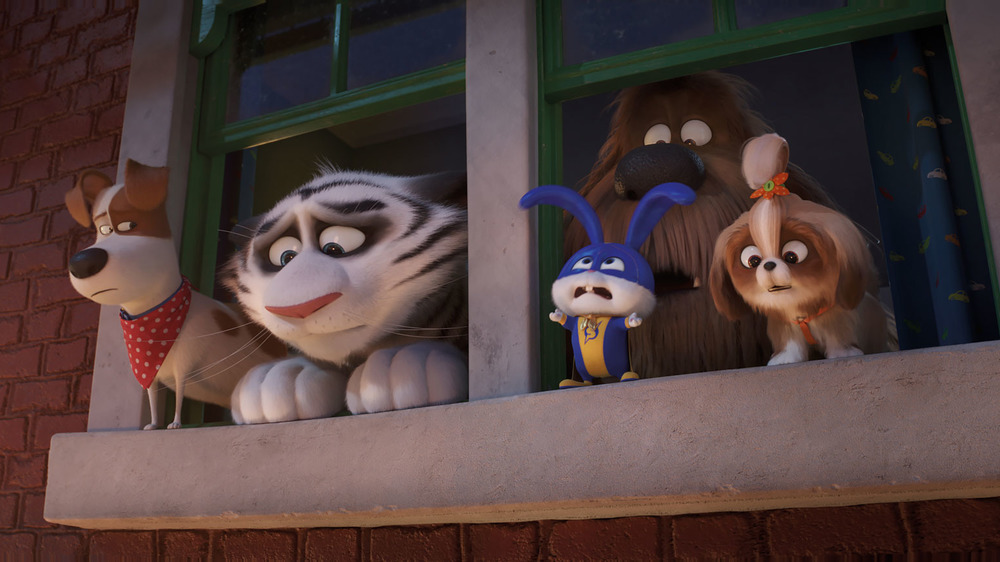 Universal
If you were one of apparently many people who saw the first movie but not the second, here's a quick update on the main characters in Secret Life of Pets 2. Note: having voiced top dog Max in The Secret Life of Pets, Louis C.K. was dropped from The Secret Life Of Pets 2 over accusations of sexual misconduct. He was replaced by Patton Oswalt.
By the time the second movie starts, Max and Duke (Eric Stonestreet — aka Cameron from Modern Family) are firm friends, thanks to the bonding experience of facing all the mortal danger they encountered in the first movie. Max has also become overly protective of their human Katie's (Ellie Kemper) young son, resulting in him wearing the Cone of Shame. (Wrong studio, but the reference holds.) The family visits a farm, which leads to a Harrison Ford cameo (apparently he's focusing on dog movies that don't have real dogs) and a plot where Pomeranian Gidget (Jenny Slate) has to disguise herself as a cat.
Meanwhile, in a prescient Tiger King nod, Snowball (Kevin Hart) has teamed up with Shih Tzu Daisy (Tiffany Haddish) to rescue abused white tiger cub Hu from a circus, where he is guarded by wolves and a monkey minion. Not the traditional Illumination Minion. Improbable shenanigans ensue and everything works out in the end, except for the awful circus owner.
The Secret Life of Pets 2 is a wacky wild ride to get on board with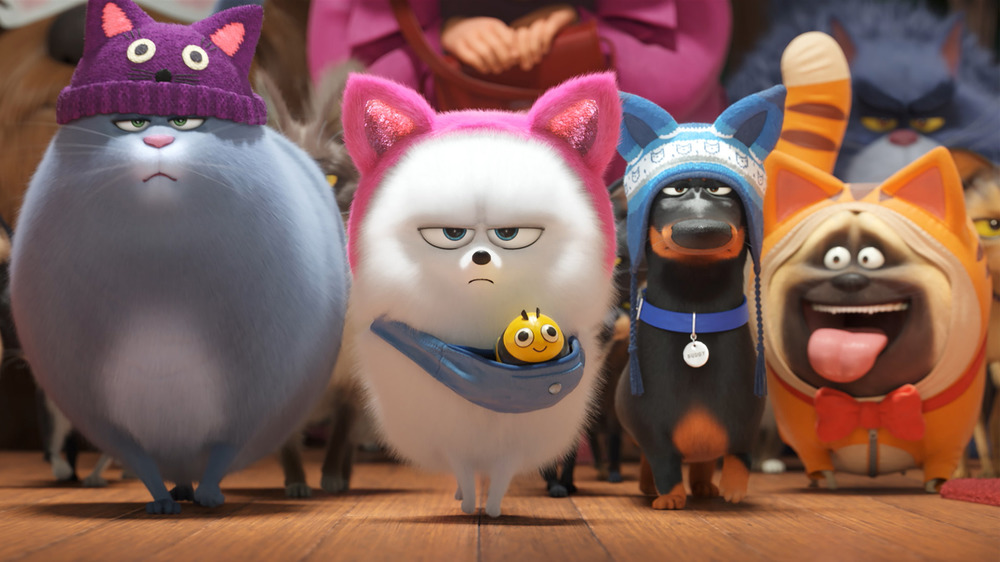 Universal
If you see the two major American animation studios as part of a dysfunctional animation family, Pixar would be the overachieving, rule-following older sibling, while Illumination is the always cheerful and unpredictable scrappy younger child.
Both Secret Life of Pets movies are colorful and beautifully animated, with characters you want to cuddle and also laugh at. But unlike the carefully planned-out plot of a Pixar movie, you never quite know where these movies will go. You know these things happen in every single Pixar movie: You have no idea what could happen in a Secret Life of Pets movie.
How you feel about that will probably determine whether you'll want to watch The Secret Life of Pets 2 (and wonder will there be a Secret Life Of Pets 3?) If you saw the first one and enjoyed the emphasis on lovably eccentric characters and sketch comedy-style gags over feasible plot, you'll find the same elements to enjoy in the second one. And if you didn't... maybe rewatch Toy Story instead.