Frank Grillo, Star Of No Man's Land - Exclusive Interview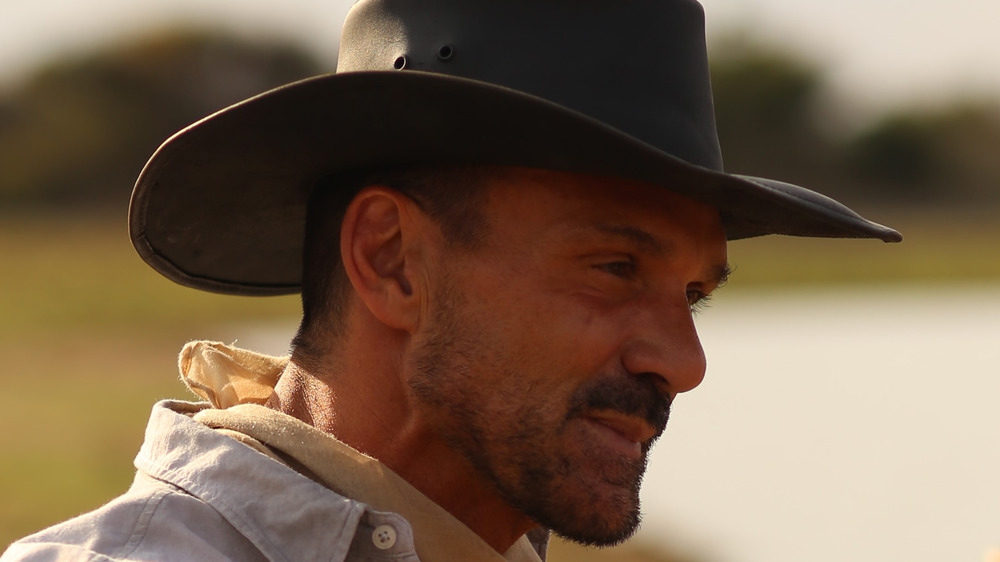 Frank Grillo stars in Connor Allyn's No Man's Land as Bill Greer, a rancher with a wife and two sons living on the Texas side of the U.S.-Mexico border. One tragic incident — Greer's son Jackson accidentally shooting and killing a Mexican immigrant child — sets off a tumultuous chain of events, some harrowing, others eye-opening. Conor Allyn directed the movie, and his brother Jake Allyn stars as Jackson and also co-wrote the script. It was Grillo's first time working with the Allyn family, and he says they are nothing but impressive.
In some ways, the emotional movie — which also stars Andie McDowell and George Lopez — was a change of pace for Grillo, who is no stranger to intense roles, from portraying the villainous Crossbones in the Captain America movies to edgy characters on TV shows like Prison Break and The Kill Point. Though he's done westerns throughout his career, No Man's Land offers a different take on that type of performance for this actor. In an exclusive interview with Looper, Grillo shares what he did to embrace this role. He also talks about the importance of family and parenting, how he loves being a part of the Marvel Cinematic Universe, and the long list of movies that he's in that's set to roll out in 2021.
How No Man's Land was a learning opportunity for the seasoned actor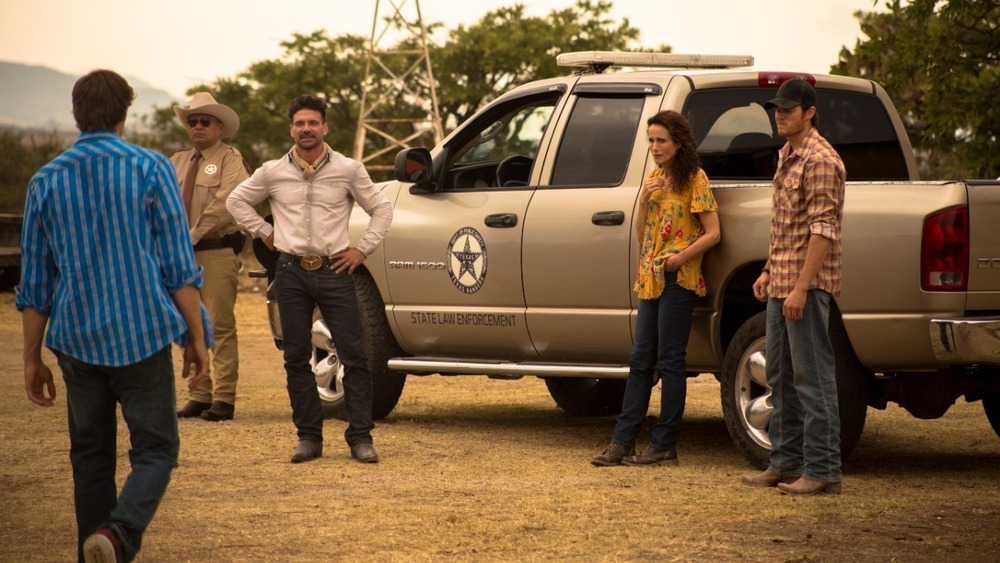 No Man's Land is both intense and timely. How did you come to be in it?
Well, the Allyn brothers sent me the script. Right off the bat, I read the script one time and thought, "This is fantastic." I mean, I'm an Italian New Yorker. I had to think if I could not screw up playing a guy from south Texas with a cowboy hat and riding horses. But once I got over that, I immediately signed on because I just love the energy of Conor and Jake, and I really truly loved what the story was about.
You hadn't worked with them before.
No. I mean, they haven't really done very much. I know Conor made one or two movies prior, but I knew nothing about them. I just knew that Jake wrote it, which I was very impressed with because he's a great guy and that Conor was directing it. And then I met their father, and they work as a team, and I was just really impressed with the whole package. It wasn't hard for me to say yes.
The family dynamic is a vital part of this movie. It's very cohesive. You were raised much differently than your character Bill Greer. Was it hard to find ways you could identify with him?
The cowboy hat, it was fun, and I've done westerns. I have played a character similar as far as where he's from in the world. But I'm a father of three sons, and for me, the jump-off was that this is a story for me about my family and specifically about my relationship with this young man. That really was the core for me behaviorally because it doesn't matter where you come from. If you come from Texas or New York or Timbuktu, fathers and sons are fathers and sons, and that's kind of where I kept it.
What else did you put into becoming Bill Greer?
I learned the dialect. I learned what makes being from that part of the country different than even a different part of Texas. I did a lot of research about the actual area No Man's Land, this part of the world that really exists, where Americans actually have to carry their passports. I did a lot of research on it. I was really amazed at how little I knew about it, and how entrenched our country is on these borders with Mexico, and how divided and polarized it is. 
Grillo talks family and high-finance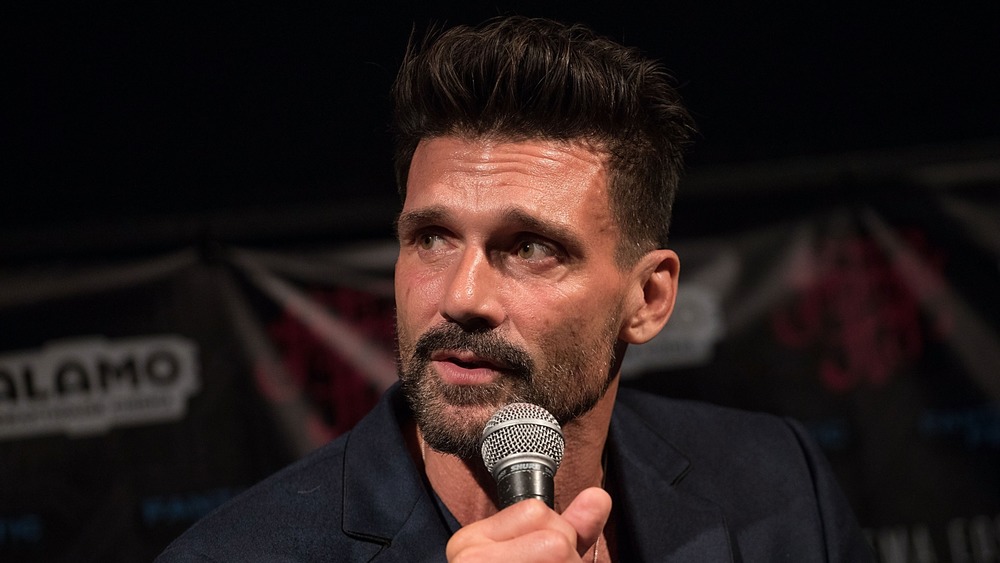 Rick Kern/Getty Images
The movie proves that with a deeper understanding of other cultures, humanity could break down many of the fears people have about one another. Is that part of what you hope people will take from No Man's Land?
Right. Right. I hope that people understand that we're all the same deep down. These people that are coming across [the border] to find a better life, they're not stealing anything from us. They're doing what my ancestors did — coming to America, which is built on this premise that we're the land of the free and we have opportunities for everyone, and everyone's welcome as long as you're not a criminal — that we're all human beings. We all want the same thing, the pursuit of happiness. We want our kids to be healthy and safe, and well-fed.
Absolutely. And that's the overall message of the movie. Jackson, your son in the film, only wants to make you proud, trying to follow in your footsteps while he has this significant athletic talent that could take his life in a different direction. Some people live for that parental approval.
Right. That's a great point. That's a great point, and that's true. Part of my job as a parent — which is my job in real life too, is even if my kids have an idea like, "Well, I want to stay here and be on the ranch," I know that's not a good idea. It's not the best thing for him. It's my job as a parent to not demand that he not do it, but to let him understand why he can't do it, why he shouldn't do it. We try to do that in the movie. But listen, that's a struggle I have as a parent all the time raising my children, and it's not easy to raise human beings.
You are on the current season of Billions. Didn't you work in finance at one point in your life?
Yeah, it was a long time ago. It wasn't a very long part of my life, but yeah. I know the executive producers of Billions, who said, "We want you to come and play this artist." I was like, "Well, that's really not my thing." "Yeah, we want you to play an artist who's a little bit rough around the edges." And I said, "Okay." People have come up to me that would normally not watch the things I do — like 50-year-old women — and say, "Oh my God, I love you on Billions," and I'm like, "Wow."
Has being on the show reminded you that you're glad you didn't pursue a career in the world of high finance?
I knew as a very young man that it was not for me. I never had any intentions of making it a career — it was just a day job for a minute. I'm not a big-money guy, like where everything is about money, and that's what Billions is — that's what Billions is about.
Frank Grillo is prepared for viewers to get tired of his face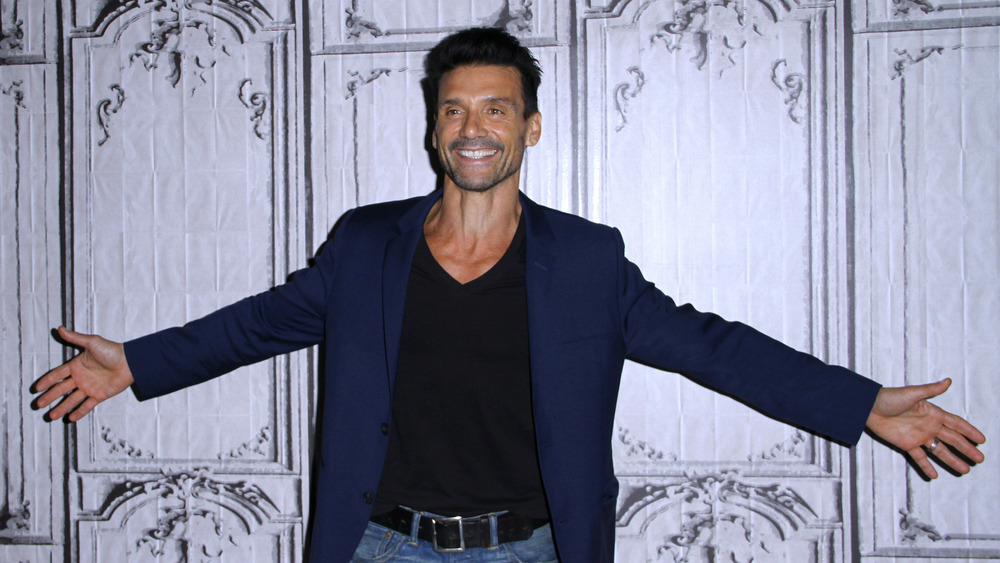 Donna Ward/Getty Images
What other projects do you have coming up?
I have a film coming out called Boss Level, which my [production] company, Warparty — my partner Joe Carnahan and I — made. It's myself, Mel Gibson, Naomi Watts, and Michelle Yeoh. It's a time loop movie. It's funny. It's Die Hard meets Groundhog Day, and it's filled with action. It's really cool. And then I have Hitman's Wife's Bodyguard 2 coming out. I don't know when because of COVID. I have a movie called Body Brokers. I have seven movies in process. Because of COVID, things got bottlenecked. We just made a movie called Cop Shop with Gerard Butler and me that Joe Carnahan directed, so there's a bunch of stuff. You'll be tired of my face by next year.
You have been a part of the Marvel Cinematic Universe, as Crossbones in the Captain America franchise. Any scenes or interactions from those movies that are particularly memorable?
Yeah. People would think my favorite or most memorable thing is that big elevator scene, which has become iconic, but it's my favorite scene. And because he's a great friend of mine now — we did another movie together — is when I beat up Anthony Mackie. I got a lot of joy out of that, and it continues to feed my soul.
If Crossbones were to return via some type of multiverse madness, do you think there'd be any chance that he'd be different or have turned over a new leaf at this point?
No. No, no, no. He'd want to kill Captain America.
The Marvel Cinematic Universe seems to be a pretty fun place to land for whatever amount of time you're involved in it.
Yeah, you're talking about the biggest and the best. It really is the biggest. It has the best actors, the best people, the best directors. Kevin Feige is a genius. To be even a little bit part of that community — and it is a community — is like being part of a family. I was on stage last year in Atlanta before Stan [Lee] passed away, and it was the 10-year-anniversary of Marvel in the movies, and every actor was there onstage to celebrate. I'm talking multiple Oscar winners and big, big, big A-list actors. Everyone is part of the Marvel Universe, and it's cool to be on stage with these people. Yeah, I'm humbled every day by it.
Do you have any dream projects or anyone you want to work with that you haven't yet?
I'd love to work with Gary Oldman. I love him so much. I think he's the best actor on the planet. I'm a big Russell Crowe fan, so I'd love to do something with Russell. But, yeah, I'm always getting surprised. I got to work with guys like Liam Neeson, who I've been a huge fan of for a long time. Even Mel Gibson, I was a Mel Gibson fan from when I was a kid. I take it day by day, and I still scratch my head and go, "Wow, is this real?"