Why You Never Got To See Wayne's World 3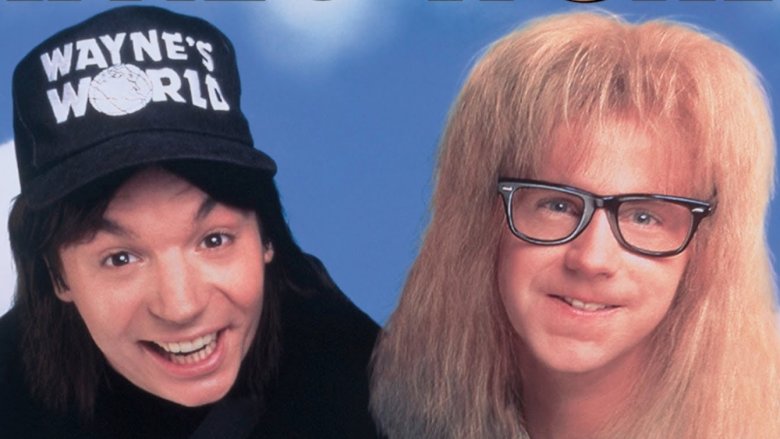 Based on the series of popular Saturday Night Live sketches about metalhead Wayne Campbell (Mike Myers) and his shy best friend Garth (Dana Carvey), 1992's Wayne's World was a smash hit and a cultural phenomenon. It spawned catchphrases ("Not!", "Schwing!", "party time, excellent!" and "psycho hose beast," to name a few) and put Queen's "Bohemian Rhapsody" back on the pop charts. The respectable Wayne's World 2 was released in 1993...and then that was about it from Wayne and Garth. Will there ever be a Wayne's World 3? Pshaw! Right! And monkeys might...well, you know. Here's an "extreme close-up" on why it'll never happen. Get the net!
'Wayne's World 2' wasn't much of a hit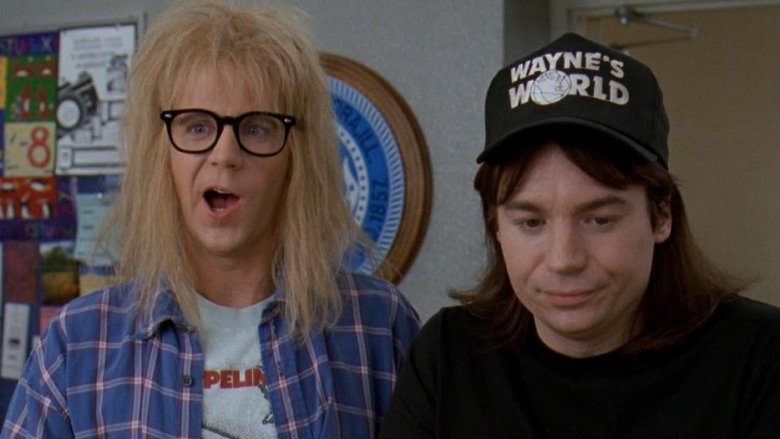 Paramount Pictures, the studio behind Wayne's World, presumably lost a lot of interest in a third installment after taking a look at the box office receipts for Wayne's World 2 in 1993. While it certainly has its funny and memorable moments, it didn't quite capture the magic of the original. Critics thought it was fine, but not as good as the first Wayne's World—it has a Rotten Tomatoes score of 60 percent, compared to 86 percent for the original. Additionally, it made $47 million at the domestic box office—well under the $121 million of its predecessor. It all added up to a lack of evident demand for Wayne's World 3, and Hollywood wasn't going to put up the tens of millions of dollars required to make it happen.
Every SNL-based movie after Wayne's World flopped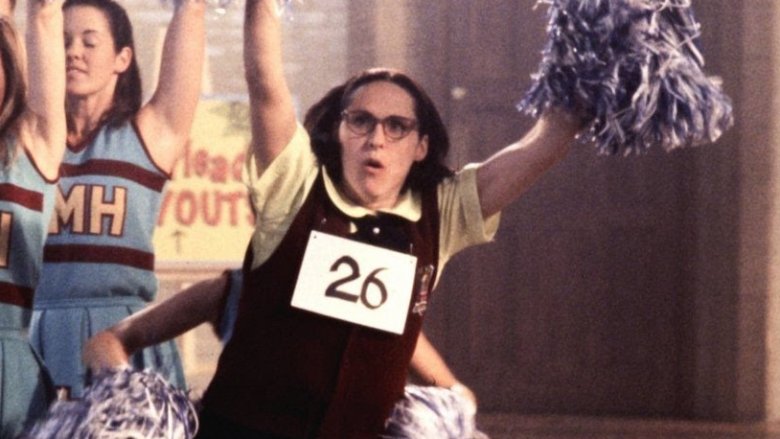 After the phenomenal success of Wayne's World, along came a slew of full-length movies based on Saturday Night Live sketches and characters—and not one of them managed to capture the cultural zeitgeist or come anywhere near the box office dollars the first Wayne's World earned. Coneheads, It's Pat, Stuart Saves His Family, Blues Brothers 2000, A Night at the Roxbury, Superstar, and The Ladies Man are just some of the SNL-inspired duds that made a combined total of $111.88 million in theaters—less than Wayne's World amassed by itself. The subgenre died until 2010, when Will Forte's MacGyver send-up MacGruber hit theaters...and bombed. There just hasn't been much of a demand for movies based on sketches people can watch at home for free, and that includes more Wayne's World.
Mike Myers got too busy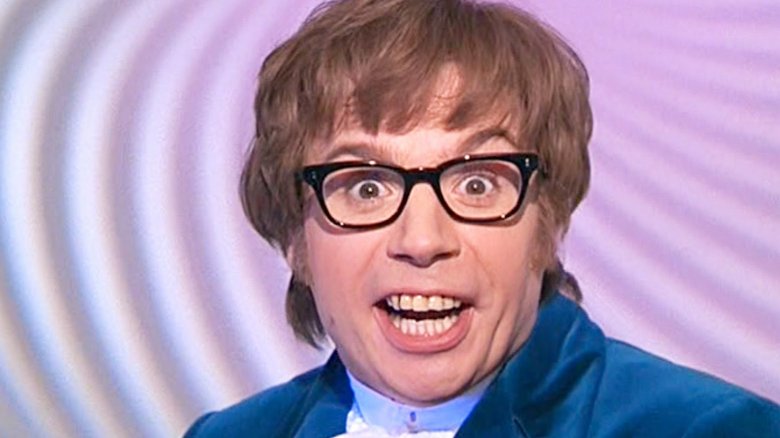 The late '90s or early '00s would've been the right time to strike quickly with another Wayne's World movie, but Mike Myers was simply too busy with other projects. After Wayne's World 2, Myers regrouped and came up with another over-the-top, irresistible character: Austin Powers, a British spy straight out of a candy-colored '60s British spy movie. The first movie in the series, Austin Powers: International Man of Mystery, was a modest hit, but built up such a huge home video following that the 1999 sequel Austin Powers: The Spy Who Shagged Me made more than $200 million at the box office; the third movie, 2002's Austin Powers in Goldmember, did even better. Making those movies, along with voicing the main character in the Shrek series and taking roles in films like 54 and Mystery, Alaska, didn't leave a lot of time for much else.
Comedy trilogies are rare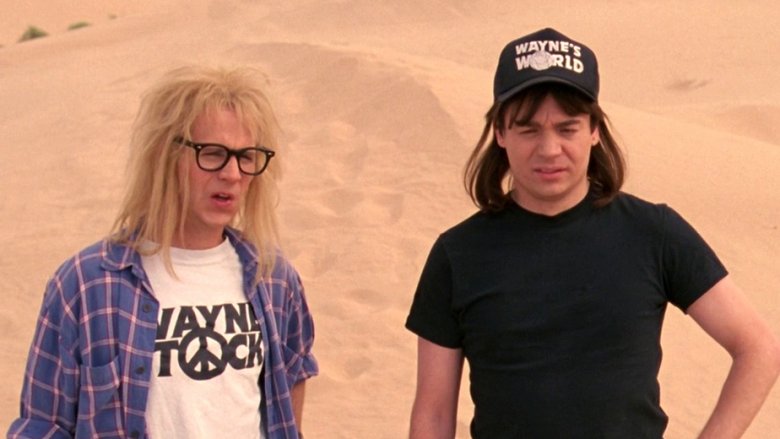 Myers' Austin Powers films are an example of a rarity in film history: a successful comedy trilogy. While action, sci-fi, and fantasy movie series often come in threes (or more), it doesn't happen often with comedies. Comedy sequels rarely capture what made the first movie special, and as a result they're routinely savaged by critics and underperform at the box office. Some examples: Caddyshack 2, Arthur 2: On the Rocks, Fletch Lives, Three Men and a Little Lady, and Son of the Mask. As far as pure comedy trilogies go, there aren't many beyond Austin Powers, The Naked Gun, the Vacation movies, and The Hangover. The promise of Wayne's World 3 just didn't have history on its side.
Dana Carvey and Mike Myers weren't getting along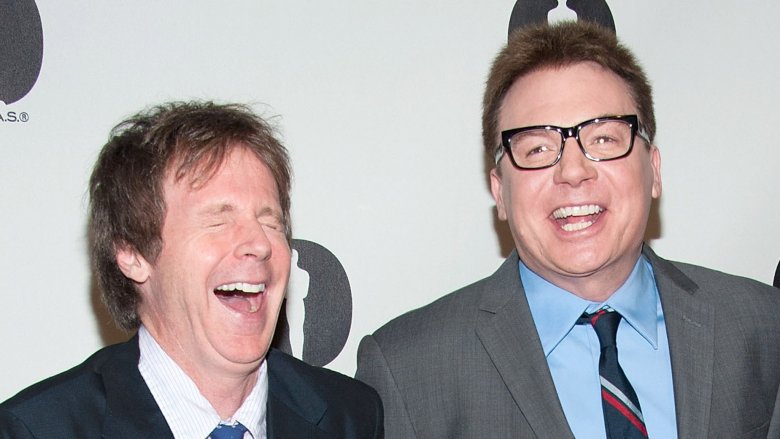 Getty Images
The success of Austin Powers can be partially blamed for why there was never a third Wayne's World movie. The character of Dr. Evil parodied several James Bond villains, particularly the similar-looking Ernst Blofeld of You Only Live Twice. But his clipped speaking voice, distant demeanor, and some physical mannerisms—including extending his pinky finger while talking—are very similar to characteristics exhibited by Myers and Carvey's old SNL boss, Lorne Michaels. Or, as Carvey has suggested, Dr. Evil's quirks were taken from Carvey's around-the-studio impression of Michaels. That, along with some other issues (an early draft of Wayne's World 2 apparently had very little Garth in it), prevented Myers and Carvey from speaking to each other for years. Happily, they've since made up and have appeared at Wayne's World screenings and on SNL together.
Dana Carvey had serious medical issues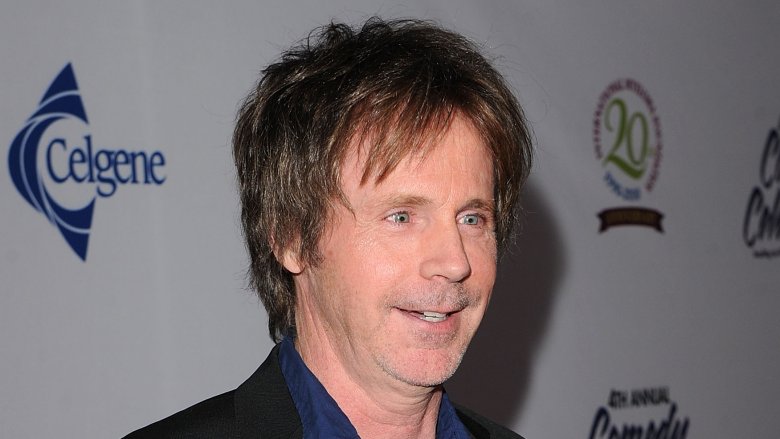 Getty Images
Carvey wasn't physically available to make Wayne's World 3 when it would've most logically entered production, sometime in the mid-to-late-'90s. Nor was he able to do much work at all—he had some major health problems. Experiencing chest pains, Carvey went to a doctor, where it was discovered that blood wasn't properly flowing to his heart. He underwent an angioplasty, a procedure in which an artery is forced to stay open through the insertion and inflation of a small balloon. In fact, he ultimately had to undergo the procedure three times—the artery kept re-clogging, despite the supposed fix. In 1998, Carvey submitted to the last-ditch effort of a double bypass, and yet the chest pains continued. That's when tests revealed his surgeon had operated on the wrong artery. Carvey had to get the procedure done on the correct artery (with a different doctor). He's since made a full recovery; he also sued the original surgeon and settled out of court in 2000.
Mike Myers doesn't seem too passionate about it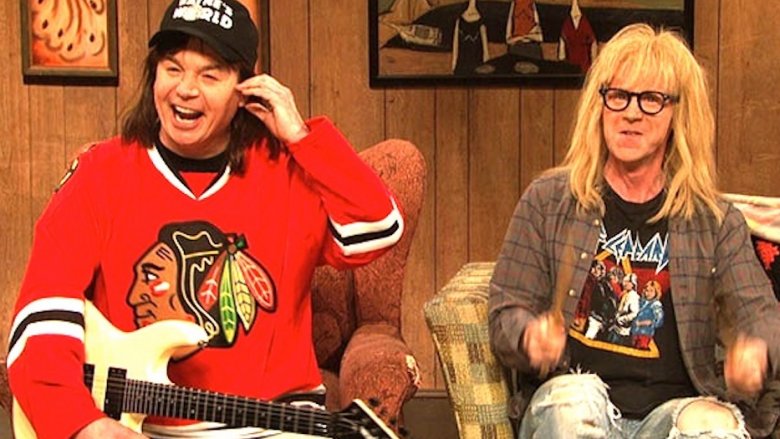 Probably the biggest reason why Wayne's World 3 has never happened is that Mike Myers, who created the character of Wayne pre-SNL, for Canadian television, doesn't seem to want to do it all that much. In 2008, Myers and Dana Carvey appeared as Wayne and Garth at the MTV Movie Awards, leaving many fans to wonder if a third big-screen outing was in the offing, but Myers said he did it mainly to get "caught up" with his old friend Carvey. Three years later, Carvey hosted Saturday Night Live and brought in Myers for a "Wayne's World" sketch. 
That reportedly sparked something in Myers, because in 2012, JoBlo and Entertainment Weekly reported that he'd written a screenplay for Wayne's World 3. It was set to be a movie about transition and aging, with Wayne and Garth trying to make the move from cable access television to an online streaming show. Soon after that news, however, Myers' team sent out a notice to refute it all, claiming Myers hadn't completed a script...nor was he even working on one. 
Myers and Carvey played Wayne and Garth again for the SNL 40 special in 2015—and once again, it sparked movie rumors that Myers good-naturedly shrugged off. When asked by The Canadian Press if there were more Wayne's World films in the future, he said he was open to the idea. "It would be an interesting examination of Wayne at 50," Myers said. "I don't know what it would look like, but the idea of it makes me laugh and Dana and I had a blast at the 40th anniversary, so I don't know."