Why The Internet Is Upset Over Tracy Morgan's Super Bowl Commercial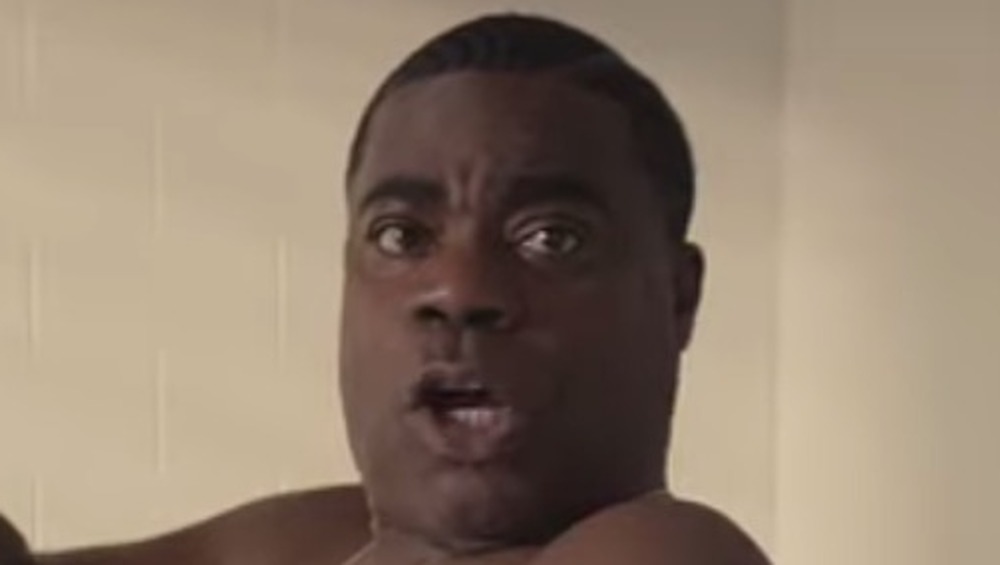 Rocket Mortgage
Actor and comedian Tracy Morgan stars in a new Super Bowl commercial for home finance company Rocket Mortgage, and the spot is rubbing some social media users the wrong way.
In the commercial, a family is touring a house they're considering buying. "Can we even afford this house?" asks the wife. "I'm pretty sure we can," the husband answers.
"Pretty sure?!" interjects Tracy Morgan, who is revealed to be taking a bubble bath while the open house is going on via a quick camera cut. "With Rocket Mortgage, you can be certain, not pretty sure."
"What's the difference?" the husband asks, apparently not knowing the word "certain." Morgan then takes the family into a bunch of comedic circumstances that demonstrate the difference between "certain" and "pretty sure."
"I'm pretty sure these mushrooms aren't poisonous," Morgan says, while the husband chokes and drops to the ground; "I'm pretty sure you could take [Dave] Bautista," which leads to the husband getting knocked out by the former pro wrestler who plays Drax in the MCU; and "I'm pretty sure these hornets aren't the murdering type," while a beehive drops on the husband's head.
For the commercial's climax, Morgan is driving a car as a drawbridge lifts up. He says "I'm pretty sure we could make it," and guns it as he attempts to jump the car over the bridge as the family screams. It's this part of the commercial that's striking people as insensitive, considering what happened to Tracy Morgan and his friends.
Tracy Morgan was in a terrible car crash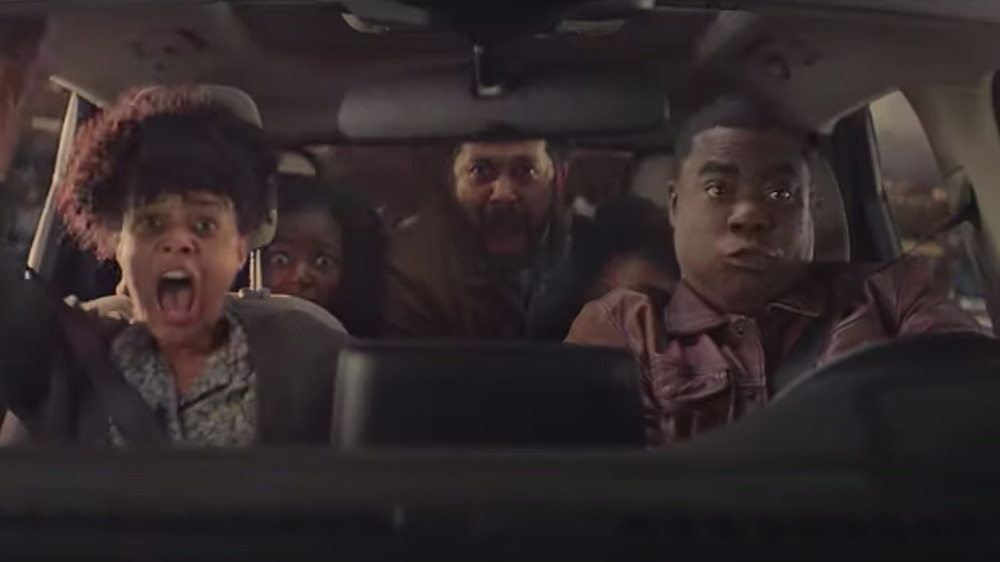 Rocket Mortgage
In June 2014, Morgan was involved in a tragic accident. He was a passenger in a limousine bus that was demolished when a tractor trailer driver failed to observe slow-moving traffic and swerved into the vehicle, as described by The Hollywood Reporter. Comedian James "Jimmy Mac" McNair was killed, and Morgan and comedians Harris Stanton and Ardie Fuqua were injured. Morgan suffered a broken leg, a broken nose, and a traumatic brain injury. For a time, it didn't seem like he would ever fully recover from his injuries, according to The Hollywood Reporter. Morgan also has a history of drunk driving arrests, per TMZ. Morgan's history is why it struck some Super Bowl viewers as weird that Rocket Mortgage and Morgan would make a commercial making light of irresponsible driving and vehicular terror.
"Why would they make a commercial with Tracy Morgan getting into a car accident???" Twitch streamer @lillostvdos tweeted. "Literally f—ed up."
"Pretty bold choice to have Tracy Morgan almost crash a car," tweeted comedian Gianmarco Soresi.
While there has been some criticism of the commercial, there's also a lot of support, with many people on social media calling it one of the best of the Super Bowl. "What's the best Super Bowl ad thus far and why was it the Rocket Mortgage Tracy Morgan commercial," wrote Twitter user @2sassy4thislife, in one representative tweet.
This ad is one of two Rocket Mortgage ads starring Morgan this Super Bowl; the other finds Morgan doing the "pretty sure" bit with a different homebuyer.
Rocket Mortgage isn't the only company catching flack on social media for its Super Bowl advertising; Doritos 3D's spot with Matthew McConaughey made people uncomfortable with its Uncanny Valley look.