WandaVision Actor Reveals Why Wanda And Vision's Relationship Really Works On Screen - Exclusive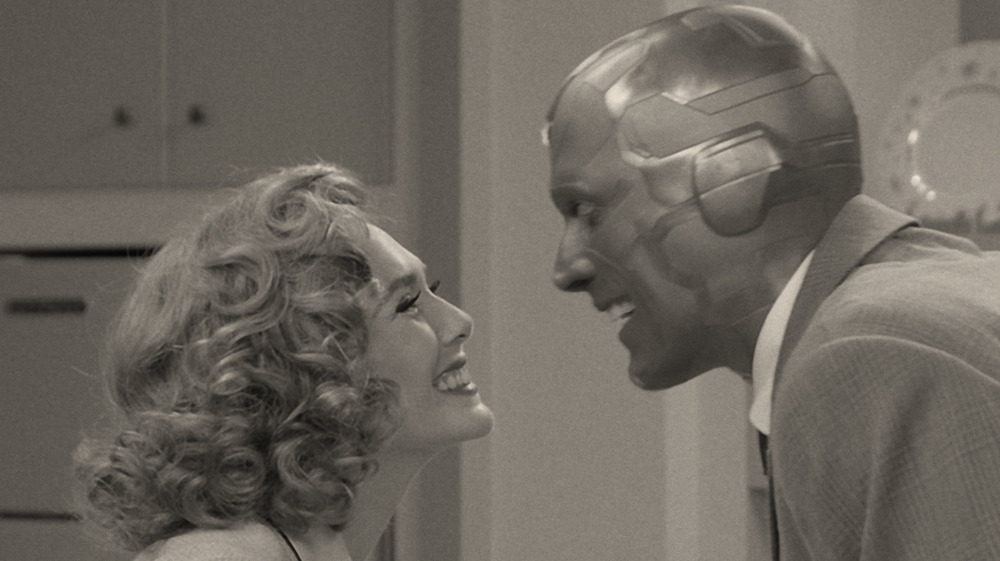 Disney/Marvel Studios
There's no question that seeing Wanda Maximoff (Elizabeth Olsen) and Vision (Paul Bettany) together again in Marvel Studios' Disney+ series WandaVision is a huge thrill for fans, especially in after the superhero couple's romance came to a tragic end when Vision died at the hands of Thanos (Josh Brolin) in Avengers: Infinity War.
How exactly Vision is alive again in WandaVision remained shrouded in mystery when the story began, but he's been living the idyllic life he never had with Wanda through the medium of classic television, where the pair hop from decade to decade in sitcoms reminiscent of The Dick Van Dyke Show, Bewitched, and The Brady Bunch, Full House, and beyond.
Naturally, Wanda and Vision aren't the only residents of their television community of Westview, which includes a nosy neighbor named Agnes (Kathryn Hahn), Vision's gruff boss Arthur Hart (Fred Melamed), and his kind-hearted wife, Mrs. Hart (Debra Jo Rupp). Also introduced in the second episode is Dottie (Emma Caulfield), the steely cold (and possibly nefarious) chair of the community circle in charge of organizing the Westview Talent Show fundraiser.
Caulfield, who was a fan of the characters of Wanda and Vision from their previous Marvel Cinematic Universe film appearances, tells Looper in an exclusive interview that she's excited to witness the couple's relationship unfold in a way viewers haven't seen before.
Emma Caulfield is thrilled watching Wanda and Vision's relationship unfold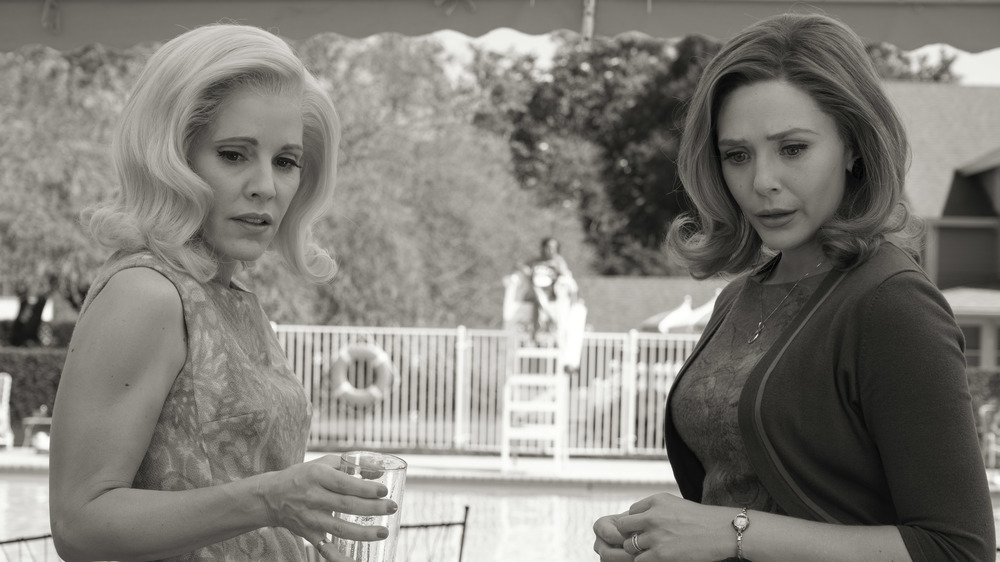 Disney/Marvel Studios
"I think the show's great in that they're able to explore those characters more fully and those characters together in a way that the films hadn't allowed for," Caulfield says. "Seeing them fleshed out has just been wonderful... Unless I missed a movie somewhere, I don't think their story in particular had really been given all this little minutia that the show has been able to give, which I love watching."
The bonus for Caulfield is that instead of being an audience member watching the MCU films Wanda and Vision appeared in, she gets to experience Olsen and Bettany's romantic screen chemistry in person. Plus, Caulfield adds, they're clearly enjoying each other's company. She isn't the only one who's told Looper how exciting it is to watch the pair work — director Matt Shakman said the same thing during our interview, when he called Olsen and Bettany "brilliant hams."
"I love watching them together," Caulfield tells Looper. "They genuinely really like each other, and it shows, so that's just great."
New episodes of WandaVision, created by Jac Schaeffer and directed by Matt Shakman, drop every Friday on Disney+.