How Malcolm & Marie Helped Zendaya Break Free
This content was paid for by Netflix and created by Looper.
For Zendaya, Malcolm & Marie was so much more than just another acting job. It was also an intensely collaborative filmmaking experience that gave her a newfound sense of freedom in her screen performance and her behind-the-scenes contributions to the story.
Malcolm & Marie reunites Zendaya with writer-director Sam Levinson. The two previously worked together on the hit HBO drama series Euphoria, which features Zendaya in her Emmy-winning role as Rue. Alongside Zendaya as Marie, John David Washington stars in the film as Malcolm, and the picture follows the two as they return home from the successful premiere of Malcolm's film and find that what is supposed to be a night of celebration takes a very sour turn. While Malcolm is delighted about what's sure to be a career-making feat, Marie is deeply scorned by him forgetting to include her in his thank you speech. That's just the latest in a litany of grievances that have been growing between them, and the insult becomes the catalyst for a full night full of fireworks as they finally air things out.
The black-and-white film was written, filmed, and completed within a quarantine bubble as a result of the coronavirus pandemic in 2020. Instead of being a hindrance to the production process, though, the strict safety protocols and limited personnel on the set of Malcolm & Marie actually increased the intimacy and creative flow of the team, especially for Zendaya.
In December, the actress opened up on Pharrell and Scott Vener's OTHERtone podcast about how uniquely hands-on the project was for her and how it allowed her to finally lean into her own instincts as a performer.
She was fully invested right from the start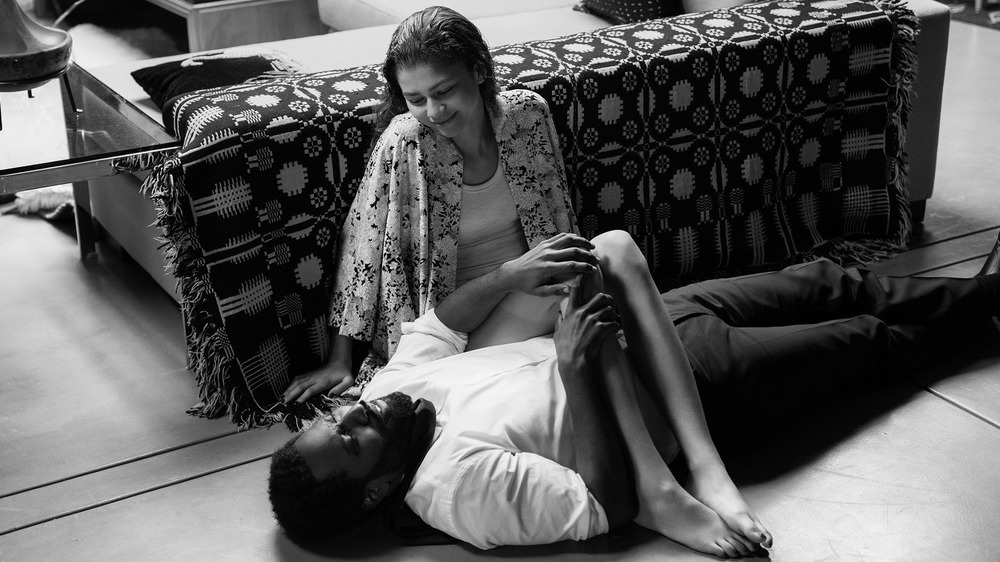 Zendaya revealed that Malcolm & Marie first began as an exchange of ideas between herself and Sam Levinson amid the Hollywood pandemic shutdowns. "I really wanted to be creative, and I hadn't worked in a long time ... the last thing I acted on was Euphoria," she explained. "I really missed what I love. And I was like, 'Listen, I'll do whatever.'" She and Levinson knew that anything they came up with would have to involve a very small crew. In fact, she said at some point they even considered just having cinematographer Marcell Rév join them at her house for an experimental shoot with only the three of them.
Eventually, Levinson came up with the concept of Malcolm & Marie and shared his vision with Zendaya, who was fully on board with it. "He called me one day with this beautiful idea of just two people in a home, a relationship piece, almost like a play. It was just two characters existing in this space together, going through something in their relationship, and that's what it is," she explained. They then brought together a tight-knit crew that they'd worked with on Euphoria and filmed the picture at a remote house location with the proper protocols over the course of a few weeks. "We made a bubble, we all quarantined, and we all stayed in this very small area in the middle of nowhere, shot in this house in the middle of nowhere," Zendaya remembered.
This proved to be a "special" experience for Zendaya in particular because she got to participate in the project in some very technical ways she never had before. "It was like an indie. I'm doing my own hair and makeup in the bathroom... and brought a lot of my clothes for set dec[oration]. It was my shoes in the background," she explained. And since the film's crew didn't include an assistant director, Zendaya said she was even part of the process of continuity with the location of props between takes.
The movie was a very fluid creative process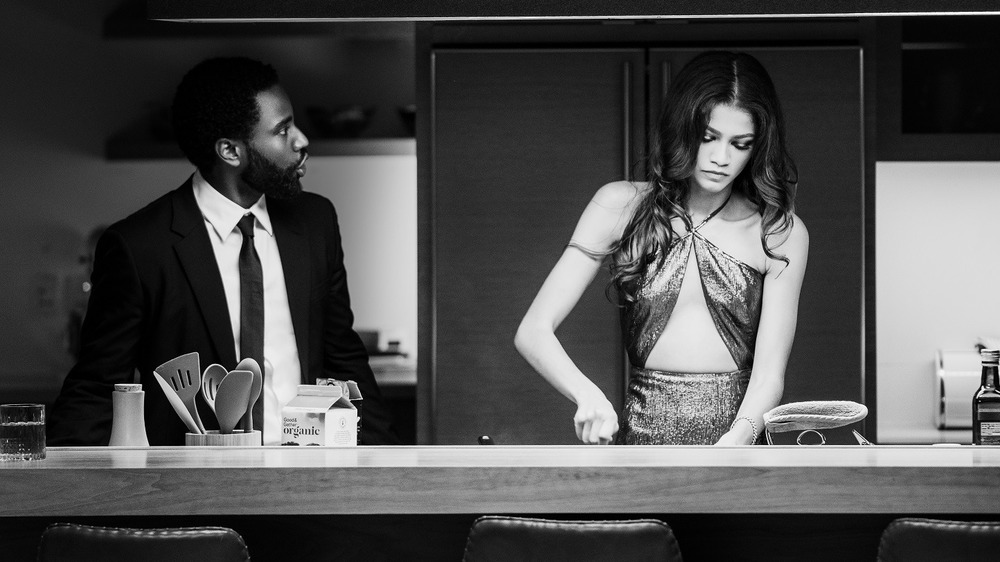 Netflix
Not only did Zendaya's early conversations with Levinson help to shape the storyline in Malcolm & Marie at the outset, but she also found that she had an important voice in the workflow once the cameras started rolling on the film.
"We got to workshop it together and block things out and figure it out, and Sam was writing as we go," she said. "We'd have conversations in the middle of a scene [and] be like, 'This doesn't feel right.' And then we'd go back and forth and rewrite it. It was really special. I've never been able to do something [at] that level of not just intimate, but that level of collaboration."
Being so intrinsically involved in both the creative and practical elements of the film also enhanced Zendaya's ability to trust her own performance choices and ultimately craft such a raw and riveting character in the picture. "Malcolm & Marie ... was really, really the first time that I creatively just allowed myself to say, 'You know what? I trust myself. I trust my instincts, and this is special, and I want to do this. And we did it," Zendaya said.
The actress explained that working so closely with Levinson on Malcolm & Marie also made her rethink her previous fears about getting behind the lens on a production in future projects. Before, she was shy about the idea of directing anything, saying, "I don't like making mistakes, and I don't like being put in situations where I could make mistakes ... When it comes to directing, it's really putting yourself out there in a huge way. As an actor, I'm executing a director's vision, right? I'm executing someone else's ideas. But as a director, you're really the captain of the ship. This is your baby. This is your work, fully. And so it's scary in that sense." However, her experience on Malcolm & Marie has piqued Zendaya's interest in potentially doing some cinematography or working as a director of photography on future films.
It's quite fitting that making this movie gave Zendaya a new sense of possibility with her own talents and trade; in a way, that's also what happens to Marie by the end of the story as she expresses her own worth and value to Malcolm's film.