Malcolm & Marie: The One Scene That Makes Us Love John David Washington Even More
This content was paid for by Netflix and created by Looper.
John David Washington is quickly becoming one of the most important actors of his generation, and in Malcolm & Marie, we get to see him explore an impressive range of human emotions as he and Zendaya share the screen in its ephemeral tale of a couple in crisis.
Washington stars in the film as Malcolm, a director on the precipice of a career breakthrough after his movie premieres to high praise from the critics in attendance. As joyful as he is, though, Malcolm soon learns that Marie is in no mood to celebrate with him. Despite the fact that Marie's harrowing struggles with addiction have inspired and informed the central character of his film, Malcolm neglected to include her in his thank you speech earlier in the evening, and she is beyond hurt by this omission.
Not only has Malcolm neglected to acknowledge her contributions to the film on this night, but Marie also believes he has taken her for granted throughout the course of their relationship. So the conversation that stems from his accidental insult becomes a heartrending exploration of the many highs and lows of their relationship, with Malcolm and Marie each taking turns as the aggressor of the argument and giving new meaning to the phrase "madly in love." 
Malcolm & Marie is full of exquisite scene work by both Washington and Zendaya, who both shine in their roles, but the moment when they discuss Marie's own career sacrifices in particular showcases the breadth of Washington's talents as a performer.
How to pull off a heel turn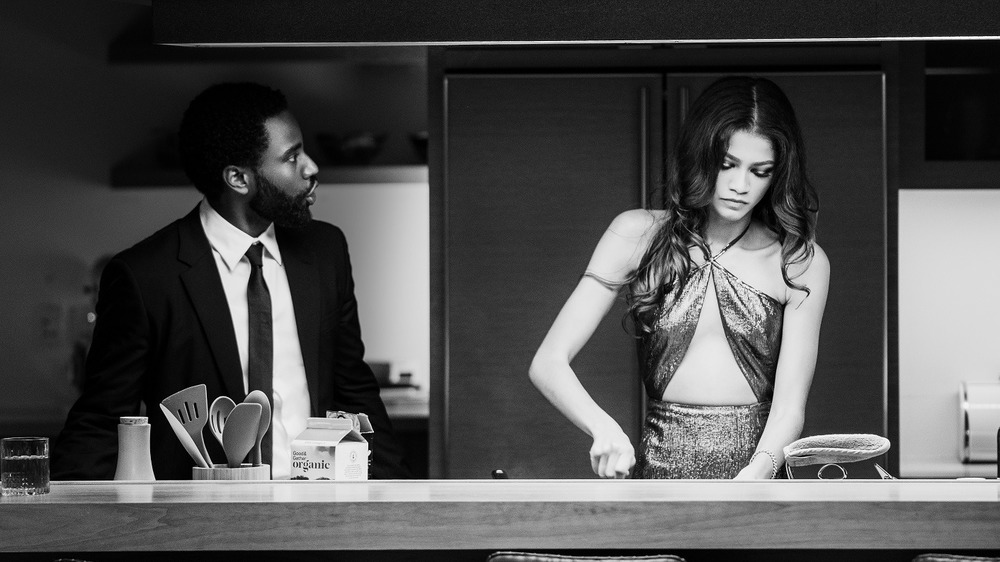 DOMINIC MILLER/NETFLIX
By this point in the film, Malcolm has eaten a lot of crow with his macaroni and cheese. Marie has accused him of embarrassing, belittling, and even emotionally abusing her over their years together. At first, he attempts to make peace by admitting that her life is influential to his work, but their respite is short-lived. Amid a moment of passion, Malcolm whispers that Marie should never have given up her acting career, and while he means it as a compliment, she heads outside and starts to stew on his words.
When Marie returns to continue the conversation, she's ready for round two, but this time, Malcolm is poised to fight back. After Marie accuses Malcolm of not actually wanting her to have her own work life because of his complete commitment to his own career, he takes umbrage at the suggestion that he is to blame for her decision.
"Oh, so you gave up a f***ing career in acting to be an emotional f***ing support dog," he taunts. "I get it now, all right." From this moment on, it's clear that Malcolm is done being on the defensive, and he's ready to truly tangle with Marie in this war of words.
Washington's ability to make such a seamless pivot to new posturing is something we have seen from him before, particularly in his performance as Ricky Jerret on Ballers, which featured him dropping all pretenses to get to the heart of the matter on multiple memorable occasions. Here, his decision to engage is jarring, exciting, and a bit unnerving — all at once.
A gift for fast talk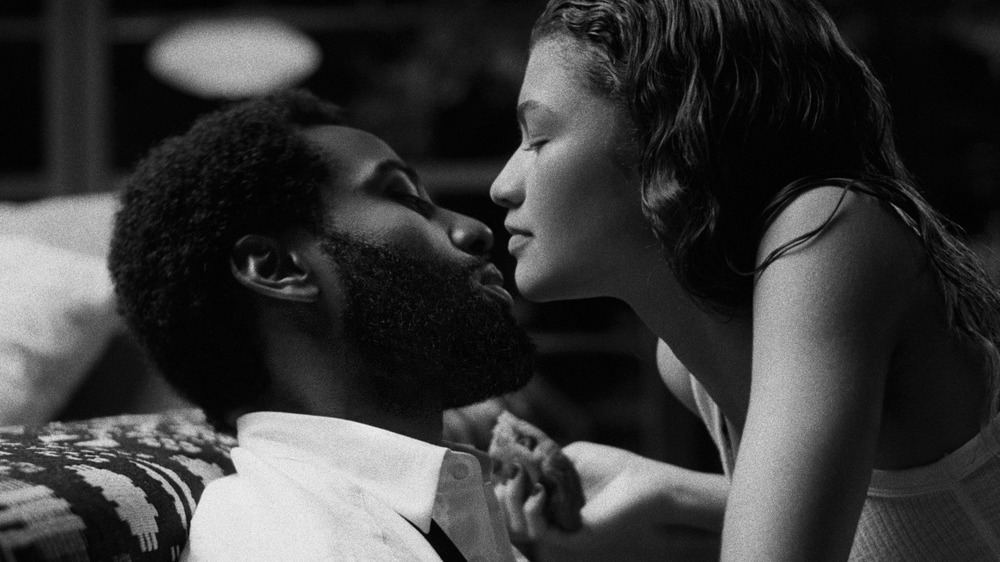 DOMINIC MILLER/NETFLIX
As the epic argument commences in Malcolm & Marie, Washington and Zendaya begin a complicated dialogue dance as their characters volley some blistering barbs in rapid succession. Washington is particularly swift with his line delivery throughout this scene, as Malcolm insists that not only does Malcolm want Marie to have a career, but he's afraid of what might happen to her if she doesn't.
At the same time, he's run out of patience for her excuses and finger-pointing and, in what seems like a single breath, Malcolm scolds, "You know, I get it, I really do. You have pain and f***ing disappointment and dreams like everybody else on planet Earth. You're mad that you didn't get the jobs you wish you got. You're embarrassed that you had to play 'skinny girl in alley' and 'concerned nurse number two.' Well, guess what? None of us are proud of what we first start off [with]. I started off, I had to do ... f***ing pushups on straight-to-VOD rom-coms and undercover rewrites on films that didn't even want to f***ing pay writers. But you keep working. You keep on trying."
As this breathless diatribe continues, Washington's performance somehow becomes even more energized and determined. With each new line he speaks, it's clear that Washington's monologue skills are second to none. Fans previously got a taste for the actor's gift for gab in his celebrated turn as the Ku Klux Klan-infiltrating Officer Ron Stallworth in BlackKklansman, a character who also succeeds because of his way with words. In Malcolm & Marie, though, he's balancing that verbosity with some very intense emotional expressions as well. 
A layer of tenderness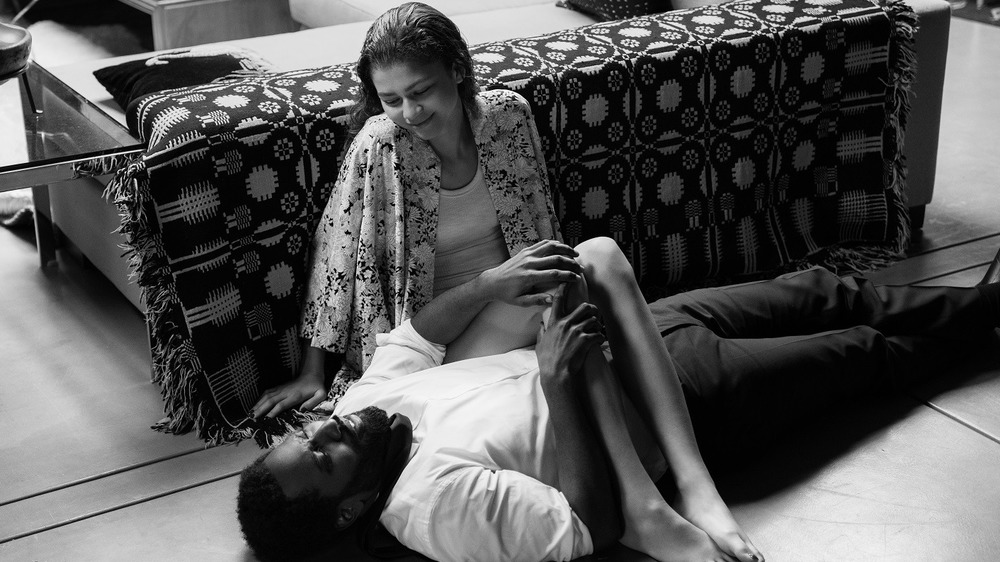 DOMINIC MILLER/NETFLIX
Even when Malcolm is fully fired up in his quarrel with Marie, Washington still imbues the character with a bit of vulnerability. As the scene continues, Malcolm reminds Marie of some of the specific ways he has been supportive of her over the years, including being both present and patient with her during her recovery process. Not only is he attempting to win this point of the argument, but he is also presenting his redemptive qualities to both her and the audience.
Washington and Zendaya each slowly unpack the complexities of their characters throughout Malcolm & Marie, and every time the audience learns something new about them, as with this moment of revelation about Malcolm's own sacrifices, the dynamic of the story shifts just a bit. Neither of them are villains or victims, and the decision by Washington to layer even his harshest words with a hint of softness effectively achieves that character development in the film.