This Is Where You've Seen The Woman From Hellmann's Super Bowl Commercial Before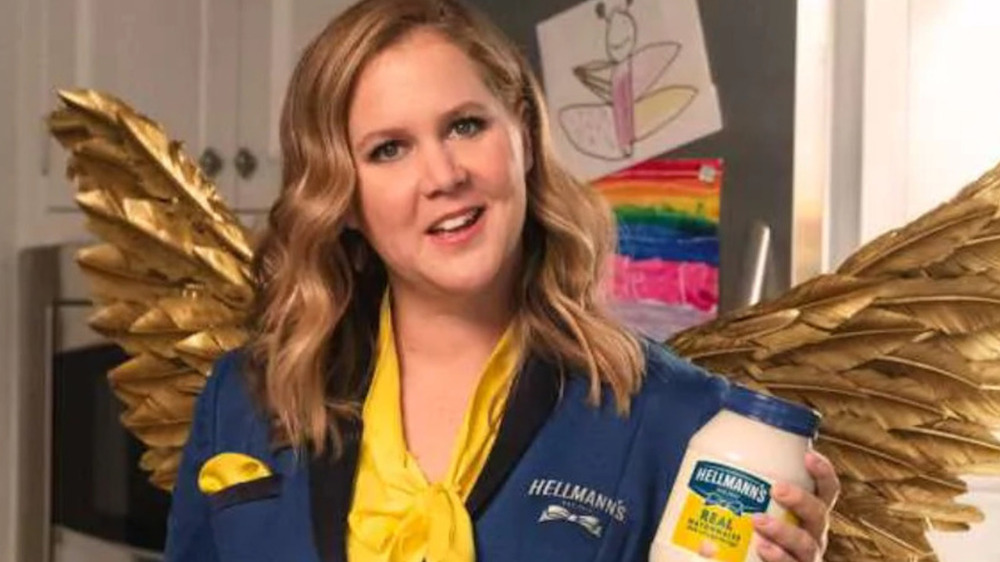 Hellmann's
Hellmann's Mayo has teamed up with one of Hollywood's funniest women for their 2021 Super Bowl ad.
With the Super Bowl approaching on January 7, 2021, huge companies are releasing snippets of the ads that will air during the big game — which, of course, is one of the biggest nights of television every single year — and comedian Amy Schumer has joined forces with Hellman's as a sort of mayonnaise angel. Adorned with golden wings, Schumer is working with the condiment brand to help alleviate food insecurity and prevent widespread food waste.
As for Schumer, the raunchy writer and comedic actress has been a Hollywood staple for the past several years. After making a name as a stand-up comedian and headlining her own popular Comedy Central sketch series, the Emmy nominated Inside Amy Schumer, the creator moved onto high-profile big screen projects, including Judd Apatow's 2015 romantic comedy Trainwreck — which Schumer wrote with Apatow — and the self-affirming 2018 comedy I Feel Pretty.
Lately, Schumer has been focused on her family after she and her husband, chef Chris Fischer, welcomed their first child, Gene, in 2019, but she's still working whenever she can. During the COVID-19 pandemic, Schumer and Fischer hosted a hilarious cooking show, Amy Schumer Learns to Cook, on the Food Network, and the comedian also gave fans a full look at her personal life in her HBO Max documentary Expecting Amy, which details the creation of a stand-up special during her very difficult pregnancy.
As far as Schumer is concerned, she's thrilled to appear in an ad for Hellmann's, especially considering all the good causes they're promoting. Here's where you've seen Amy Schumer before, and what Hellmann's has to say about working with the actress.
Amy Schumer is proud to partner with Hellmann's for their Super Bowl ad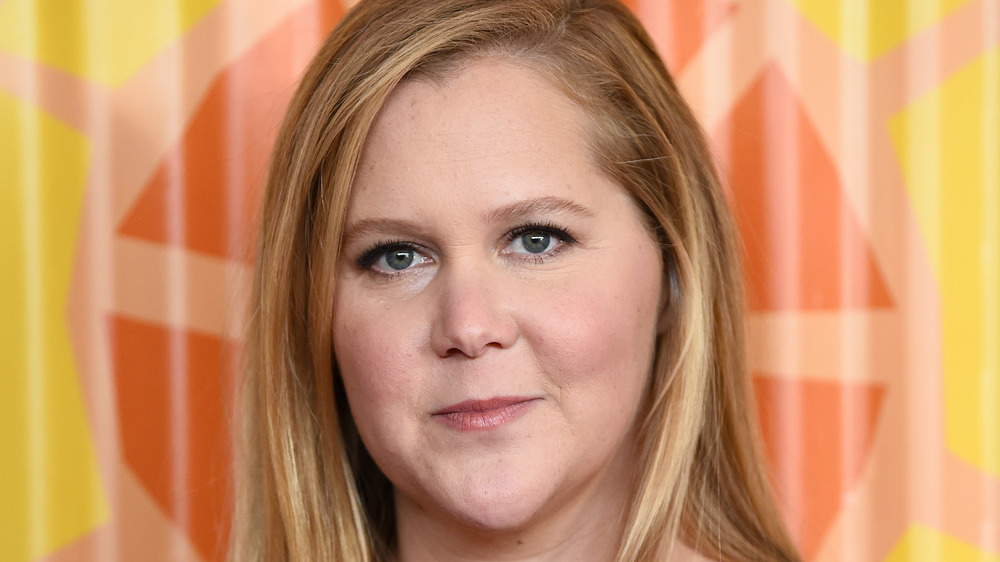 Dimitrios Kambouris/Getty Images
If you check out Hellmann's website, which features a photo of Schumer in the forthcoming commercial, donning wings and holding a jar of Hellmann's, the brand asks, "Guess what's inside your fridge?"
"Endless possibilities," the statement continues. "Amy Schumer is here to help Hellmann's end food waste by opening America's pantries and making snack magic – sad solitary ingredients will now join a delicious, creamy group hug."
Meanwhile, in a pre-Super Bowl interview with late night host Seth Meyers, Schumer revealed that while she wasn't aware that food insecurity was so "prevalent," she's thrilled to work alongside Hellmann's to fight it. As Schumer told Meyers, "I'm very proud to be partnering with Hellmann's, and they've done so much to try and get rid of wasting food, because I found out from them that 40% of all food in the US is wasted, is thrown away, and 43% of all of our food in our own homes is thrown away."
After gently ribbing Meyers for never appearing in a Super Bowl ad — especially as Schumer's collaboration with Hellmann's marks her third — Schumer revealed how she got involved with the company... while making plenty of jokes. "You know what? I'm proud," Schumer said. "I like to say, 'when Hellmann's approached me,' as if I were at a bar and a jar of mayo sidled up. But you know, they reached out, you have to be conscious of the companies you're partnering with now [...] I'm really proud with how they're handling everything, and their business model, and they're doing so much to try to help people with food insecurity."
Always self-effacing, Schumer concluded, "My good friend Jennifer Lawrence is the face of Dior, and I am the body of mayo."
You can catch Schumer in her ad for Hellmann's during Super Bowl LV on January 7, 2021.