The Real Reason Dina Meyer Got The Role Of Starship Troopers's Dizzy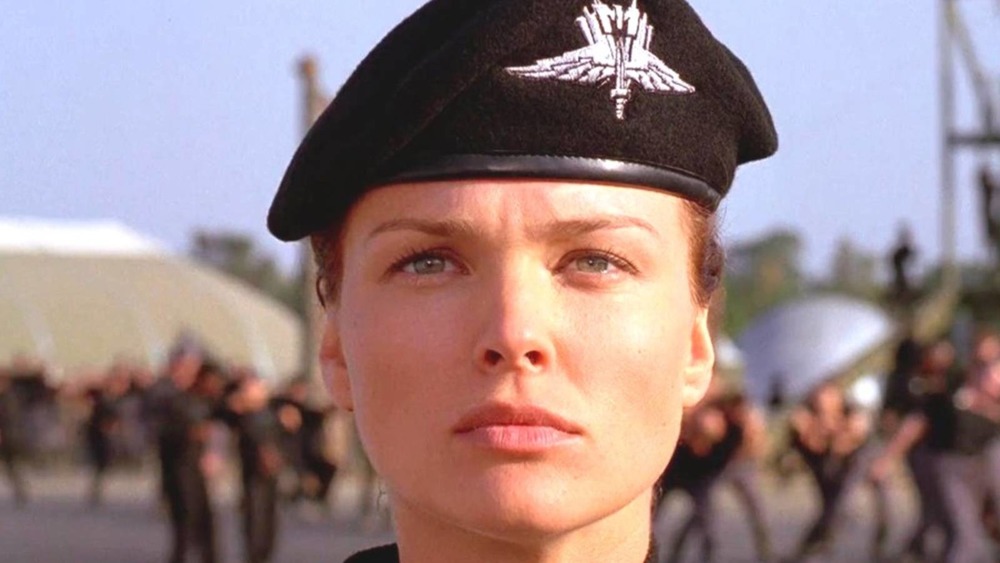 Sony Pictures Releasing
Plenty of movies are ahead of their time. They may barely make any money or get a litany of negative reviews from critics, only to find a newfound respect years later. Blade Runner flopped at the box office and only became a sci-fi classic years later, after the release of a director's cut. Speed Racer earned paltry reviews when it first came out in 2008, but now people realize it's a kinetic thrill ride with breathtaking cinematography. But few films have been as misunderstood upon initial release as 1997's Starship Troopers. 
Honestly, critics and audiences should have known better by the 1990s than to take a Paul Verhoeven film at face value. After all, this is the filmmaker behind such iconic satires like RoboCop and Total Recall that may seem like dumb action movies on the surface but have a lot to say about commercialism, fascism, and the nature of violence. Starship Troopers follows in those footsteps by presenting a futuristic world where humans are at war against "bugs" and the media is controlled by the State. Audiences would eventually learn to appreciate the political satire, excessive violence, and campy performances from the cast. 
While we mostly follow Rico (Casper Van Dien) throughout the film, his one-time lover Isabelle "Dizzy" Flores (Dina Meyer) plays a vital role in helping him through the hero's journey. It's hard to imagine anyone else so perfectly embodying the tougher-than-nails attitude of Dizzy. The character fits Meyer like a glove — but as the actress has revealed, she wasn't always destined to land the part. 
Dina Meyer was originally asked to audition for Carmen in Starship Troopers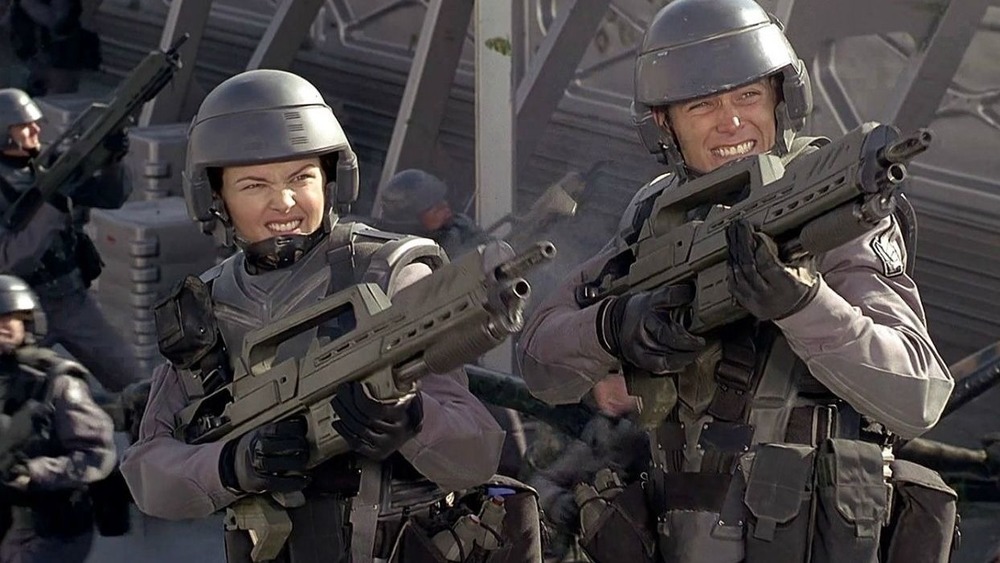 Sony Pictures Releasing
Dina Meyer spoke with Red Carpet News TV about her time working on Starship Troopers, and she revealed that it wasn't always planned for her to play Dizzy. In fact, people behind the scenes had other ideas for her. "Initially, my agent had sent me the script and thought I would be better for the Carmen character that Denise Richards was cast as," she explained. "And when I read the script, I just... I just gravitated more toward Dizzy." 
Meyer proceeded to recall her audition, when she asked Verhoeven if it was all right for her to instead read for Dizzy. He didn't seem to mind, so she performed the scene, making sure to display enough of the macho attitude that would go on to define the character in the actual film. She didn't have a problem getting into the nitty-gritty of it. "Right afterwards, I just dodged Paul [Verhoeven] and like tackled him in the room," she said. "And I think that that's kind of... that was the moment when he said, 'Yeah, you know what? She's our Diz.'"
It's all the more impressive considering this was only Meyer's third film role (following Johnny Mnemonic and Dragonheart). It sounds like she was confident in her particular strengths and willing to go out on a limb to defy what the director was probably expecting. Now for legions of sci-fi fans, she'll forever be Dizzy Flores. If that Starship Troopers reboot ever picks up traction again, the actress who has to take on that role has some mighty big shoes to fill.