The Steamy Time Travel Drama Everyone's Binging On Netflix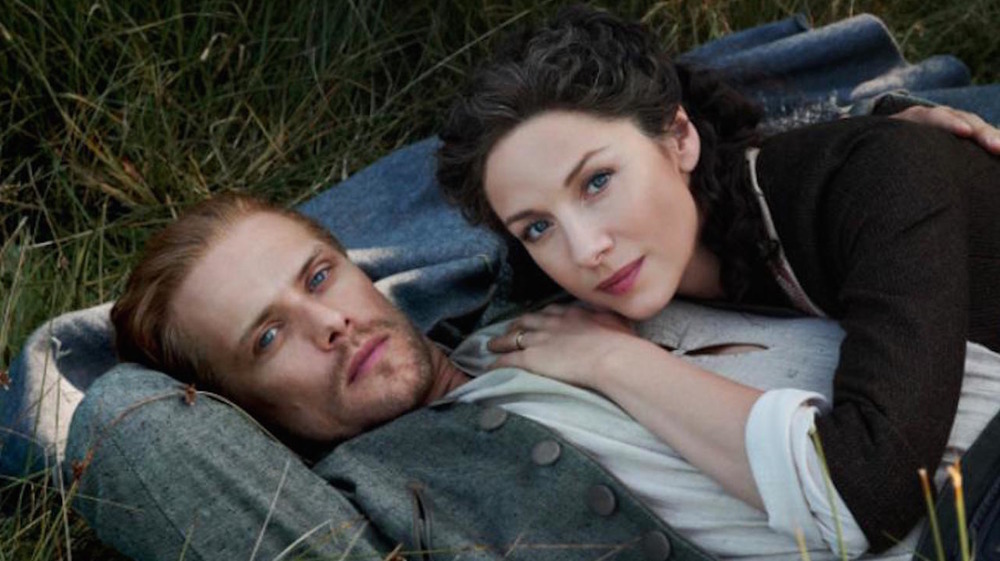 Starz
Contains minor spoilers for Outlander
In the wake of Bridgerton's success, television fans are seeking out other steamy historical romances to watch while they wait for Season 2 of the Netflix series. One such series that has folks glued to the couch in a binge-watching haze is Starz' addictive time-traveling romance Outlander, the fourth season of which just hit Netflix at the end of January.
The show, which premiered in 2014 and is based on a series of lengthy fantasy-romance novels by author Diana Gabaldon, stars Caitríona Balfe as Claire Randall, a former World War II nurse who, while on vacation in Scotland with her historian husband, Frank (Tobias Menzies), travels back in time from 1945 to 1743 via a mysterious stone circle at Craigh na Dun. Claire initially struggles to survive in the past, and is nearly assaulted soon after arriving, but she is saved by a rugged Highlander by the name of Jamie Fraser (Sam Heughan). He and his men are on the run from the depraved Captain "Black Jack" Randall (also Menzies), who turns out to be one of Frank's ancestors.
Trapped in the past with no means of escaping that she can see, Claire at least makes great use of her nursing skills, properly diagnosing illnesses and saving lives with her advanced medical training. She is eventually forced to marry Jamie out of necessity, an event that results in a very steamy wedding night which, much like those steamy scenes in Bridgerton, is also portrayed through the female gaze. Before long, she actually falls in love with the man, though he doesn't always make it easy. Because she also still loves her husband Frank, Claire spends a great deal of time strung out across the time-travely love triangle.
Outlander is more than just a steamy romance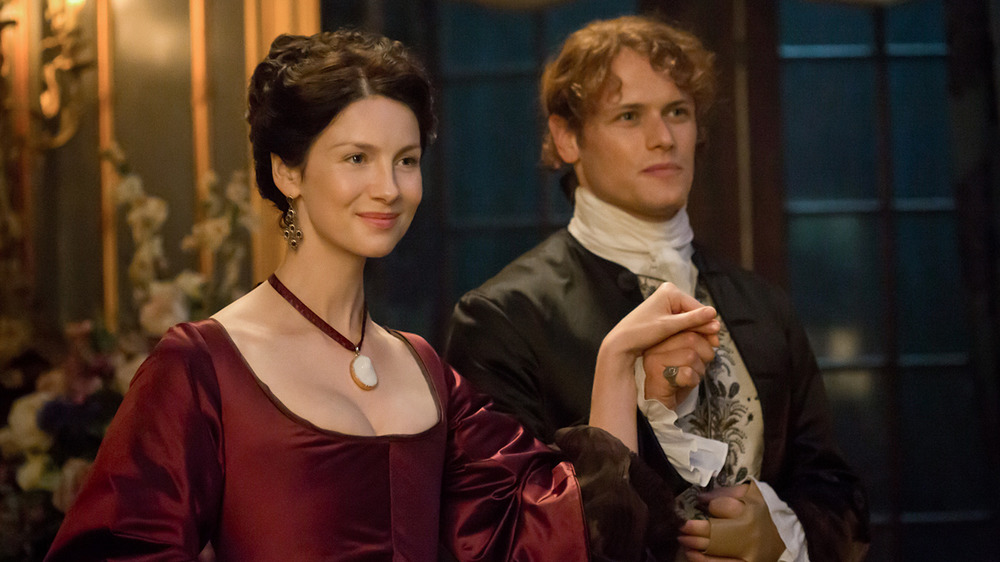 Starz
If you love complicated, layered romances, Outlander is definitely the series for you. However, it's also much, much more than that. The show, which has been renewed through at least Season 6 and holds an 89% fresh rating on review aggregator Rotten Tomatoes, merges its sexy brand of romance with fantasy elements (Claire's mysterious ability to travel through time via the stones) and a close attention to historical detail to create a one-of-a-kind genre blend that will keep you riveted for hours.
For instance, Claire regularly uses her knowledge of the future, including the failed Jacobite rebellion at Culloden, a major plot point early in the show, to attempt to change history. It takes some time to convince Jamie that she's actually from the future and not a lunatic, but eventually she succeeds, and the couple travel to France in Season 2 in an attempt to thwart the Jacobites by infiltrating the movement and preventing the battle of Culloden from ever occurring.
Meanwhile, time travel remains a confusing, if vital, part of the show. It is eventually revealed that Claire is not the only person who has made a trip through time. To say much more would be to spoil several key plot points and reveals, which we won't do. We will mention, however, that as the series progresses, the story takes its heroine all over the world — season 3 finds her in the Caribbean, while season 4 takes her to the American colonies to witness some of the messed up things that happened in colonial times. But one thing remains the same amid the rapid motion of the convoluted plot and shifting locations: Claire's love for and dedication to Jamie. It is the one thing that not even time and distance can change.
Check it out for yourself, now streaming on Netflix.