Alex Aiono's Finding 'Ohana Scene That Makes Us Love Him Even More
This content was paid for by Netflix and created by Looper.
Is there anything that Alex Aiono can't do? The young musician has already headlined three international tours, collaborated with the likes of John Legend and Conor Maynard, dominated social media, and is quickly approaching one billion views on his ultra-popular YouTube videos. But that wasn't enough. Now, Aiono is a movie star, too.
In Finding 'Ohana, Aiono plays Ioane, the quick-tempered and supremely doofy older brother of pre-teen treasure-hunter Pili. Like his sister, Ioane is looking forward to a calm, relaxing summer in New York, where he grew up. However, when his grandfather Kimo has a heart attack, his plans change. Without any warning, Ioane and Pili's mother whisks them away to Hawaii, where his grandfather lives. When news gets out that Kimo is in danger of losing his house, Pili begins a dangerous search for a sailor's long-lost treasure. Reluctantly, Ioane tags along.
After all, for Ioane and his family, the stakes couldn't be higher. Shortly before Ioane gets dragged into Pili's quest, their mother gives Ioane some unwelcome news: She's thinking of selling the family's Brooklyn apartment and moving everyone to Hawaii. Understandably, Ioane is upset. He doesn't want to give up his life in New York, and besides, his mother has a history of not being around when she's needed. 
"You're hardly there for us, and we live with you," Ioane yells, after his mom tells him the plan. In response, she asks if he knows how hard it is to be a single parent. "Every time I hit the bodega, or I make dinner, or I do laundry because you can't," he replies. He doesn't stop there, either. "What's not fair is losing my whole life because you feel guilty about leaving Hawaii when Dad died," he says, lashing out.
It's a stunning and heartbreaking scene, and it's one of the most important ones in the movie. Not only does this moment explain everything the audience needs to know about Ioane's character, but it proves that acting is just another tool in Aiono's belt. He's just as good on screen as he is in the recording booth. Here are a few reasons why.
Hidden depth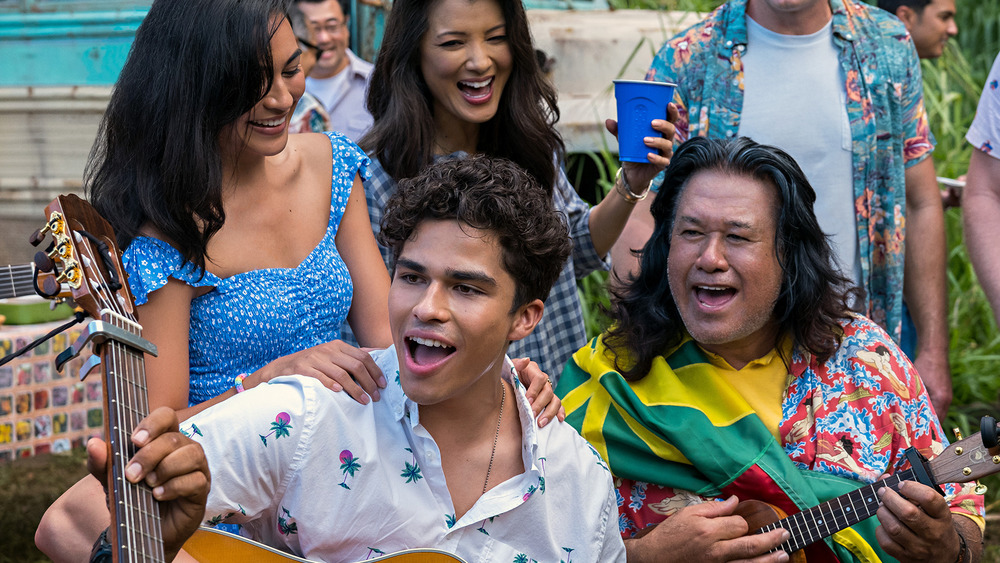 Alex Aiono started recording music when he was only 14 years old. Like so many other stars of his generation, Aiono made his name in music on YouTube. His early singles, like "Doesn't Get Better," are danceable pop tunes with lyrics targeted straight at teenagers. They're fun and catchy, but as Aiono tells The Los Angeles Times, they don't really reflect who he is. "I was just following what other people said was success," he says.
Over the past decade, Aiono has gone on to prove that he's both an extremely talented musician and a daring artist. Following a brief stint with Interscope Records, Aiono released his latest album, The Gospel at 23, on his own label, which gave him the freedom to make a record that's informed by his specific experiences, beliefs, and tastes. "I think in an effort to express my truest self, I had to commit to being unfiltered, raw and true," he says to AZ Central. "I've hit a point where I'm like, 'Wow, I found out how to deep dive into my soul and speak the truest truths I can.'"
For his Finding 'Ohana character, Ioane, this scene functions in much the same way. For most of the movie, Ioane is arrogant, grouchy, and has a very short temper, and his foibles are played almost exclusively for laughs. But, as this scene reveals, Ioane isn't a caricature. He's a person, with understandable problems and resentments and a vibrant, complicated internal life. In that way, he's a lot like Aiono himself. It just takes a scene like this to bring it all together.
Versatility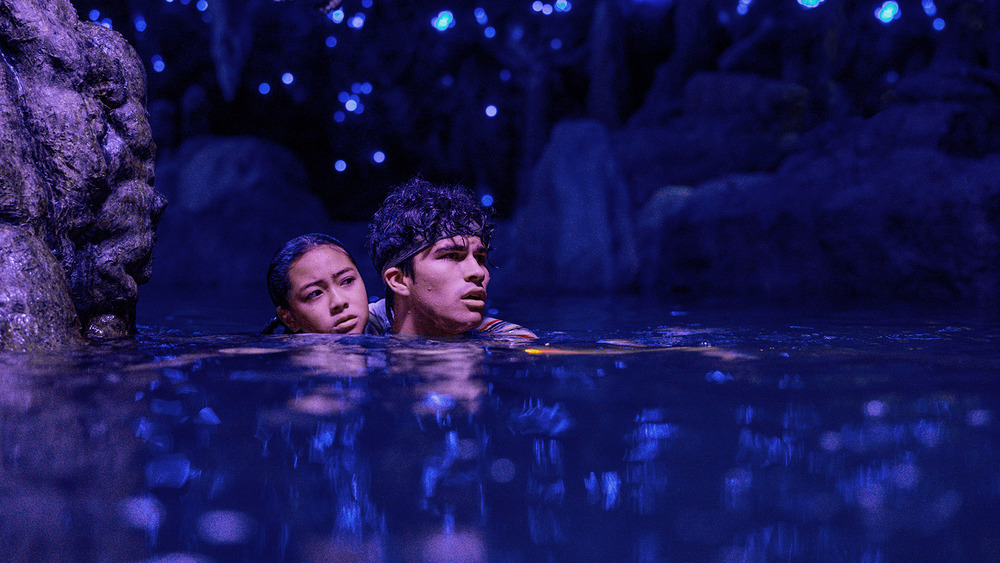 As a musician, Aiono is hard to define. He plays 10 different musical instruments. He started writing pop songs, became famous by mashing up hip-hop with reggaetón, and just released a gospel album. His influences include everyone from Stevie Wonder to Bob Marley to Drake to Gladys Knight. He's almost impossible to pin down.
As an actor, Aiono is largely the same way. Early in Finding 'Ohana, Ioane functions primarily as comic relief — and, to Aiono's credit, he is very funny. Ioane's constant bickering with his sister, or his cringeworthy attempts to flirt with Lindsay Watson's Hana, succeed because of Aiono's natural charisma. He's a loudmouth, but thanks to Aiono, he's never hard to watch.
You'd expect as much from a YouTube, vlog, and Radio Disney star. What you may not expect is that Aiono is capable of much more. There's nothing funny about Ioane's argument with his mother. His anger is justified, intense, and very, very real. In a movie that's as lighthearted and fun as Finding 'Ohana, this scene marks a big tonal shift, and it asks a lot of the young actor. Aiono simply nails it. His work in this scene also sets up additional turns later in the movie, which sees Ioane take on the role of romantic lead, fearless adventurer, and, most importantly, loving big brother. Finding 'Ohana proves that Aiono is more than a punchline with a pretty face — and it all begins here, in this scene.
It's his potential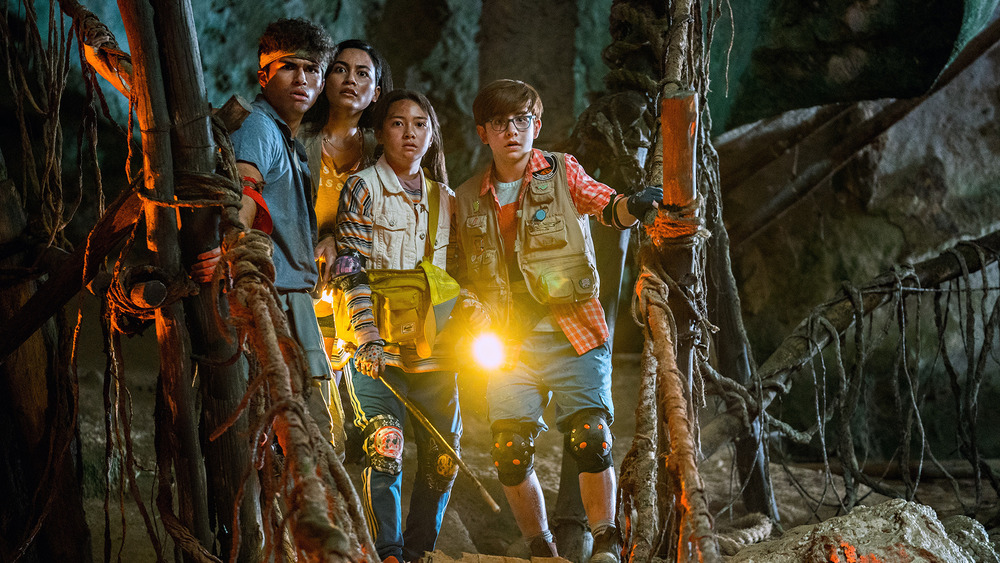 Aiono's performance in Finding 'Ohana is already impressive, but it becomes doubly so when you realize that this is his very first movie. While Aiono had a little bit of prior acting experience (at age 18, he appeared in Royal Crush, a romance-driven web series set on a cruise ship), Finding 'Ohana marks his feature film debut.
And yet, Aiono is already able to hold his own with veteran actors like Kelly Hu, a legend of the entertainment industry, who plays his mother, Leilani. Their chemistry in this scene is undeniable. Ioane unloads years' worth of pent-up anger on his mother, who is visibly wounded with each vicious, pointed barb. But that's not the best part. For Aiono, scenes like this one are only the beginning. By all indications, he'll get even better as time goes on.
After all, Aiono didn't get where he is today by accident. He works very, very hard. Despite his youth, he's been part of the entertainment industry for 10 years, and he's been grinding the entire time. When he was 14, his entire family moved from Arizona to Los Angeles in order to support his career. He's always learning how to play new instruments, playing with new genres, and discovering new ways to connect with his fans. If Aiono devotes the same attention to his acting as he does to his music — and there's no reason to think he won't — he could grow into something very, very special. Watch out. Aiono is one to keep an eye on.