The YouTube Star You Didn't Realize Starred In Finding 'Ohana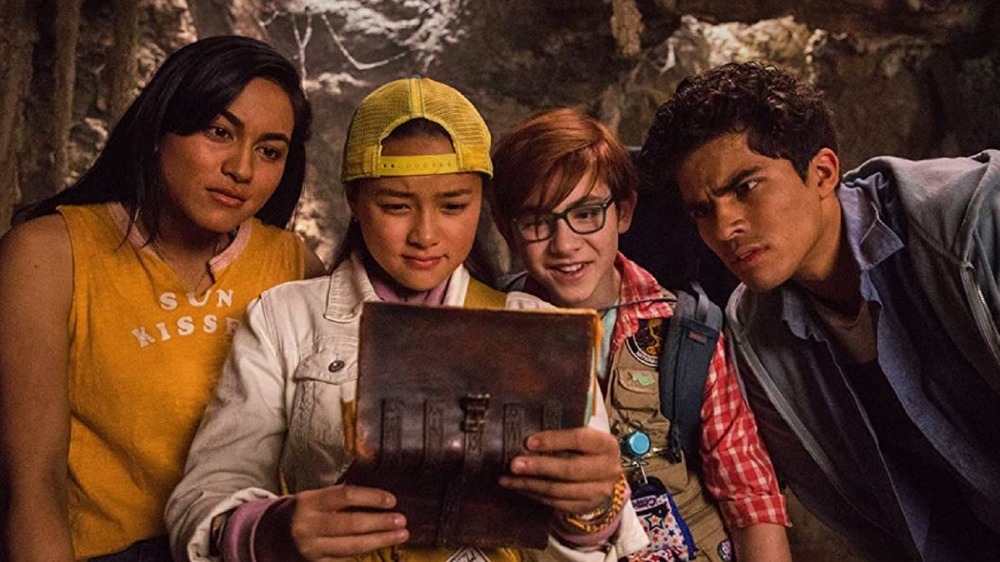 Netflix
Finding 'Ohana is the latest volley in Netflix's mission to make 2021 the biggest year for movies on its platform by releasing a fresh one every week. The 1980s-tinged adventure romp comes from director Jude Weng (The Good Place, Unbreakable Kimmy Schmidt, Fresh Off the Boat). While it draws inspiration from classic treasure-hunting movies like The Goonies, Finding Ohana has a decidedly modern take on the classic trope. While hunting treasure, the film's cast also explores the importance of cultural heritage and familial ties — after all, as Disney's Lilo and Stitch famously reminds us, Ohana does mean family.
At the heart of Finding 'Ohana is a ragtag team of young adventurers that forms around a brother-sister duo (Alex Aiono and Kea Peahu) that moves to Hawaii from their more urban home in Brooklyn. If you pay attention, you'll be delighted to notice that some of the folks around them are actually quite well-known figures in the entertainment business. This list includes actor Ke Huy Quan, who plays George Phan in Finding 'Ohana, but who you may very well remember from his roles as Short Round in Indiana Jones and the Temple of Doom and Data in The Goonies. 
Observant viewers may also notice that the actor playing Ryan is quite famous from a certain digital media platform. Let's take a look at the YouTube star you didn't realize starred in Finding 'Ohana.
Ryan Higa is a popular YouTube star
Finding 'Ohana is not the first time Ryan Higa has acted in front of a camera, though he may be used to a more D.I.Y. setup. He has a decent résumé of short films and collaborations with other YouTube stars, and in 2016, he starred in Tell Me How I Die, a horror movie about a trial-stage drug that can show the moment of your death. However, he's most famous for his popular YouTube channel, nigahiga, which has 21.4 million subscribers and counting.  
To put the affable YouTube star's popularity in full context, some of his most popular videos like "How to Sing Like Your Favorite Artists" and "Fortnite the Movie (Official Fake Trailer)" rake in tens of millions of views, with his most popular clip, "Nice Guys," sitting pretty at nearly 85 million views ... and counting. It's probably fair to say that if even a fraction of Higa's fan base heads to Netflix this weekend to see what their favorite YouTuber is up to, the star just might be Finding 'Ohana's ace in the hole.     
Finding 'Ohana is now available for streaming on Netflix.