What Surprised Josh Holloway Most About His Yellowstone Role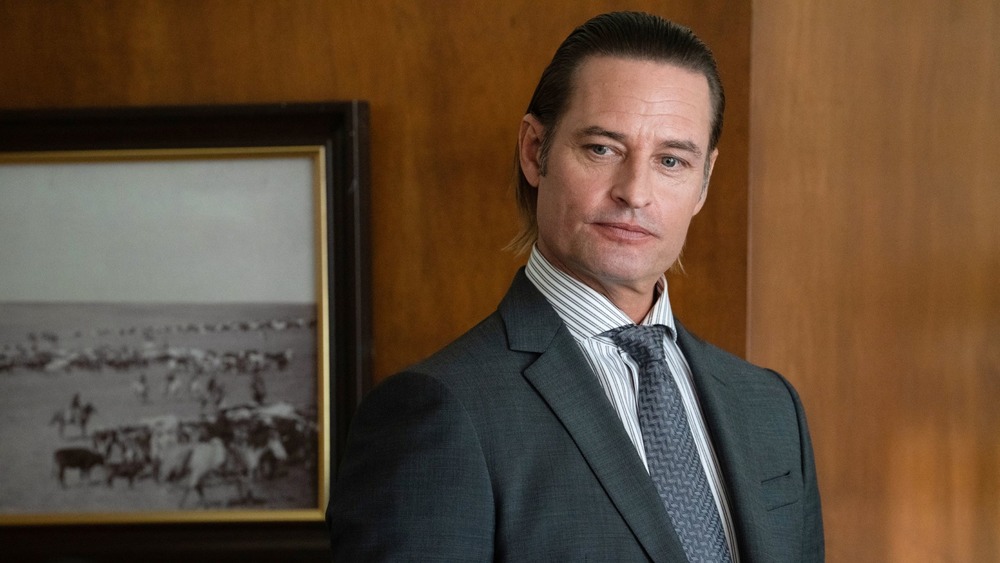 Paramount Network
After six seasons of playing Sawyer on ABC's sci-fi-fantasy series Lost, Josh Holloway knows all about shocking twists. But nothing could prepare Holloway for the surprise Yellowstone series creator Taylor Sheridan had in store for him when he was cast in season 3 of the hit Paramount Network drama. Since he and Sheridan were friends, the actor was certain the showrunner was about to make his dreams of playing a cowboy come true, but Sheridan had other plans in mind for his pal.
In a June 2020 interview with USA Today, Holloway revealed he initially thought his Yellowstone role would allow him to channel his inner cowboy, and the Southern actor couldn't wait to finally take on a role that he was so clearly well-suited for. And then Sheridan went and cast him as a slick, Wall Street bad guy instead.
"When I got the call, I was so excited that I was finally going to get to be a cowboy, because in 18 years of acting, no one has cast me as the cowboy, for God's sake," Holloway said. "I was like, finally. Thank you, Taylor. And nope. He cast me as a Wall Street guy. I was like, 'Taylor? Really?' He thought that was the funniest thing."
Sheridan didn't completely leave his friend hanging though. Holloway's character Roarke is an avid outdoorsman whose focus on making money doesn't distract him from life's small pleasures like fly fishing and horseback riding — activities that the showrunner knows Holloway loves in real life. In fact, the first time viewers meet Roake he's actually standing in a river fishing. "(Taylor) wrote that specifically for me," the actor shared.
Before Yellowstone, Josh Holloway got to try his hand at playing a Western archetype on Community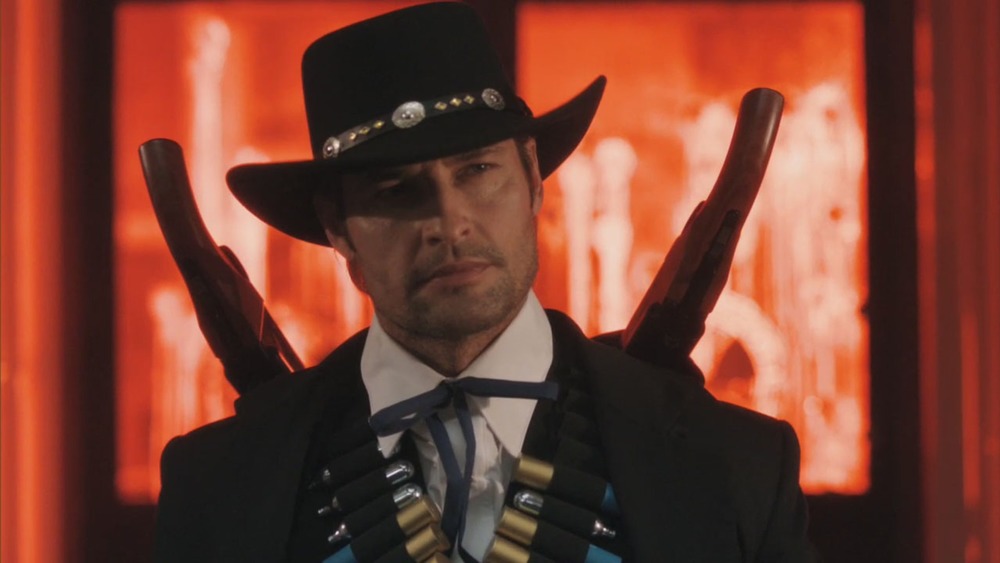 NBC
Despite never being cast as a traditional cowboy so far in his career, Holloway did get to dust off his spurs for a memorable guest appearance in the season 2 finale of NBC's Community. In "A Fist Full of Paintballs," Greendale Community College's annual paintball match once again descends into chaos, but this time, the students behave like they're in a Spaghetti Western. That's where Holloway comes in as the Black Rider, a mysterious stranger sent in to put an early end to the game.
The role allowed Holloway to go full cowboy — minus the horse — as he stalked the halls of Greendale with his paintball guns and cowboy hat. In a 2011 interview with Entertainment Weekly, Community series creator Dan Harmon explained that the episode was designed to have a "Sergio Leone Western motif" — which it pulled off with ease, thanks in part to just how natural Holloway was in a Western setting. 
For now, the Black Rider and Roarke are as close as the Lost star has come to playing a cowboy, which is a shame, because if any actor in Hollywood gives off authentic old school Western vibes, it's certainly Holloway.