Inside The Unique Training The WandaVision Cast Got - Exclusive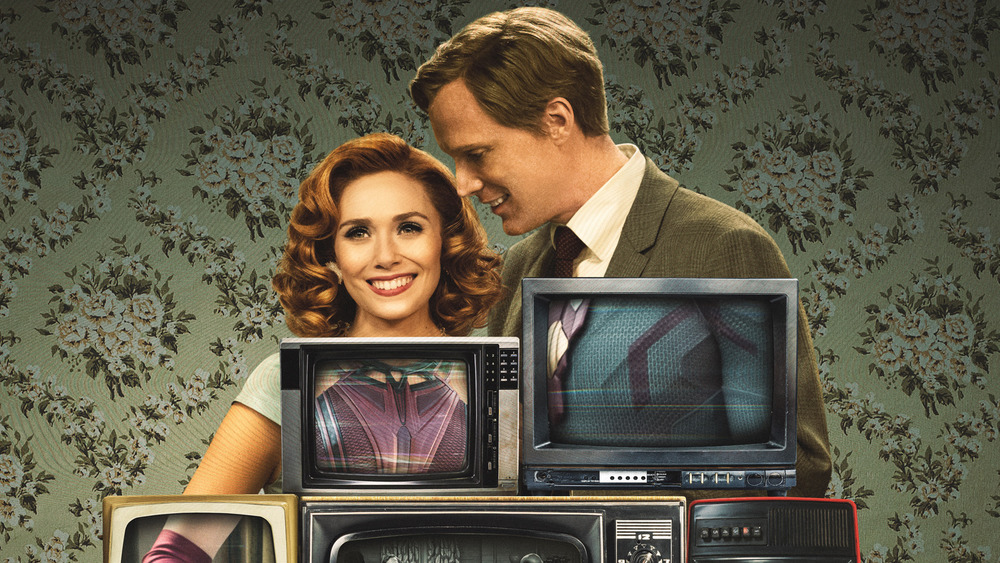 Marvel Studios/Disney+
It's not unusual for a cast of a film or television series to go to bootcamp before filming a project — but usually, those bootcamps are physical in nature to either prepare for screen stories that are military-themed so actors can sense their characters' experiences from a real-life point of view, or are bootcamps meant to get regular folks into tip-top shape to play superheroes. Thanks to the classic television look and feel the cast and crew are trying to recreate with Marvel Studios' new Disney+ series WandaVision, a new sort of intensive training program was conceptualized in order to ensure authenticity.
WandaVision, which launches Phase 4 of the Marvel Cinematic Universe, finds Wanda Maximoff (Elizabeth Olsen) and Vision (Paul Bettany) cast headlong into the world of classic television sitcoms, where they live out an ideal life together in situations reminiscent of such series of The Dick Van Dyke Show, Bewitched, and The Brady Bunch, among others, while a much larger narrative plays out around them. Spoiler alert: It isn't as picture-perfect as it seems.
In an exclusive interview with Looper, director Matt Shakman (It's Always Sunny in Philadelphia, Game of Thrones, The Boys) says that recreating the tone of classic sitcoms that WandaVision pays homage to was top of mind. As such, the WandaVision cast was plunged deep into the history of sitcoms to learn and effectively recreate those golden moments of television yesteryear.
Taking the 'deep dive'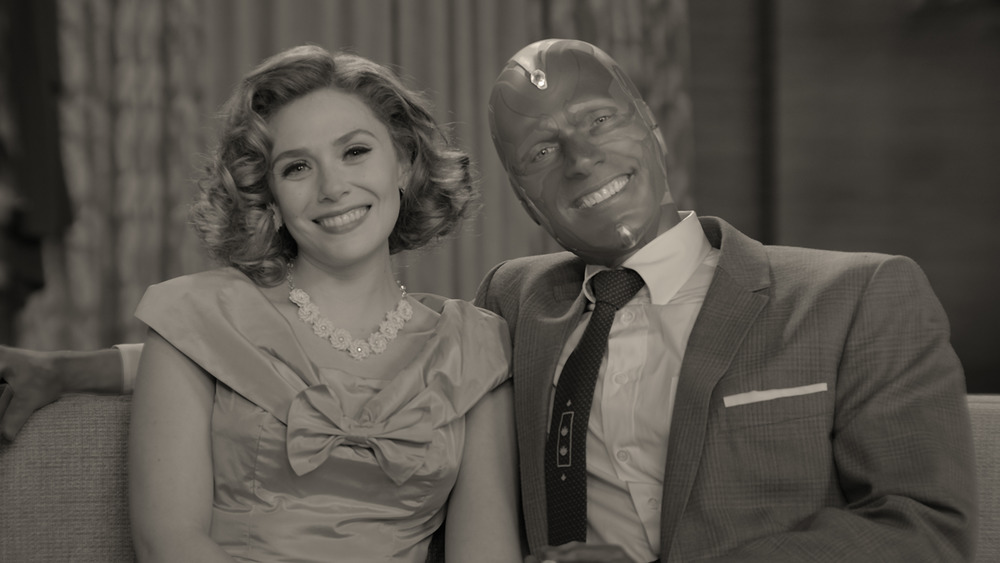 Marvel Studios/Disney+
"We were very specific about it," Shakman tells Looper. "Obviously, we were trying to match the style and the way it was shot, the way it looked, the feeling, lenses, lighting, and all that. But tone is really the most important thing. Acting styles change, what's funny changes, pace changes. So, we did a deep dive into the history of sitcoms." 
The "deep dive" that Shakman and company took came to be known as "sitcom bootcamp." He shares with Looper, "We had a nice, long sitcom bootcamp at the beginning with the actors, and we looked at lots of episodes. We tried on different tones and styles, and we worked with dialect coaches on how people sounded and how they moved. Then you put those amazing actors in those beautiful period environments in period clothing, and it kind of comes to life. It's really amazing."
Created by Jac Schaeffer, WandaVision – which also stars Kathryn Hahn, Teyonah Parris, Randall Park, Kat Dennings, and more — is playing now on Disney+.