Game Of Thrones: That Sansa Rumor Gets Shut Down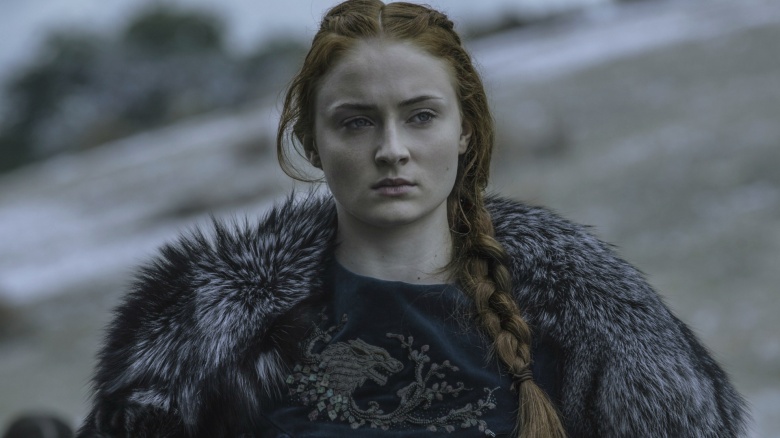 Contains spoilers for Game of Thrones
Sansa Stark hasn't had much in the way of good news throughout the course of six seasons of Game of Thrones, but it sounds like one big rumor about her can finally be put to rest.
The reliable folks at Watchers on the Wall (beware: link contains even bigger spoilers) have reported that Sansa (played by Sophie Turner) will not be pregnant in Season 7. Although a pregnancy wouldn't necessarily have been bad news, the upside here is that she isn't carrying the child of her now-deceased and unabashedly evil ex-husband Ramsay Bolton.
Fans first began to suspect that Sansa would become pregnant when a promotional photo for Season 6 appeared to reveal that she was sporting a baby bump. (It turned out just to be some shadows and wishful thinking.)
But then the rumor mill went into high gear at the end of the season, right as Ramsay uttered his final words before becoming meat for his dogs. He told Sansa: "You can't kill me. I'm part of you now," which could've indicated that he had impregnated her.
However, Watchers on the Wall (who are typically right about this sort of thing) have their eyes fixed on the production in Europe, and claim the rumor is as dead as Ramsay. "I am enormously happy to report that Watchers on the Wall can put a certain 'theory' to bed. If any in our readership believed a certain insistent rumor, the following may be a relief to hear: Sansa will NOT be (or get) pregnant in Season 7."
Of course, that's not official confirmation, but Turner herself previously indicated that the pregnancy theory was false. She told The Hollywood Reporter: "I think some people have taken [Ramsay's words] very literally, thinking that she might be pregnant. Personally, I think it's more figurative, especially because months and months have gone on and Sansa really hasn't developed a baby belly. So I think he means he's going to forever be imprinted on her in a way that he's done such a terrible thing to her. He's taken something of hers that's so precious. I think he believes that will always be a part of her."
For now, it sounds like Sansa dodged a bullet. But, due to her history, we'll have to remain very cautiously optimistic about how Season 7 will treat her.
Meanwhile, here's what we know about the upcoming season so far.