Why Ruth Wardell From Snowpiercer Looks So Familiar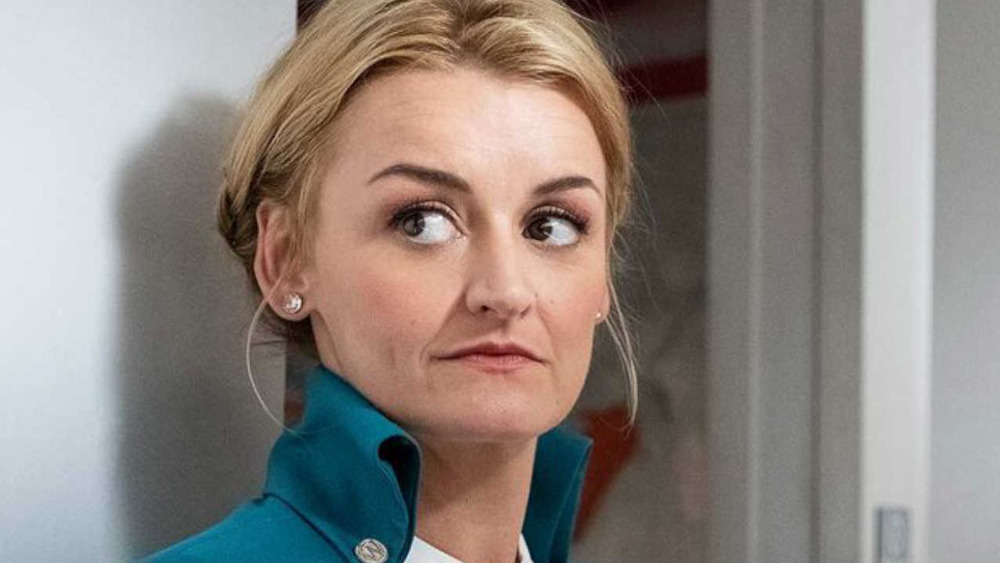 TNT
The post-apocalyptic drama Snowpiercer, filled with heart-pounding action and tense political maneuvers, has finally returned for its second season. On top of that, TNT already renewed the show for a third season (via Variety). So fans can rest assured that there's a lot more to see of Melanie, Andre, and all of the characters' stories. Based on the Bong Joon-ho-directed film of the same name released in 2013 and starring Chris Evans, the 2020 TV adaptation focuses on a world in which everything has frozen over. All that's left of humanity lives on a continuously moving train traveling around the world.
Snowpiercer stars Jennifer Connelly as Melanie, the "Voice of the Train" who keeps order by dictating the rule of Mr. Wilford, the supposed mastermind behind Snowpiercer. As Melanie maintains power over the train within the confines of luxury and privilege at the front, a huge class of individuals called "Tailies" live in squalor at the other end. Daveed Diggs plays Andre, a Tailie recruited to solve a murder that leads to a full revolt. As Melanie's main ally, Ruth Wardell, played by Alison Wright, helps her control the rebelling Tail section. Ruth looks up to Melanie and greatly values intelligence and steadfastness, which is evident in her supreme loyalty to Wilford. Her whole worldview is challenged when she discovers that Melanie has been lying the entire time they've been stuck on Snowpiercer and pretending to be Wilford. 
For fans of Snowpiercer, Wright's bright face may be quite familiar, as she's had a few significant roles in major projects. Considering her rising success the past few years, we'll likely be seeing a lot more of Wright in the future. But aside from Snowpiercer, what has the actress been in? Check out her biggest roles.
Alison Wright gave an Emmy-nominated performance as Martha Hanson in The Americans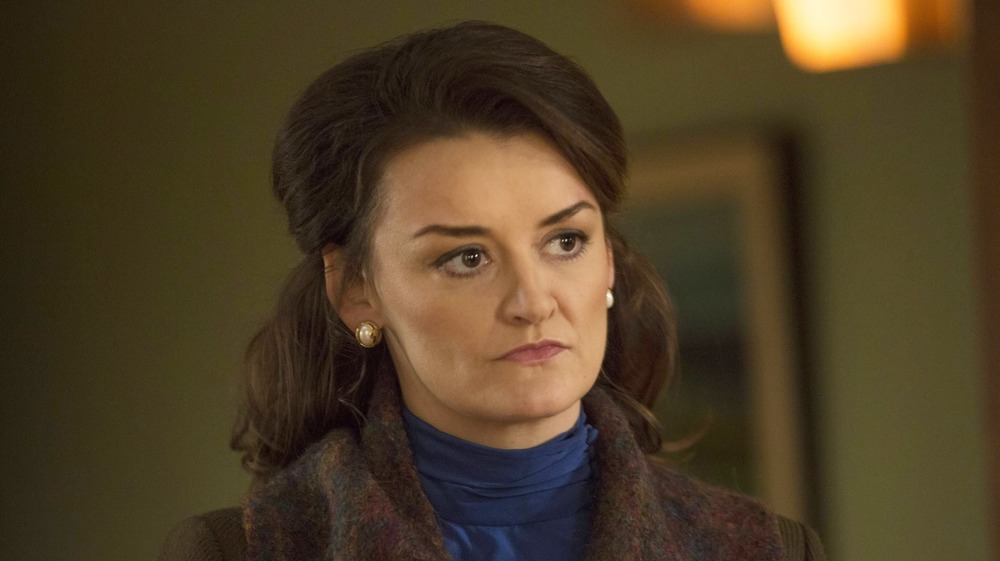 FX
Arguably Wright's most recognizable role so far was when she starred in the Golden Globe-winning period drama The Americans on FX. In fact, her performance in the series as Martha Hanson earned Wright her first Emmy nomination in 2017. Airing from 2013 to 2018 and starring Matthew Rhys and Keri Russell, The Americans is centered around two Russian agents sent to pose as a normal American couple in the United States during the Cold War.
Wright's character, Martha, is initially only a tool for Philip and Elizabeth Jennings (Rhys and Russell), as she is the assistant to Frank Gaad (Richard Thomas), who is the head of the FBI counterintelligence unit. To get close to her, Philip uses an alias named Clark Westerfeld and romances Martha. Eventually, the two get married, and Philip convinces her to plant a bug in Frank's office. Unfortunately, when the device gets discovered, Martha is a prime suspect—leading Philip to reveal the full truth to save her life. Although most of their romance is false, Philip grows to care for Martha, and he forces the KGB to help her flee the country to the USSR.
Wright played the clever assistant Pauline Jameson in Feud: Bette and Joan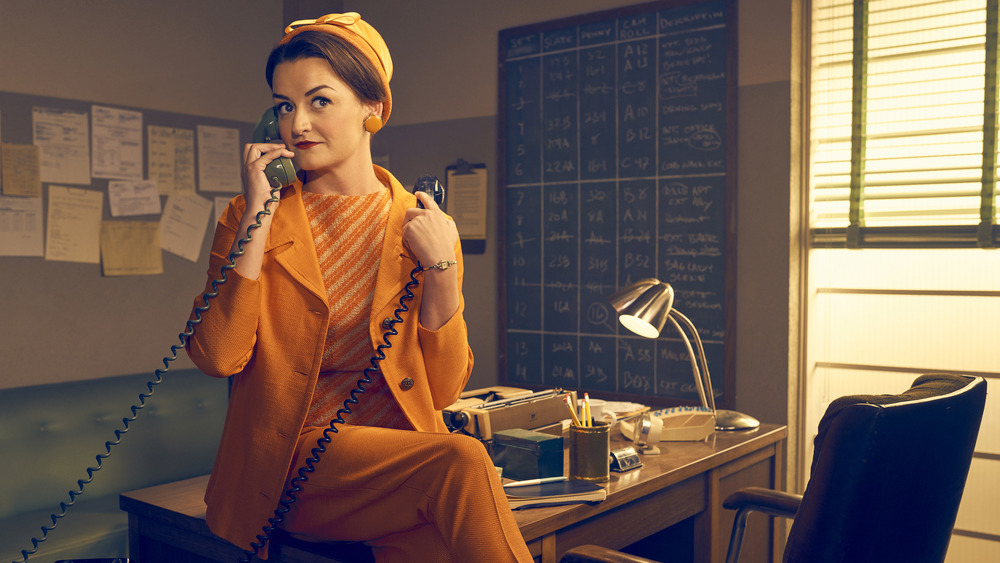 FX
The English actress really started hitting her stride in 2017, when she appeared as Pauline Johnson in FX's Ryan Murphy miniseries, Feud: Bette and Joan. Set in the 1960s, the series focuses on the historic rivalry between Joan Crawford (Jessica Lange) and Bette Davis (Susan Sarandon) during and after the making of What Ever Happened to Baby Jane? Wright's character, Pauline, is the assistant to film director Robert Aldrich (Alfred Molina) and an aspiring filmmaker. Although she rarely gets the credit she deserves, Pauline is smart and creative, and a key factor in Aldrich's success.
According to an interview Wright did with Bustle, her character shares a name with an older actress but is not based on her, explaining that "Pauline is a composite character, really the only one in Feud." She is written as a representation of the many women in the industry whose big dreams were often pushed aside at that time, with many being forced into careers as an assistant or a similar role. Even though she's fictional, Pauline has a strong connection to a real woman named Geraldine Hersey. Hersey was Aldrich's assistant, who convinced the director to take on What Ever Happened to Baby Jane? when everyone else didn't believe "that a film about two women over 40 could possibly ever make any money."
Wright portrayed ill-fated realtor Valerie Blount in Castle Rock season 2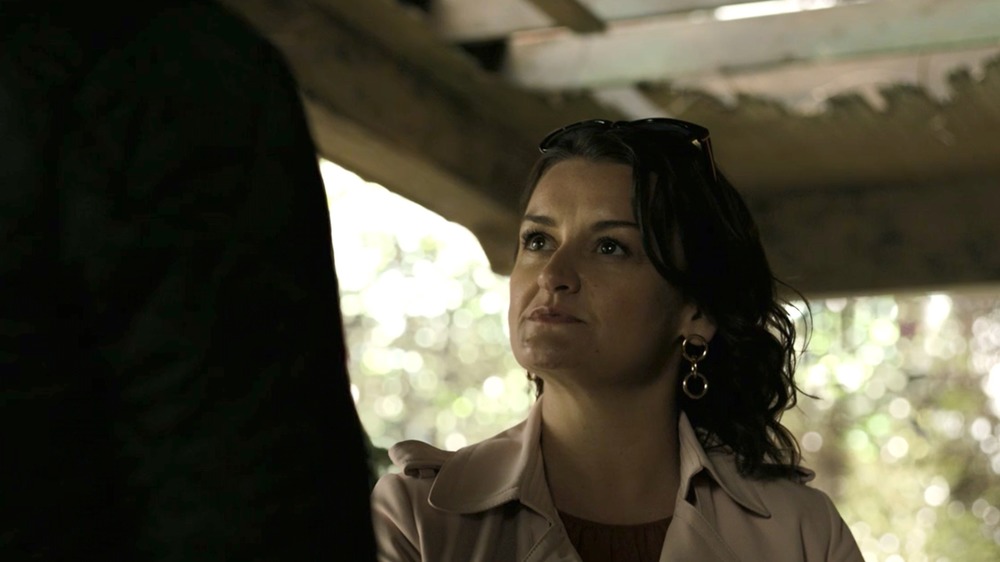 Hulu
In 2019, Wright joined the second season of Hulu's Stephen King anthology series Castle Rock, which was centered around a small fictional town in Maine. Inspired by King's past work—and including both well-known and original characters—season 2 of Castle Rock follows Lizzie Caplan as a young Annie Wilkes. For those who might not recognize the name, Annie is the antagonist of King's 1987 book Misery and was played by Kathy Bates in the 1990 film version, a performance for which she won an Oscar. In Castle Rock, Annie hasn't gone fully crazy yet. She is simply a young nurse described as a "budding psychopath" (via TVLine). Along with her daughter Joy (Elsie Fisher), Annie gets stuck in the town of Castle Rock, putting her right in the middle of a rising fight between two "warring clans."
The second season of Castle Rock also involves the small-town residents with those of Jerusalem's Lot and all their undead mythology. Wright plays a character named Valerie Blount, a real estate agent who shows Ace Merrill (Paul Sparks) the Marsten House—an important location in King's novel Salem's Lot. Ace asks Valerie strange questions as they tour the house before ambushing her. Unfortunately for Valerie, her ambush leads her to becoming one of "the Converted," defined as people possessed by 400-year-old beings that are trying to take over the town of Castle Rock.